Is it just me or has August appeared out of nowhere!? I swear last week I was sitting my first semester finals and dying accepting the Winter weather. With a new month, I think its fitting to initiate some goals and then reassess at the end! For August, my goals are-
Organise a routine

to balance the enourmous university workload with part time work, exercise and socialising

EAT MORE

. This is abit of a random one, but when I first did James Wilson's Body Earned program, I didn't pay too much attention to my nutrition and as such, didn't really achieve any real 'mass'. Now that I'm doing it a second time, I'm going to ensure I'm eating at a surplus

Be more mindful with my savings.

I'm moving interstate at the start of next year and need to stop buying protein powder, American goods and losing bets unnecessary things. Sydney is a killer in terms of rent and living expenses so unless I want to live in a dogs kennel and eat ramen noodles… well.

Post more recipes

- Ever since overhauling my healthy habits, I have developed and played around with many recipes which I hope others out there will enjoy so I plan to post more of them up in a timely manner! (Including the elusive best baked tofu recipe!)
So back to the weather, EVERY channel promised blue skies and the 'warmest Winter on record since 1974.' Lets just say being gullible and heading out without a jacket and an umbrella was not the wisest move.
I went to a dress up party on the weekend. The theme was Countries of the World. I got asked by several people why I didn't dress up….I didn't think a Japanese mumu resembled any of my usual attire.
One of my best friends Kat, who DIDN'T dress up, got showered with compliments on how she epitomised France. When I first saw her I thought she was a Christmas ornament and got the wrong dress up memo.
That same night after a quick costume change, we hit up a local bar and spent a good 2 hours posing next to something very interesting. Peek a boo. I see you.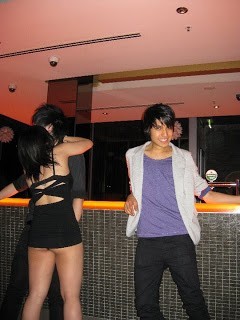 Ignore me. As beyonce says, (look) to the left, to the left.
There are some days I absolutely enjoy eating vegetables, but others, I would prefer a big steak with a side of potatoes and no greens whatsoever. A trick I've picked up is to incorporate them into things which many would consider blasphemy- for example sweet goods/baked goods/breakfasts. Here is a #strangebutgood quick, easy way to get some greens in without even tasting it! Also, I am a huge fan of the sweet and salty and this satisfies that craving to a 'T'. Thanks Laura for making us feel less bizarre with our meals!
Hidden Green Sweet and Salty Chocolate Peanut Butter Oatmeal
Serves- 1
Prep- 5 minutes
Cooking- Stovetop- 10 Minutes. Microwave- 5 minutes
1/2- 3/4 cup rolled oats
1 cup liquid of choice (I used milk)
pinch of salt
1/2 medium zucchini, finely shredded
1/2 cup spinach leaves, finely shredded
1 TBS cocoa powder
1 scoop of chocolate/chocolate peanut butter/vanilla protein powder (can ommit and replace with an extra TBS of cocoa)
Sweetener to taste (I omit as my protein powder is already sweetened)
Peanut/Nut butter
Sea Salt