Today's International Blogger Spotlight features a favourite blogger of mine, Madison from Eating 4 Balance. What I enjoy about Madison's blog is that it incorporates many aspects of her day to day life, witty reviews and also her other interests outside of food and healthy living. A very interesting aspect of her blog is her current journey in dealing with sudden allergies and food intolerance and how she is adapting herself to these new changes! Not only that, but her ingenius recipes make you question how something so tantalising could be free of dairy, gluten and everything under the sun.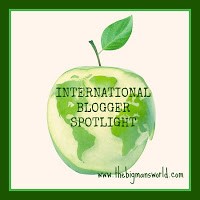 What is your blog about and why did you start blogging?
Hello everyone! My name is Madison and I blog over at Eating 4 Balance. I am going to be a sophomore Accounting student this fall at college and right now I'm home for about a week, packing up and getting ready to move into my dorm room! I started my blog because I love baking as well as writing. About 1 1/2 years ago I started experiencing some pretty severe stomach pains which turned out to be at least partly caused by some pretty sudden food allergies. On my blog I mostly post grain-free recipes as well as many dairy, egg and nut-free recipes as well. Sadly right now I can't eat any of my own creations as my diet is really limited because of my stomach problems, but all food is given two thumbs up by my family and friends before I share it on my blog.

Tell us 7 interesting facts about you! 

I always wonder how to go about answering these questions. Should I pick what I find interesting about myself, or what I think others will find interesting about me? Sometimes it goes hand-in-hand, but other times what I think makes me "cool" I quickly learn is actually very uncool.



Most girls will confess to having a shoes, makeup or purse fetish. The thought of having spending money on any of those things makes me want to go run and hide. Preferably while wearing my super cheap flip flops, year-old makeup, and a stand-in for a purse (aka grocery bag) swinging over my shoulder. 

While

 

I don't have a fetish for shoes, makeup or purses, I do have a serious collection of jeans. One can never have too many jeans. I get almost all of mine at a thrift store that my mom and I frequent. I can get a good pair of American Eagle or Express for $2 or $3. Thrift store jeans are just all around better. Worn, soft and inexpensive. What more could you ask for? There is nothing that makes me feel more ready for a first day of school than slipping on my favorite pair of dark wash jeans.

I (

along with probably half of America) have a problem with binge-watching. The Today shows claims that it's a "mostly harmless addiction" which I can mostly agree with. However, the writers of that article probably didn't try to get their homework done for their college classes while trying not to watch consecutive episodes of Rookie Blue on Hulu or New Girl on Netflix.




How about some "favorites?" Those are always good, right?… Favorite athlete: Dara Torres. Favorite actress: Jennifer Lawrence. Favorite actor: Leonardo DiCaprio. Favorite romantic comedy: How to Lose a Guy in 10 Days. Favorite TV Show of all time (or right now since I can never make up my mind 😉 ): Wildfire. Favorite cartoon: Scooby Doo. Favorite type of music: Country.

Cheese.

  

I hate it. Well, I hate it in most forms I should say. On pizza or the occasional hamburger? Queso dip and chips? Yes please. Deli sandwiches with sliced cheese? Cheese "cubes?" Cheese on my spaghetti? No thanks. The thought makes me want to gag (pleasant, no?).




Coming 

up with seven random things about yourself is hard. I don't know how autobiographers do it. 

I am a self-proclaimed delayed genius. Case in point- days from now I will suddenly come up with witty things to say for each of these questions and super fascinating stuff about me that you'd just love. Right now though I'm just drawing a blank. Like wine I must get better with time 😉

Favourite food?

If I could eat anything, allergies aside, I would have to go with either peanut butter or cookie dough. Right now though my favorite food would have to be baked fish. Paired with a side of cooked peas and sprinkled with sea salt is like a meal in heaven for me.

Favourite workout? 

I'm going to be honest here and say that I don't workout much. When I need to relax or get my mind off of stress at school/work I read books and blogs.
However, when school is in session I walk a few miles a day to and from my classes so that counts as my exercise then. During the summer my favorite thing to do is swim! In the weight room, I'm a huge fan of calf raises and lawn mowers 🙂

Do you have a favourite workout or recipe you'd like to share?

I have so many
recipes
it was very hard to pick just one, but I finally decided on sharing one of my most popular recipes on Pinterest-
Grain/Gluten/Wheat-Free, Paleo/GAPS-Friendly, Nut/Dairy-Free Option
Makes two batches of three pancakes
•

  
1 tbsp honey (optional)
•

  
1/4 cup yogurt (I used full-fat cow's – Can use dairy-free kind too)
•

  
1 tsp vinegar (I used apple cider vinegar)
•

  
1/2 tsp vanilla extract
•

  
3/4 cup almond flour (or other nut/seed flour)
•

  
frozen/fresh blueberries
1.
Preheat griddle to 350 degrees (or a pan to about medium heat). Coat with coconut oil, ghee, or cooking spray to prevent sticking.
2.
Put all of the wet ingredients into a food processor and blend until smooth.
3.
Then add the dry ingredients and combine again.
4.
Using a 1/3 cup measuring spoon scoop portion out the batter onto your griddle in medium-sized circles, spreading with the back of the measuring cup if too small.
5.
Cook for approximately 3 minutes, then place a few (5 or so) blueberries on each pancake. Cook for another minute until the side facing up is bubbly. Flip and cook for approximately four more minutes. Repeat with remaining batter and serve!
Now get to the kitchen and get cooking! Or even better… come visit my blog and leave a comment!
I hope you guys enjoyed a spotlight on Madison whom, through trial and error, is working on her health in a different way to most. Whats remarkable is she's not letting any of it hold her back, and it will be great to follow her as she goes back to College! I wish I had known her a year ago when I took an accounting class….that damn assignment still haunts me!