Quick note- Before we get into this post, I've had some of you kindly notify me that you're not getting my recent posts and/or only seeing it on mobile devices and not on computers. My blogger address should no longer be working, but I've contacted wordpress as to why this is happening so hopefully it will soon be resolved. The new address should be thebigmansworld.com.  I also contacted 'Bloglovin' to make sure those following will not be affected. Thanks for bearing with me!
There are some blogs out there which make you feel normal to add shredded vegetables to anything and everything. There are some blogs out there who make you see your almond butter in newfound light. There are some blogs out there who make the terms sweat and pig sound sexy. There are some blogs which make you CONSIDER becoming a vegetarian based on their incredible kitchen talents. Then there are some blogs out there which you know will leave you in pain. Pain from trying to suffocate that infamous hyena laugh you possess. Pain from hurting your back as you slide down your lecture seat to avoid those behind you to believe you are suffering an epileptic fit. And eventually- the pain of receiving a failed grade. All of this is due to one amazing blogger, Charlotte, who blogs over at commitment to fitness. Her blog has taught me so much about myself since entering the blog world- how I am an introvert exerciser, how Gideon Harris dresses better than me, and how when I played golf, I was actually doing the barr method. Charlotte's witty, humerous posts and her different take on 'healthy living,' leaves you, at conclusion- looking like a cheshire cat from all that grinning. Enjoy.
What is your blog about and why did you start blogging?

MY OTHER RECIPES
Commitment to fitness is a is a fitness blog for those who would rather be eating, drinking or napping. It features everything from fitness based content to celebrity babies to pictures of froyo. Basically, whatever I'm thinking about. I started my blog on a dare.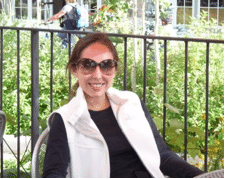 Tell us 7 interesting facts about you!
Don't mind if I do
I went to a small college in Ohio and majored in French
I was in a sorority- Delta Delta Delta
During NY Fashion Weeks Spring 05 and Fall 06 I was a model-dresser backstage. However, I wasn't very good at it, as one of the models I dressed nearly fell out of her shoes on the runway. She proceeded to mumble something in Latvian upon her return that I was thankful I could not understand
I have not driven a car in 8 years
I eat chocolate pretty much every day
My favorite animated movie is The Incredibles
I know how to play the theme song to the Flintstones cartoon on a telephone keypad.
What is your favourite food?
Impossible question to answer. However, what I can tell you is what I am in the mood for right now. And the answer is Pho.
What is your favourite workout?
Bar Method! Woo!
Do you have a favourite workout or recipe you'd like to share?
Recipe for Disaster
Ingredients:
-Lots of work you're behind on
– Wine
Procedure:
-Have a lot of work piled up that you intend to get done one evening.
-Decide you need dinner first though, and open your fridge to see what you have.
-Realize that in fact you have nothing because you forgot to go grocery shopping.
-Discover that you do, however, have a bottle of wine.
-Uncork said bottle.
-Invite your friend/ roommate/ significant other/ neighbor to join you.
-Have a grand old time and don't even think about all that work until it's late and you're too exhausted to do anything about it.
And that, my friends, is a recipe for disaster. No baking required. Thanks for giving me the spotlight, Arman! I'm so excited about this honor, but I promise I won't let it go to my head. Ehh, actually, it might be too late for that. Thank you!!
I hope you all head on over to Charlotte's blog but remember to ensure your in the privacy of your own self- and have a spare pair of pants handy!