Soft, chewy and delicious protein packed cookies which pairs white chocolate with macadamia nuts to create the perfect filling snack or healthy dessert! Unlike traditional cookies, these contain NO grains, butter, oil or sugar yet you'd never tell- They are also gluten free, vegan, dairy free and come with a tested paleo option!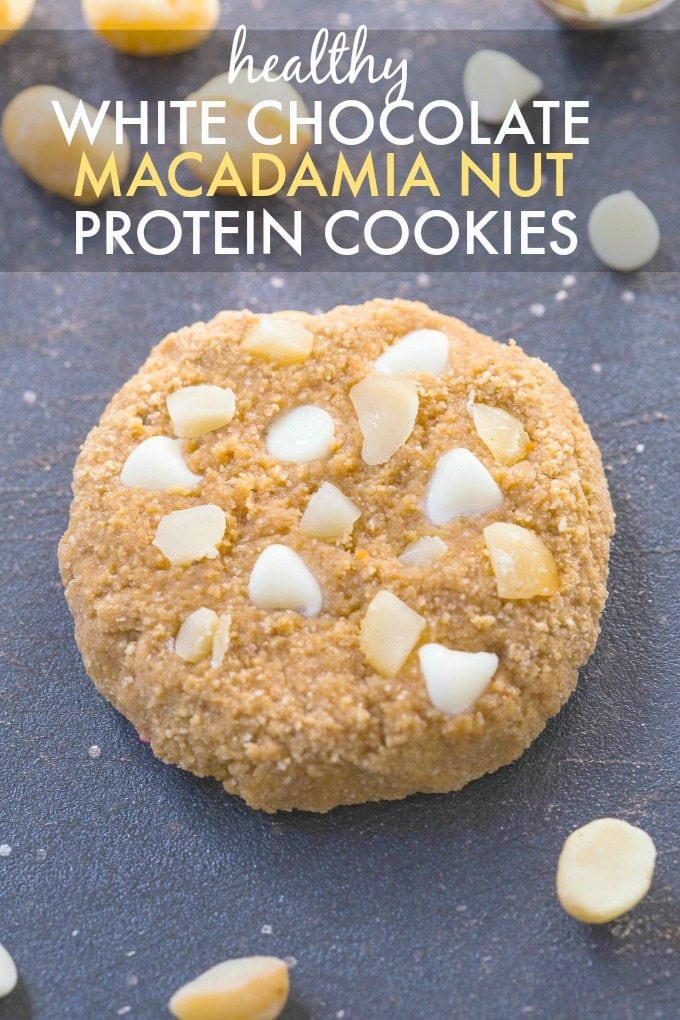 I remember when I first started sharing recipes on here, I tried to incorporate the white chocolate and macadamia marriage in as many things as possible.
I wholeheartedly blame Subway for it….and their 3 for $2 cookie special I treated myself to on many occasions during high school and university.
Looking through my recipe archives, I've included this magic duo in their original COPYCAT form (cookies), in no bake cookies and also in my favorite- Creamy oatmeal pudding.
…It was only a matter of time before they got some protein added to it and be given a grain free makeover!
These cookies are probably my favorite protein cookie to date and one I've made my friends sample too. In fact, just before I left California, I made my Indian buffet buddy Cassie sample it too. I mean, she is a protein cookie guru so if she gave it the seal of approval, you KNOW it's a winner.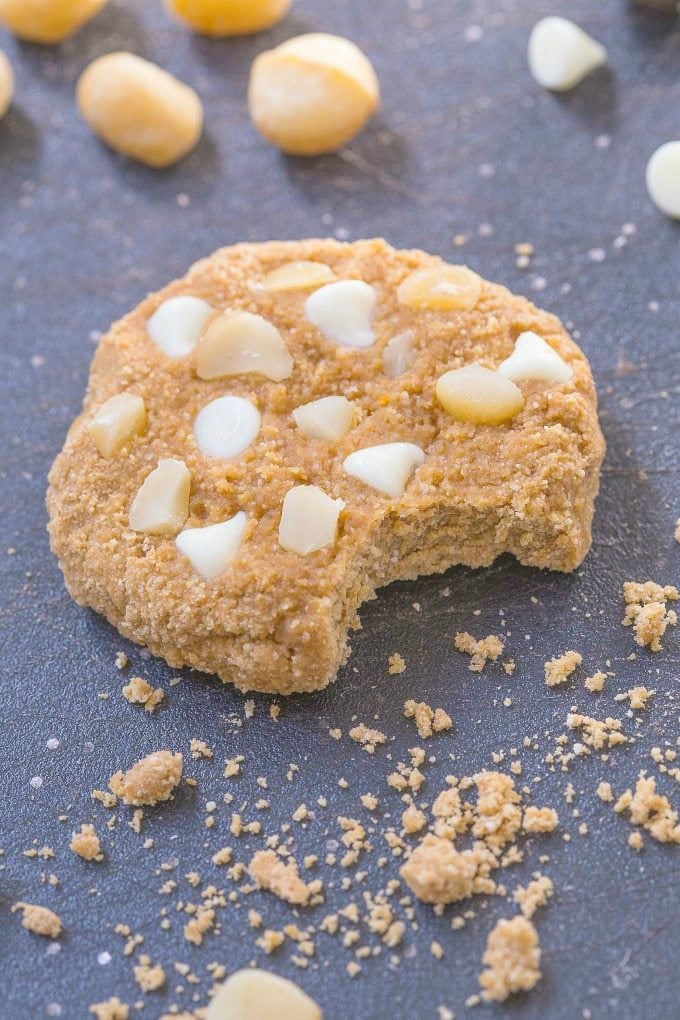 Furthermore, it's the time of the month where I share a recipe using Growing Naturals protein powder AND include a giveaway too! The last two months, I've shared these cookie dough stuffed bites and these chocolate fudge cookies and now, these white chocolate and macadamia beauties.
What I LOVE about these monthly recipe/giveaway posts is that I get to physically SHARE the recipe made with two readers. In February and March, four of you received a batch of both recipes created and got to taste the final creations for yourself- Today will be no different.
My friends at Growing Naturals will send TWO readers a protein powder pack and I'll send you guys these cookies! Seeing as it's single serve, I'll be sending a batch of 12 cookies because dozen sounds better than single…in this situation.
Anyway, before we get into the actual recipe, it's also Wednesday so let's see what made my plate this week…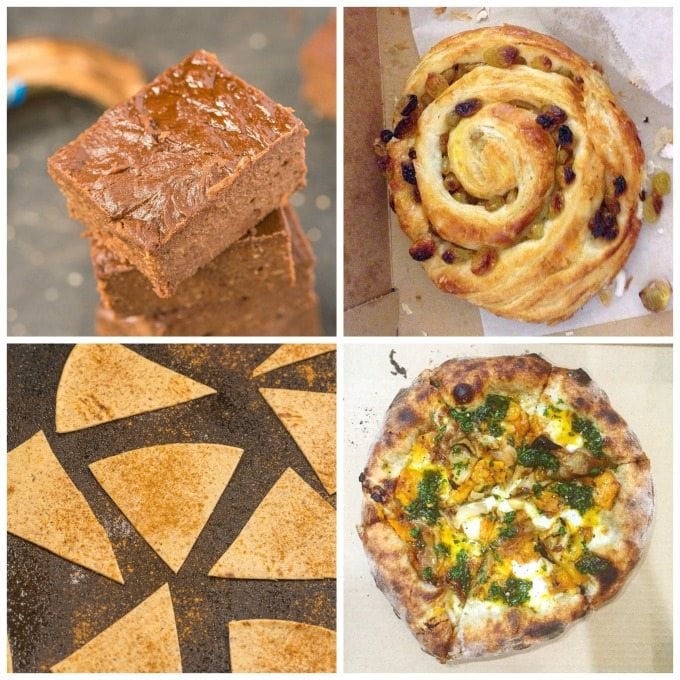 Breakfast- I made a batch of my 3 ingredient Flourless Blender Brownies for a friend to show them the minimal ingredient magic, leaving a serving for myself. That constituted breakfast. Snack/Lunch- Cookbook testing = Constantly eating. I also had some flatbreads on their last leg so I made these baked Cinnamon Chips, where I also sprinkled some of this vanilla protein powder, mixed with cinnamon. As mentioned in Monday's post, I had to satisfy a 'wake up from nap' snack which was the 'Escargot' (Raisin twisted pastry). Dinner- Met my friend at a wine bar and we shared this smashed pumpkin and pesto pizza. It was pretty epic.
Now time for some cookies…
I've mentioned on here before, but I LOVE making my protein cookies.
The market right now is saturated with protein cookies and while I've tried a myriad of them, their ingredient list is enough to put me off. Sure, they taste decent but when you can't even pronounce two-thirds of the additions in it- No thanks, I'll make my own. Cinnamon bun, chocolate brownie and birthday cake had their time in their spotlight, so time for a newbie!
These healthy white chocolate and macadamia nut protein cookies are chewy, delicious and literally take under 20 minutes to make, from plate to…mouth? Unlike traditional cookies with this amazing texture, they contain NO butter, oil, grains or sugar! Coconut flour lends an amazing texture, a cross between a cake and a cookie, which only amplifies with the vanilla protein powder. They are also naturally gluten free, grain free, vegan, dairy free (thanks to these amazing baking chips) and come with a tested paleo option!
HACK! I tried several times to make this using my standby homemade white chocolate chunks which are paleo friendly. Unfortunately, they did NOT come out whatsoever. If you opt for the paleo option, follow the instructions for adding in the white chunks, which will be at the VERY end.
Make these healthy Grain Free White Chocolate and Macadamia nut protein cookies and seriously, stink eye the store bought ones!
Don't forget to enter the giveaway using the widget below!

Healthy White Chocolate and Macadamia Nut Protein Cookies
2016-04-26 21:40:08
Serves 1
Soft, chewy and delicious protein packed cookies which pairs white chocolate with macadamia nuts to create the perfect filling snack or healthy dessert! Unlike traditional cookies, these contain NO grains, butter, oil or sugar yet you'd never tell- They are also gluten free, vegan, dairy free and come with a tested paleo option!
Ingredients
1 scoop Growing Naturals vanilla brown rice protein powder (32-34 grams)
3 T coconut flour, sifted
Pinch sea salt
2 T cashew butter (can sub for any nut butter, but cashew is best)
1 T pure maple syrup*
pinch vanilla extract
pinch natural butter extract (optional)
2 T + milk of choice**
1 T macadamia nuts, chopped
1 T white chips/chunks of choice***
Instructions
Preheat the oven to 350 degrees. Line a cookie sheet or baking tray with grease proof paper and set aside.
In a small mixing bowl, combine your coconut flour with your protein powder and sea salt and mix until there are no clumps.
In a small microwave safe bowl or stovetop, melt your nut butter with maple syrup until combined. Stir in your vanilla extract and butter extract. Pour the wet mixture in with the dry mixture and mix until a crumbly texture remains. Using a tablespoon at a time, add dairy free milk until a thick batter is formed. Stir through the macadamia nuts and white chocolate chips (NOT for paleo option).
Form the batter into a ball and transfer to the lined cookie sheet. Press firmly and spread out into a cookie shape. Top with extra chips and nuts and bake for 8-12 minutes- 8 minutes for extra soft and chewy or 12 or so for a firmer cookie.
Remove from oven and allow to cool before digging in!
Notes
* You can omit the maple syrup or use sugar free- Sugar free maple syrup was difficult to bind (it was like water) but still gave a subtle hint of sweetness. If you omit, your cookie will be much more crumbly.
** Depending on the brand of coconut flour, you'll most likely need more milk.
*** If you go the paleo route and use my homemade chunks/chips, don't add or stir through the mixture- Once you remove the cookie from the oven, top with the chunks/chips as the cookie cools.
The Big Man's World ® https://thebigmansworld.com/
This post is sponsored by Growing Naturals. Cheers, hugs and handshakes for supporting companies and brands which allow me to do what I'm passionate about every day, and continuing to make The Big Man's World possible.

When is the last time you've eaten out?
What is your favorite kind of cookie? Oh, Subway. Just take my wallet.