I still can't believe it's been over two years since I moved to Sydney.
It was early 2014 when I'd moved there from Melbourne for an exciting job opportunity. Although Sydney (and said job) didn't pave out the way I had hoped for (New York rang, and I answered!), it's still one of my favorite cities ever. Not only, that, some of my favorite people live there too.
I've mentioned it several times on here before, but Australia isn't like many other regions around the world. International travel is perhaps one of the biggest disadvantages. Unless you regularly go to New Zealand, the other closest destinations are within South East Asia- Around 8-9 hours away. When we look at Europe, America or the Middle East, we are looking at a 24 hour + journey.
As someone who is based between New York, Melbourne and sometimes Los Angeles, it has taken some time to get accustomed to. Saying that, if you are doing something you love, the distance is totally worth it.
Besides, I use my 24-hour commute to disconnect from the world and eat overpriced airplane snacks.
ANYWAY.
Whenever I'm back in Australia, I'm making it a goal to check out my own backyard- aka other states/cities within our country. With flights to other cities between 1-3 hours away, I really have no excuses. One of my extended trips back to Australia coincided with a long weekend. I used this opportunity to head up to Sydney to visit some great friends, eat good food and have the opportunity to try out a fantastic hotel!
I'm joining Meg and her week(end) in review, belated style- Last week, her theme was 'self-care' and this weekend epitomized that.
BOOM.
SATURDAY
My flight was delayed, so I went and got McMuffins, because holla- It's no longer stopped after 10.30am. I found out my flight was delayed AGAIN, so I got another McMuffin– Not because I was hungry, but because the concept of getting a breakfast food close to noon was incredibly enthralling.
Can you tell I was bored at the airport?
I finally arrived in Sydney and met two of my old work friends, Thuy and Viv. We headed to Kings Cross (pretty much the city center of Sydney) and we got some lunch. We headed to Waterman's Lobster Co and recreated a little of New York lobster rolls, minus the (already expensive) New York prices. Thuy had the best idea to each choose 3 different rolls and split them between us-
'Connecticut style'- Lobster with warm butter
'Maine style'- Lobster with mayonnaise and celery.
'The Italian sandwich'- Meatballs with parmesan.
We also got a side of fries and chargrilled calamari.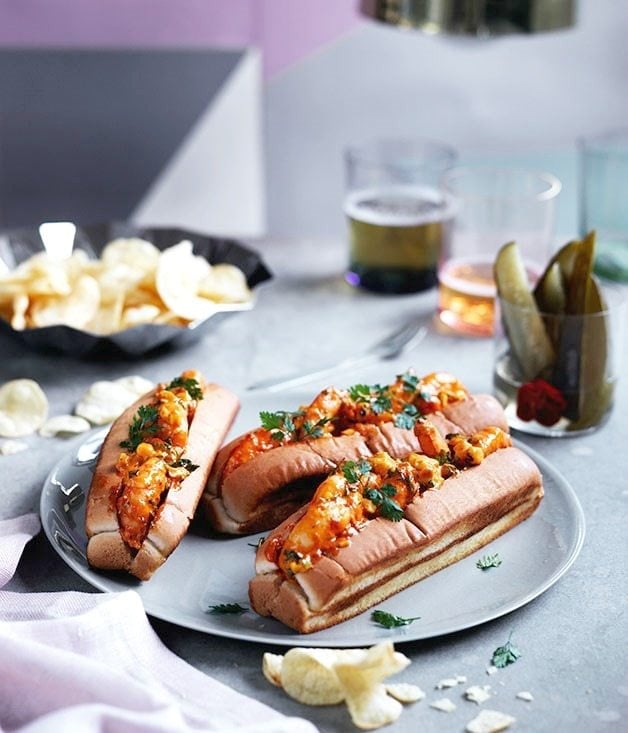 Later that evening, I caught up with one of my close high school friends, Lauren and her husband (that feels so weird to write out…) for a much-needed catch-up! Lauren and I had actually both moved to Sydney around the same time. Ivan had been living there for a year prior, due to his work. Long-term readers may remember that I had intentions to fly back to Australia to attend their wedding, but due to some initial cookbook work, it wasn't possible. It was absolutely amazing to see these guys and be completely caught up on everything that had happened in the last year or so. They also filled me in on how marriage life was.
Spoiler alert- It was no different to when they first moved to Sydney.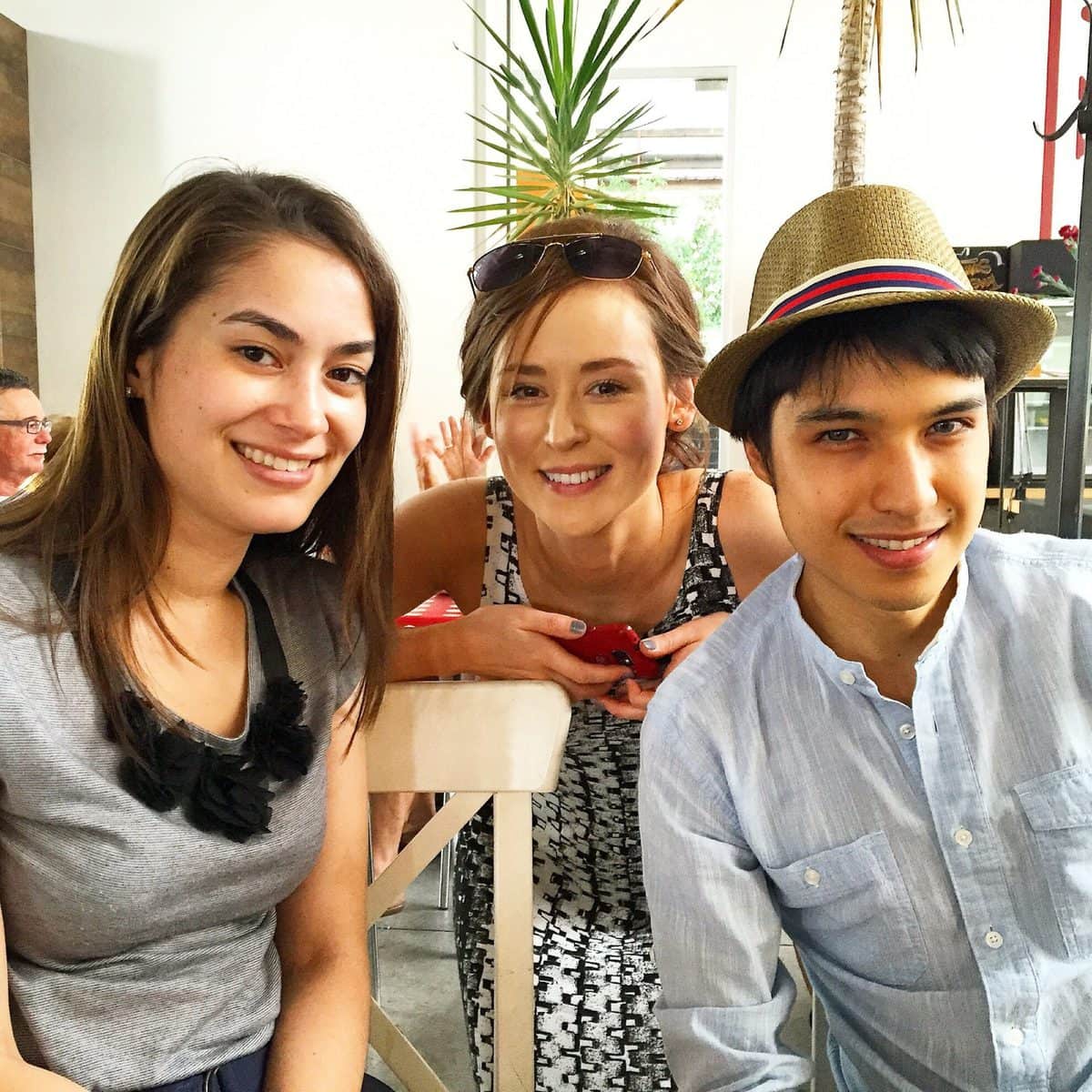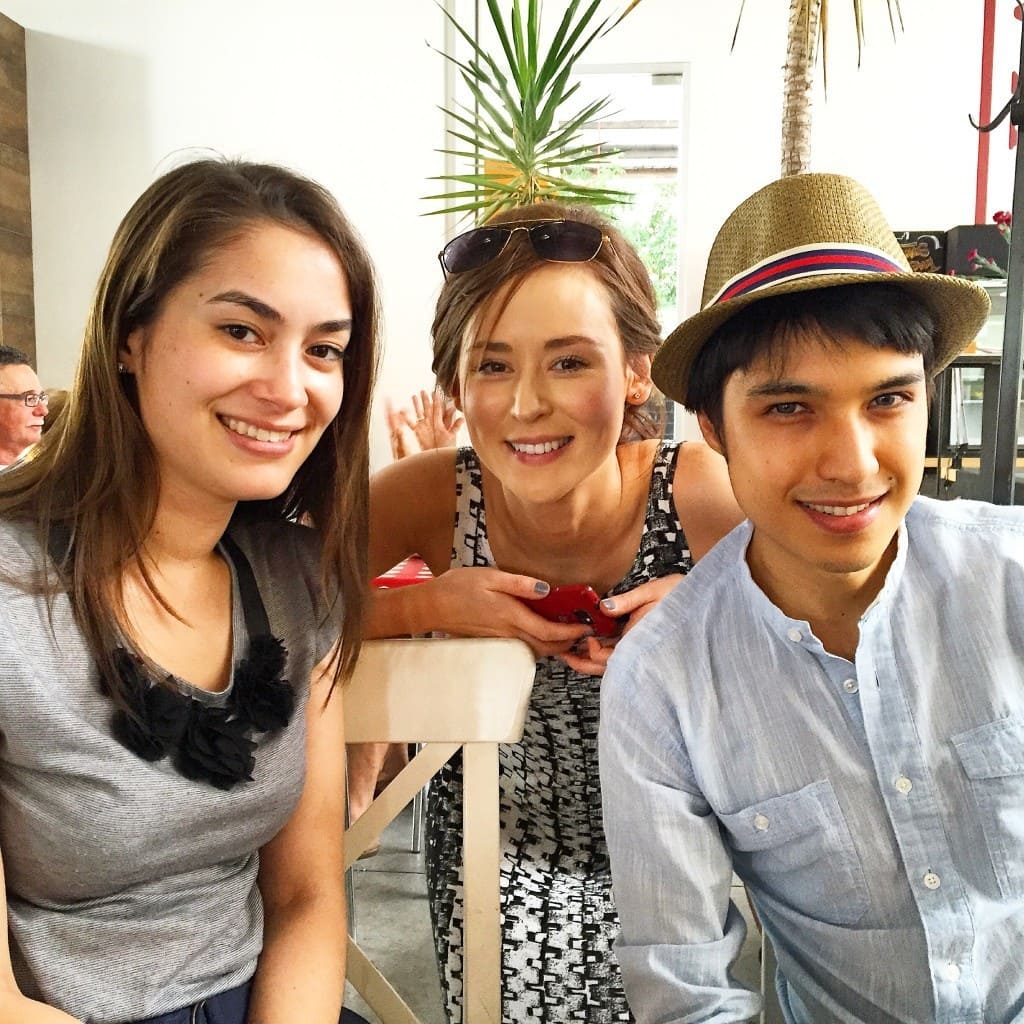 Because we are old and crinkly, we didn't take a photo. Enjoy one avec Ingrid from last year.
We dined at Fratelli Fresh, one of my favorite concept restaurants. While it is a fully functioning restaurant/cafe, it's also like an open Deli- You can go pick your own pasta, olives, cold cuts and a plethora of other Mediterranean goodies! After scouring the menus, we settled on some pasta, shaved brussels sprouts salad with poached egg, chorizo and potato dish, baked chat potatoes, french fries and some green leaves…I think they were broccolini.
We ended the evening over coffees, teas and talking future plans and what international options were out there for all three of us. We also spent time on this amazing website, where you can estimate costs of living for digital nomads (or nomads in general) in various cities around the world.
You guys, this website is a massive time hack and I love it.
Lauren and Ivan soon left and I headed back to my hotel to check in for the night!
SUNDAY
After a much-needed sleep in, I headed out to meet another Lauren!
Lauren and I connected several years back, through blogging, TOWIE and pretending we lived in Soho (through conversation). She rudely moved to Sydney just as I was leaving. Luckily, we hung out several times and kept in touch since. We met up for breakfast, and walked up a street near Kings Cross, trying to find something to tantalize our tastebuds. I purposely told Lauren to choose somewhere, because I am indecisive. It turned out she was the same as me, so we went to this corner cafe and both got avocado toast because we are basic we don't deprive ourselves of greens.
After some epic nourishment, chats and talking life, we hiked down the tourist hub of Sydney. We checked out a coffee festival, took a cliche tourist photo (and covered up the icon concurrently) before having to part ways.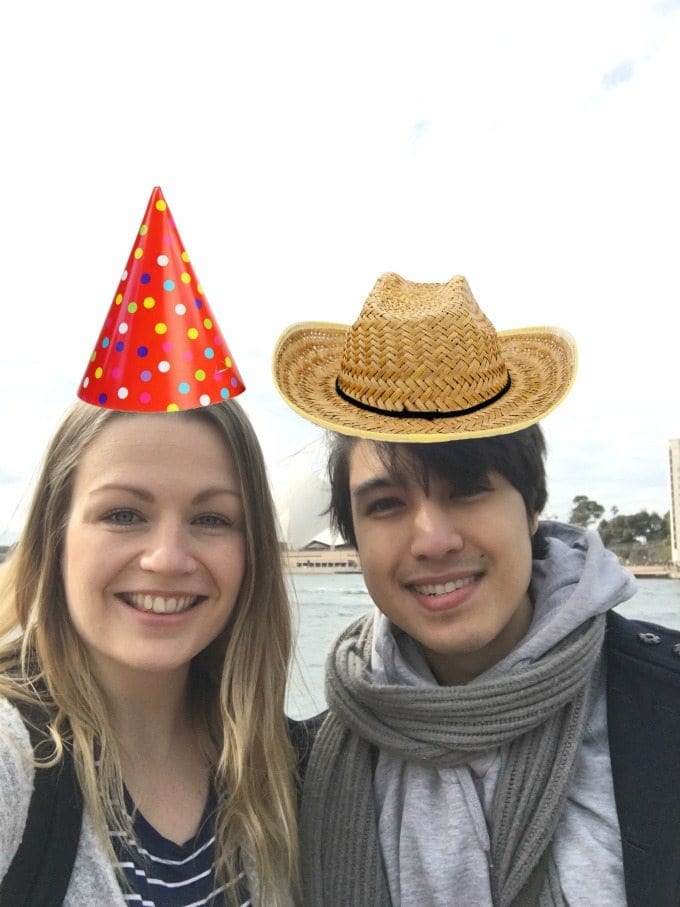 Excuse the faux-hats- I was sporting a mop and it was a disgrace.
It was great to catch up with Lauren and I'm stoked to see her soon. Lauren's blog is currently undergoing a change of direction, but stay tuned to her updates coming up via Instagram! After Lauren left, I headed to my next destination. I was excited for what the afternoon had in store for me- I had the opportunity to check out the Shangri-La Sydney!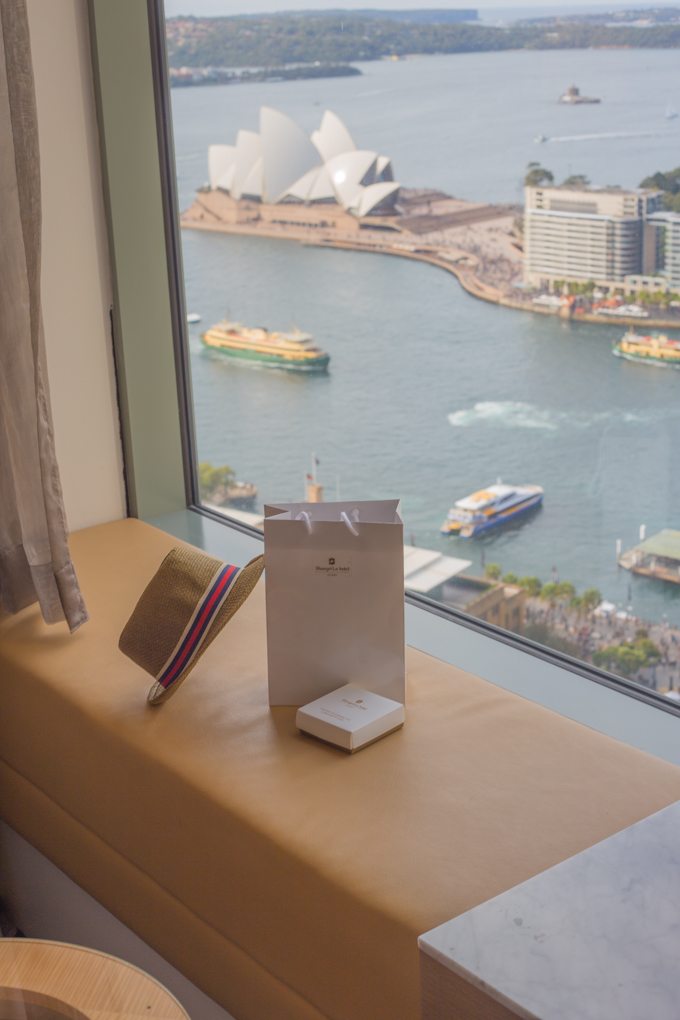 I'd previously stayed at this hotel before in other countries, but never one on my home soil. Alise and Deane generously provided me with an executive room, which had the most iconic view possible- The Sydney Opera house! Besides a gorgeous room, they were both so kind to include a delicious care package which included a box of locally made chocolate, honey, and a beautiful notebook!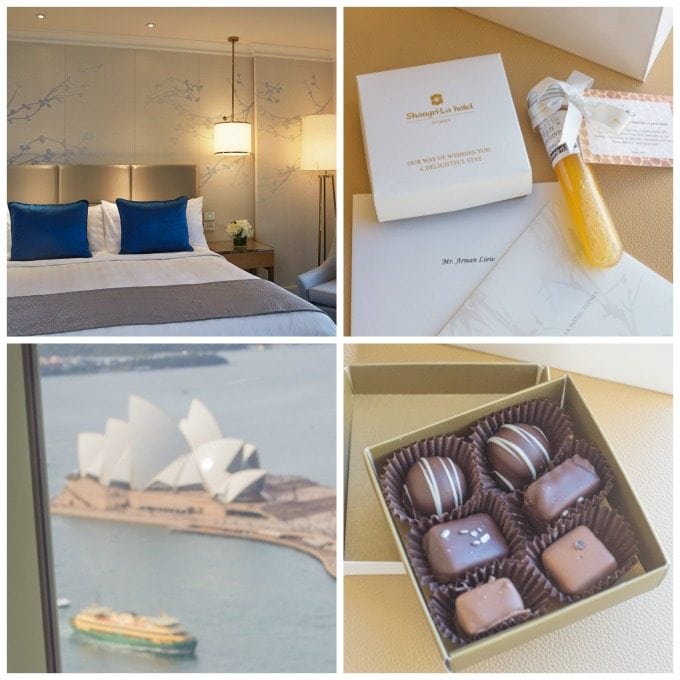 I'd previously stayed at this hotel before in other countries, but never one on my home soil. Alise and Deane generously provided me with an Executive room which had the most iconic view possible- The Sydney Opera house! Besides a gorgeous room, they were both so kind to include a delicious care package which included a box of locally made chocolate, honey, and a beautiful notebook! My stomach grumbled, indicating it had been several hours since breakfast and as delicious as the chocolates were, it needed something a little more substantial so I headed to the Horizon Lounge for some afternoon tea.
You guys, I would have just sat here for the next 24 hours- You get a view of the Opera house, the Sydney Harbor Bridge AND an ever-changing buffet- Depending on what time you go there, they have a variety on offer. I picked up one of their magazines from the rack, selected some desserts (a scone, a chocolate mousse, and some sandwiches) and perched myself at a table right next to this amazing view.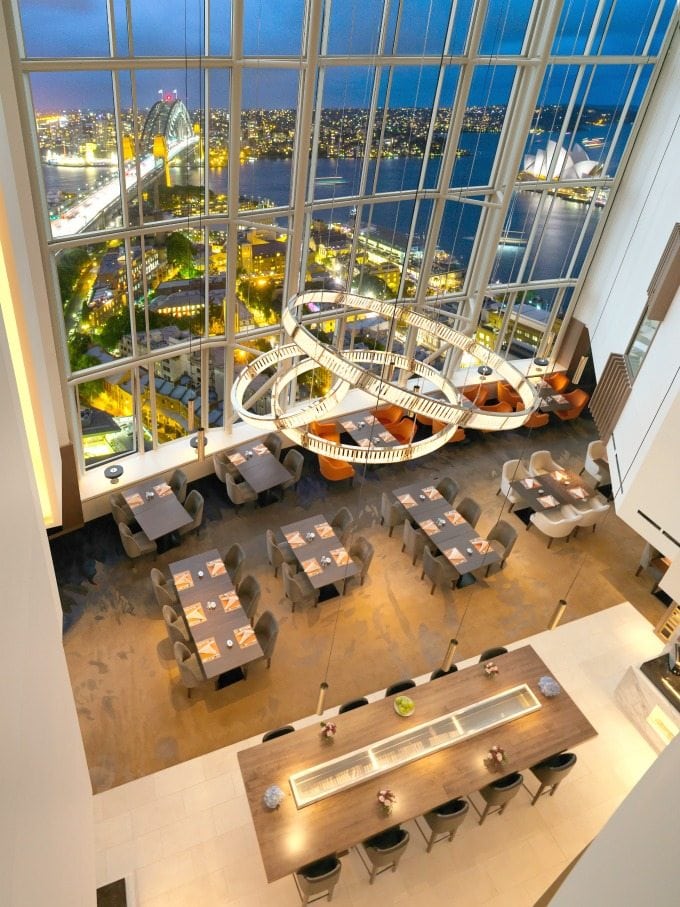 After a relaxing siesta back in my room, I did some exploring around the hotel, before the Horizon Lounge opened once again for the pre-dinner canapes. I headed to their fitness center (which also had a spa) and was impressed with the equipment, facilities and even the option to get a personal trainer! After sitting on the bench press and scrolling Instagram a very light workout, I headed back to my room to get changed and tackle the Horizon Lounge again!
There were significantly more people at the pre-dinner drinks and canapes on offer, and I wasn't surprised. I had pictured there to be several wines, some cheese and perhaps a sandwich or two. What I WASN'T expecting was something short of a fancy buffet. There were smoked seafood, grilled vegetables, sushi, sashimi, a chartreuse board, a cheese board and even more desserts!
Safe to say, I was regretting having ordered room service to arrive several hours later.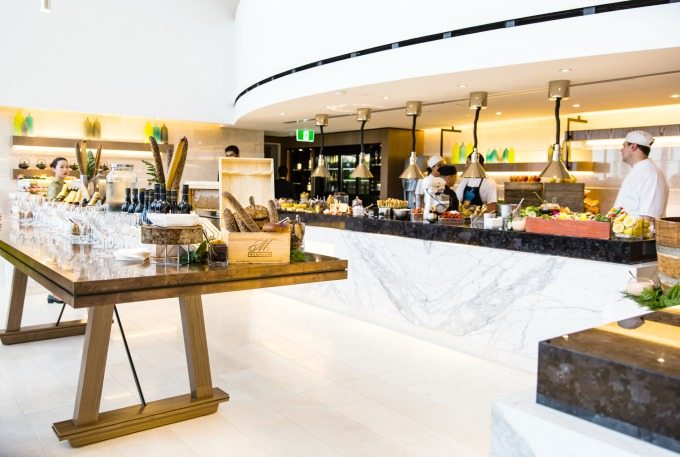 I went back to my room, half-heartedly ate my room service dinner, before ticking off one last item off my list. I ended the night by heading up to Blu Bar, located on the 36th floor. I opted for an alcohol-less cocktail and took one last view of the city before heading back to my room to pass out.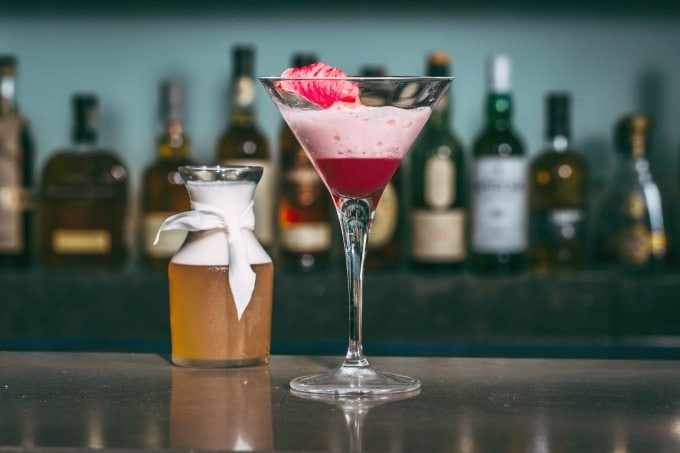 MONDAY
After an amazing sleep in, I had time to grab some breakfast…at the Horizon Lounge!
My note claimed that there would be a 'light buffet breakfast' and once again, I was floored. If smoked salmon, poached eggs, boiled eggs, a plethora of fresh fruit and every kind of breakfast pastry and bread possible is considered a 'light breakfast', then I've been doing it wrong all these years. I got my fill (and more) before meeting the awesome Alise, who, in combination with Deane, had organized all of this for me! It was great to chat with an integral part of the Shangri-La team and hear about the workings of the hotel and its mark on a global scale. We also shared our travel stories, in which Alise recounted her travels to Canada- It sparked a craving!
And just like that, it was time to pack up and head to the airport to get my flight back to Melbourne.
***
Recounting this trip, it made me realize how fortunate I really am to be able to call Australia AND America home. I used to consider my 'backyard' of Melbourne to be boring and stagnant but now? Whenever I'm back on home soil for an extended period of time, I know that I can jump on a plane and within 1-3 hours, be within another city or state.
I'd like to say a huge thank you to the Shangri-La Hotel Sydney for providing me with what I can only define as a fantastic experience. From the room, the views, the food to the superior service, I'm excited for what the future has in store for TBMW and Shangri-La Hotels. Thank you to Deane, Alise and the entire team at Shangri-La Sydney for this opportunity.
When is the last time you explored your 'backyard'?
Do you prefer domestic travel or international travel?