These thick and fluffy black forest pancakes are your answer to a guilt-free breakfast for dessert! Packed with protein and completely sugar free, they are naturally gluten free, low carb, vegan and dairy free!
Catching up from the weekend? Check out the update post here. Also- Giveaway winners were revealed!
Remember when I stated how I was waiting for cherries to be cheap so I could make black forest oatmeal? I think Australia, mother nature or a combination of the two have a secret vendetta against me.
They are 95% of the time completely MIA at supermarkets
The 5% they are available, it would cost an airfare to Canada and back.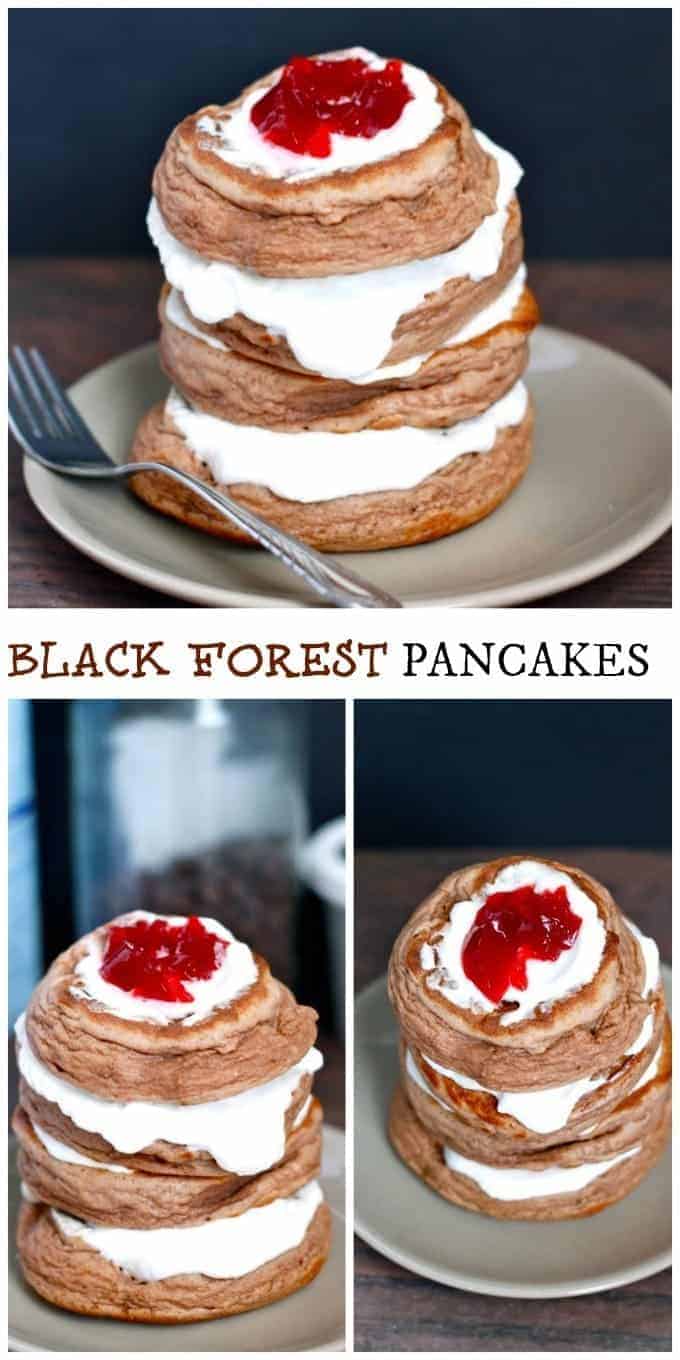 Apologies. I have under delivered. However, to make up for it- I present you pancakes. That always makes things better. Black forest pancakes…without fresh cherries.
The other weekend when I was in Melbourne, I made the executive decision to help mum clean out her pantry. When I say 'clean out the pantry'- I mean going through it and seeing what I can claim as my own.
Just pass me the 'son of the year' crown.
While 'cleaning' her pantry, I came across quite the assortment of intriguing items- stuffed vine leaves, peanut butter pretzels (which I had brought back from my Fall semester in New York…in 2012), shredded coconut (expired), chickpea flour (my mum's staple flour in many Persian dishes) and a lone jar of what I thought was strawberry jam.
Upon further inspection, the jar of jam was not strawberry but rather cherry jam- which she had brought back from Iran. I'm not the biggest fan of jams because I find them overly sweet and in Australia, very rarely is there an unsweetened variety. This, however, was not 100% cherry jam either.
Friends, it was 2% cherry. TWO. The other 98% was sugar, water and stuff which made it slightly tangy.
…..I 'borrowed' it anyway.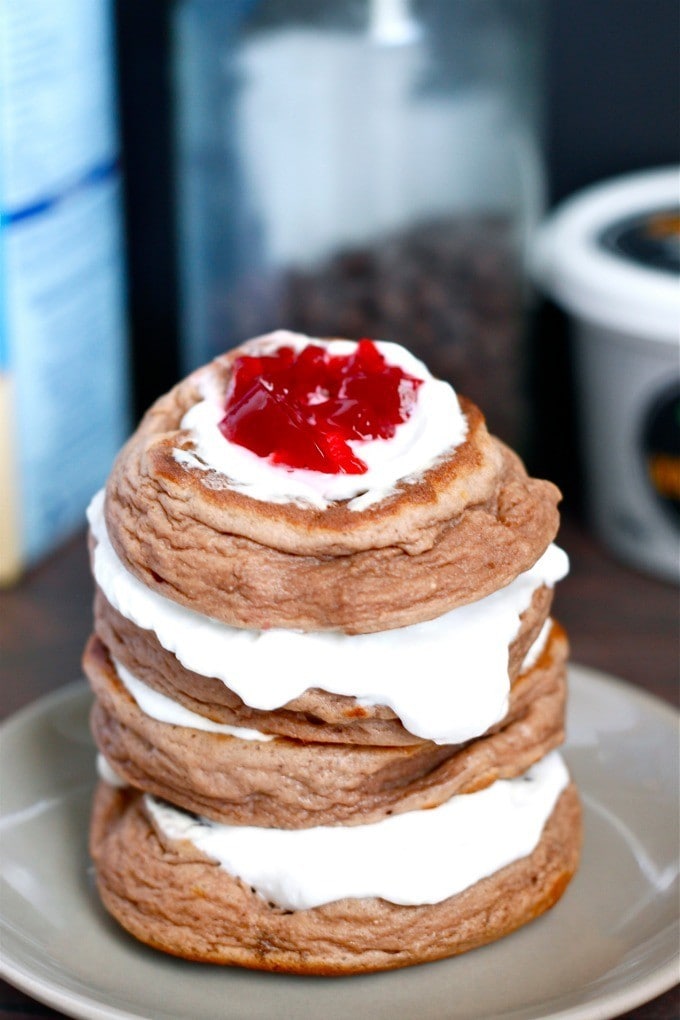 I still will work on the black forest oatmeal but will await the actual cherries- because let's be honest- digging into a bowl of creamy oatmeal in the morning with bursts of cherries would be amazing- unlike fake cherry jam.
What this jam would be perfect for would be….pancakes. Said pancakes that were made when my friends came over with personalized choices. A thin layer of this fake jam wouldn't detract away from classic taste of a black forest cake, with the main stars of the show being the whipped cream cheese.
These pancakes are so damn fluffy, you'd be fooled your actually eating a slice of black forest cake. Did you know these pancakes are ridiculously good looking healthy? Yep. They are flourless, gluten free, grain free and high in protein without protein powder! If you omit the fake jam and use Norbu– it is also 100% sugar free.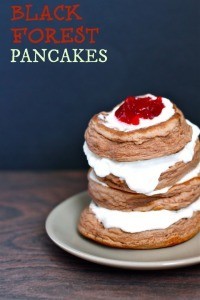 Black Forest Pancakes
A delicious, sugar free pancake recipe which tastes exactly like a slice of rich black forest cake!
Ingredients
For the pancakes
1/4

cup

coconut flour

1

tablespoon

unsweetened cocoa powder

1/2

teaspoon

baking powder

1/4

teaspoon

sea salt

1

tablespoon

Norbu Sweetener/2 tsp Natvia natural sweetener

or sweetener of choice

1

large egg

2

large egg whites

1/4-1/2

cup

milk of choice

I used almond milk

Cherry jam/fresh cherries to garnish
For the cream frosting
2

tablespoon

cream cheese

2

teaspoon

Norbu Sweetener/2 tsp Natvia natural sweetener

or sweetener of choice

1

tablespoon

milk of choice

I used almond milk
Instructions
To make the pancakes
In a large mixing bowl, sift the coconut flour and unsweetened cocoa powder to avoid clumps. Add in the baking powder, sea salt and sweetener of choice. Mix well to combine.

In a small bowl, whisk together the egg whites and egg and add it to the dry mixture. Slowly, pour in the milk one tablespoon at a time until it reaches a thick batter consistency. Do not over mix.

Heat a frying pan on low heat and spray with cooking oil. Once pan is extremely hot, using a measuring cup pour 1/4 cup of the batter and then cover the pan. Once bubbles appear and the edges go brown, remove cover, flip the pancakes and cover again for approximately 1 minute. Repeat until all the batter is used up.

In a small bowl, mix the sweetener with the softened cream cheese and add the milk until a semi firm cream is made. Layer the pancakes evenly with the cream frosting and top with fresh cherries or cherry jam.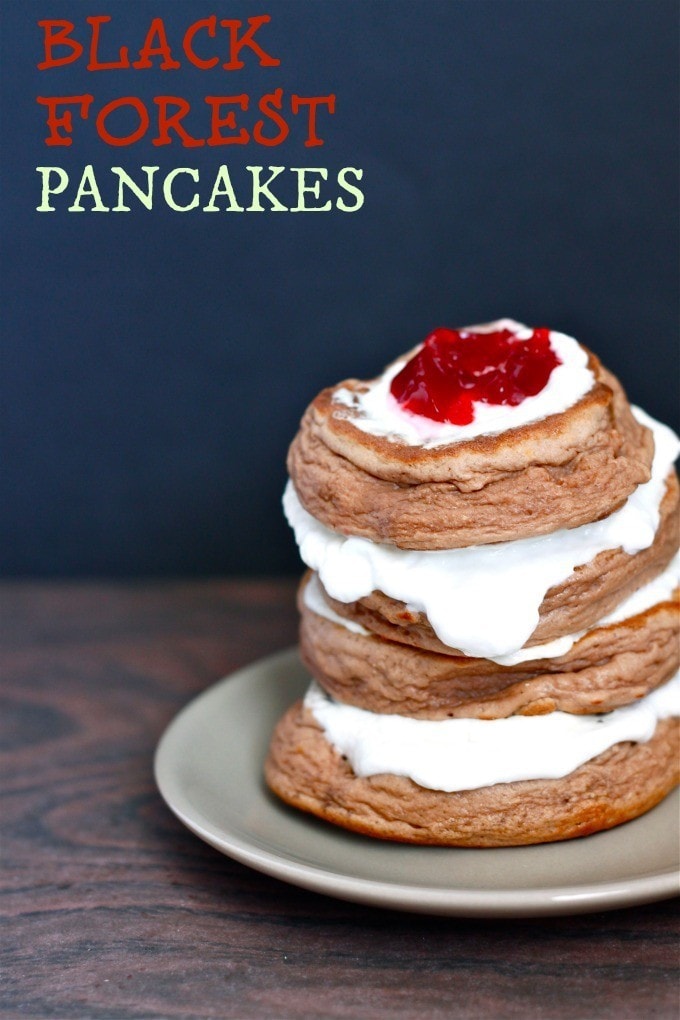 Disclosure: This post may contain affiliate links. I may earn a small commission for my endorsement, recommendation, testimonial, and/or link to any products or services from this website.