These copycat Lindt Truffles are the perfect treat to impress your guests without going to any effort! No bake, gluten free, vegan and a healthier (yet equally delicious!) spin on it's inspiration!

Firstly, thank you everyone whom submitted questions via the form and through emails and comments- They have been all collated and will be addressed in parts- you still have time to submit questions if you'd like!
One of the most popular requests was for recipes of popular food items in various restaurants, chains or products on there. Ironically, this is something I've always had a mild obsession with for quite some time. Since the early days of blogging, I loved re-making my favourite things but never ended up posting them.
Copycat KFC chicken? Done.
Copycat Four N twenties meat pie (Australian brand)? Done.
Copycat Wendy's frostys? Done.
Copycat Chipotle Beef Barbacoa recipe? Done.
My biggest accomplishment? Copycat Lindt Truffles.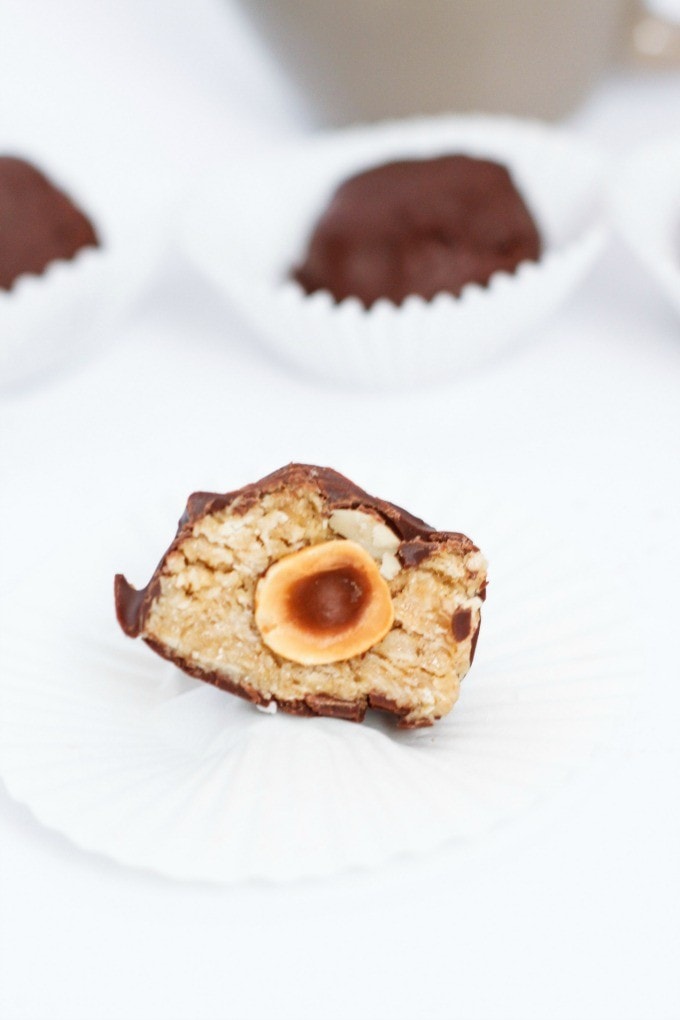 Story time! So- I made these Copycat Lindt Truffles for my friend's engagement last September. ITt was an epic night. Open bar, pork belly sliders and music blaring from the 90's. The engaged couple were cool too but that's not relevant. Anyway, the next day, a message was sent out to all attendees thanking them for their presence AND presents….and a shout out to one of my friend's Aunties for the 'delicious Lindt Truffle like chocolates.' Pretty sure
a) I'm not Female
b) I'm younger than any of the 'auntie's there
c) I was the only one who made something edible
Anyway said Aunty claimed credit for my edible gift and I now associated my copycat Lindt Truffles in negative light…until now.
Last week, there was a charity fundraiser for Breast Cancer awareness and communication was sent throughout my business unit asking for volunteers to (con)tribute baked goods or sweet treats. Never one to omit from a chance to whip up a treat, it was time to bring sexy Lindor back.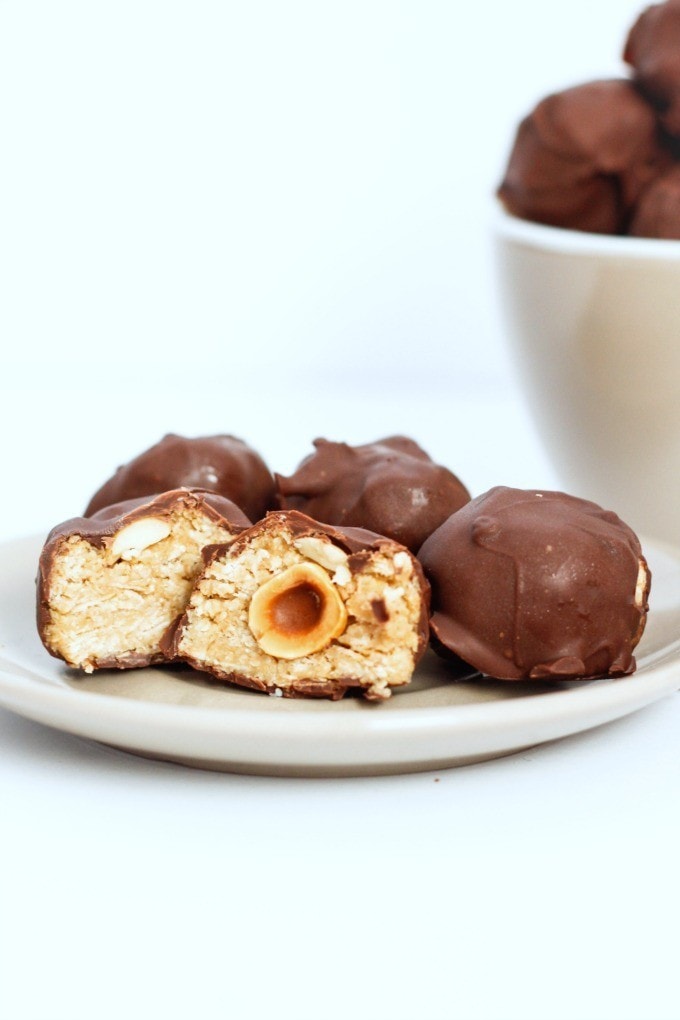 Friends…you know I'm not one to condone false advertising when it comes to recipes and I promise you- these have the same texture of a Lindt truffle- a creamy, soft, melt in your mouth interior with a firm, chocolate coating. In the middle is the optional nut of choice- for me it wasn't optional because who doesn't like a central surprise.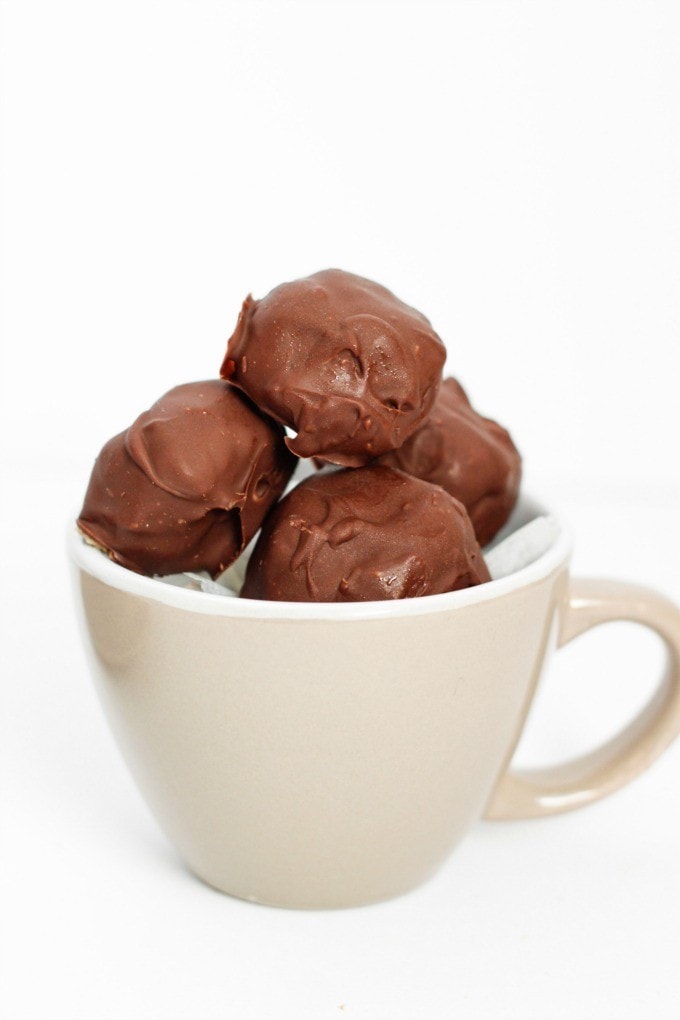 Whip these up and if you share- stamp a picture of your face on it.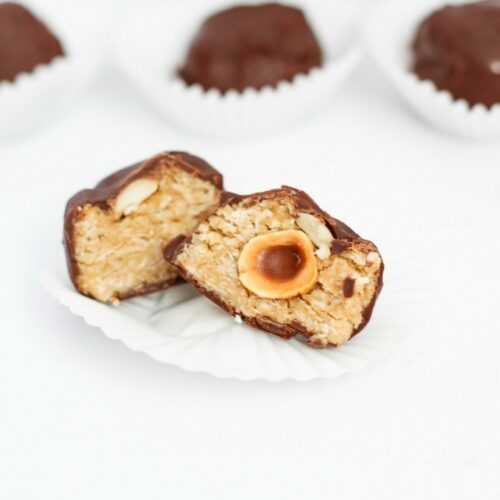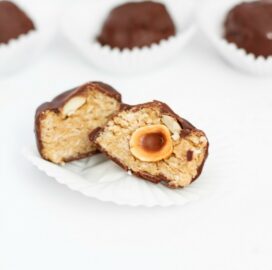 Copycat Lindt Truffles
A copycat version of the Lindt Chocolate Truffle- the texture, flavour and melt in the mouth perfection by those amazing chocolatiers. Gluten free and Vegan too!
Print
Rate
Ingredients
40

grams

gluten free oat flour*

40

grams

vegan friendly and gluten free cracker crumbs*

40

grams

sweetvegan friendly and gluten free biscuit crumbs*

395

grams

reduced fat coconut milk

can sub for condensed milk if not vegan

190

grams

mild tasting nut butter

almond, cashew or hazelnut works well- I used hazelnut

3

tablespoon

coconut oil

2

tablespoon

cocoa powder

optional- for a more chocolate interior

Milk/Dark chocolate chunks

melted
Instructions
Line a deep baking pan or 9 x 9 inch cake tin with baking paper. Set Aside

In a large mixing bowl, combine the oat flour, cracker crumbs and sweet biscuit crumbs and mix well.

In a saucepan, heat the coconut milk, nut butter and coconut oil until fully incorporated. Add the liquid mixture into the dry mixture and ensure it is well combined.

Pour the mixture into the lined baking pan and refrigerate for 2 hours, or until set.

In a saucepan, melt the chocolate chunks. While it is melting, form the truffle mixture into small, bite sized balls. Line two plates with baking paper.

Once chocolate is melted, dip each ball completely in the chocolate and set them on the baking paper to harden. Once chocolate is hardened, serve or refrigerate for optimum freshness.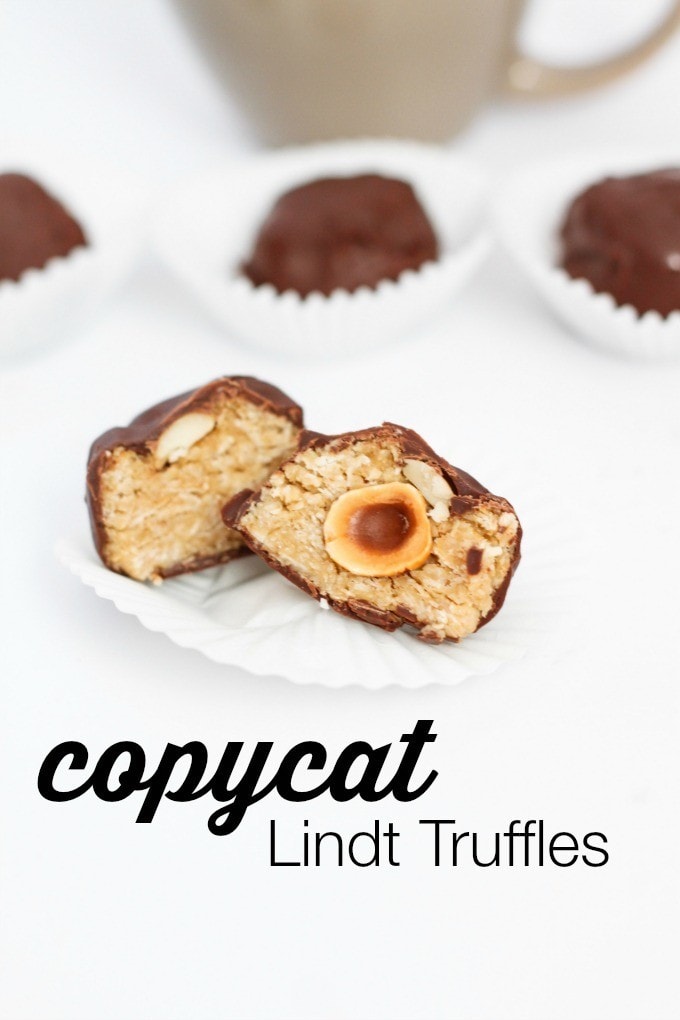 Have you ever tried to 'copycat' a recipe?
Has anyone ever taken credit for something you did?
Do you want to see more copycat recipes? Too bad if you don't, I have two to come!