I thought for this week's What I ate Wednesday post, I'd do things a little differently and showcase 24 hours of eats starting from Friday night. The reason is because I want to spotlight on some epic Lebanese food I ate with some friends. So from dinner until dinner- 24 hours of food. Big props to Jenn for hosting!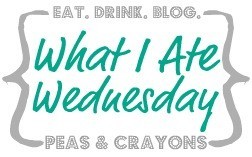 Dinner (Friday night)- After an epic dash to Costco after work, we hightailed it to what is considered the 'best chicken in the west'. It certainly was warrented- I haven't had such good barbequed chicken in so long! They served the chicken with pickles, pita, garlic dip and we ordered a side of felafel and tabouli. I wasn't keen on trying the felafel because of digestive pain but it was deep fried to perfection- I think it killed any legume like nutrients within.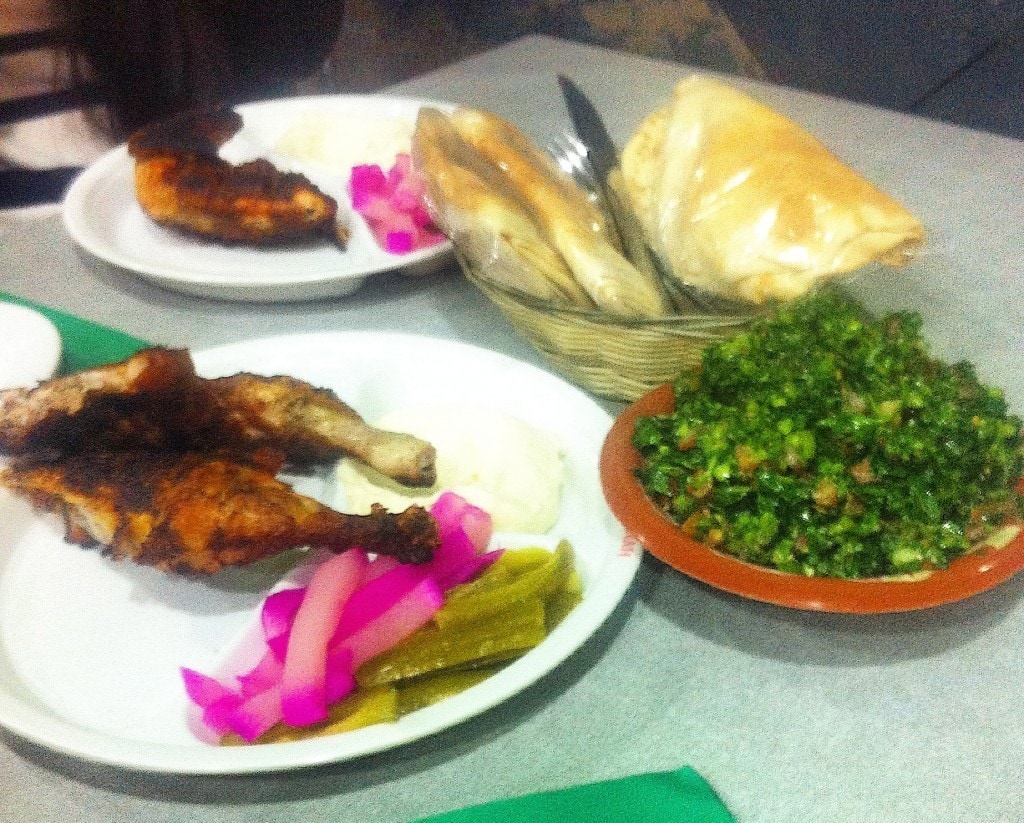 MY OTHER RECIPES
Pre bed- Don't ask why. Half a small block of white chocolate.
Breakfast- a bowl of caramel cookie dough oatmeal which I ended up baking. It tasted just as good in this state as it did eaten out of a bowl. Extra caramel chips on top = heaven.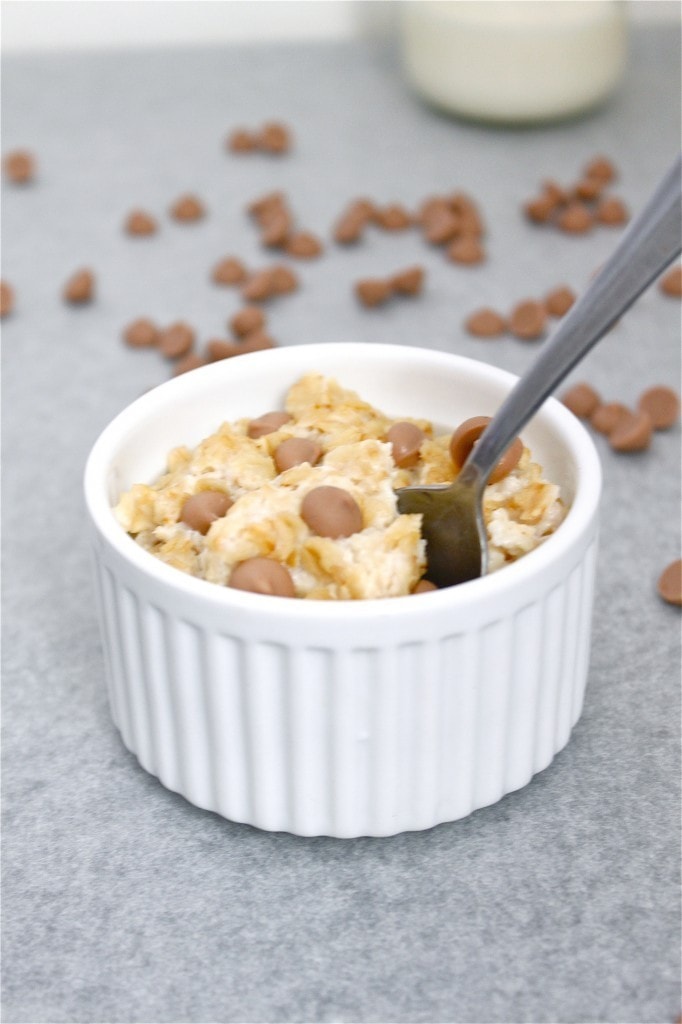 Lunch- A friend from Melbourne came to visit and we had grand plans to hit up Coogee beach for some epic brunching. Unfortunately, everyone in Sydney had that idea and it was packed. We went to a hole in the wall generic cafe.
They say looks can be deceiving. Doesn't look flash but damn it was good.
Gluten free French toast with powdered sugar with a side of bacon and fruit. Balance. BALANCE. BALANCE.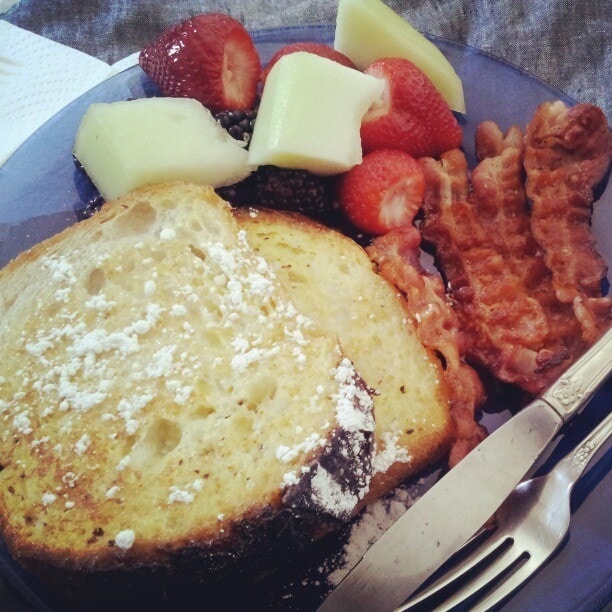 Afternoon snack- An afternoon photoshoot of microwave English muffins clearly meant I had to taste test. I ate one of the standard gluten free versions and the paleo version. I was too lazy to put butter or anything special on it so ate it plain. They were still pretty epic.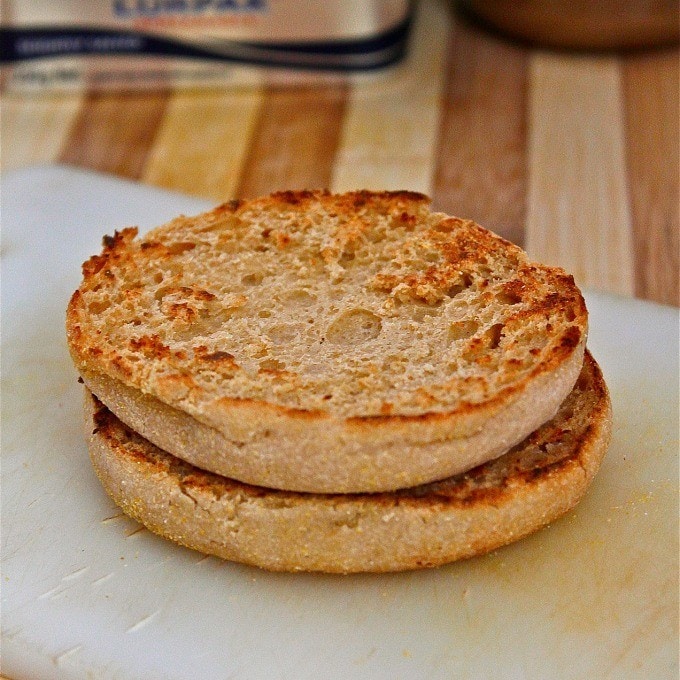 Dinner- I made a batch of my marinated pesto potato salad (minus the marinate part, add some mayonnaise) for food prep for the week and purposely made leftovers. I ate two bowlfuls of that with some random caramel chips on the side. I thought the bag had finished but there was ¼ left. Oops.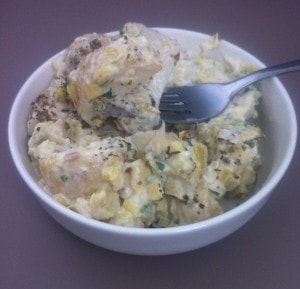 So in 24 hours…those were the eats.
I may or may not have drunk multiple (questionable) liquids in that time span but those few can keep their mouths shut. And phone pictures hidden.
Have you ever had Lebanese food before?
What is your favourite way to eat chicken?
What did you have for dinner last night? tonight? tomorrow night? In 4 weeks time?