Easy Pesto Paprika Shrimp
A food processor.
The 'gadget' of the moment which, when I posted this recipe, I lamented about how it didn't require one (and it's experimentation was a result of making do with what I had on hand- including utensils). Even though I tried to convince myself I could make do without one, deep down….I really did.
Last week, I trekked to my local Kmart and sans car, lugged a huge (albeit cheap) food processor back to my shoebox studio. The walk back was a workout in itself and I refrained from opening it, with big intentions to do so the coming day.
Friends, that was the best decision ever.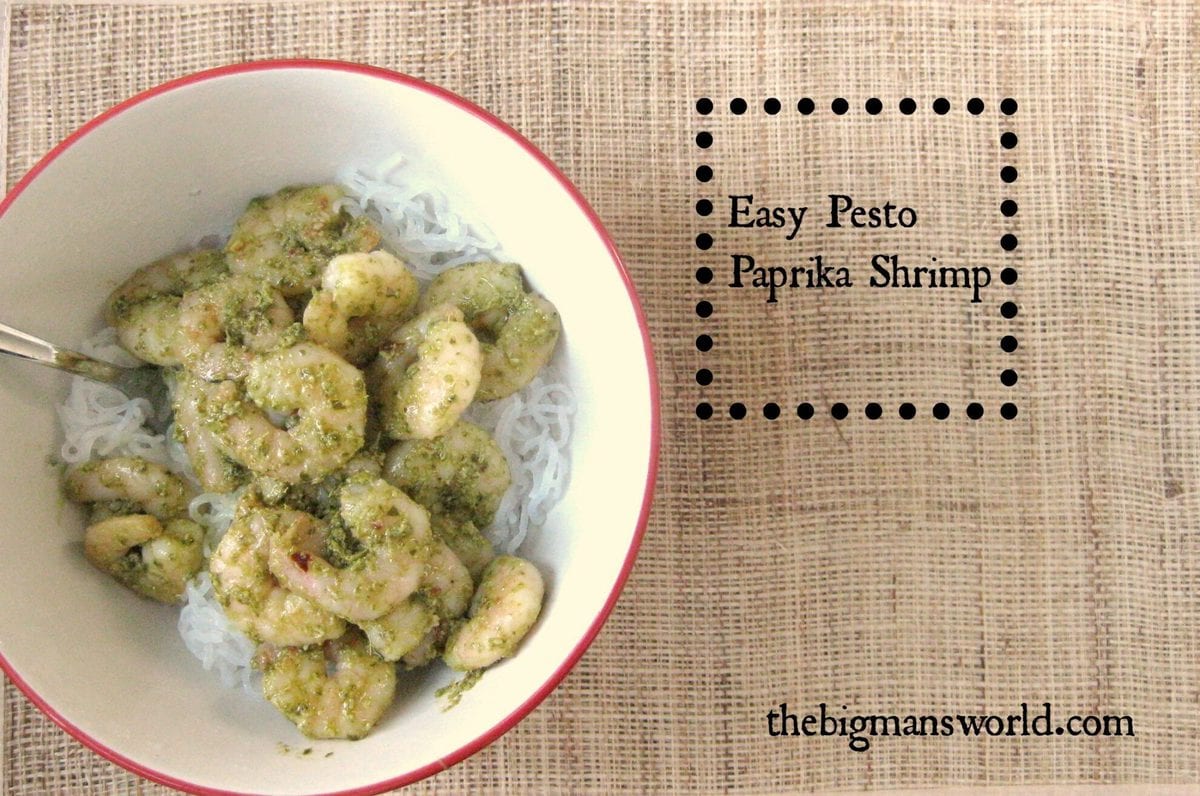 Kim, the founder of Australia's answer to the Vitamix- the Spectablend, reached out to me and generously offered me one of their amazing gadgets to try out. With blending AND food processor capabilities- it was just the thing to get the recipe juices flowing.
The next day, I omitted my upper body workout. Just kidding, I lugged the newly bought food processor and returned it back. The shop assistant gave me the stink eye and checked to see it wasn't used.
The tape was still on it and the box still intact.
That night, I whipped out the Spectablend and trialled a recipe I had conjuring in my head for quite some time- A basil pesto made with almonds instead of the traditional pine nuts. I had high hopes- I'd seen the Vitamix demos, tv infomercials and read a tonne on it so the Spectablend had a lot to live up to.
It did…and I'd never seen such beautiful pesto in my life. In under 2 minutes, I had the most delicious pesto which was so addictive, I may or may not have eaten half with a spoon. I held back and used it to cover some shrimp I had in my fridge. Mixed with some spices and served over noodles, this super simple yet delicious recipe was created.
Easy Pesto Paprika Shrimp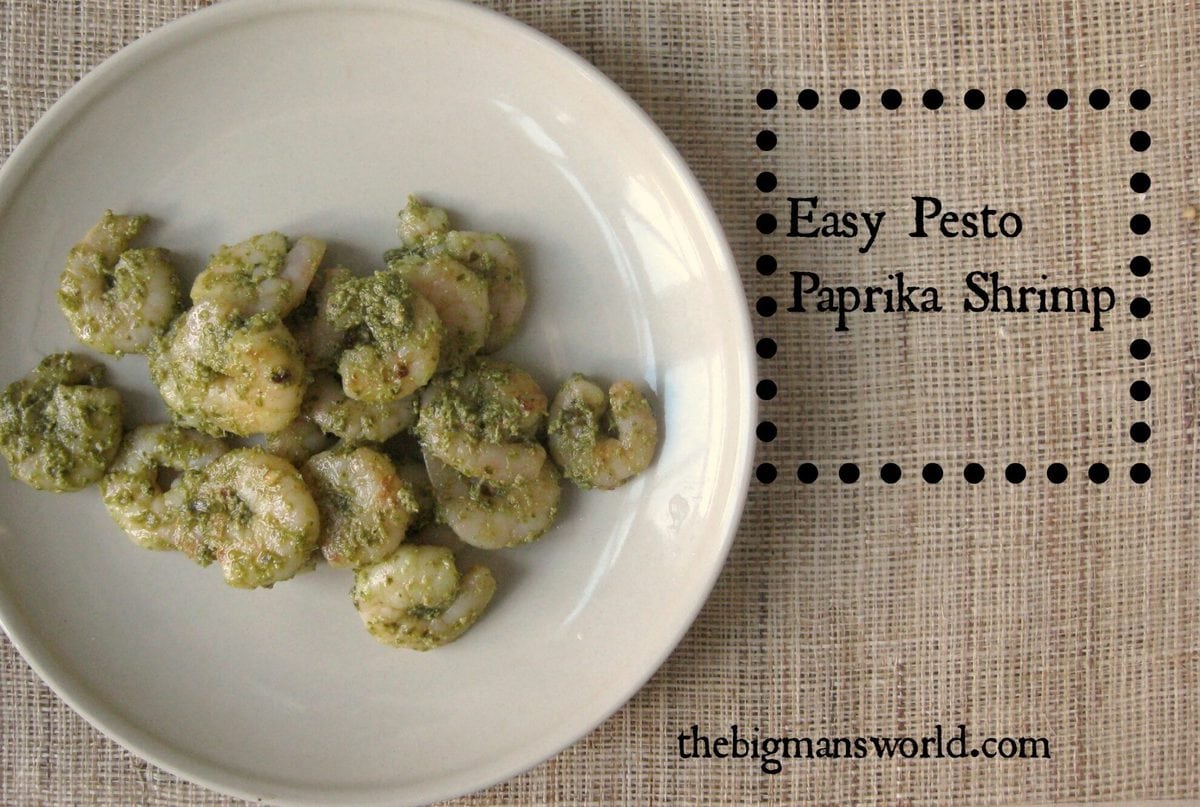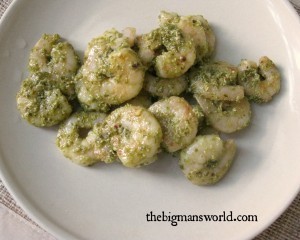 Easy Pesto Paprika Shrimp
A super simple pesto recipe which screams to be mixed with shrimp for a flavour combination!
Ingredients
For the pesto paprika shrimp
1

kilogram

of peeled shrimp/prawns

2.2 lbs

3/4

of homemade pesto

recipe below

1

tablespoon

of smoked paprika

2

tablespoon

minced garlic

1

tablespoon

olive oil

Rice

pasta, noodles etc
For the homemade Pesto
100

grams/4 ounces of fresh basil

2/3

cup

nuts of choice

I used raw almonds

3

tablespoon

strong parmesan cheese

3/4

cup

olive oil

2

tablespoon

minced garlic

around 3 cloves
Instructions
In a food processor or strong blender, add all the pesto ingredients and blend until fully combined. Set aside.

Heat a frying pan with olive oil. When fully heated, add in the minced garlic and smoked paprika and lightly fry for 1 -2 minutes, until fragrant. Add in the shrimp and cook until they are pink and cooked.

Remove from the heat and allow to cool. Once cool, combine 3/4 cup of the homemade pesto with the shrimp and mix until fully incorporated.

Top the shrimp mixture on your favourite grain, pasta or even on top of a salad.
Notes
This shrimp freezes really well, as does the excess pesto. For the pesto, feel free to sub any nut for it but keep the rest of the ingredients the same.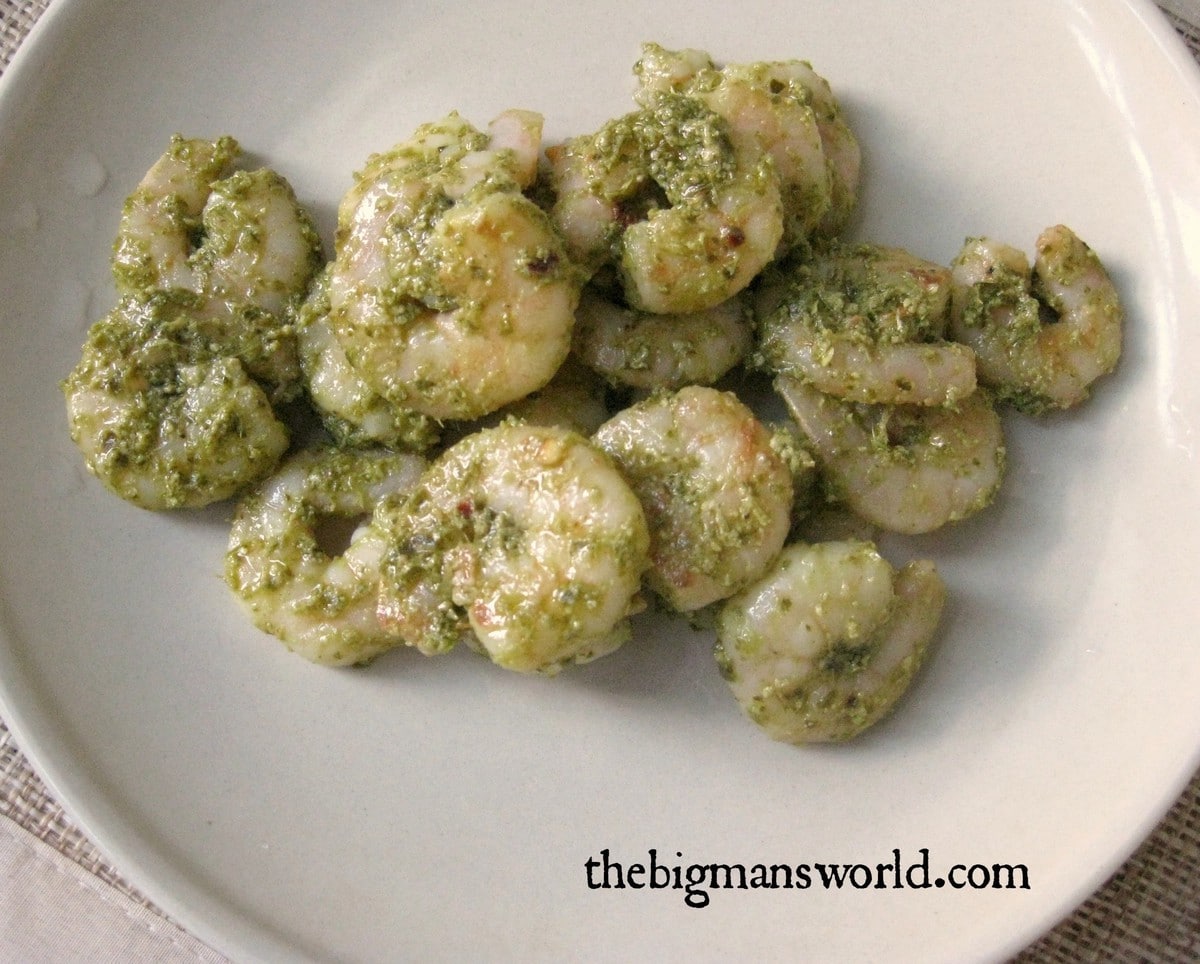 Linking up with Laura and Kierston for their respective recipe parties! Hope to see you guys this weekend for the Birthday Edition of Spill it, Sundays!
Have you ever tried pesto NOT made with pine nuts?
Favourite pairing with pesto?
What should I make in this hybrid/processor next?
Disclosure: This post may contain affiliate links. I may earn a small commission for my endorsement, recommendation, testimonial, and/or link to any products or services from this website.