Gingerbread Almond Granola
A sweet and salty granola which is perfect for breakfast or a snack- Gluten free and the festive gingerbread flavours, with crunchy, sweet and salty roasted almonds throughout.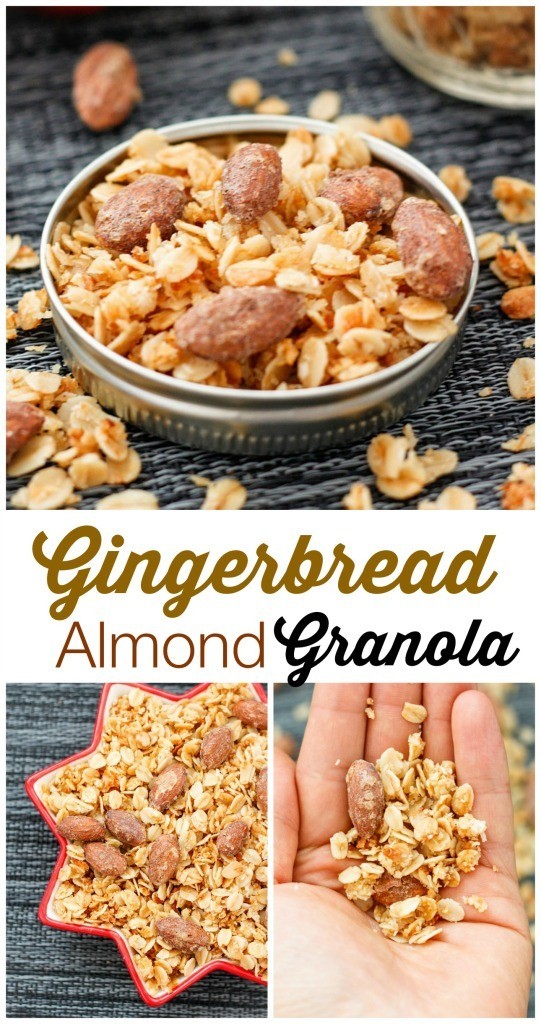 I think it's safe to say, this will be the final gingerbread recipe of the year. Well, unless I can recreate the gingerbread oatmeal I experimented with last week but no promises.
Why?
I literally had molasses in my hair.
Let's just say the lid got stuck, I went slightly crazy trying to rip it open and zing. Molasses in my hair.
Let's end this now with saying you'll need to wash your hair three times to get it out. You'll also have that 'molasses' scent for a week.
Let's talk granola and travelling and travel snacks. Did you know granola makes an amazing travel snack? I don't mean a 2 hour country drive, a 45 minute bus ride or a 6 hour mini road trip to the beach. (Says the guy who keeps a jar of granola at his desk. That is clearly a road trip. a 1 second road trip).
Before I went on my American and Canadian whirlwind trip, I whipped up an entire batch of my Hazelnut Espresso Granola. I looked at my air ticket and did some calculations and came to the realisation that the entire journey would take just under 37 hours. (Please don't let that deter you from coming to visit me here- I had to go some alternative route!). For such a long trip, snacking is imperative. I knew that airlines would serve meals (hello, extra haagan dazs ice cream!) but snacks are non negotiatable.
The granola was divided into a large, lunch box sized container and a smaller, delicate container. The latter was intended to be given to Davida as soon as I arrived.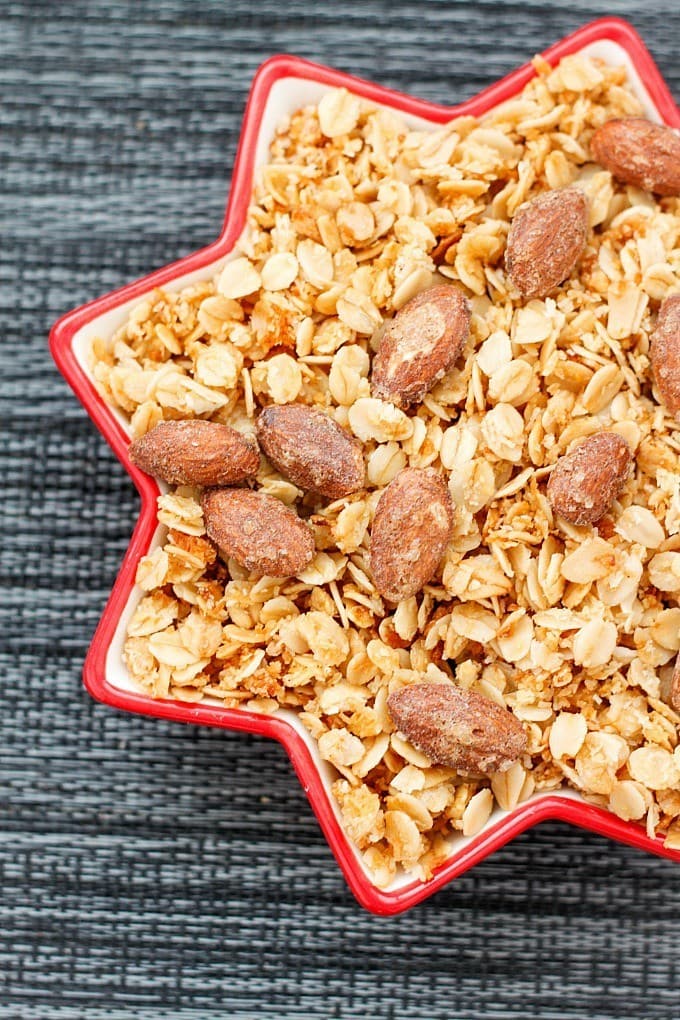 Friends, when I landed in Hong Kong the container designated for me was already finished.
The flight to Hong Kong was also the shorter of the two flights.
You know how it ended. Before hailing a cab to Dav's place- I threw out two empty containers.
Safe to say, this granola recipe is just as good and may or may not have the same effect. It makes the perfect gift (I've already jarred up three for some work colleagues and my neighbour!). It has the flavours of gingerbread thanks to the molasses and spices. The sweet flavours are complimented by sweet and salty roasted almonds.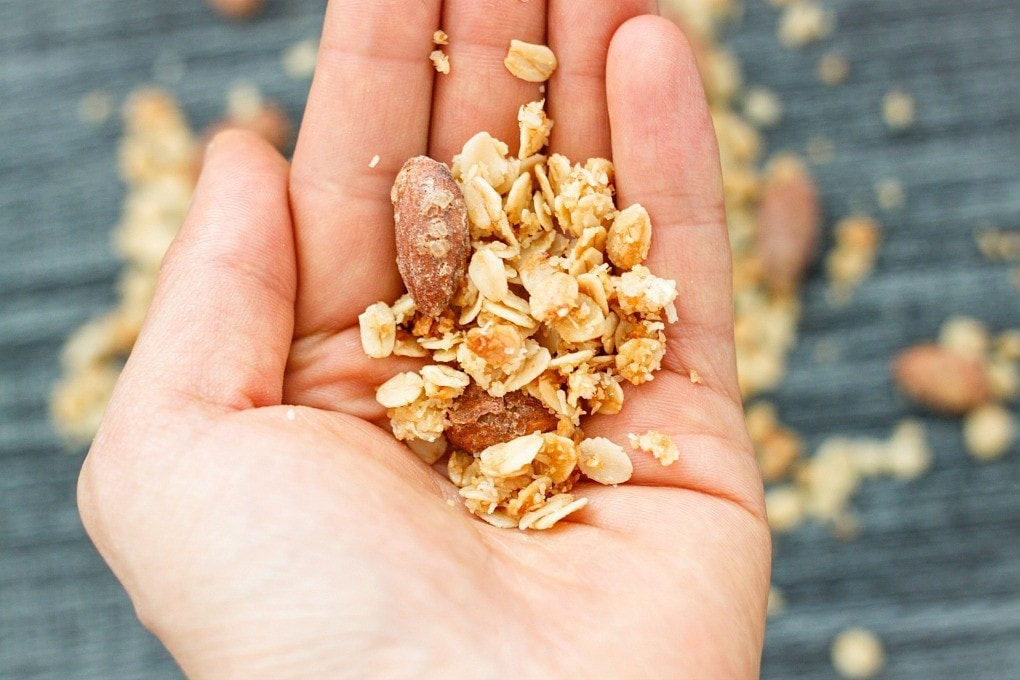 Got a road trip coming up or a long flight? Make four batches. Trust me.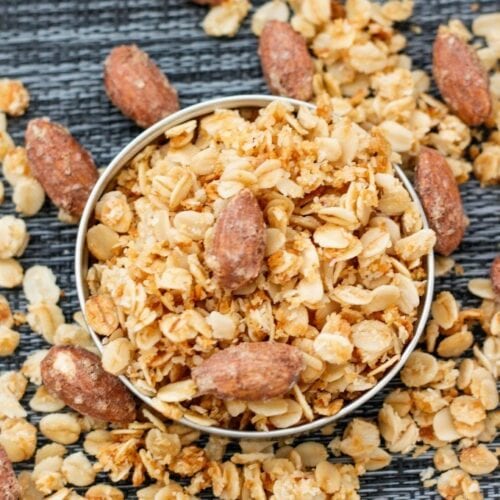 Gingerbread Almond Granola
A sweet and salty granola which is perfect for breakfast or a snack- Gluten free and the festive gingerbread flavours, with crunchy, sweet and salty roasted almonds throughout.
Print
Rate
Ingredients
1 1/2

cups

gluten free rolled oats

1/2

cup

gluten free quick oats

1

teaspoon

cinnamon

1

teaspoon

nutmeg

1

teaspoon

ginger

1/2

teaspoon

sea salt

2

tablespoon

neutral tasting oil

I used canola

3

tablespoon

molasses

1/2

cup

sugar free caramelised almonds*
Instructions
Preheat the oven to 180 degrees Celsius. Line a large baking tray with baking paper and set aside.

In a large mixing bowl, combine the rolled oats, quick oats, spices and salt and mix well.

In a small microwave safe bowl, combine the oil and molasses and heat until mixture starts to bubble (approximately 1 minute). Add the liquid mixture to the dry mixture and combine until fully incorporated.

Spread out the granola mixture evenly on the lined oven tray and bake for 10-12 minutes (depending on the oven) until the edges start to go slightly golden. Remove from the oven and stir through the sugar free caramelised almonds. Place back in the oven and continue to bake until golden brown.

Remove from the oven and allow to cool completely. Once cooled, break up the granola and add extra almonds if desired and store in an airtight container.
Notes
Constantly keep an eye on your oven temperature throughout.
The use of rolled oats and quick oats provided a more loose granola. To have more cluster like granola, use strictly rolled oats.
You can sub the almonds for any mix ins- Keep the proportions the same. The Sugar Free Caramelised Nuts recipe can be found under 'Recipes'.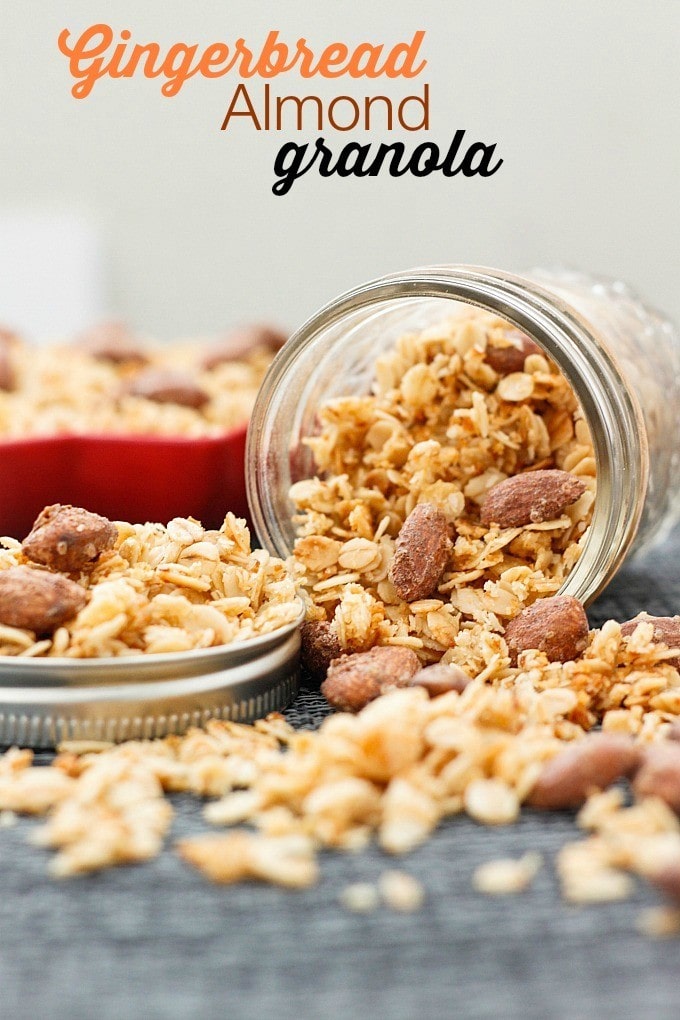 Want more granola recipes? Check these beauties out.
Linking up with these amazing parties- #recipeoftheweek, RealfoodWednesdays, Share your stuff Tuesdays, simple supper Tuesdays and Gluten Free Wednesdays, and what's cookin' Wednesdays,#glutenfreefridays, glutenfreetuesdays with some weekend pot luck lovin
Linking up my with the epic crew- Taylor, Krista, Melanie and Gloria for some Show Stopper Saturday action! Also linking up with the SIT Girl's Saturday Sharefest, DIY With the SITS and Foodie Friday!
What are your favourite road trip snacks? Beef jerky is a staple!
Ever got something caught in your hair? My sister once got a comb stuck in hers. It was awesome.