[Gluten free] Curry Vegetable Burgers
No your eyes are NOT deceiving you.
Yes I am just as surprised.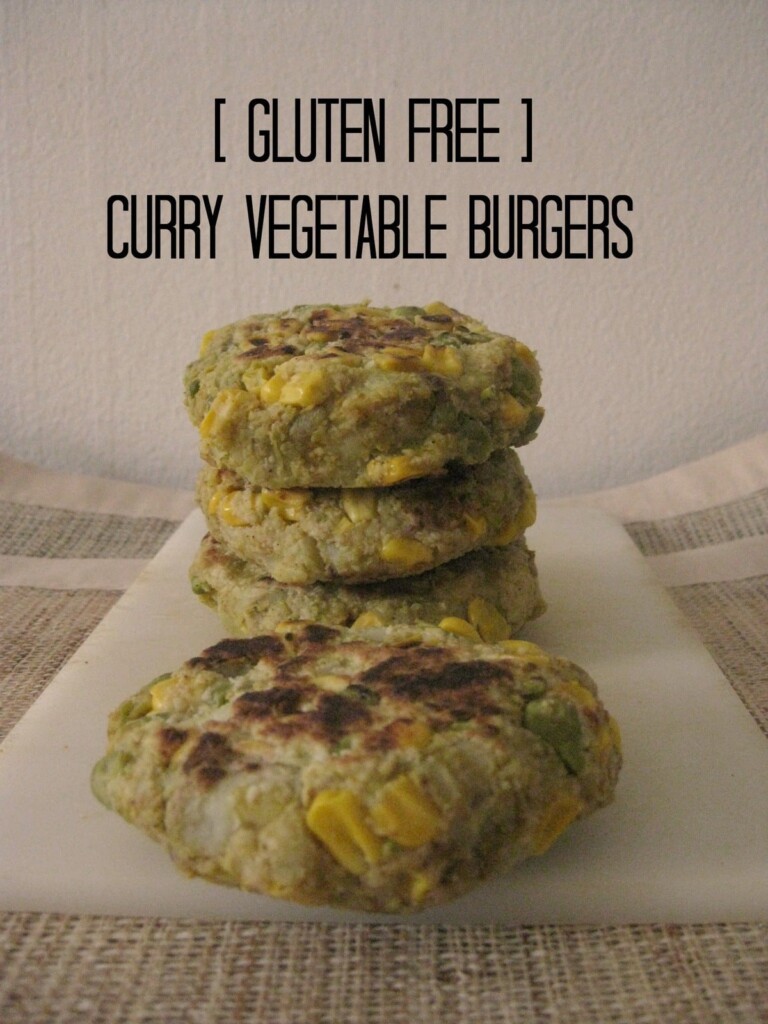 When I think of burgers, I think of beef, juicy and preferably with bacon. I never think of vegetables unless you count pickles and maybe tomato inside. If I'm being fancy (like Iggy Azalea) then I might go the lamb or kangaroo route- or the rare occasion, salmon.
Notice a trend? They are all animal sources of protein…and I like it.
Another reason I'm not a fan of traditional vegetable burgers is that all the recipes I've seen contain legumes in some form- whether that be chickpeas, black beans or kidney beans. I am not the biggest fan of legumes because a certain hummus loving blogger ate them all. Just kidding. My stomach does not really appreciate these little buggers and I'm not willing to continue dabbling with them. I'll have my steak and eat it too.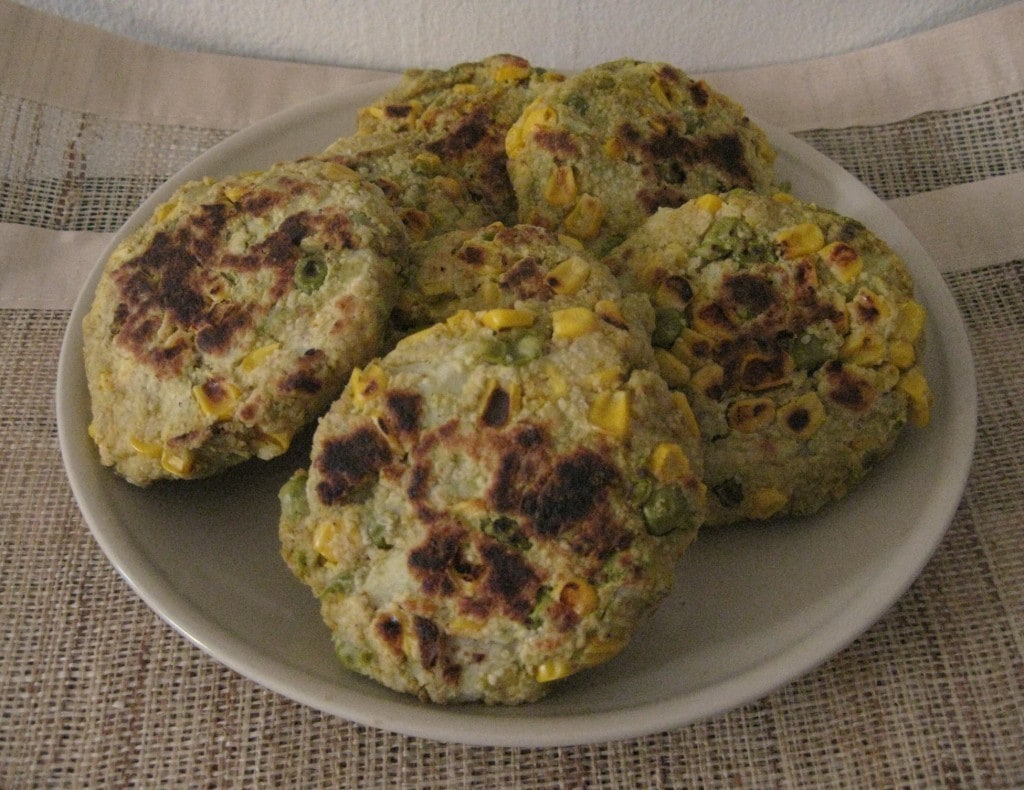 A while back when I caught up with my granola bar bestie Lauren (sorry Lauren….it's going to stick forever now) she mentioned how she was going to try going 'Meat-free Monday'. That wouldn't be too hard for her because whenever I dined out with Lauren back in Melbourne, she'd always pick vegetarian options regardless.
Anyway, when Lauren came over for brunch a few weeks ago, I had intentions to make a sausage based dish but thought….let's make it meat free. Geeze, the things I do for others.
Anyway. More childhood friend stories! Our friend Ingrid whom I travelled to Japan with, would always go on and on about these things she ate growing up called 'Bubble And Squeak'. Bubble and Squeak is a vegetable croquette style snack which has a spicy, curry flavour and apparently tastes amazing with ketchup. Then again, so does a majority of things.
So where do all these childhood stories lead to? This recipe. Based on potatoes instead of chickpeas, they lend a blank texture to add anything your heart desires. I loved the flavours of curry after this recipe, so wanted to incorporate the same. Using my favourite gluten free flour blend- I was pleasantly surprised with the outcome.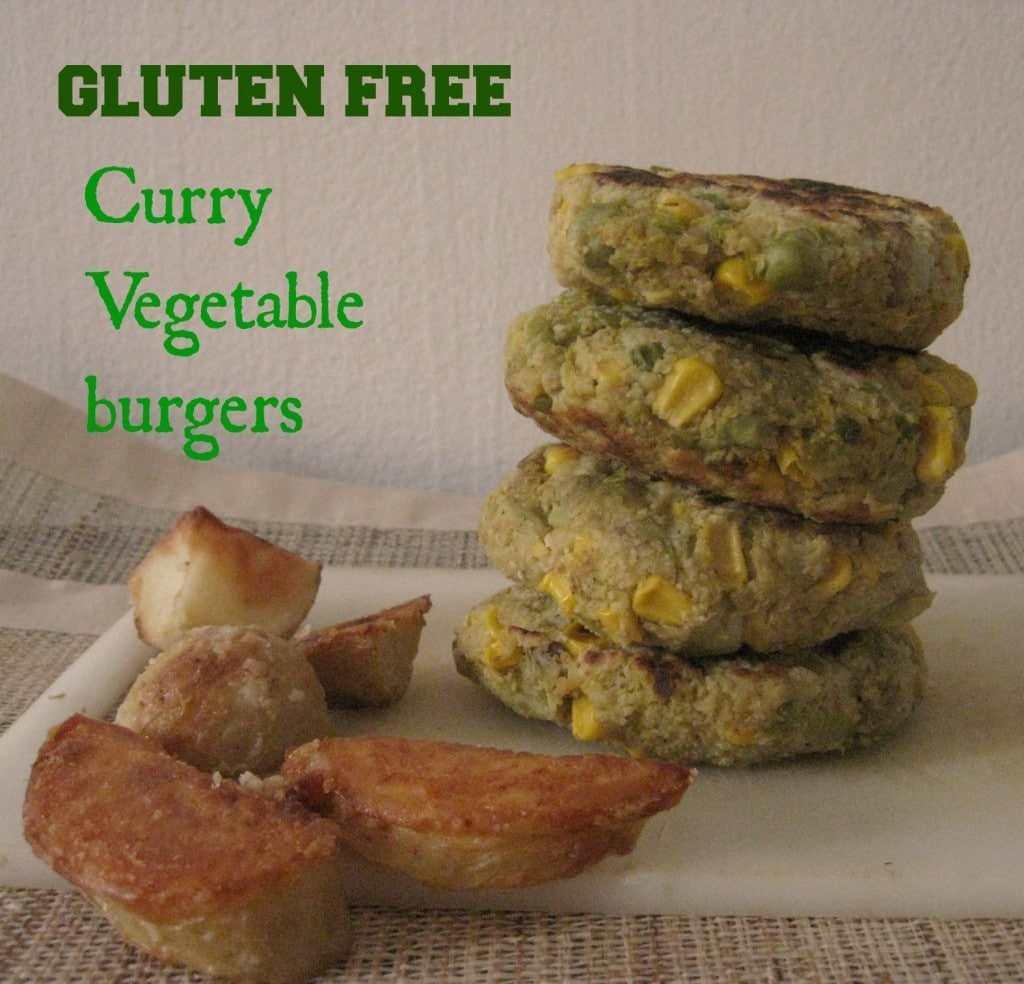 Although I won't be giving up meat anytime soon, these are a delicious contender….with a side of a beef burger. Oh snap.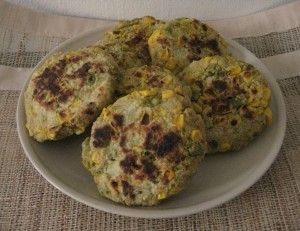 [Gluten Free] Curry Vegetable Burgers
A hearty, gluten free burger recipe which is heavy on the veggies and perfect for a meat free meal!
Print
Rate
Ingredients
1

kilogram

potatoes

sub for rutabaga or sweet potatoes for a paleo option

1/2

cup

peas

1/2

cup

corn

1/2

cup

baby spinach

finely chopped

1/2

large onion

finely chopped

1

garlic clove

minced

2

eggs

whisked lightly

1

T

curry powder

1

tsp

onion powder

1

tsp

garlic powder

1

tsp

sea salt

1/4

cup

gluten free flour + more for light dusting
Instructions
In a microwave safe bowl or large pot, cook potatoes until no longer firm but tender. Allow to cool then mash completely.

In a large mixing bowl, combine the mashed potatoes, peas, corn, chopped spinach, chopped onion, minced garlic and mix to combine. Add the eggs and mix well. Add the curry powder, onion powder, garlic powder, sea salt and flour. Mix until fully incorporated

Form the mixture into 8 even patties and lightly dust each one with extra flour and set aside

Coat a large frying pan generously with oil and cook the patties for 3 minutes, before flipping and cooking for another 3 minutes or until crispy on the outside. Serve patties immediately or allow to cool completely before storing.
Notes
These burgers can be made in advance and easily reheated on the grill or in the oven. They freeze extremely well and simply defrost before consuming
For a quick meal idea, toast up a hamburger bun, add your condiments and an easy option
These taste amazing cold- I ate it for breakfast with a side of potatoes and was in potato heaven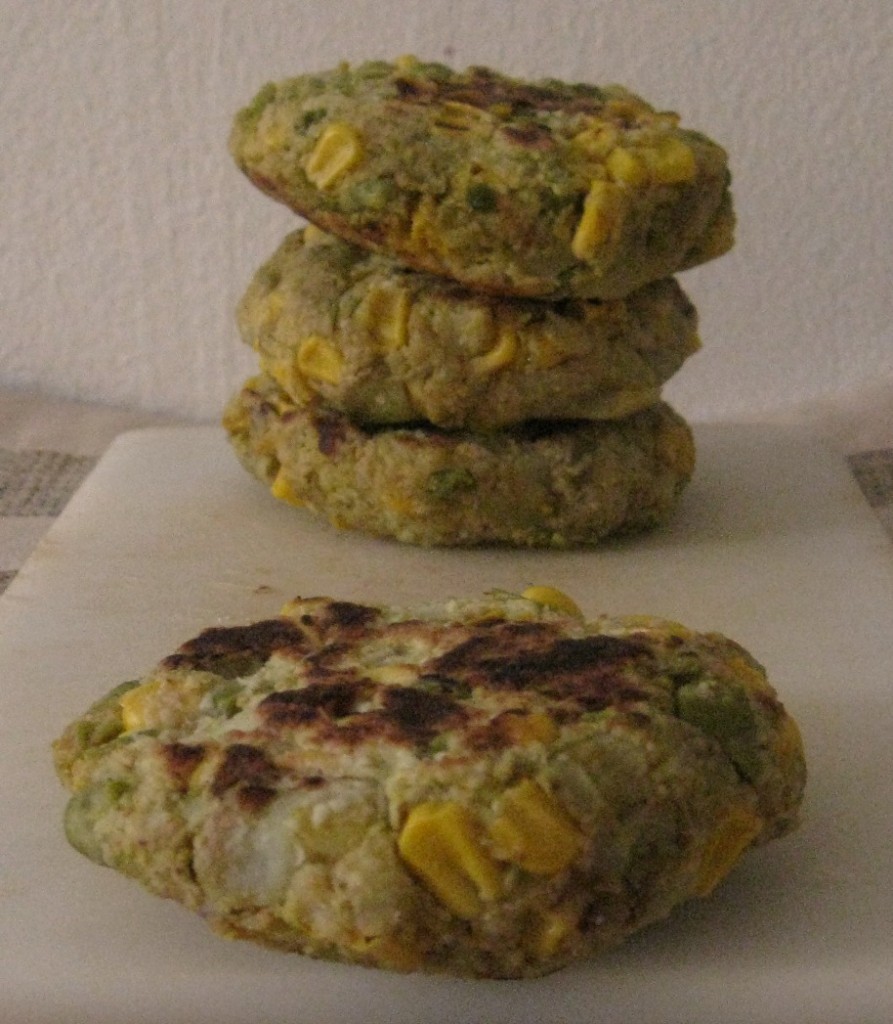 Linking up with new to me parties- #recipeoftheweek, RealfoodWednesdays, Share your stuff Tuesdays, simple supper Tuesdays and Gluten Free Wednesdays, and what's cookin' Wednesdays with some weekend pot luck loving!
Are you a fan of veggie burgers? What is your favourite kind of burger?
Have you ever eaten 'Bubble And Squeak'?
Do you ever have 'meat free' days?