Just four easy ingredients are needed to make these healthy cake batter rice crispy treats which are packed with protein! Unlike traditional versions, this one has no butter, oil, marshmallows or added sugars AND requires no baking- It's gluten free and vegan too!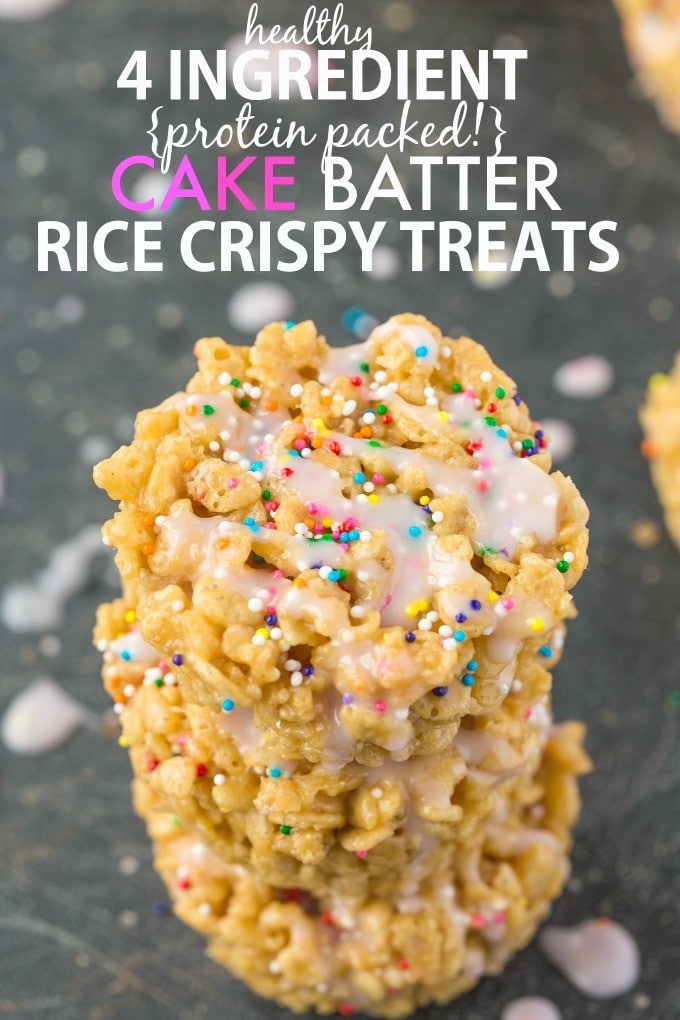 ***
"Hi, I'm curious why you post many recipes which include sprinkles or are targeting female readers? How about some steak or sandwich recipes?"
Thanks, Anonymous 🙂
It goes back down the 'food and gender stereotype debate.'
Female- Salads, frozen yogurt and a single square of dark chocolate (90% plus or else!).
Male- Steak, potatoes and a block of chocolate (milk, or else!).
Female- Cupcakes, muffins and blondies.
Male- Pie, pudding and the entire cake.
Female- Sprinkles, funfetti and powdered sugar.
Male- ….Cilantro?
I think subconsciously, many of us play into the stereotype too. These thoughts often cross my mind whenever I'm playing around in the kitchen. However, I think it's important to stay true to your own thoughts, ideas and run with them.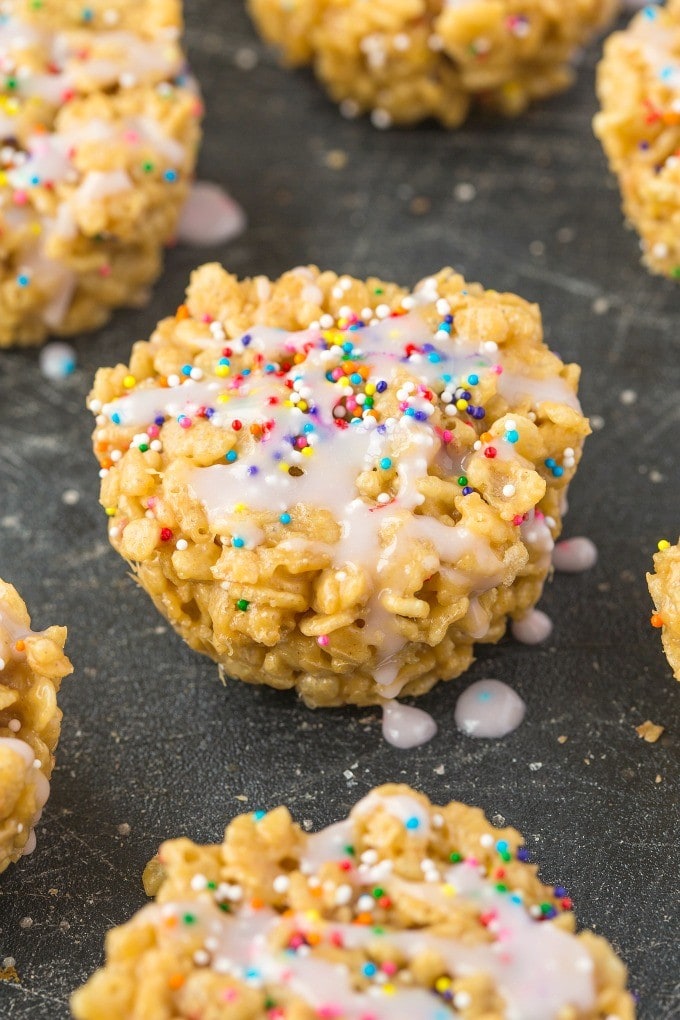 When I look at the above list, I actually could easily fit into either gender stereotype very easily. While I prefer steak and potatoes over salad, I would kill a tray of blondies or muffins over pudding. As for cilantro, I would name my worst enemy that. Seriously, cilantro is worse than edible punishment (if that could be a thing).
Regardless of whether or not you fall into either stereotype, it's important to ensure you're falling into them because YOU want to and not because society or the media dictates it to be acceptable. I'll eat my steak dinner and end with a single vanilla cupcake laced in sprinkles and call it day.
NO shame.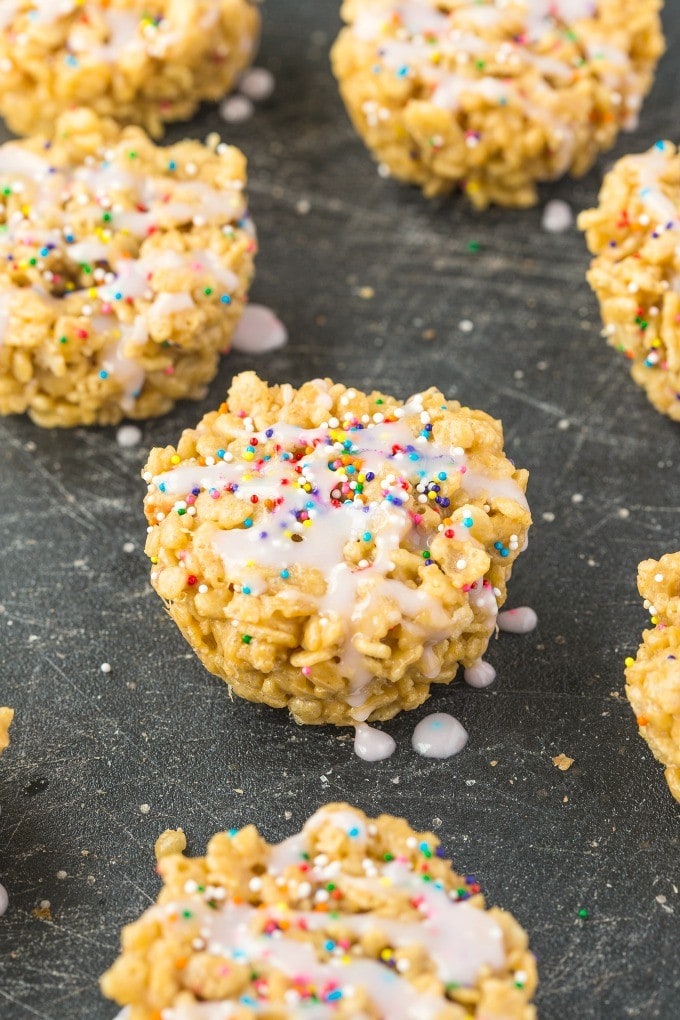 It's no secret that I seem to be on a funfetti/sprinkles trend right now. I loved using them in this vanilla cake, these no bake bites and these muffins. They also got the pampering in this single serve dip. Oh and we can't forget the low carb cake batter spread which pimped up my sandwiches, like a BOSS! I'll also let you in on another secret…It's not going to stop. I still have two in my archives to share in the coming week so build a bridge and get over it.
I didn't think it was possible to be able to top my original 3 ingredient rice crispy treats but being someone to loves adding protein powder to anything and everything, this obviously had to happen too. I have done a chocolate version of this (stay tuned for yet another chocolate twist….it's too good!) but went back to my tried and tested original with some pimping up. The simple addition of vanilla protein powder IN the actual bars AND used as part of the glaze = You need to do it.
Stat.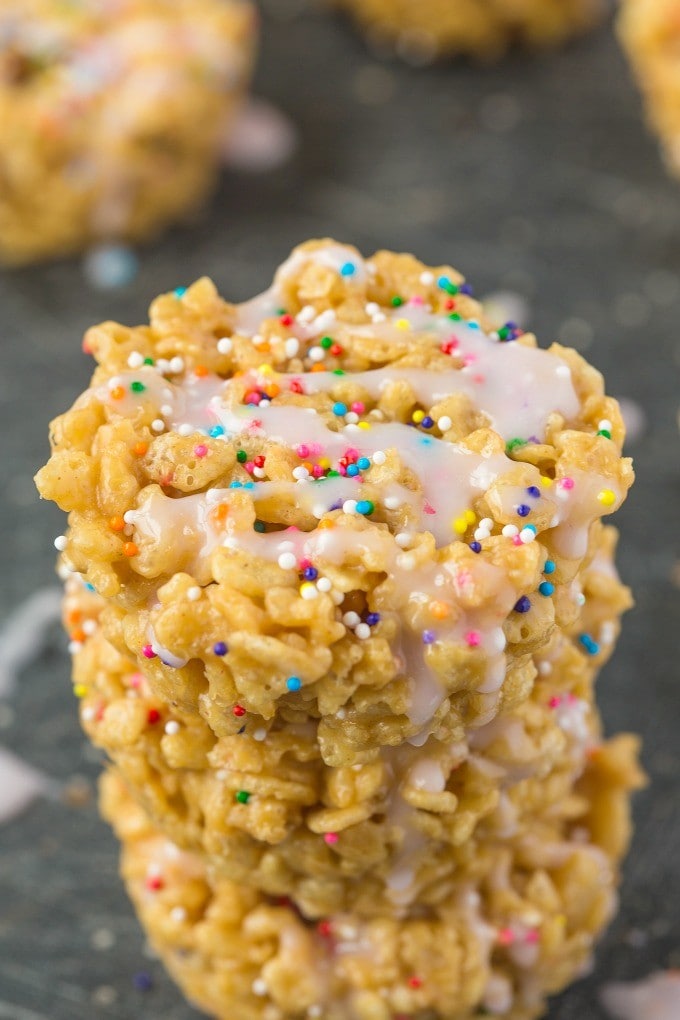 These healthy four ingredient cake batter rice crispy treats are the healthier version of the childhood classic. It's been given a welcomed makeover which, dare I say, could give it a run for its money? Unlike traditional rice crispy treats which use butter, marshmallow and often oil to keep it intact, these have none of them whatsoever. I used my original three ingredient rice crispy base but added a scoop of protein powder in the base (and changed some of the ratios to make it easier to mold) and also made an optional glaze on the top which gave it a cake batter like flavor! These literally take five minutes to make and have no refined sugar in them. they are also suitable for those following a gluten free and vegan lifestyle!
HACK! Notice the shape? For perfectly portioned rice crispy treats, use a muffin tin to firm up! These make them so much easier to freeze for quick, random snacking AND are so much easier for putting in your pockets when you run out the door at 9am to buy chocolate chips and are starving.
Yes. That happened.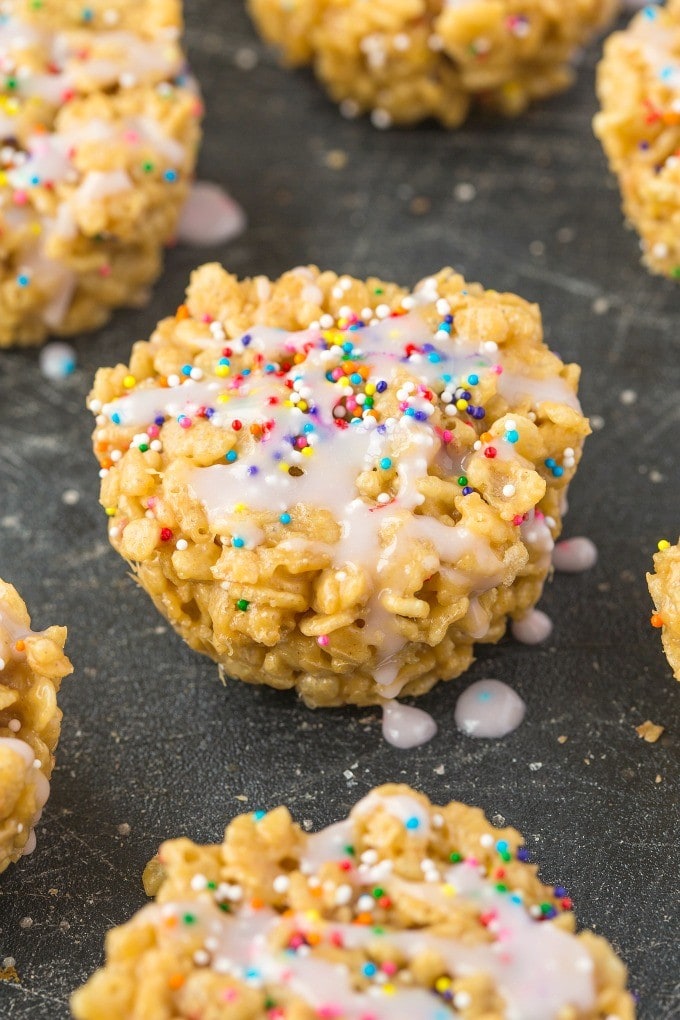 Make these healthy four ingredient cake batter rice crispy treats (with a protein punch) and whether you like sprinkles or steak or even that terrible herb called Cilantro- At the end of the day, it's FOOD.
(Except for the granola I made named Sandy. Those who follow me on Snapchat saw how THAT story unfolded).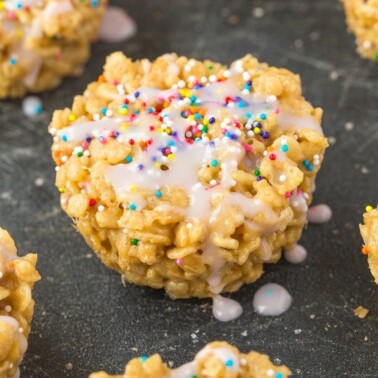 Healthy 4 Ingredient Cake Batter Rice Crispy Treats
Just four easy ingredients are needed to make these healthy cake batter rice crispy treats which are packed with protein! Unlike traditional versions, this one has no butter, oil, marshmallows or added sugars AND requires no baking- It's gluten free and vegan too!
Ingredients
2

cups

gluten-free crispy rice cereal

1/2

cup

+ 1 T peanut butter

can sub for almond/cashew*

1/2

cup

sticky sweetener of choice- I've used brown rice syrup

best, honey and maple syrup (least sticky)*

1

scoop vanilla protein powder*

Sprinkles

optional
For the protein packed glaze
2

scoops vanilla protein powder

1

tablespoon

nut butter OR sticky sweetener OR coconut oil

melted

water OR dairy free milk to thin out

sprinkles

optional
Instructions
Line a baking tray with baking paper or a muffin tin and set aside.

In a large mixing bowl, add your crispy rice cereal and set aside.

Stovetop or in the microwave, melt your nut butter with your sticky sweetener and mix well. Add the protein powder and continue stirring until fully incorporated. If you used brown rice syrup, this should be perfect. If you used honey or maple, you may need to add a dash more to make them stick together. Pour the mixture over the rice crispy cereal and add sprinkles and mix very well.

Pour mixture into the lined baking tray and press firmly into place or fill muffin cups to the top. Set aside Refrigerate for at least 30 minutes to firm up.

While it's firming up, prepare your glaze by combining all the ingredients together and thinning out with liquid until a thick, spreadable batter is formed. Top your rice crispy treats with them and refrigerate for another 30 minutes, or until firm.
Notes
* Depending on the protein powder you use, you may need another T of either nut butter or sticky sweetener to firm up. When I used a vegan brown rice protein powder, it was slightly clumpy but held VERY well (as pictured). When I used whey, it was terrible and really difficult to form (except for the glaze).
These are freezer friendly but can be kept at room temperature.
Adapted from Healthy 3 Ingredient Rice Crispy Treats
Want some manly sprinkles? Coming at you….manly style.
One Bowl flourless Funfetti Muffins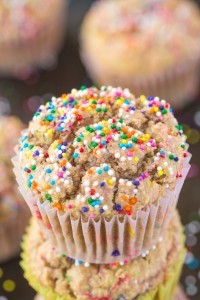 Healthy Cake Batter Dip For One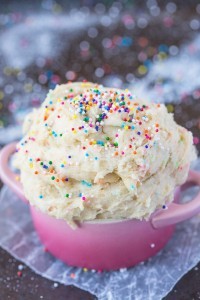 Healthy No Bake Cake Batter Bites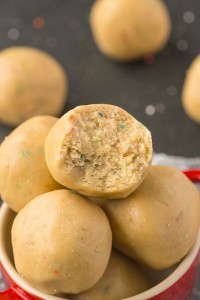 Does your food choices subconsciously mould into your gender's stereotype?
Cupcakes OR pudding?
Disclosure: This post may contain affiliate links. I may earn a small commission for my endorsement, recommendation, testimonial, and/or link to any products or services from this website.