These healthy flourless pumpkin breakfast muffins are a quick, easy and no mess recipe! Made in a blender, they are moist and slightly fluffy on the inside and tender on the outside! Made with no butter, oil, grains (if you opt for the grain free option!) or sugar, they are naturally gluten free, vegan and dairy free, with a paleo option too!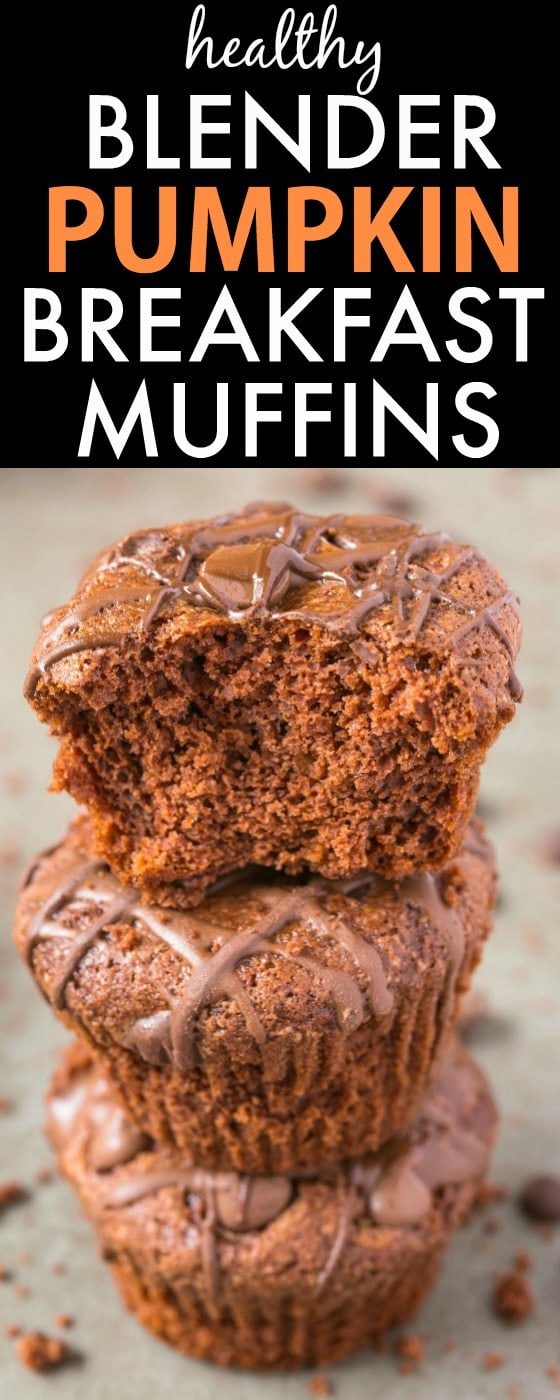 I've found the golden ticket for converting pumpkin haters into pumpkin lovers.
Mix it with chocolate.
Seriously.
Ever since sharing this recipe, I've received a ton of positive feedback. The overriding theme was that the pumpkin flavor couldn't be traced! While some people really do enjoy the naturally subtle sweetness of pumpkin in recipes, many just don't understand the need for it, and would rather have it masked up. It's why those brownies are perfect for pumpkin skeptics- You can't tell it's in there, but well…it makes up most of the recipe.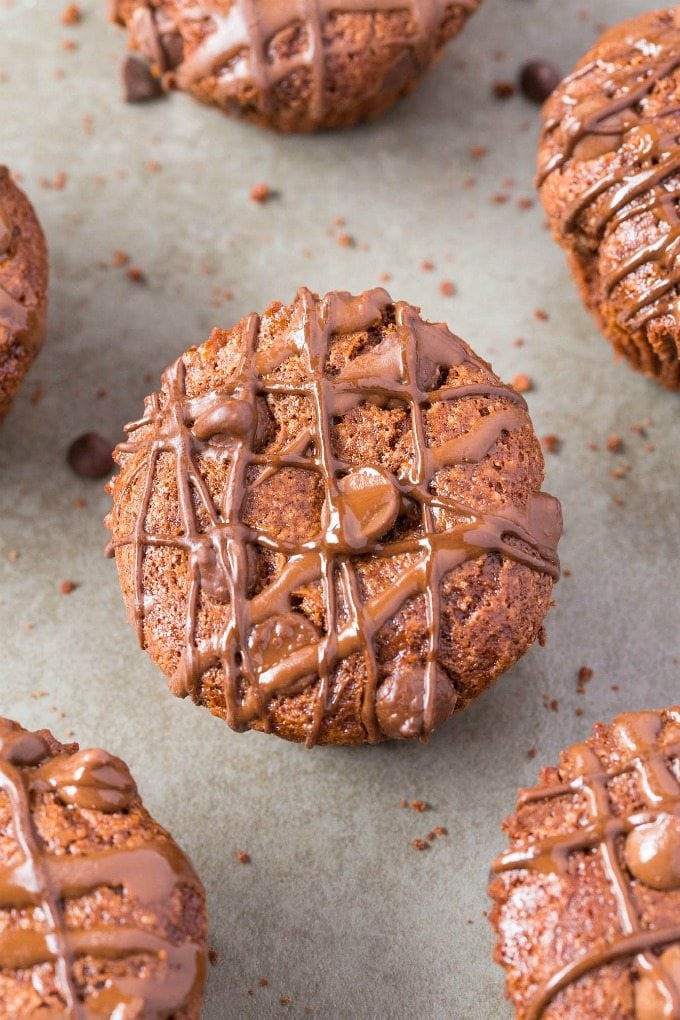 One of the comments I received stated that they loved how it was 'hidden strategically'. They compared it to a green smoothie- You could SEE it still looking green, even though you couldn't taste it. Unfortunately, in some recipes, the inclusion of pumpkin is pretty evident. I mean, these cookies are orange and this fudge is an unfortunate yellow hue.
ANYWAY.
You have nothing to worry about with today's recipe- It masks the potential pumpkin racism by adding a dash of cocoa powder IN the batter. It isn't overpowering but compliments the pumpkin puree really well. I also wanted to try something a little bit different here.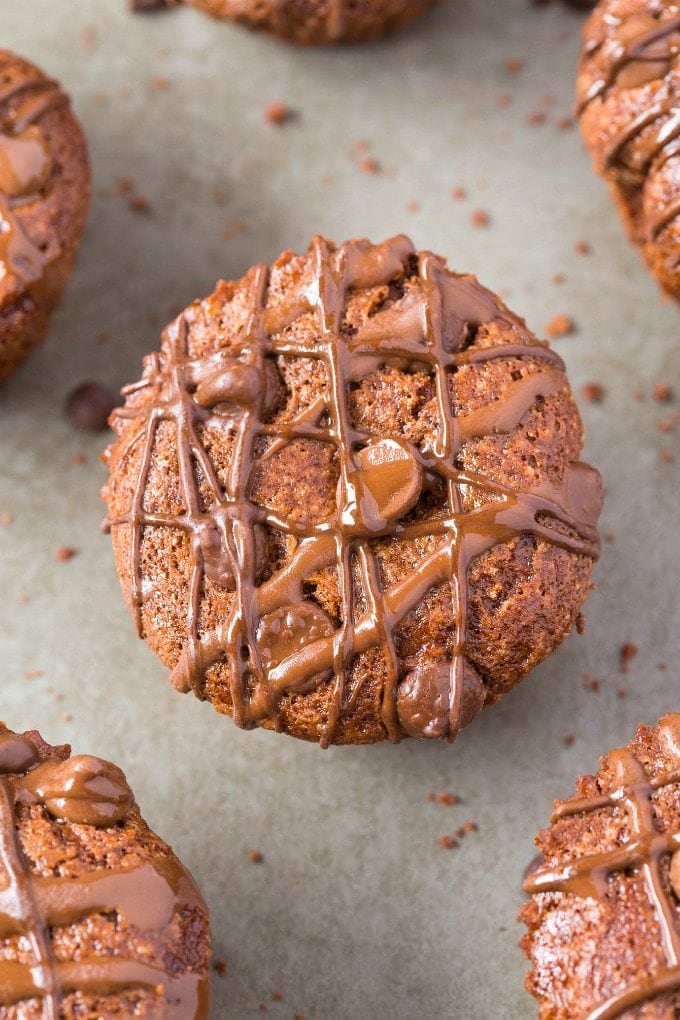 Long term readers know I love adding protein to my recipes, whether it be in protein powder form or a whole foods source. However, I do know some are completely against it. I totally understand both sides and pose no judgments.
To combat this, I did something a little bit different, so both parties could be satisfied. Instead of adding protein powder TO the batter, I drizzled some protein frosting on top and allowed it to firm up. For those who DON'T want protein at all, simply drizzle with some chocolate of choice- I love using these dairy free chips or these dark chocolate chunks.
ANYWAY.
Let's jump into the recipe, hey?!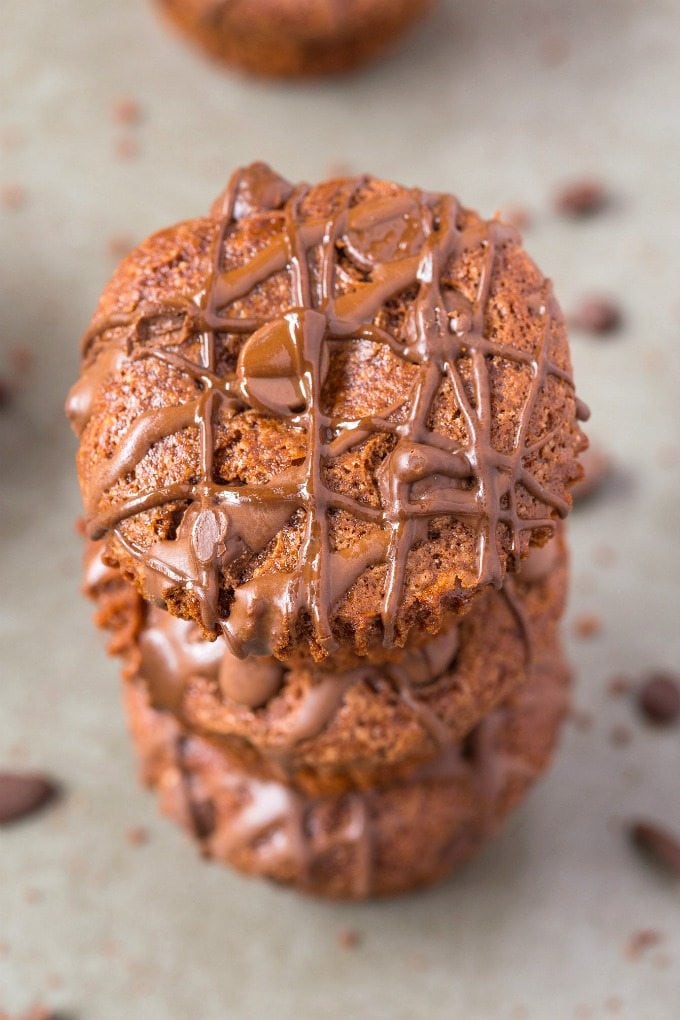 How to make healthy pumpkin muffins
These healthy pumpkin breakfast muffins need to be made yesterday, and you have no excuses not to! They are a no mess, no fuss recipe which uses just a blender. All you do is add your ingredients, blend until a batter is formed and voila- You pour into the muffin tray and BAKE! It's also totally doable in a food processor or even by hand, the latter will take a little longer but think of it this way- It's a free arm workout! Also, just because it has 'breakfast' in the name, it doesn't discriminate- It makes a delicious snack or healthy dessert too! Depending on which option you choose, these delicious breakfast muffins are naturally gluten free, vegan, paleo, grain free, dairy free and granulated sugar free!
Let's take a minute to talk texture.
Why? Because depending on which option you go for, it will differ. If you go the oat based route, the blender muffins will be light and fluffy on the inside and the outsides will be tender- Similar to a (healthy) bakery style muffin. If you opt for the grain-free/paleo version, they will be considerably dense, a little gooey in the center, and a little more sunken.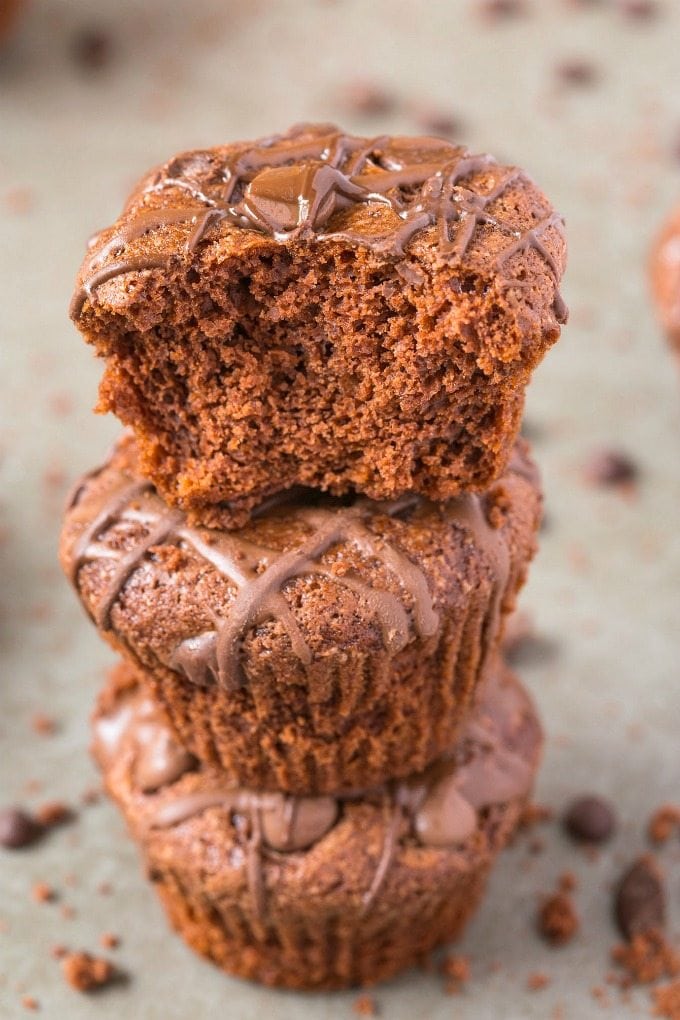 HACK! For those who are true blue pumpkin fans, you can easily omit the cocoa powder in the muffins and keep them 100% pumpkin. I really enjoy it this way, especially with some coconut butter drizzled on top. If you choose to drizzle with protein frosting, I recommend this casein protein powder, this vegan protein powder, and this paleo protein powder.
Contrary to what I've previously mentioned regarding whey protein powder, this IS one recipe you can use it for! Whey protein (depending on which brand, but most I've tried tend to have a similar effect) is often incredibly sticky compared to the other varieties. Because we are going the drizzle effect here, you can use whey in these breakfast muffins. I recommend this protein powder, as it's the best tasting!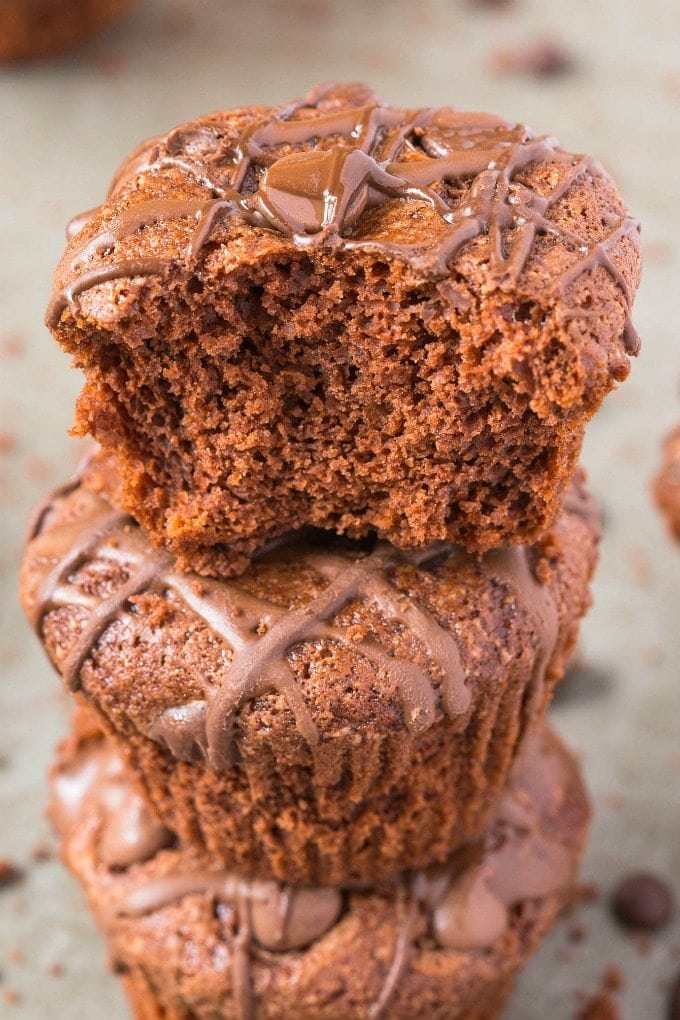 Make these healthy Blender Flourless Pumpkin Breakfast Muffins and fingers crossed I've covered all my bases.
If not, well…T minus 90+ days until pumpkin goes back in hiding.
Just kidding, #pumpkinforeverandeverandeverandever.

Share this recipe on Pinterest
Love this Healthy Blender Pumpkin Breakfast Muffins recipe?
Share it with the world on Pinterest.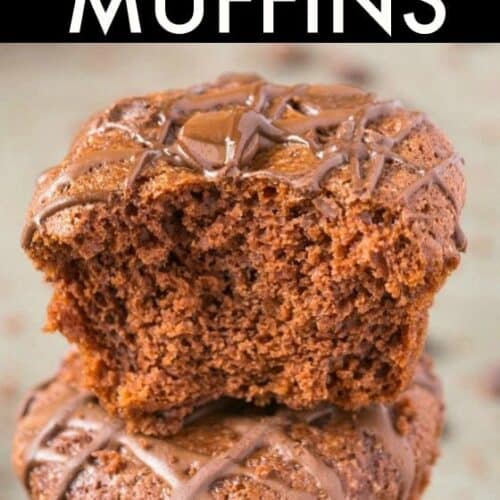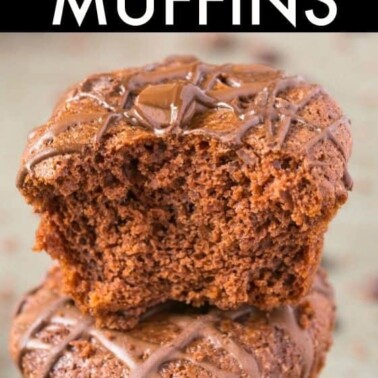 Healthy Blender Pumpkin Breakfast Muffins
These healthy flourless pumpkin breakfast muffins are a quick, easy and no mess recipe! Made in a blender, they are moist and slightly fluffy on the inside and tender on the outside! Made with no butter, oil, grains (if you opt for the grain free option!) or sugar, they are naturally gluten free, vegan and dairy free, with a paleo option too!
Ingredients
For the gluten free/vegan/Flourless Version
Instructions
Preheat the oven to 350. Grease a 12 count muffin tin or line with muffin liners and set aside.

Add all ingredients into a high speed blender and blend until fully immersed. Alternatively, you can use a food processor or mix by hand.

Pour the batter into each muffin tin, approximately 3/4 of the way through. Bake for 20-30 minutes (for the oat based option) or up to 45 minutes (paleo option), or until a toothpick/skewer comes out clean. Remove from oven and allow to cool in the muffin tin for 10 minutes, before transferring to a wire rack to cool completely. Once cooled, top with optional protein or chocolate glaze and enjoy!
To make the frosting
Mix the chocolate protein powder with milk of choice and coconut oil and drizzle over the muffins. Alternatively, omit the coconut oil and add milk of choice to protein powder slowly until a thick frosting is formed.
Notes
For the oat based version, these muffins can be kept at room temperature, covered, for up to 4 days. For the paleo option, they need to be kept refrigerated and are best consumed within 3 days. Both versions are freezer friendly, for up to 2 months.
The milk of choice for the frosting NEEDS to be at room temperature, to avoid making the coconut oil firm up before it can be mixed.
Nutrition
Serving:
1
muffin
Calories:
141
kcal
Carbohydrates:
11
g
Protein:
6
g
Fat:
9
g
Sodium:
114
mg
Potassium:
128
mg
Fiber:
3
g
Vitamin A:
3280
IU
Vitamin C:
1
mg
Calcium:
60
mg
Iron:
1
mg
NET CARBS:
8
g
More delicious muffins? Gotcha covered!
Just because blueberries aren't in season now, doesn't mean frozen aren't as good!
You won't believe how fluffy these babies are AND contain a secret ingredient!
Carrot cake in muffin form? This had me at hello.
These muffins which just got a mini makeover!
I think my coffee just found their partner in crime!

Disclosure: This post may contain affiliate links. I may earn a small commission for my endorsement, recommendation, testimonial, and/or link to any products or services from this website.