This healthy blueberry breakfast cheesecake is packed with protein, takes minutes to whip up, and can be prepped in advance! Thick, creamy and absolutely guilt-free, it's also completely paleo, vegan, gluten-free, dairy-free and sugar-free!

When it comes to fruit and cheesecake, only one comes out on top- The humble blueberry! I think blueberries tend to be my fruit of choice when it comes to incorporating fresh produce in my breakfasts. I love it in breakfast cakes (it's flourless and the definition of dessert for breakfast!), in fluffy pancakes (thick, fluffy and resembling pillows!) or of course, in delicious crumbles (paleo and vegan!).
Cheesecake deserves its own right, and I'm a huge fan of cheesecake-like treats- I recently shared a chocolate peanut butter breakfast cheesecake and almost 2 years ago (really!), shared these blueberry cheesecake cups which require zero baking. It was now time for it to be given a healthy makeover for our favorite meal of the day!
I'm not going to lie- I'm all about the quick, easy and fuss-free recipes, so this one had to fit the bill. I also wanted to create something which could easily be made the night before and prepped in advance. One more necessity for this recipe? To make it Weight Watchers friendly and complaint!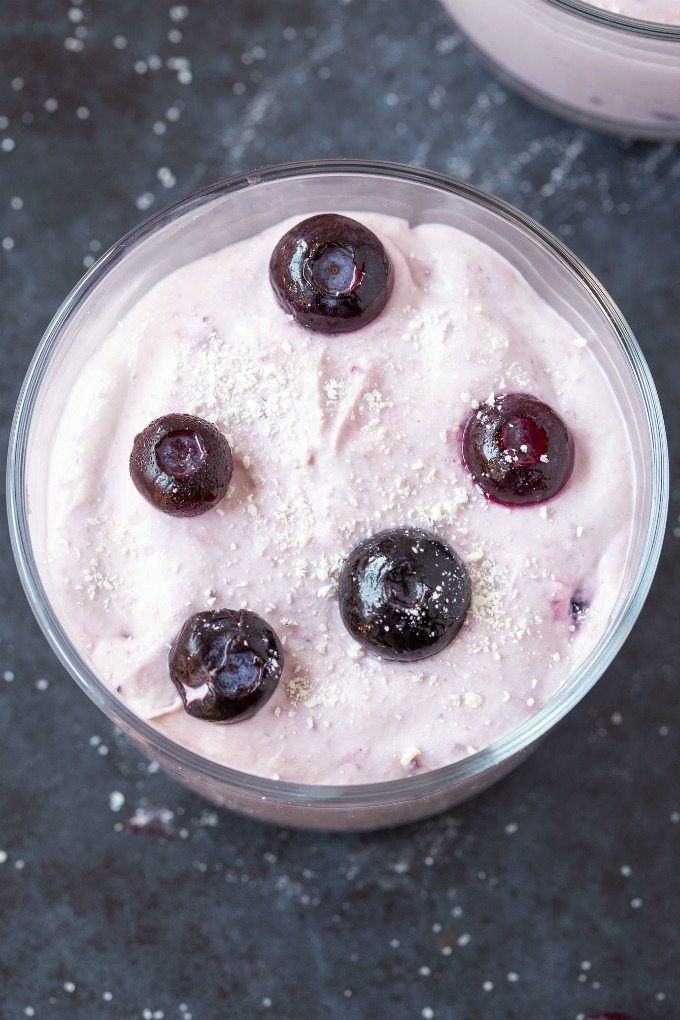 I've really enjoyed developing recipes for Flatout, with a focus on weight watchers and their smart points program. It's given me a bigger understanding of how to create recipes with maximum taste, filling and healthy too. You'll notice some fun ingredients and a focus on adding more fruit and vegetables moving forward!
For the cheesecake base, you can use either fat-free Greek yogurt, a non-dairy yogurt alternative (soy yogurt) and for my paleo friends, unsweetened coconut yogurt or cultured yogurt. The yogurt in itself isn't thick enough, so you'll also be adding a tablespoon of coconut flour. The coconut flour gives it a thick texture, with a very mild coconut taste.
Because the yogurts are unsweetened (or if you use Greek yogurt, it will be a little tart!), I recommend adding a tablespoon or two of your favorite granulated sweetener. I prefer using monk fruit sweetener, which is a stevia sweetened blend, with the texture and taste of white table sugar. Be wary of what kind you use, as some can be overly sweet and some can have a bitter aftertaste.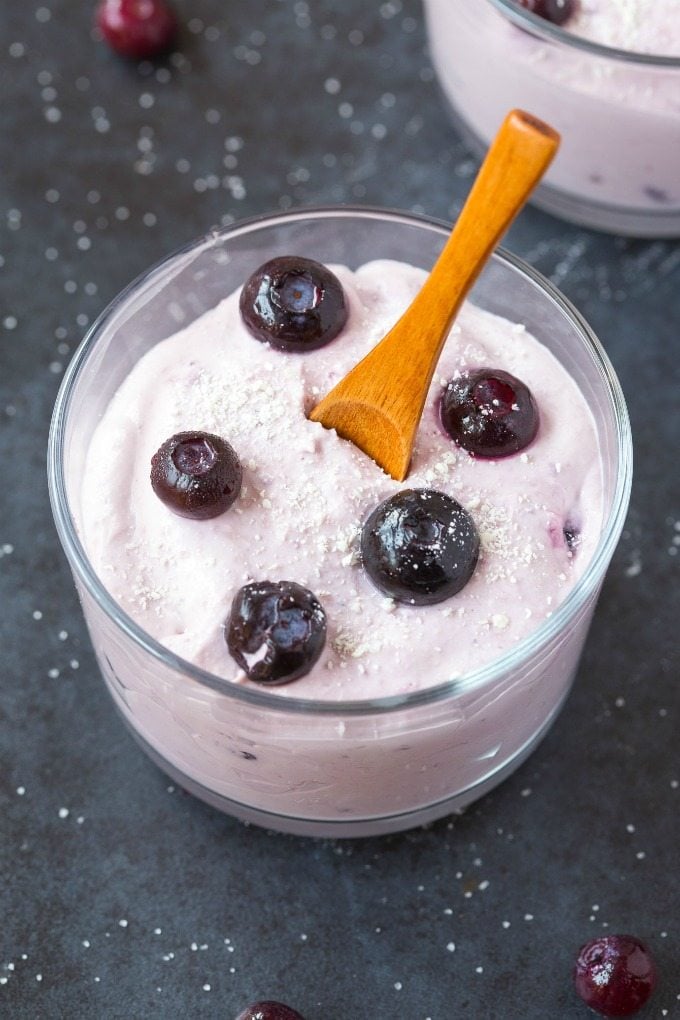 The final component of the cheesecake is, of course, the blueberries! You can use as little or as many blueberries as you desire, depending on your hunger! For my weight watcher participant friends, definitely feel free to load up on them in the base, along with pouring over the top. Frozen blueberries work great, just ensure you have allowed them to thaw out completely, otherwise, the cheesecake base will be a little watery and loose its thickness!
While this blueberry breakfast cheesecake is packed with protein and low in carbs, I'm all about a balanced breakfast. I need a good combination of protein, fats, AND Carbs to function. To combat that, we need something a little fun and delicious to make this a complete meal- Enter healthy 'white chocolate' baked pita chips!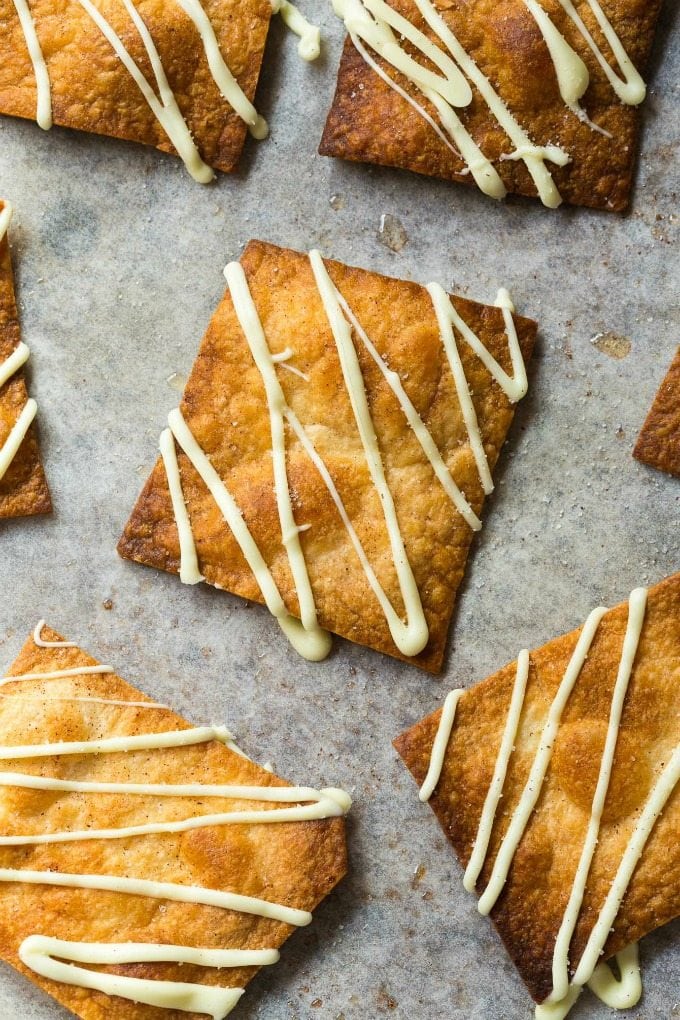 When I asked in my last newsletter for flavor requests, a great number of you requested something using white chocolate flavored, without using actual white chocolate. For me, that meant using melted coconut butter mixed with a little vanilla extract, then drizzled over the crispy, cinnamon-spiked baked pita chips!
For the pita chips, I used my favorite Flatout Original wraps, which take a mere 10-12 minutes to crisp up beautifully! You can use any plain Flatout flatbread you like, even their ProteinUP! ones, which give this recipe an even bigger boost of protein!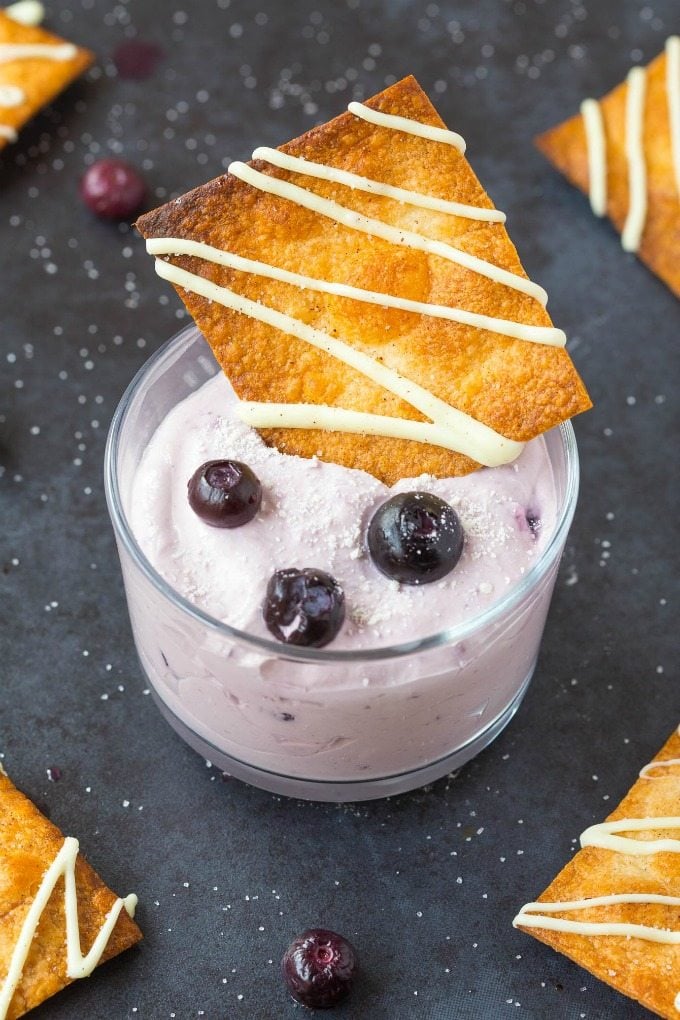 The best part of this ENTIRE recipe is that it can be all prepped in advance, and in double, triple or even more batches! The baked pita chips remain crispy in a sealed container and the cheesecake thickens when left refrigerated overnight!
Make this new dessert-for-breakfast and have a secretly healthy, filling and guilt-free start to your day!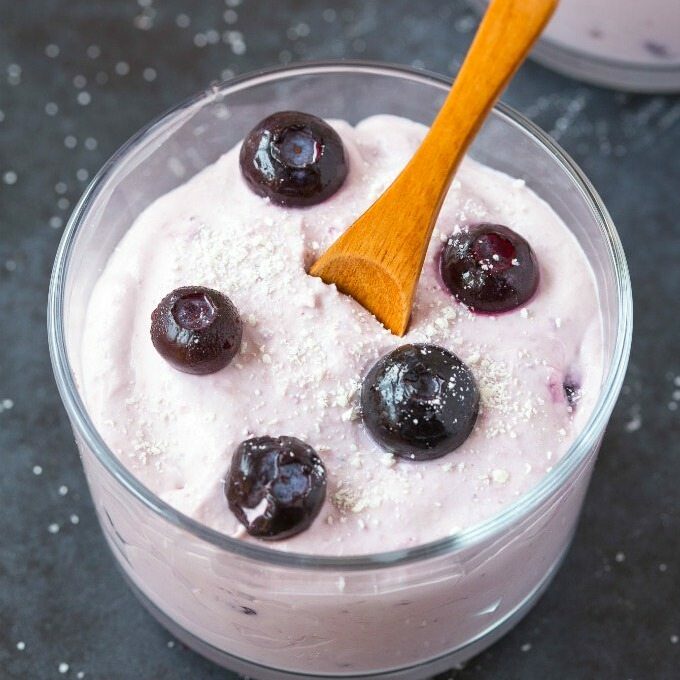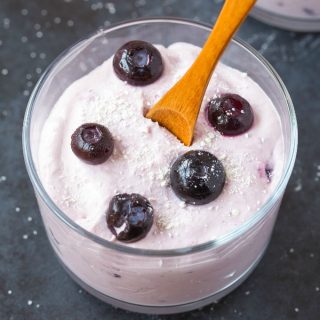 Healthy Blueberry Breakfast Cheesecake
This healthy blueberry breakfast cheesecake is packed with protein, takes minutes to whip up, and can be prepped in advance! Thick, creamy and absolutely guilt-free, it's also completely paleo, vegan, gluten-free, dairy-free and sugar-free! 
Ingredients
For the baked pita chips"
Instructions
For the blueberry cheesecake:
In a small mixing bowl, add your yogurt of choice. Stir through your coconut flour, granulated sweetener of choice and optional protein powder. Mix very well to avoid clumps.


Add half your blueberries and stir through the yogurt mix. Top with remaining blueberries. Enjoy immediately or refrigerate to thicken.
For the 'White Chocolate' baked pita chips
Preheat the oven to 350 degrees and line a baking tray with parchment paper.

Cut the Flatout wrap into even squares or rectangles. Spray them lightly with cooking spray and sprinkle cinnamon over it. Bake for 8-10 minutes, or until crispy and golden on the edges. Remove from oven and allow to cool.

In a small bowl, melt your coconut butter and add the vanilla extract. Mix very well. For a firmer frosting, add the coconut oil. Drizzle over the cooled pita chips.
Notes
Breakfast cheesecake can be prepped the night before for an even thicker texture.
Pita chips can be kept covered for up to 3 days at room temperature. For a firm/hardened icing, ensure you use the coconut oil.
Nutrition
Serving:
1
serving
Calories:
125
kcal
Carbohydrates:
18
g
Protein:
11
g
Fat:
2
g
Sodium:
47
mg
Potassium:
119
mg
Fiber:
4
g
Vitamin A:
40
IU
Vitamin C:
7
mg
Calcium:
87
mg
Iron:
1
mg
NET CARBS:
14
g
More delicious Flatout AND Weight Watchers favorites? Gotcha covered!
Healthy Peanut Butter Breakfast Cheesecake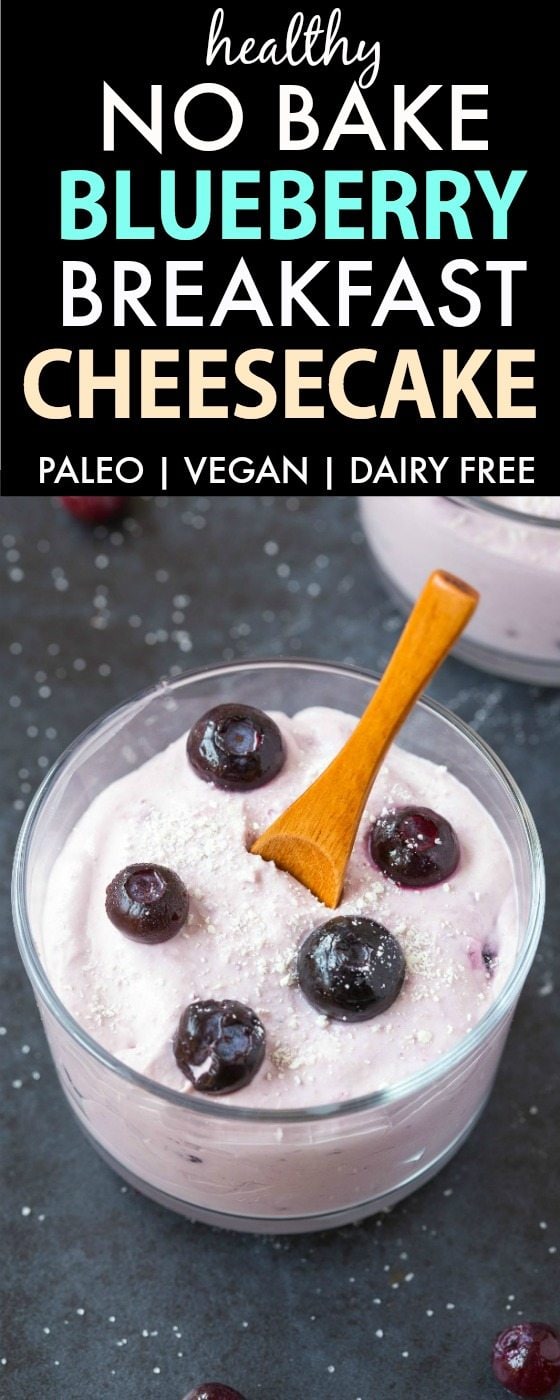 Disclosure: This post may contain affiliate links. I may earn a small commission for my endorsement, recommendation, testimonial, and/or link to any products or services from this website.