Smooth, creamy and decadent healthy brownie batter chocolate fudge which is 100% naturally sweetened and needs just FOUR ingredients! Made without any sugar, cream or dairy, it's fool-proof and guilt-free fudge recipe which takes minutes! (Paleo, Vegan, Gluten Free, Naturally Sweetened)
What tastes better than chocolate fudge? A seriously addictive chocolate fudge which tastes just like brownie batter, minus the guilt! No condensed milk, no butter, and an easy chocolate fudge recipe ready in minutes!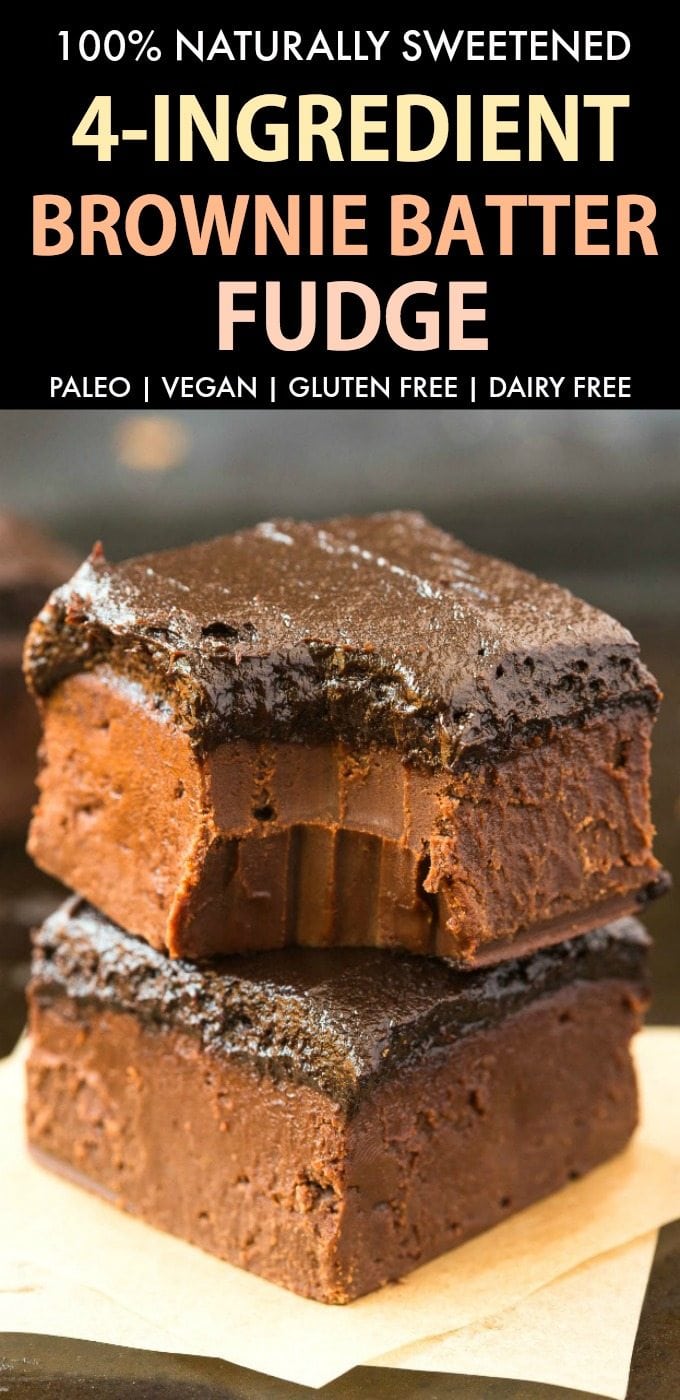 This healthy brownie batter fudge was inspired a few months ago when I made these No Bake Flourless Breakfast Brownies.
I'd been lamenting to my partner in crime about what a pain her favorite ingredient was how fickle dates were. When working on that recipe, I went through so many dates.
Growing up, dates were an everyday staple. We'd drink it with tea to replace sugar and was used in many sweet and savory recipes. However, I'd rarely use it in my own baking, often preferring liquid sweeteners. If I didn't use a liquid sweetener, I would choose to use another fruit, like mashed banana (they are magic in flourless brownies) or unsweetened applesauce (which is key for these fluffy protein-packed muffins).
Since then, I've been experimenting more with dates in recipes. My sister asked me how do you make an easy chocolate fudge without condensed milk?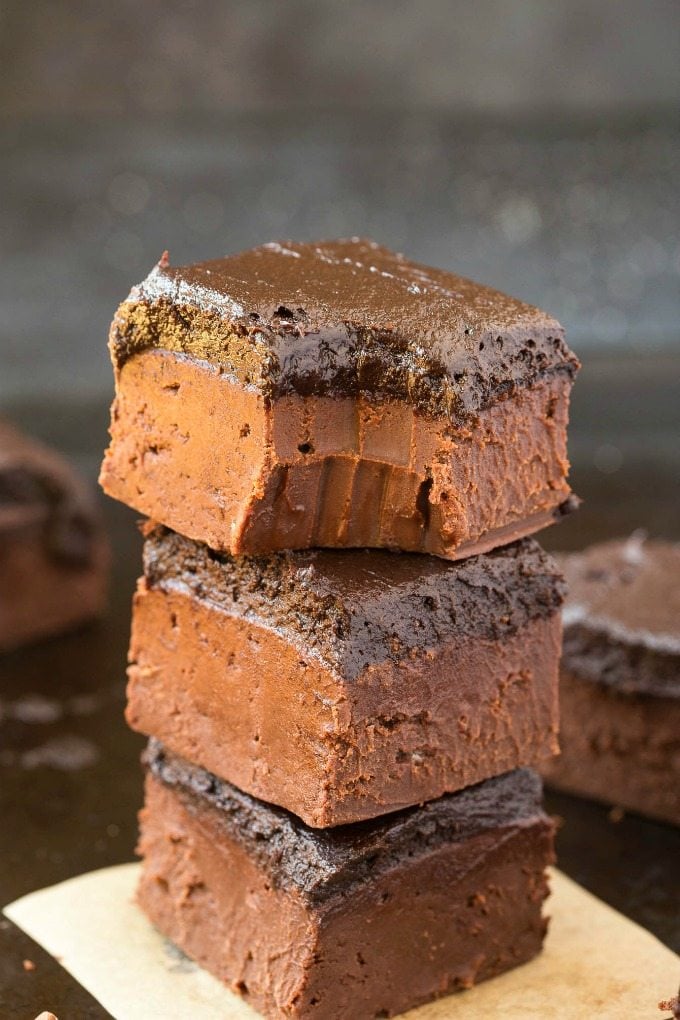 To answer that (and to experiment with it), I had to obtain a rough idea of what are the typical ingredients of fudge. I had my suspicions but I needed to be certain.
Traditional chocolate fudge has all the usual suspects- sugar, butter, condensed milk and…more sugar. I needed to create an easy chocolate fudge recipe, without condensed milk. I also wanted to alleviate the butter and sugar too, so had an idea in mind.
Dates.
On their own, dates are naturally quite fudgy in texture so it was an obvious choice to see if it could form the base of actual fudge.
Not only did the dates work beautifully, they went above and beyond in terms of taste and texture- It tasted exactly like brownie batter! It would be easy to assume that for such a rich and creamy fudge, I would have needed to add some traditional fudge ingredients but you'd be wrong- You only need FOUR ingredients–
Dates
Cocoa Powder
Coconut Milk
Coconut Oil
That is it!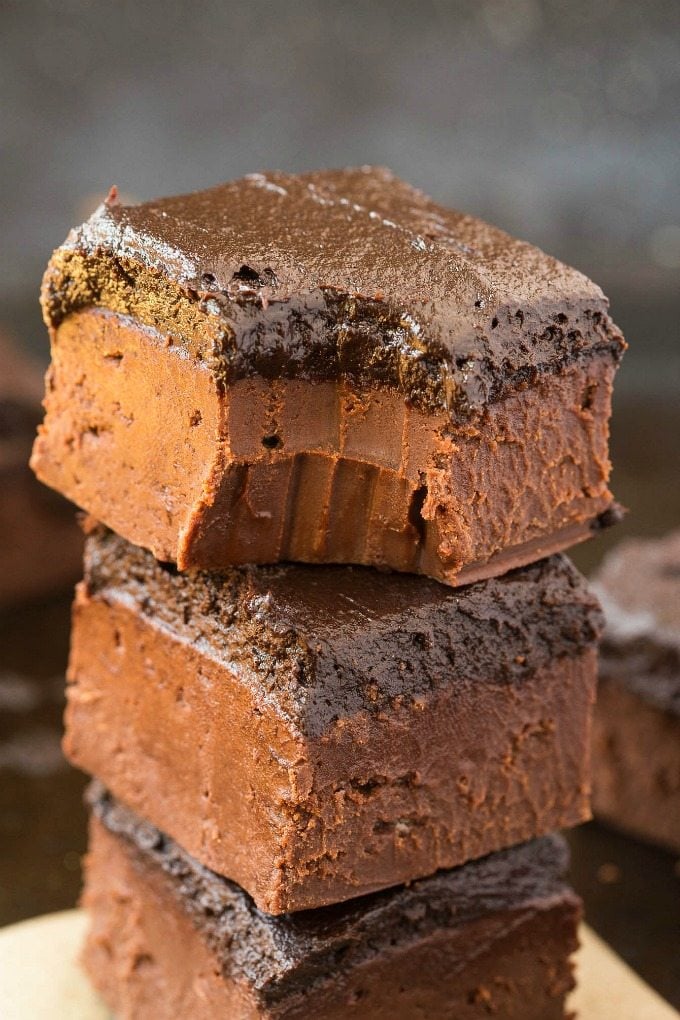 I wanted this brownie batter chocolate fudge to be healthy and with that tiny ingredient list, it fits the bill. It ensures this recipe is 100% naturally sweetened and completely dairy free. I wanted this fudge to be made without condensed milk, an ingredient which is found in most traditional recipes.
For those who follow a paleo, vegan, gluten-free and grain-free diet, it totally fits the bill. This fudge also contains no nuts, so those with nut allergies are covered!
You literally only need one standard blender or food processor to whip it up, proving just how easy this recipe really is! Depending on how firm or gooey you want your fudge to be, you don't even need to pre-soak the dates- Simply blend those first, add the other three ingredients on at a time and voila- They are ready to be thrown in the freezer to firm up!
As mentioned earlier, this smooth and creamy fudge is primarily based on dates. The most popular kind of date to use would be Medjool dates, which are naturally sweeter and extra gooey in the center. However, I've also had success using (multiple times) the generic kind, which I purchase from Costco in huge bags.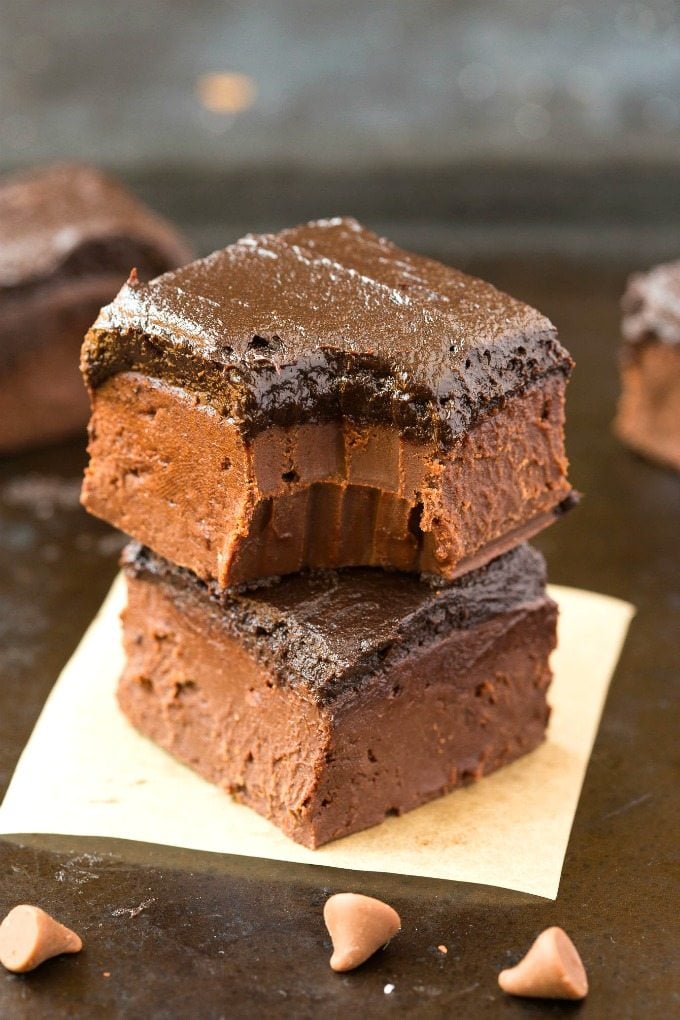 The key to achieving the brownie batter like texture is to be careful when adding your ingredients into the blender or food processor. You don't want to be throwing everything in at the same time, otherwise, you'll find the fudge to be full of clumps and almost dough-like.
To ensure success, make sure the dates are completely blended before moving forward. Scrape down the sides in regular intervals. Once that is done, add the coconut milk and coconut oil and continue blending until a paste-like texture remains. Only then will you add the cocoa powder, and blend until completely smooth and creamy.
For anyone skeptical about having a creamy fudge without any condensed milk, dairy or refined sugar- I promise this brownie batter batch will have you converted. You will barely notice the date flavor, and if anything, may be fooled that it is a caramel/chocolate fudge.
If you DO happen to still be unsure, do what I did as pictured- Add a thick layer of this homemade healthy chocolate frosting on top- Like the fudge, it has a secret ingredient in it which you'd never consider a frosting to contain!
Don't be afraid to try something a little different when it comes to classic desserts or treats. As someone who was once skeptical of using dates in anything, let alone fudge, I am now a convert.
With the holidays coming up, I know this healthy 4-ingredient brownie batter fudge will be sneakily gifted to everyone!
Looking for more homemade healthy fudge recipes? Gotcha covered!
Chocolate Coconut Keto Fudge Cups
3 Ingredient Maple Almond Fudge
Sugar Free Nutella Freezer Fudge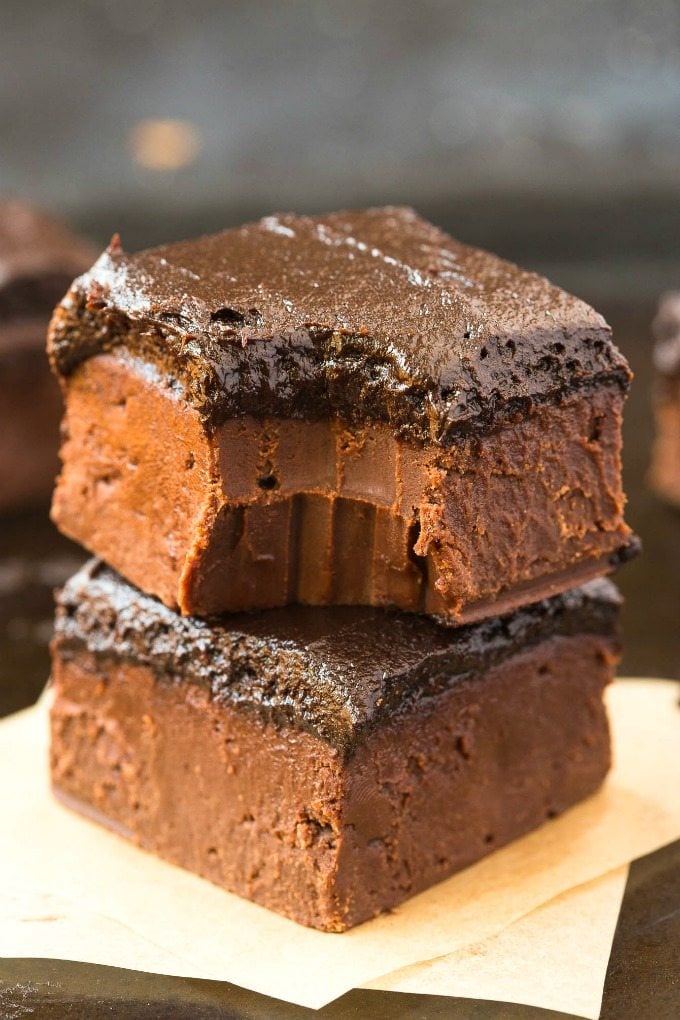 PS Check out just how easy homemade fudge can be to make below!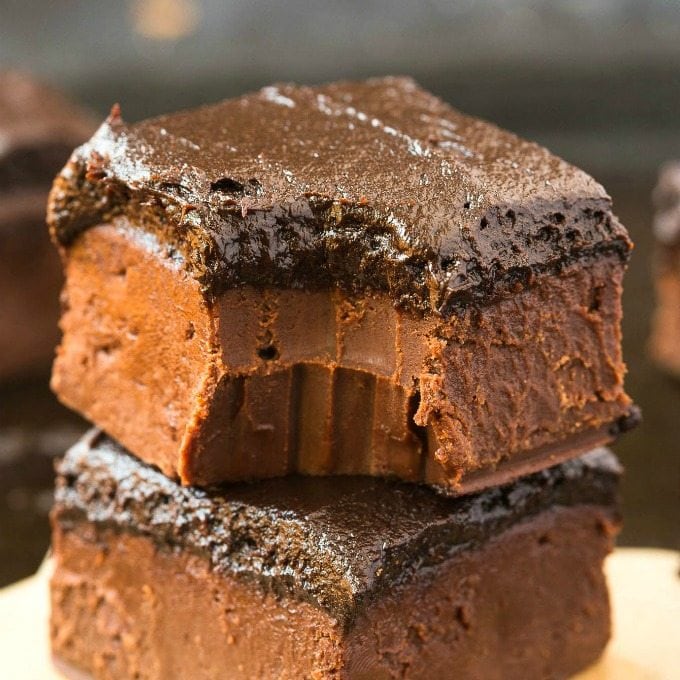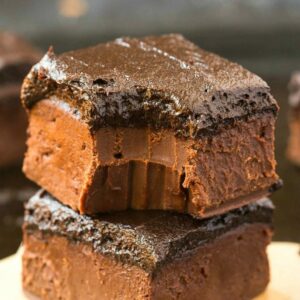 Healthy Brownie Batter Fudge
Smooth, creamy and decadent healthy brownie batter chocolate fudge which is 100% naturally sweetened and needs just FOUR ingredients! Made without any sugar, cream or dairy, it's fool-proof and guilt-free fudge recipe which takes minutes! (Paleo, Vegan, Gluten Free, Naturally Sweetened)
Instructions
Line an 8 x 8-inch pan or baking dish with parchment paper and set aside.

In a high-speed blender or food processor, add your pitted dates. Blend until the dates start to break apart. Continue to blend, scraping down the sides to ensure all pieces are well blended.

Once the dates are fully immersed, add your coconut oil and coconut milk and blend until completely smooth- It should be a paste-like consistency.

Add your cocoa powder and continue blending, scraping down the sides to avoid clumps of cocoa powder. Once a smooth and creamy texture remains, pour into the lined baking dish and even out with a spatula or knife. Freeze until firm. Cut into bite-size pieces and enjoy!
Notes
For ultra creamy and gooey fudge (as pictured), allow to sit at room temperature before consumption.
Healthy Brownie Batter Fudge should be kept refrigerated or frozen.
Nutrition Facts
Healthy Brownie Batter Fudge
Amount Per Serving (1 piece)
Calories 82
Calories from Fat 63
% Daily Value*
Fat 7g11%
Carbohydrates 5g2%
Protein 2g4%
NET CARBS 2g4%
* Percent Daily Values are based on a 2000 calorie diet.
Nutrition
Serving:
1
piece
Calories:
82
kcal
Carbohydrates:
5
g
Protein:
2
g
Fat:
7
g
Fiber:
3
g
NET CARBS:
2
g

Disclosure: This post may contain affiliate links. I may earn a small commission for my endorsement, recommendation, testimonial, and/or link to any products or services from this website.