Just three, easy ingredients are needed to make this healthy chocolate chunk protein cookie dough which is single serve and takes minutes! Low in carbs and packed with protein, this recipe is naturally gluten free, vegan, dairy free, sugar free and paleo friendly!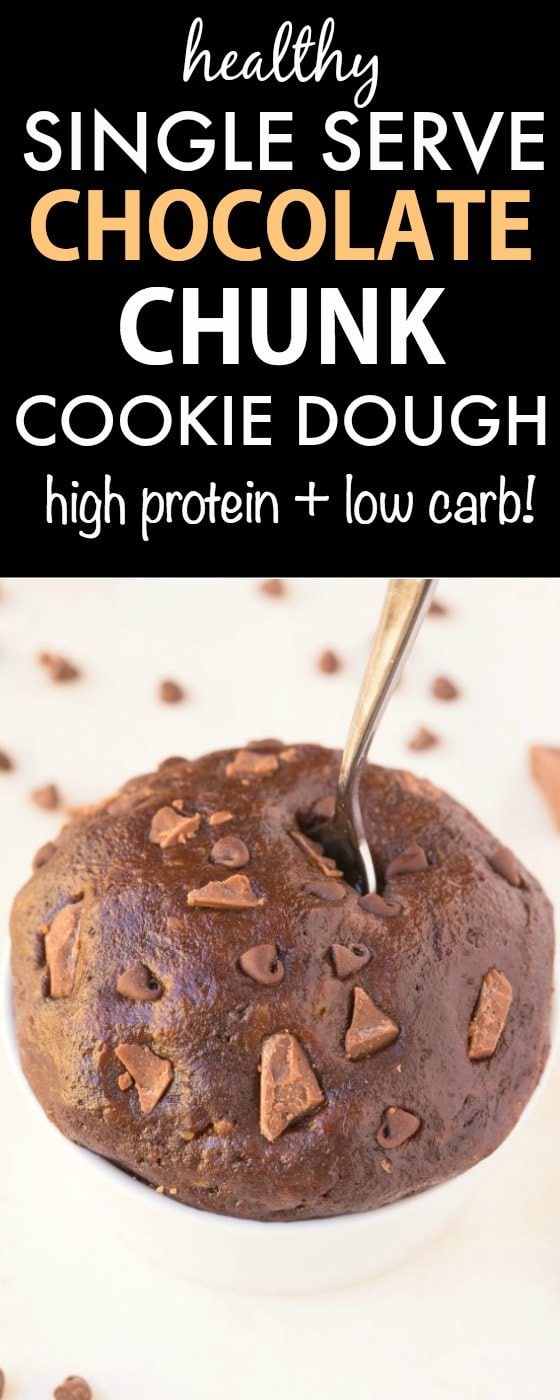 When it comes to textures, I am ALL about the chunks versus the chips.

MY OTHER RECIPES
Oh, sorry.
We're discussing chocolate here.
Maybe it's my greedy side, but I love the potential variety you get in cookies, ice cream or snack bars which contain chunks instead of chips.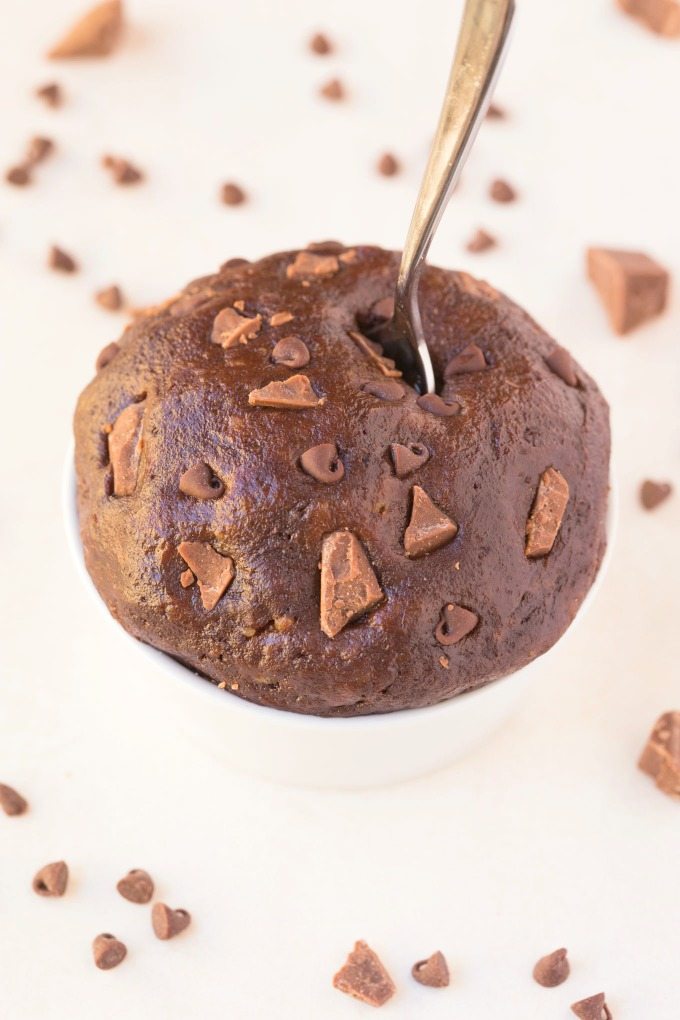 Ice cream- Big chunks, little chunks, predominantly chunks = Perfection.
Snack bars- Bar + chunk ratio = 50/50 minimum = Perfection.
Cookies- Minimum 33% chips/chunks = Perfection.
Let's not talk about the times where they claim to have chunks and find nothing.
FAIL WHALE.
Luckily, today's recipe is loaded with chunks and you can chunk it up even more, if that's what you desire. Actually, what is better than chunks is having chunks AND chips in one.
Do it.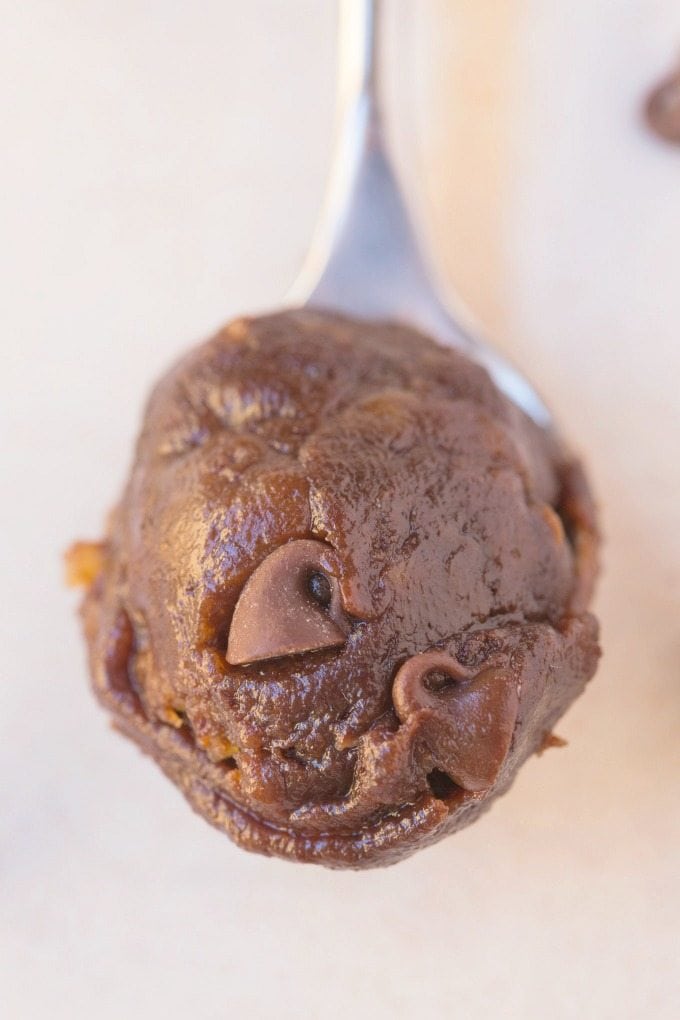 Before we get into it, it's Wednesday, so let's check out what I ate recently!
As mentioned in Monday's post, I took a random getaway with some friends to Phillip Island, which is pretty much famous for having a penguin parade. Besides seeing them at NIGHT TIME (that's when they come out), we ate pretty randomly, mostly pizza, and bought a double batch so breakfast was sorted…cold.
Between snacks I brought for us, muffins and pizza, there was not much variety.
C'est la vie.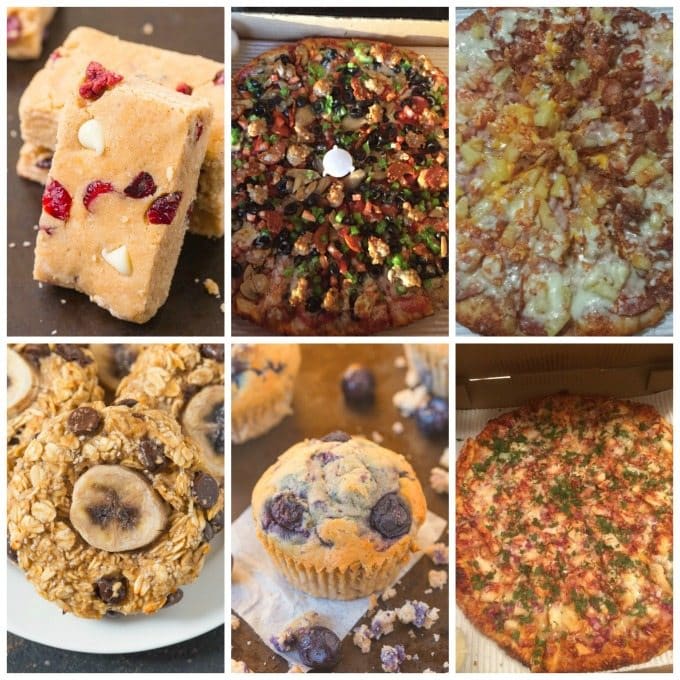 Road trip snack en route- No Bake White Chocolate Raspberry Protein Bars. Dinner- Between us we split an 'everything pizza' (it wasn't very good…), a classic cheese and basil (my favorite) and a barbeque chicken with pineapple. Breakfast- Pizza from the night before, eaten cold. AMAZING. Lunch- Same. Snacks- Same + some of the blueberry breakfast muffins and Banana Oat Greek Yogurt Breakfast cookies I had packed.
Let's go back to the chunks/chips/cookie dough and bring it back to today's recipe! I know many out there usually rely on a protein shake pre or post workout.
What if you could pretty much use the exact same ingredients for said shake but have it in edible form? Granted, this isn't like your traditional cookie dough, and you'd be a fool to think otherwise. However, the texture of it really resembles it and based on your protein powder used (which you should be a fan of, otherwise I'm not sure why you'd be drinking it in the first place…), can be a delicious sweet twist on it!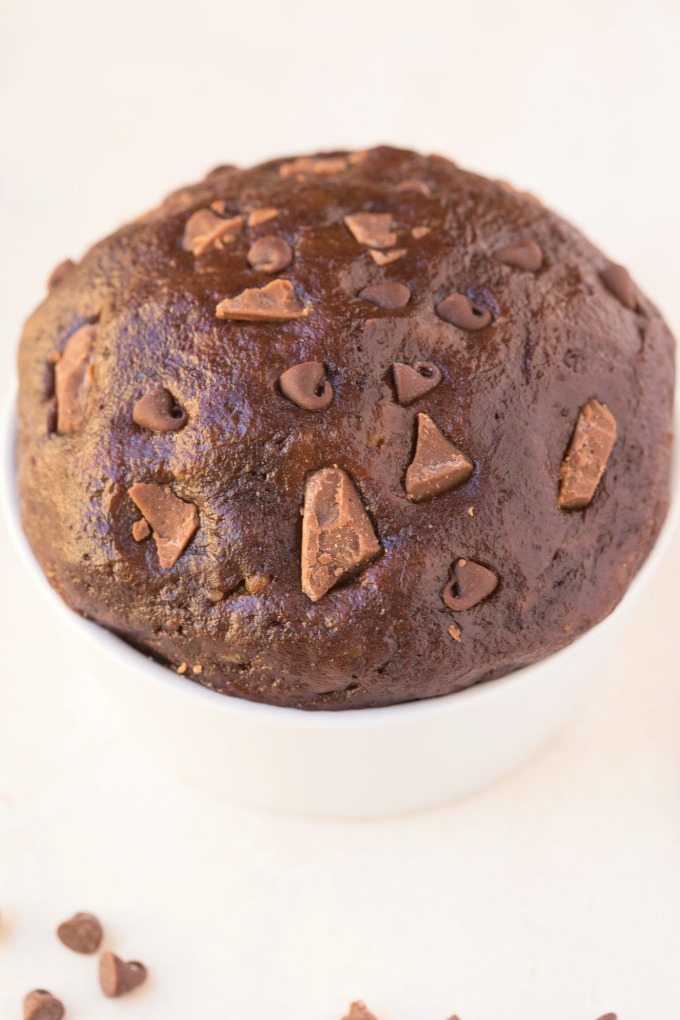 This healthy chocolate flavored protein cookie dough is smooth and creamy and studded with chunks of chocolate for some added texture and deliciousness! It uses just three ingredients and takes minutes to whip up, the same amount of time it would take you to make a protein shake! This isn't like your standard cookie dough if that is what you are after- It's protein packed, low in carbs BUT has the taste and texture of the classic variety! For some variety with the chocolate chunks, I actually used my favorite Green and Blacks dark chocolate bar, chopped roughly! For an easier option, you can use my standby dairy free chocolate chunks or just the mini chocolate chips, which I also added because, well…yes. Because of the ingredients used, it's naturally gluten free, vegan, paleo, refined sugar free and grain free!
HACK! For those of you who don't have a chocolate flavored protein powder, not to worry- This works really well with using a vanilla protein powder (any of these ones recommended work) and add a tablespoon or two of either dark cocoa powder (richer, more chocolate-like taste) or dutch processed cocoa powder. You'll also need to up the milk of choice to compensate for it!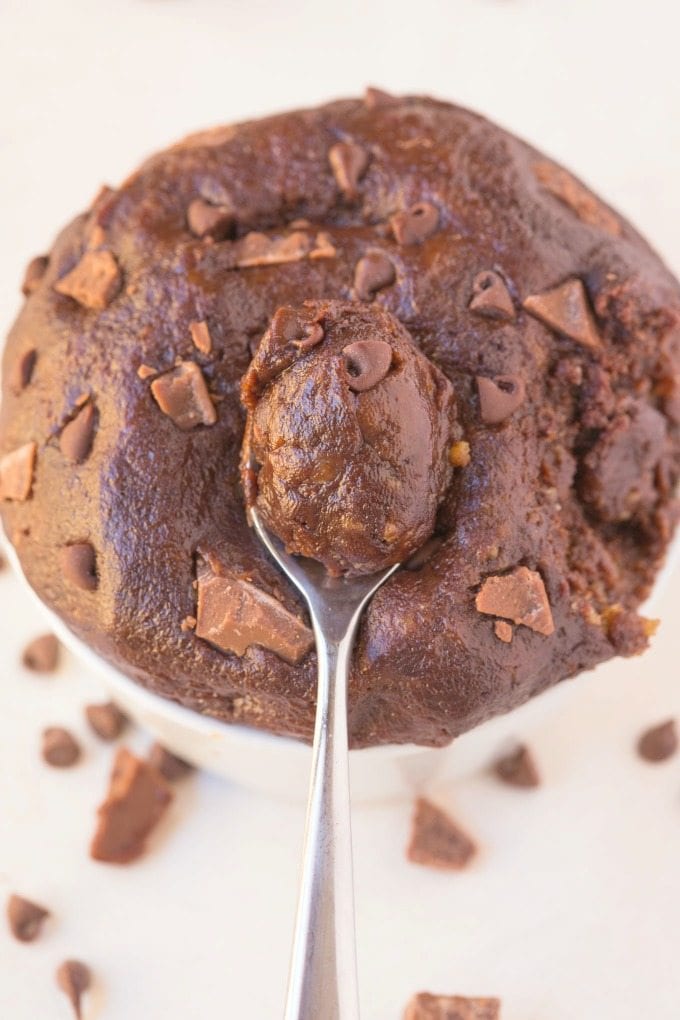 Vegan friends, I recommend using this protein powder, my paleo friends, I recommend using this one here. If dietary restrictions aren't an issue, my go-to is this one here– Serious protein GAME CHANGER.
Make this healthy chocolate chunk protein cookie dough for ONE and it's all about the BASS chunks.
No treble.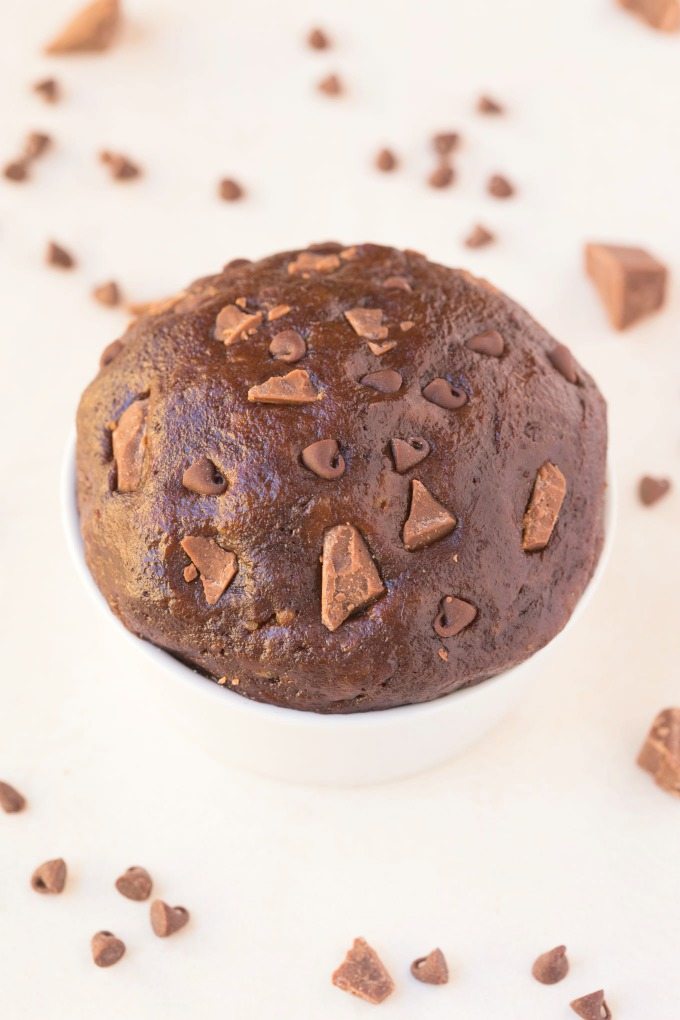 Healthy 3 Ingredient Chocolate Chunk Cookie Dough for One
2016-05-25 02:55:32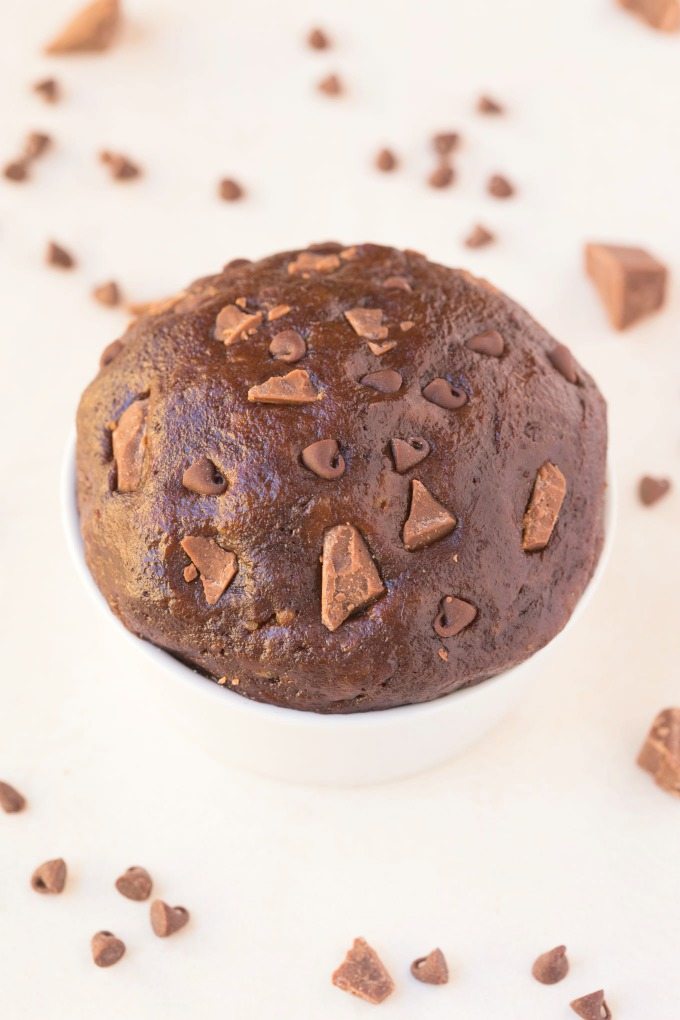 Serves 1
Just three, easy ingredients are needed to make this healthy chocolate chunk protein cookie dough which is single serve and takes minutes! Low in carbs and packed with protein, this recipe is naturally gluten free, vegan, dairy free, sugar free and paleo friendly!
Ingredients
1 scoop (32-34 grams) chocolate protein powder (see notes above for tested brands)
1/2 cup mashed starch of choice*
1 T coconut flour (can sub for 2 T almond flour or oat flour or rolled oats)**
2 T nut butter of choice (optional)***
Milk of choice (optional)****
Chocolate chunks/chips of choice to mix in
Instructions
In a mixing bowl, add your mashed starch and protein powder and mix well. Add in you tablespoon of coconut flour (or flour of choice) and optional nut butter until a very thick dough is formed. Stir through your chocolate chunks/chips and enjoy!
Notes
* Mashed starches tested- Pumpkin, applesauce, overripe banana, mashed sweet potato, mashed kabocha. I prefer mashed pumpkin or kabocha.
** If you use the vegan or casein protein powder, you can omit this completely- Those two protein powders are much thicker than the paleo one.
*** This gives the cookie dough a creamier texture- I recommend cashew or almond nut butter, as they are milder tasting
**** If your dough is too thick (this happened when I added too many chocolate chunks...), add a few drops of milk to loosen up.
If you only have vanilla protein powder, that is fine- Add 1-2 Tablespoons of cocoa powder.
This is best if refrigerated for 30 minutes before consumption. It is freezer friendly
The Big Man's World ® https://thebigmansworld.com/
Your turn! Link up your FULL day of eats and let's get salivating!
Chunks or chips (we're talking about chocolate here!)
What is your favorite pre or post workout snack?