Easy and secretly healthy no bake edible and egg-free unicorn cookie dough, made with just four ingredients and ready in 5 minutes! This smooth and creamy recipe is completely paleo, vegan, gluten free, dairy free, low carb, refined sugar free and grain free!

Why should unicorn cookies have all the fun? While my no bake unicorn cookies are delicious and foolproof, nothing beats digging into a massive bowl of edible and egg-free cookie dough which is completely guilt-free and healthy!
Oh and I promise- this edible cookie dough has NO chickpeas, NO beans, and NO hidden vegetables. Let's be real here- No matter how much you try to convince yourself, you will deep down know that legumes are hidden in there.
Growing up, I'd always help mom in the kitchen, especially when it came to her baking days. I would sneakily steal bites of raw cookie dough. There is something so satisfying about the smooth and creamy feel, coupled with chunks of whichever add-ins were used at the same- chocolate chips, sprinkles, nuts or dried fruits.
Unfortunately, it wasn't the most healthy thing to do. Besides the ridiculous amount of sugar in it, it also included uncooked flour and raw eggs.
I've been able to recreate the experience with a healthy makeover! There is something delicious about a classic cookie dough, especially when its single serving and loaded with chocolate chips. There is something even better when you can have it for breakfast.
Now? We'll be giving it a fun twist and re-boot with some unicorn action!

I've had a ton of feedback since sharing my
unicorn inspired recipe
, especially when it comes to one key feature- The glorious white color with speckles of rainbows throughout. I'll be sharing my easy and re-tested method to ensure that they come out as pictured and as light as possible.
To avoid using any uncooked flour, I start by using coconut flour for the base. It's a grain free and low carb and also safe to eat in its pure form. For those of you wanting to keep this recipe as 'white' as possible, this flour is imperative. However, if you aren't a fan of coconut or what another option, ground rolled oats or almond flour can be substituted. Please be wary that it will NO longer be white and glossy if you do.
I always use a nut/seed butter and sticky sweetener combination to form the 'dough'. This time was no different, but I did something a little different.
For the nut butter, my go-to's are typically smooth cashew butter, peanut butter or almond butter. In the unicorn cookies, I used homemade cashew butter (literally 4 cups cashews blended to a creamy consistency), which used raw, unsalted cashews. The reason for this is that they are considerably lighter than roasted, and have a very mild, creamy taste. Store bought cashew butter is generally darker and have a more grainy texture.
Alternatively, you can use homemade or store bought macadamia nut butter. I made one version with this but to be honest, I found it TOO rich for my taste buds. It also left a lingering oiliness, which I wasn't a huge fan of.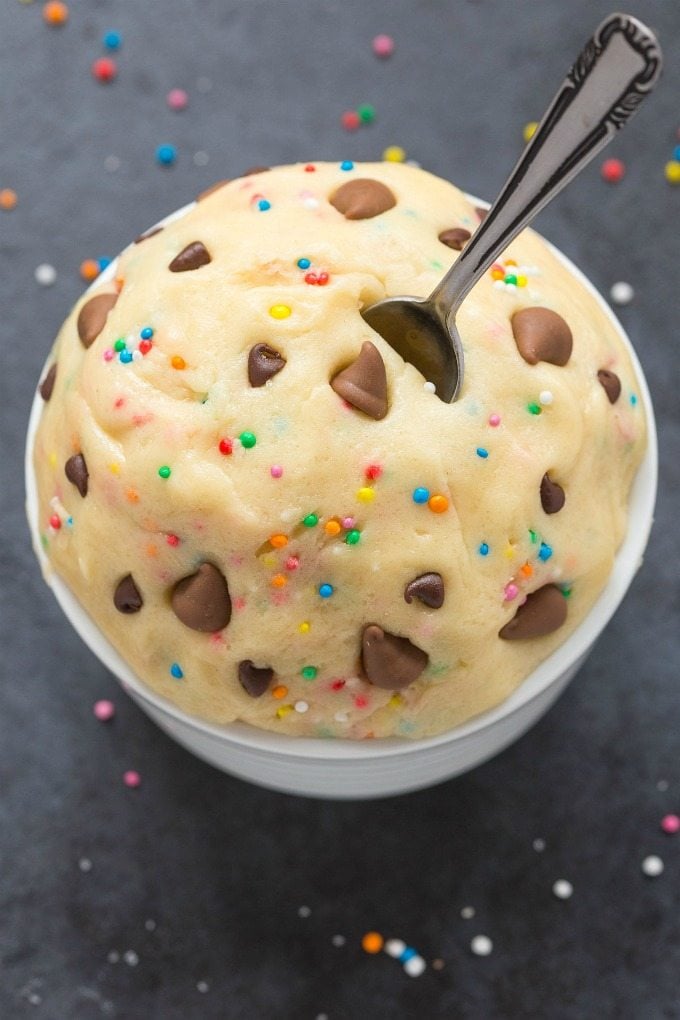 To keep up with the white trend, you'd need to use a light agave nectar for the sticky sweetener. This particular liquid sweetener is exactly the same (in terms of flavor and texture) to the dark or amber agave nectar but is completely transparent.
Again, if the color of the unicorn cookie dough isn't an issue for you, you can use this monk fruit sweetened maple syrup (it will ensure this recipe is completely sugar free), original maple syrup or even something like rice malt/brown rice syrup (this will no longer be paleo).
Protein lovers, this works fantastically with a scoop or two of protein powder in it. If you use a vanilla one, it takes the flavor up a notch and packs a serious protein punch! Check out my shop page for all tested recommendations. 
The 'unicorn' aspect is a total gimmick, so in our case, we'll be sticking to sprinkles. Before the Paleo/natural/blah blah police come after me, this is totally optional. You can use standard sprinkles or try a vegan homemade one or even a paleo homemade one. The latter two are more time consuming but hey, it keeps the entire recipe completely dietary compliant.
Some of us (*cough* Niki *cough*) can't just eat cookie dough on its own so need something fun to dip…IN THE FORM OF PITA CHIPS!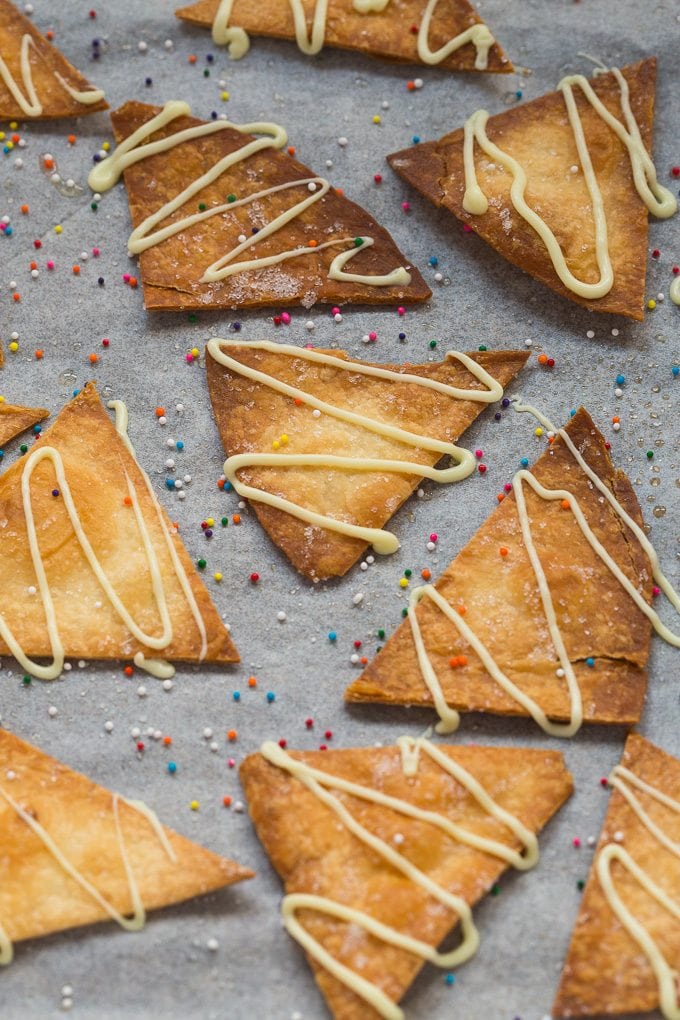 Not only has this edible and egg-free cookie dough gotten the unicorn treatment, these pita chips have too. Before you roll your eyes thinking it's a calorie bomb, I've given them a protein-packed and sugar-free makeover!
By using a Flatout flatbread (I love their Original Light), we are already ahead of the game in the fiber and protein department. These filling and versatile wraps will be getting an additional protein boost with a little healthy fat. I added a scoop of vanilla protein powder to it, before drizzling the top with a coconut butter glaze.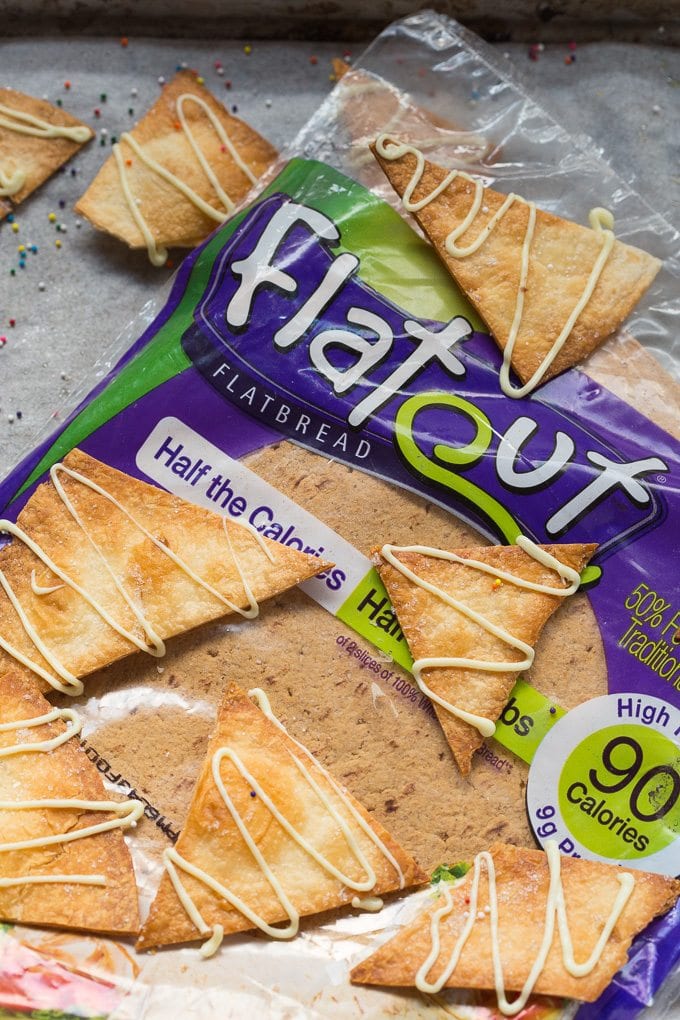 Weight Watchers and Flatout have been working in conjunction to share filling and tasty HEALTHY recipes, without sacrificing on taste! Weight Watchers promotes a sustainable lifestyle, without deprivation. These unicorn pita chips fit the bill- Crispy, sweet, salty and a balanced snack to keep you satisfied!
Give the flick to the unicorn Frappe and jump on this clean-eating, healthy and seriously addictive twist on it! A healthy, edible and egg-free cookie dough which has all the beauty of a unicorn.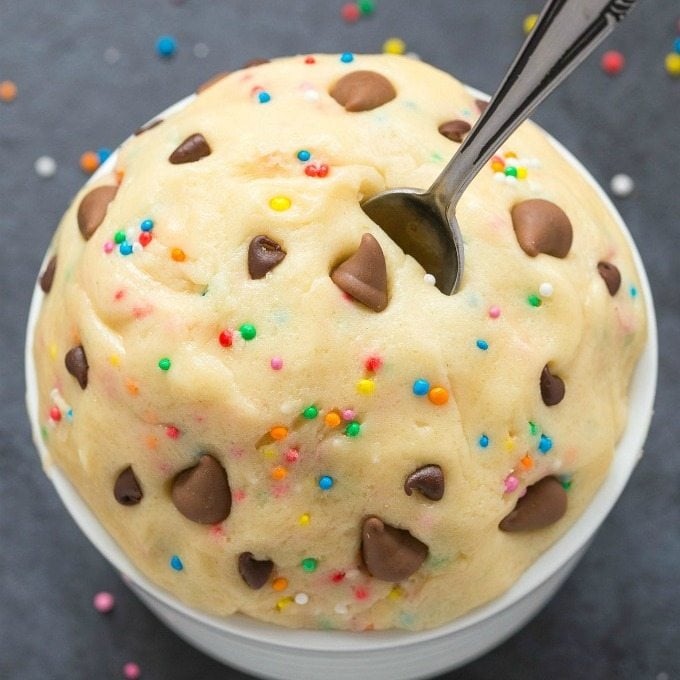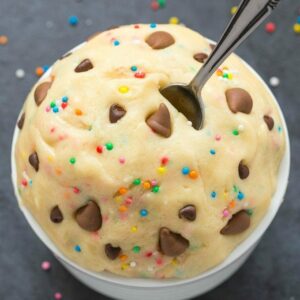 Healthy Edible Egg-Free Unicorn Cookie Dough
Easy and secretly healthy no bake edible and egg-free unicorn cookie dough, made with just four ingredients and ready in 5 minutes! This smooth and creamy recipe is completely paleo, vegan, gluten free, dairy free, low carb, refined sugar free and grain free!
Ingredients
For the Edible Egg-Free Unicorn Cookie Dough
For the Unicorn Baked Pita Chips
Instructions
For the Edible Egg-Free Unicorn Cookie Dough
In a large mixing bowl, add your dry ingredients and mix well. If using a protein powder, add it here too.

In a microwave safe bowl or stove top, melt your nut butter with your liquid sweetener of choice.

Pour the wet mixture into the dry mixture until a crumbly texture remains. Add sprinkles/chocolate chips and mix well. Using a tablespoon, add milk of choice slowly until desired texture is achieved. Refrigerate until it firms up slightly and enjoy!
For the Unicorn Baked Pita Chips
Line a large baking tray with parchment paper and set aside. Preheat the oven to 350 degrees Fahrenheit.

Cut Flatout flatbread into triangles and place on a single layer on the pan. Spray with cooking spray and bake for 10-12 minutes, or until golden brown.

Allow pita chips to cool. Once cool, coat in vanilla protein powder and set aside. Melt coconut butter and drizzle over the pita chips and top with sprinkles.
Notes
* Can sub for oat flour or almond flour. You will need to double the amount and adjust the liquid of choice.
** To keep it sugar free, use the monk fruit sweetened maple syrup. Can sub for pure maple syrup or brown rice syrup.
*** Depending on coconut flour brand and if you use protein powder, you will likely need more. Adjust it based on the texture of cookie dough you want.
Healthy Edible Egg-Free Unicorn Cookie Dough can be kept refrigerated, covered, for up to two weeks. If too firm and crumbly, add some liquid to it before consuming for a creamier texture.
Nutrition
More delicious cookie dough inspired recipes? Gotcha covered!
Healthy No Bake "Nutella" Breakfast Cookie Dough Bites
Healthy Vanilla Cake Batter Breakfast Cookies
Healthy No Bake Super Food Breakfast Cookies
Healthy No Bake Giant Cookie for One
Healthy No Bake Giant Paleo Cookie for One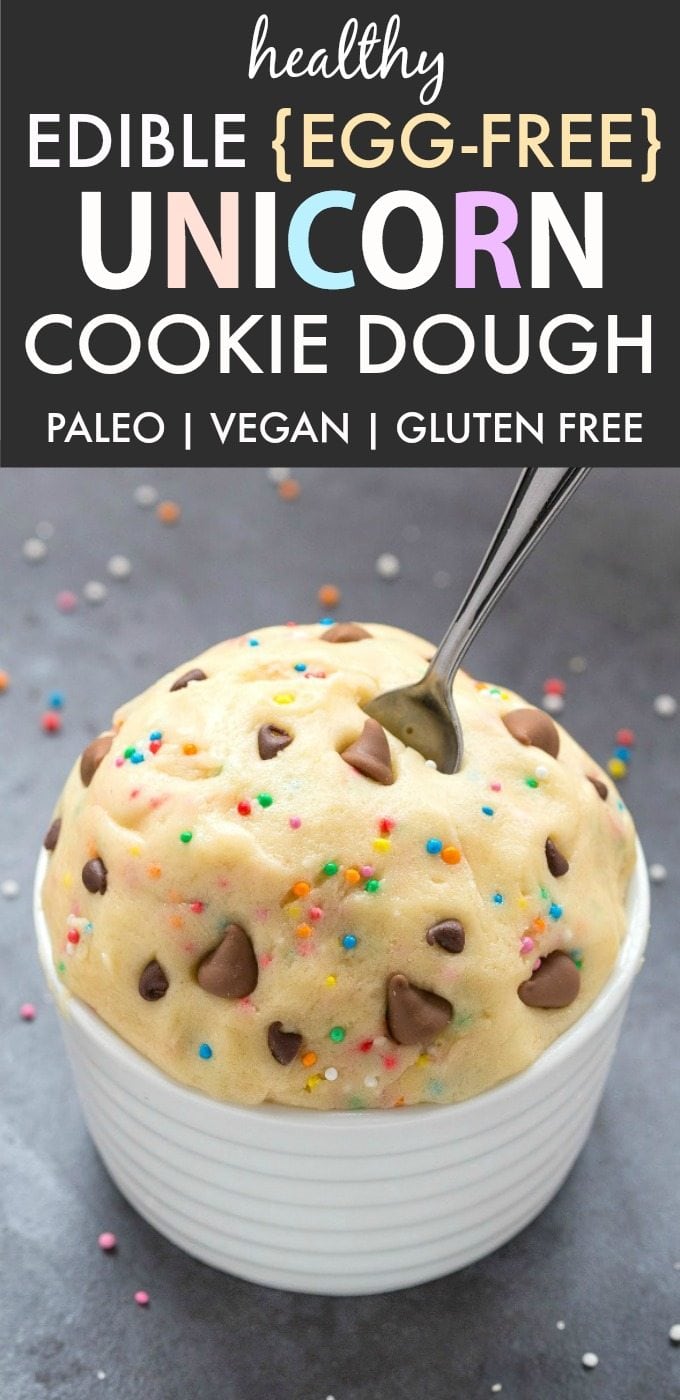 Disclosure: This post may contain affiliate links. I may earn a small commission for my endorsement, recommendation, testimonial, and/or link to any products or services from this website.