Delicious, edible cookie dough sandwiched between two easy, flourless cookies- The perfect snack or healthy dessert! These healthy flourless cookie dough sandwich cookies have NO butter, flour, oil or white sugar- They are naturally gluten free, vegan, dairy free and refined sugar free!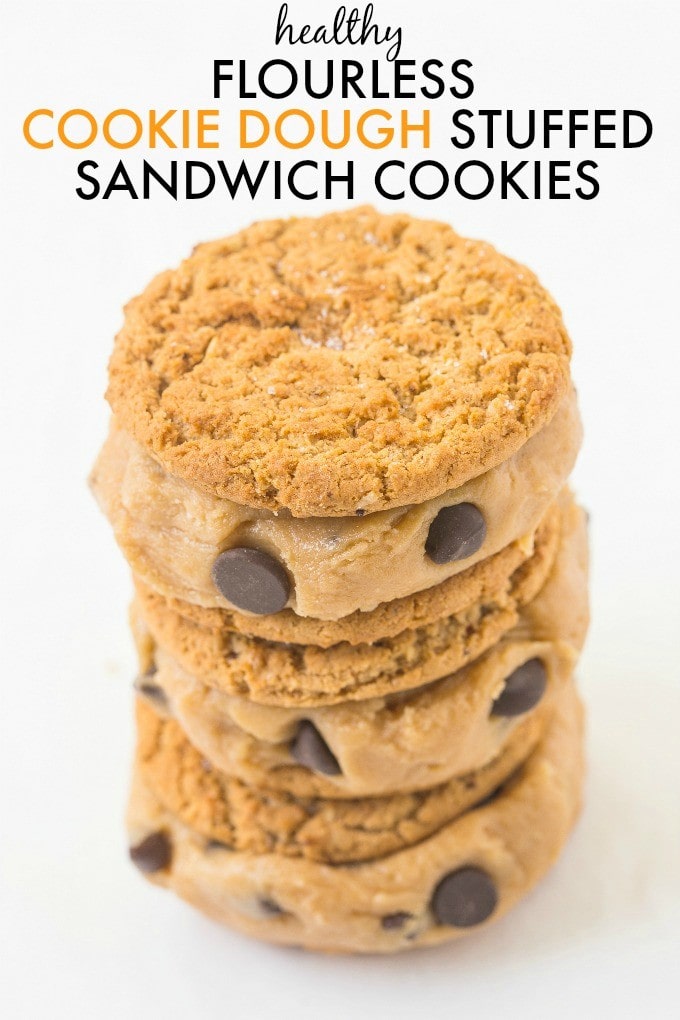 YOU. GUYS. ARE. AMAZING.
THANK YOU, THANK YOU, THANK YOU so much for all the comments, emails, texts and video messages (lol!) after yesterday's news!
I feel like I have so much to fill you in on and it seems you guys are keen to know to- My email was hit with a ton of questions (which was awesome!) regarding the whole process, how it happened and how I was approached for it- I'll definitely be filling you all in about it! If you have any questions, feel free to leave it in the comments below or send mail via owl….preferable Hedwig.
Anyway, I wanted the first recipe to share with you guys one to be a special one to thank you all so I thought I'd give a healthy makeover on something pretty delicious which has taken over all cafes, dessert bars and coffee shops all over America- Sandwich cookies!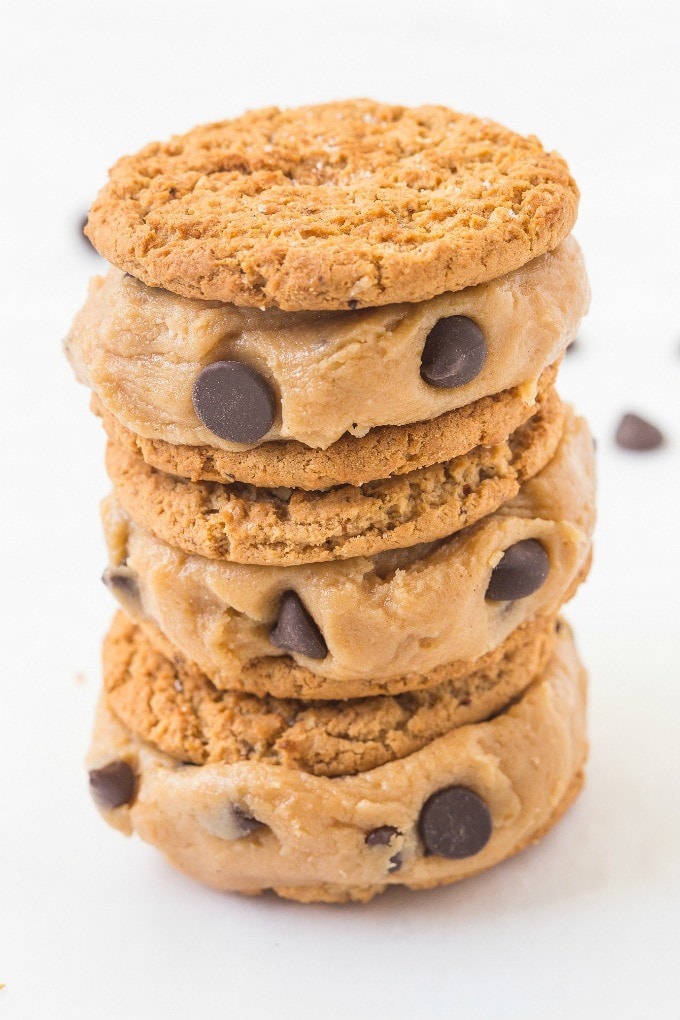 Every morning when I'd be scrolling Instagram as I brush my teeth, I'd see overnight people 'gramming (is that a word…yet?) their delicious cookie sandwiches. It was no surprise when one of the people that Instagrammed this beauty was the one and only Erin. Not even kidding you, I legit live through her weekend antics because it's a blend of mac and cheese pizza, QUALITY coffee (My inner Aussie is coming out here) and delectable desserts. It was total fate when Erin even mentioned making said cookie sandwich she enjoyed.
To be able to create said cookie, I needed to sample one myself. I'd heard great things about the Sprouts supermarket having a quality bakery section so I ventured over there in the hopes of finding this. Upon arrival, I saw that their bakery section was pretty much generic vegan and gluten free cookies.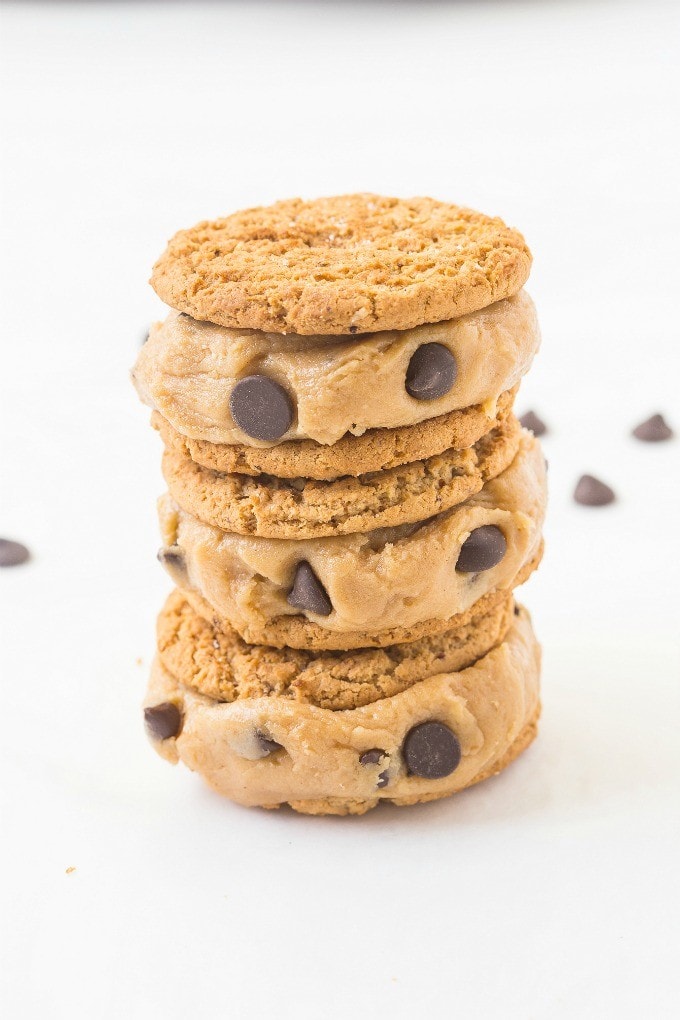 Great. I just Uber-ed it over 25 minutes.
However, upon further inspection, I saw that their cookie selection included some snickerdoodle cookies and basic oatmeal cookies.
Hmmmmmm…..let's go to the refrigerated section.
After some extensive searching (I somehow was shuffling through tempeh and fermented…things) I found these tubs of edible cookie dough.
2 x oatmeal cookies + a few spoons of this edible cookie dough = A pitiful, albeit delicious substitute for the sandwich cookie.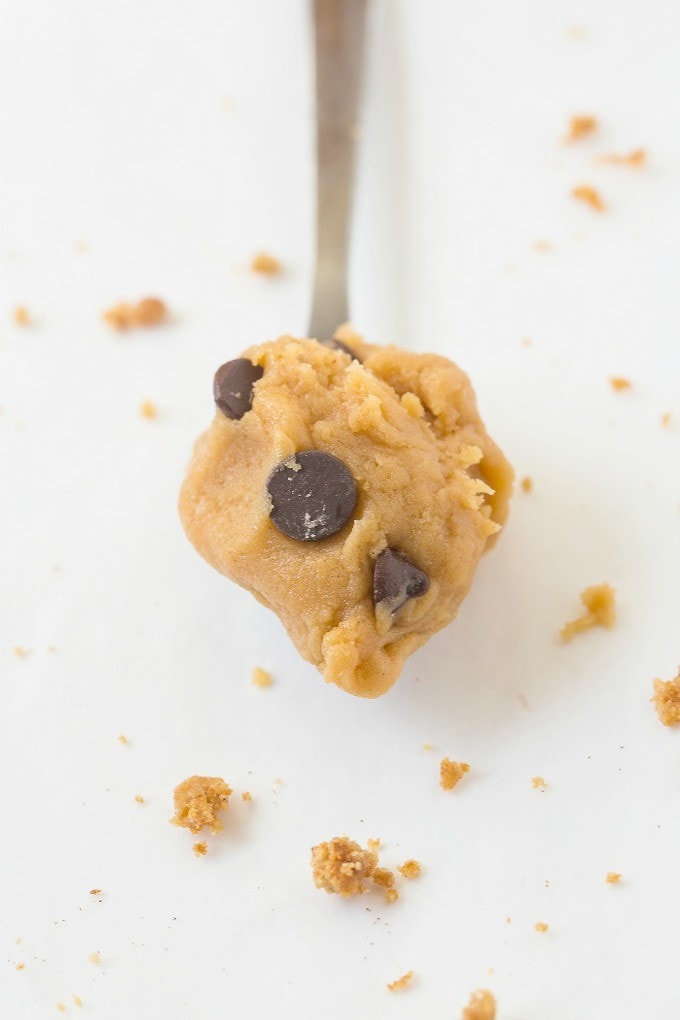 I was impressed.
The concept of the sandwich cookie was simple yet absolutely delicious. I obviously knew I wanted to recreate it but not as something to enjoy occasionally- It had to be healthy enough to enjoy whenever, wherever, whichever meal. A few months ago, I shared these delicious flourless sticky cinnamon bun cookies. They were the closest resemblance to the oatmeal cookies I'd had. I made a batch of them but left them glaze-free. The next step was to create a vegan cookie dough. That part was also easy- I had the option to use either my edible classic cookie dough or these cookie dough stuffed eggs, minus the chocolate coating. Within minutes, I had a stack of delicious flourless cookie dough sandwich cookies.
BOSS.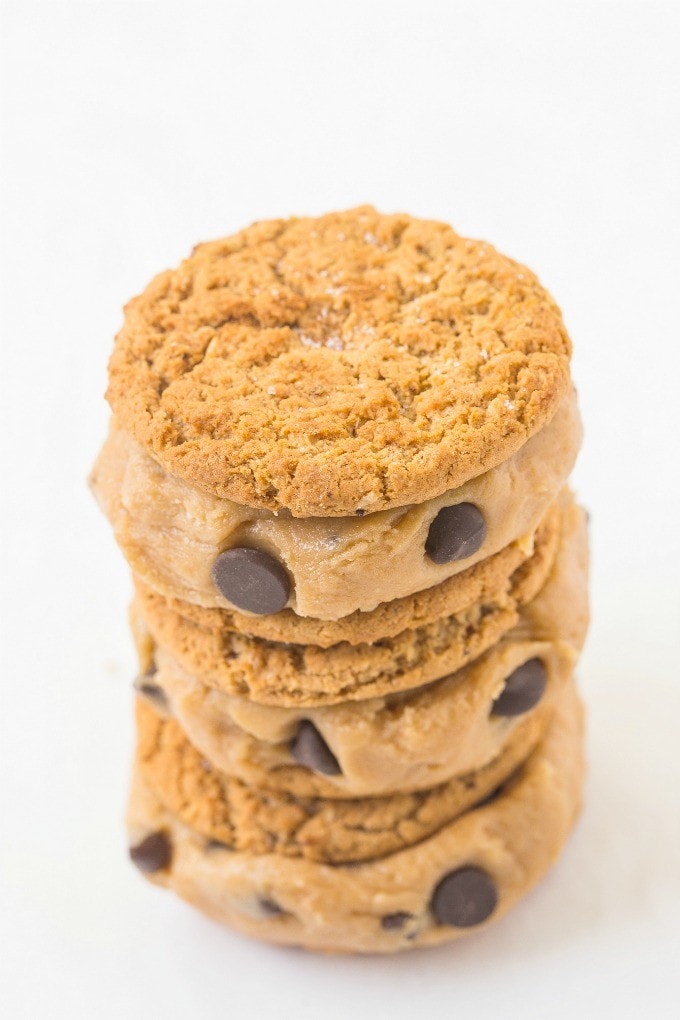 These healthy flourless cookie dough sandwich cookies are fancy looking but ridiculously easy to put together and enjoy! A firm and chewy cookie on either side with a creamy, secretly healthy cookie dough in the centre- The perfect snack to enjoy straight from the fridge for the most amazing texture! Unlike traditional cookies and cookie dough fillings, these contain NO butter, flour, oil or white sugar at all! As mentioned earlier, I used my own flourless sticky cinnamon bun cookies minus the glaze for the 'cookie' but you are free to use any cookie you like! By using my cookie base and cookie dough centre, these sandwich cookies are naturally gluten free, vegan, dairy free and refined sugar free!
HACK! Or rather, confession- I've been enjoying these after my 'workouts' (sitting on a bench press works up an appetite, OKAY?) so opted to use the protein option (trialled using all the protein powders shared here)– It's easy, delicious and a sneaky way to totally call this a pre-workout snack. Saying that, let's be real here- Protein or not, I would still consider this a post workout snack.
Sue me.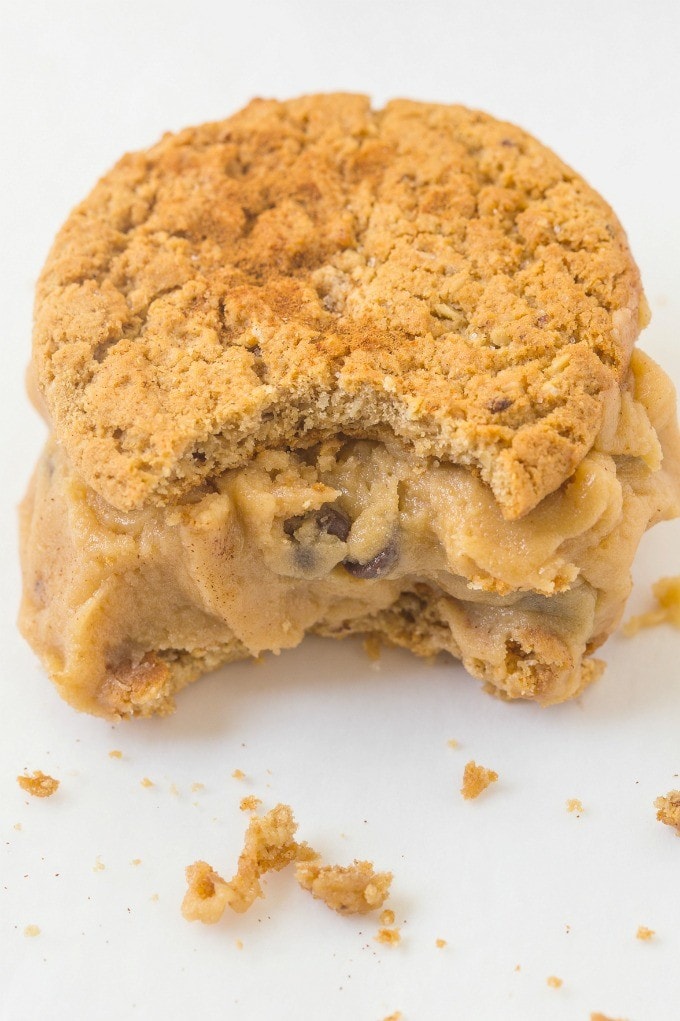 Make these healthy flourless cookie dough Sandwich cookies and paleo friends,….Stay tuned for a version for YOU!
PS- For my standby ingredients, check out my Shop Page for all of it!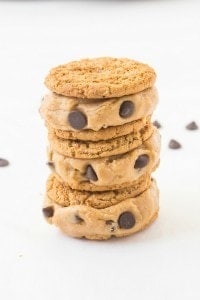 Healthy Flourless Cookie Dough Sandwich Cookies
These healthy flourless cookie dough sandwich cookies have NO butter, flour, oil or white sugar- They are naturally gluten free, vegan, dairy free and refined sugar free!
Ingredients
For the chewy cookies
I made a batch of my Flourless Sticky Cinnamon Bun Cookies

minus the glaze. I used 12 for 6 sandwiches.
For the cookie dough filling
3/4

cup

coconut flour

Can sub for gluten free oats/oat flour- See notes below*

3

scoops vanilla protein powder*

pinch

sea salt

1/3

cup

nut butter of choice

3

tablespoon

maple syrup

1/4

cup

+ milk of choice**

Handful of dairy free chocolate chips
Instructions
On a large plate or deep tray, set aside 6-8 cookies on there, with the other 6-8 aside.

In a small mixing bowl, combine the dry ingredients and mix well.

Melt your nut butter and maple syrup and pour into the dry mixture. Mix until a crumbly texture remains. If the mixture is completely cool, add the chocolate chips.

Using a tablespoon, add milk of choice until a thick, 'dough' is formed.

Start to assemble your cookie dough stuffed sandwiches by dividing the cookie dough evenly amongst the 6-8 cookies and topping each with another cookie.
Notes
I used 6 cookies (12 total) because I wanted a very thick cookie dough centre. For thinner sandwiches, use more cookies.
* Can sub for oat flour, oats or almond flour- However, you'll need to reduce dairy free milk considerably.
** You'll most likely need more than 1/4 cup.
More delicious cookies? Gotcha covered!
4 Ingredient Paleo 'Nutella' Cookies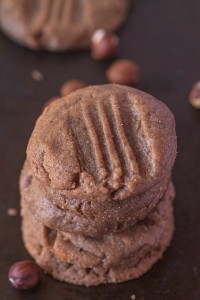 3 Ingredient Paleo Banana Bread Cookies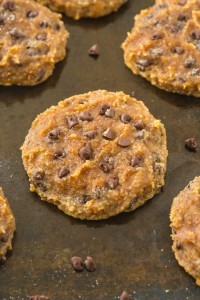 No Bake Giant Monster Cookie for One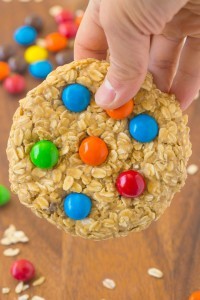 Do you follow any foodies on Instagram? Erin is totally a foodie.
Ever had one of these infamous cookie dough sandwich cookies? ICE CREAM ONES DON'T COUNT. (they get their own crowning glory).
Disclosure: This post may contain affiliate links. I may earn a small commission for my endorsement, recommendation, testimonial, and/or link to any products or services from this website.