Enjoy dessert for breakfast with this healthy high protein cake batter wraps! Quick, easy and reminiscent of a pop tart or breakfast pastry! These healthy breakfast wraps are freezer friendly and a filling, nutritious breakfast, snack or treat!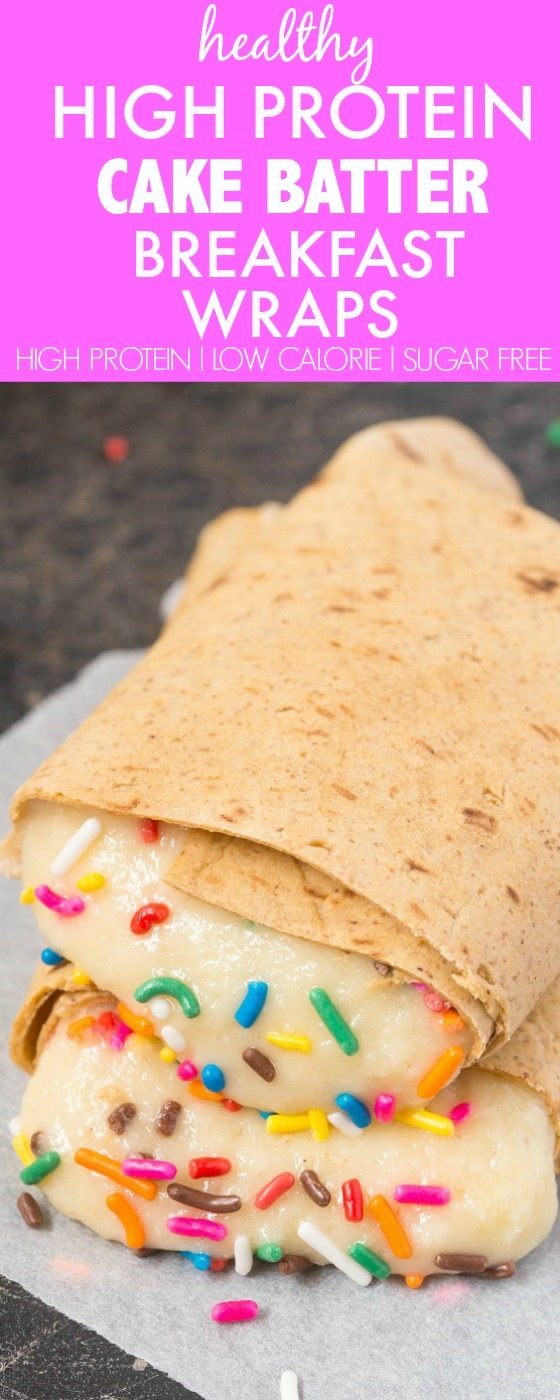 Guess who is going camping?
Yes, sir that's my baby.
I am.
….and I've been put on food duty.
Besides a short trip last year, camping is a totally new experience for me. Growing up, the closest I got to sleeping under the stars were those glow in the dark stickers I was given on my fifth birthday. For any of you who've had these in your possession know that after the third night, they become redundant. After the fifth, they become removed.
Oh, the novelty of them.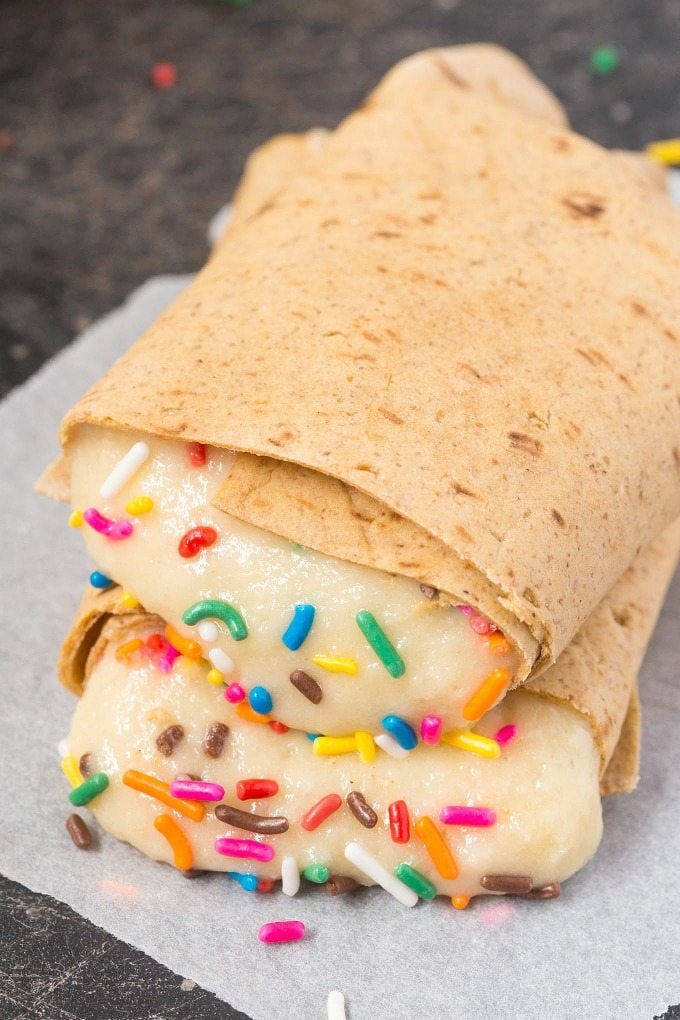 ANYWAY.
The last couple of days could best be described as organised chaos. Two of my friends are organising the physical logistics of it, one is organising transportation and packing and me?
Yep, the food duty.
Although we'll have quite a few pit stops along the way, coupled with some delicious restaurants and cafes in a close vicinity, we need snacks/breakfasts and well…more snacks.
Something important to note? The first night, there will be no cooking utensils, no close-by gas stations or stores and definitely no fire pit. While I would have preferred for us to subside on dry cereal with diet coke, I thought it would be a little more nutritious to have something more substantial, seeing as we have eight-hour drive between said pit stop and civilisation our next destination.
Although we have a cooler with us, the thought of eating potentially semi-frozen savory breakfast sandwiches or ones with cheese/eggs/etc doesn't sound the most appealing. While snacks are covered (I've made these 3 ingredient rice crispy treats, these amazing protein bars and these bites which taste like banana bread), we need breakfast and nothing beats something portable, sweet and requiring NO on site prep.
Long term readers know that my all time favorite flatbread are those by Flatout, especially their ProteinUP Carb Down variety- These are sturdy, firm and wrap ANYTHING perfectly- Trust me on that, I once tried wrapping up a Greek salad and even managed to overfill this egg salad in one! It was time to put my trusty flatbread back in action and batch make some breakfast wraps with a sweet note- Healthy Cake Batter Style!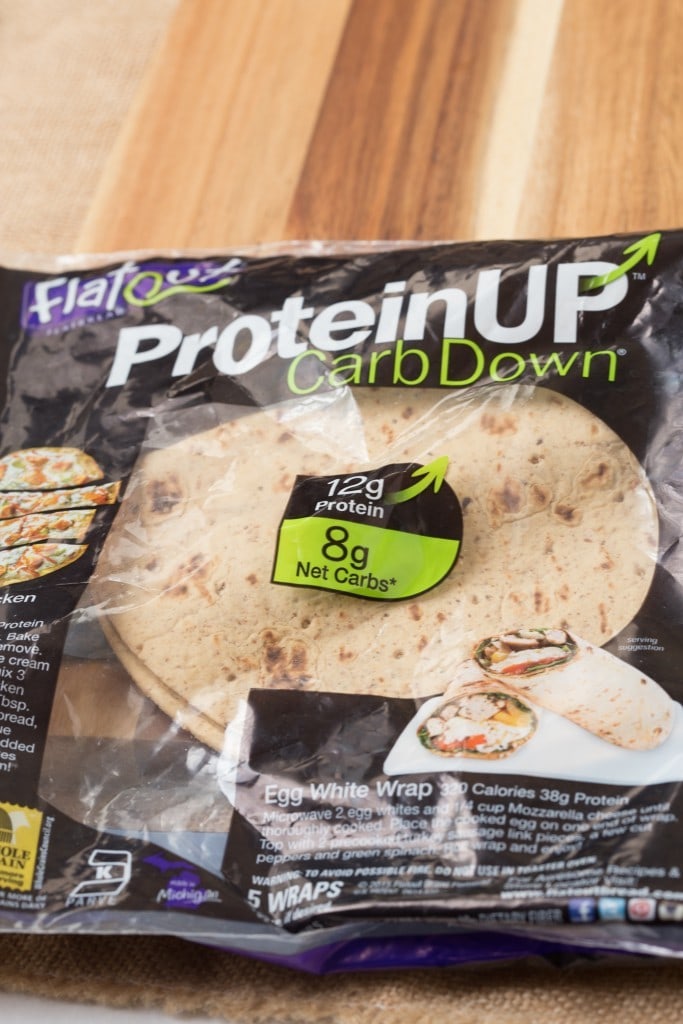 These healthy High Protein Cake Batter Breakfast Wraps are your answer of having dessert for breakfast, knowing it will be doing your body good and providing you fuel for 8 hours of pain of enjoyment. A smooth, creamy and well balanced- It's a great balance of protein, healthy fats and high fiber carbohydrates! Unlike traditional dessert fillings, this cake batter filling is made with no butter, oil, flour or white sugar, but you'd never tell! These are the perfect high protein, sweet and refined sugar free spread to stuff your flatout wraps with- The filling alone is naturally paleo, vegan, gluten free and dairy free!
HACK! Because I knew we'd have a cooler, I tested these out to see if they froze well and thawed well too- There's nothing worse than soggy wraps. These fit the bill PERFECTLY and when 'just' thawed, are like a chewy, pop tart like pastry sandwich.
Also, a note on the protein- As always, I recommend the standard casein protein powder, vegan brown rice protein powder, and paleo protein powder. Because this is enclosed inside a wrap and more durable, it does work with a whey based protein powder- I've used this one with success.
…Did that make sense?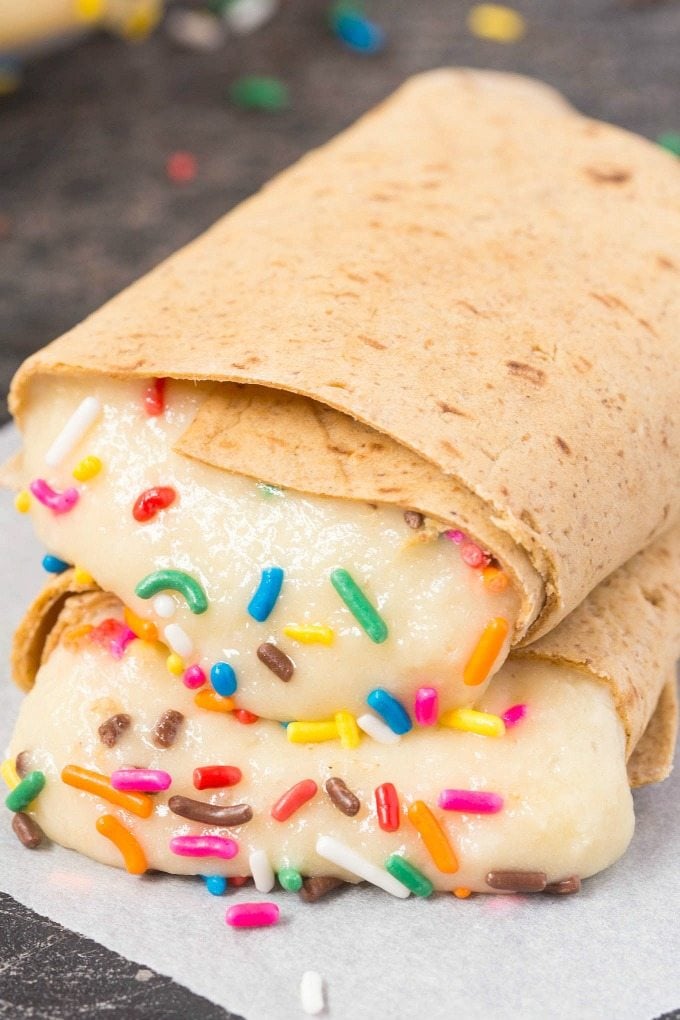 Make these healthy High Protein Cake Batter Breakfast Wraps and for all those camping skeptics, if there's one thing to look forward to, it's breakfast sandwiches.
Breakfast sandwiches which totally pass as dessert.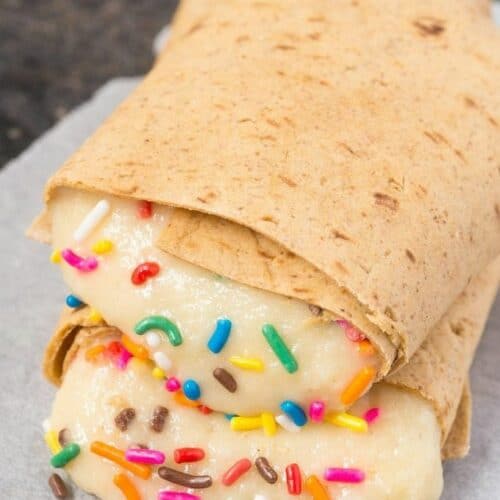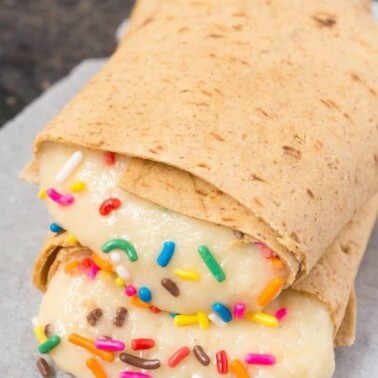 Healthy High Protein Cake Batter Breakfast Wraps
Enjoy dessert for breakfast with this healthy high protein cake batter wraps! Quick, easy and reminiscent of a pop tart or breakfast pastry! These healthy breakfast wraps are freezer friendly and a filling, nutritious breakfast, snack or treat!
Ingredients
1

x Flatout wrap of choice

I used ProteinUP Carb Down
For the filling
1

scoop vanilla protein powder

2

tablespoon

nut butter of choice

sub for sunflower seed butter or soy nut butter

1

tablespoon

pure maple syrup

1/4

teaspoon

butter extract

1/4

teaspoon

vanilla extract

1

tablespoon

milk of choice*

Sprinkles

optional
Instructions
Place flatbread on a large piece of tin foil and set aside.

In a small bowl, mix your maple syrup with your extracts and set aside.

In a small mixing bowl, add your protein powder, nut butter and maple syrup mixture and mix until a very crumbly mixture remains.

Using a tablespoon, add milk of choice until a very thick spread/batter is formed. Once desired consistency is reached (I aim for a very thick batter), transfer cake batter spread to the centre of the flatbread. Spread evenly, leaving an inch around each side and fold.

Fold up and slice in half and enjoy immediately or freeze for later consumption.
Notes
* Depending on the protein powder you use, you may need more or less- Adjust accordingly.
This recipe easily doubles, triples etc- Adjust accordingly.
If freezing them, cut in half prior and wrap each half individually. Before enjoying, thaw the night before in the refrigerator.
More Flatout-esque recipes? Gotcha covered!
Healthy Skinny Sweet Chilli Egg Salad Wraps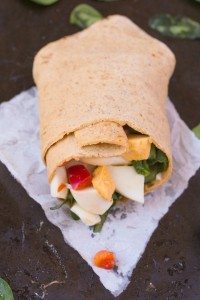 Healthy 3 Ingredient No Bake Butterfinger Bites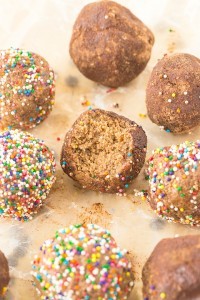 Healthy Creamy Egg White and Pesto Flatbread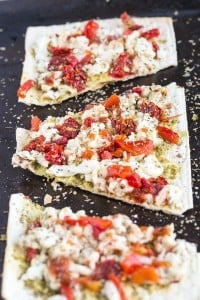 This post is sponsored by Flatout Bread. Cheers, hugs and handshakes for supporting companies and brands which allow me to do what I'm passionate about every day and make The Big Man's World possible.
Have you ever been camping?
What is your LONG road trip snacks?
Disclosure: This post may contain affiliate links. I may earn a small commission for my endorsement, recommendation, testimonial, and/or link to any products or services from this website.