This healthy low carb chunky monkey breakfast pizza is a guilt-free and protein-packed sweet breakfast which tastes like dessert! Quick, easy and delicious, this low carb pizza is naturally gluten free, vegan, paleo, dairy free, sugar free and grain free!

Low carb, pizza and chunky monkey all in one recipe? Your breakfast is just about to get a little bit sweeter.
In full disclosure, I cannot believe how long it took me to warm up to the banana, nut butter, and chocolate chip combination. I remember seeing people on Instagram sharing pictures of bananas, dipped in peanut butter or almond butter, with chocolate chips embedded within it.
To be honest, I thought it looked stupid and thought it would taste about as much. It wasn't until I was on a red-eye flight between Los Angeles and New York City that I sampled this combination for myself.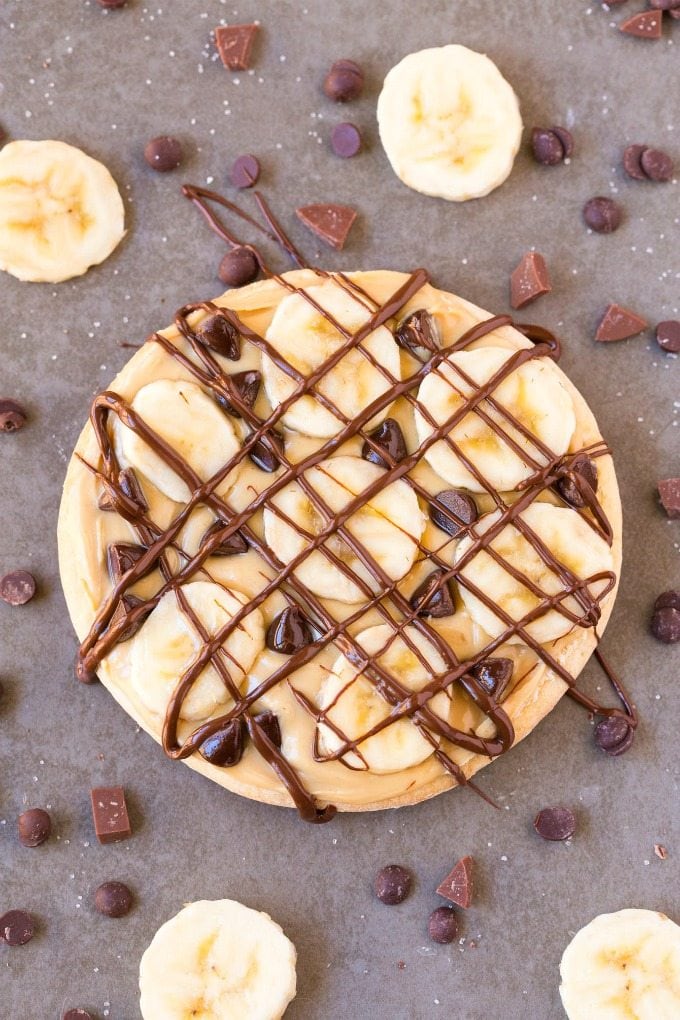 I passed out as soon as we had departed the LAX runway. I awoke mid-flight, only to find out that I had missed the snacks served earlier in the flight. One of the air-stewardess noticed I had awoken, and came over to my seat. She apologized and advised me that they had just served the refreshments, and had run out. I wasn't too fussed- I had packed a couple of cookies (those oreo sachets…shhh) and was fine with that. A few minutes later, the same air-stewardess came back and had assembled a few items and told me this was her 'go-to' snack when hunger strikes- A banana, a packet of peanut butter and some chocolate chips. As we were on a plane, she had a package of dove chocolates instead, but let's just say since this flight, I was hooked on this simple combination!
Christine from Jet Blue- You are a legend!
Ever since then, I've been a huge fan of this simple combination, and have enjoyed a VERY modified version during the whole 30 by swapping the peanut butter for sunflower seed butter and using cacao nibs for chocolate chips. As such, when I was keen to share a twist on the breakfast pizza, I knew monkeying around chunky style was the answer!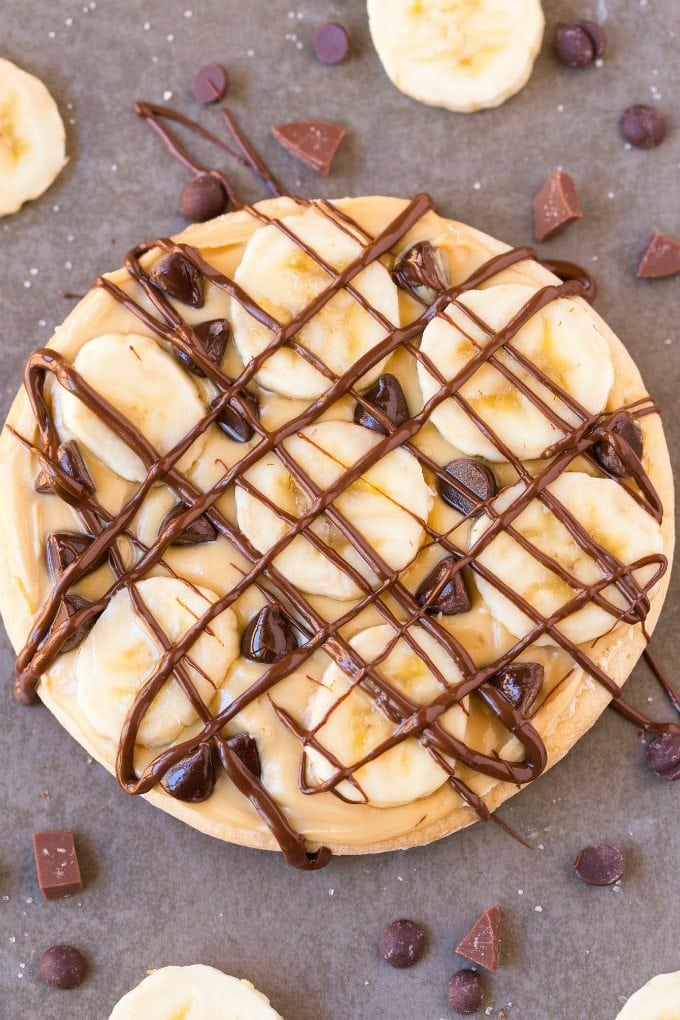 This healthy chunky monkey breakfast pizza is low carb and packed with protein, but you'd never be able to tell! It is a thin and crispy pizza crust, topped with a smooth and creamy nut butter, and topped with banana and chocolate morsels! However, unlike a traditional dessert-like pizza, this doesn't contain any yeast, dough, sugar, butter, flour or grains!
Instead, we'll be using a few healthy swaps without sacrificing on taste! These personal pizzas are also versatile, and make the perfect snack or sweet dessert too! Thanks to the ingredients used and two pizza crust options, these sweet breakfasts are completely paleo, grain free, vegan, dairy free, sugar free, sugar free and low calorie!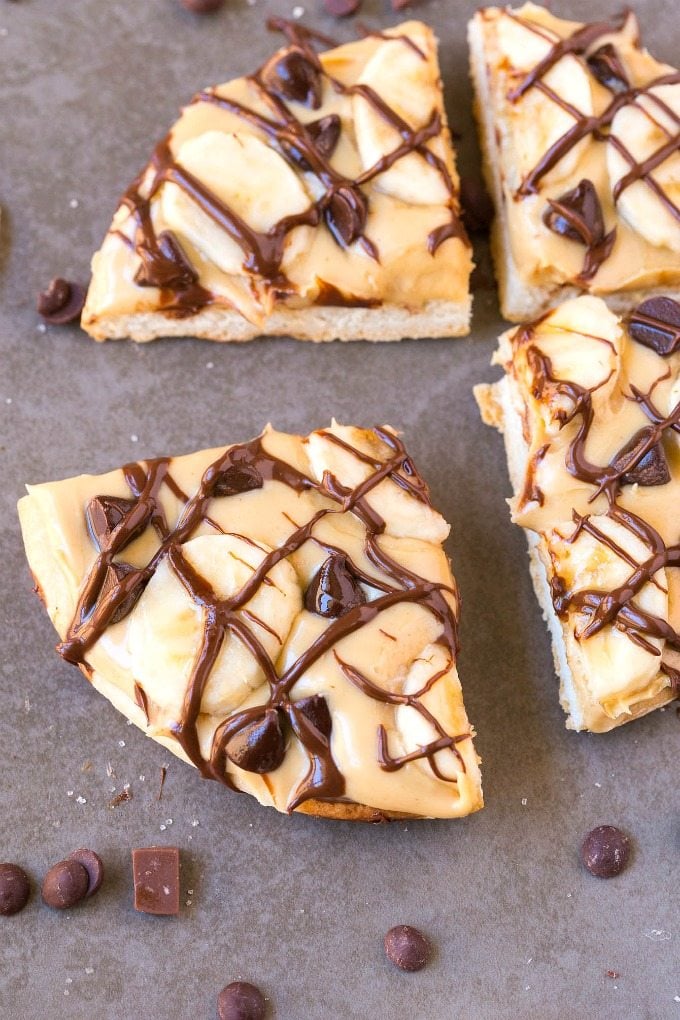 For the pizza crust, there are two options- Either the paleo/grain free one or the vegan-friendly one! Both of these pizza crusts are made stovetop and are freezer friendly. This means that you can batch cook several and freeze the extras for quick and easy breakfasts, snacks or desserts!
For the 'spread' portion, you can either keep it traditional or be a little bit fancy. While peanut butter is the classic in the infamous 'chunky monkey' combination, this tastes just as good with creamy almond butter or cashew butter. However, pictured isn't any of those- It's the allergen-friendly smooth sunflower seed butter! This is perfect for those with nut allergies, and tastes amazing with the other parts to it!
Toppings? We'll be keeping it simple here, with just fresh sliced banana and some dairy free chocolate chips and drizzled a little extra on top! To keep this completely sugar-free, I'd recommend using these sugar-free chips or one of these chocolate bars.
HACK! Because of the thin crepe-like pizza crusts, these are suitable for a portable breakfast! Simply prep it the morning of, roll it up and voila- Quick, easy and grab-and-go! They also make a fun twist for the school lunch box!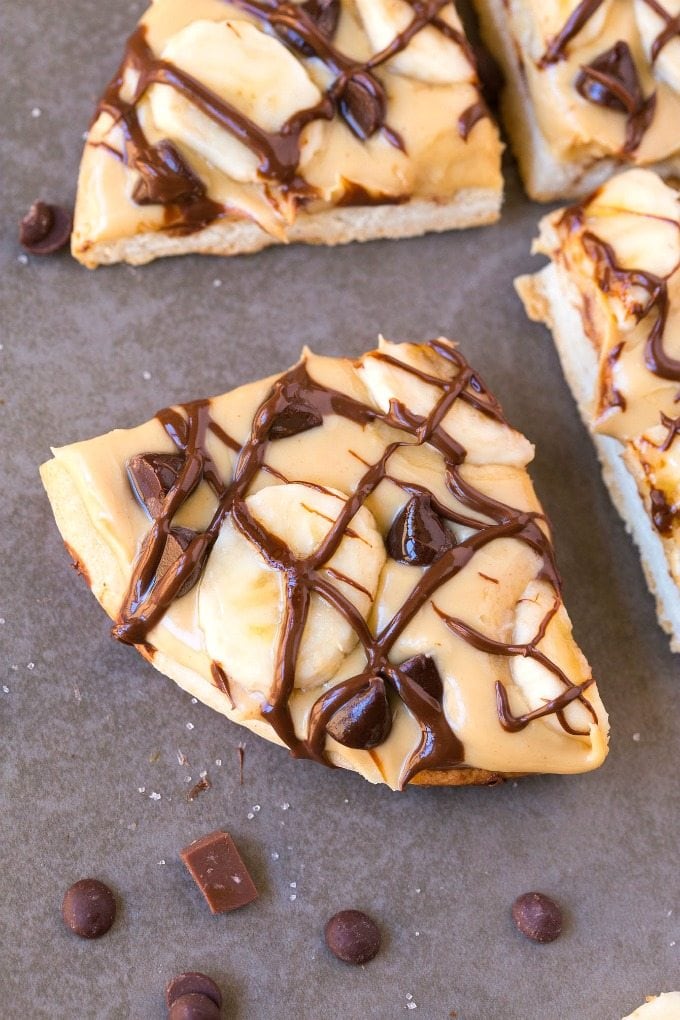 Make these healthy low carb chunky monkey breakfast pizza and kickstart your morning meal on a sweet note…guilt free!
Share this recipe on Pinterest
Love this Healthy Low Carb Chunky Monkey Breakfast Pizza recipe?
Share it with the world on Pinterest.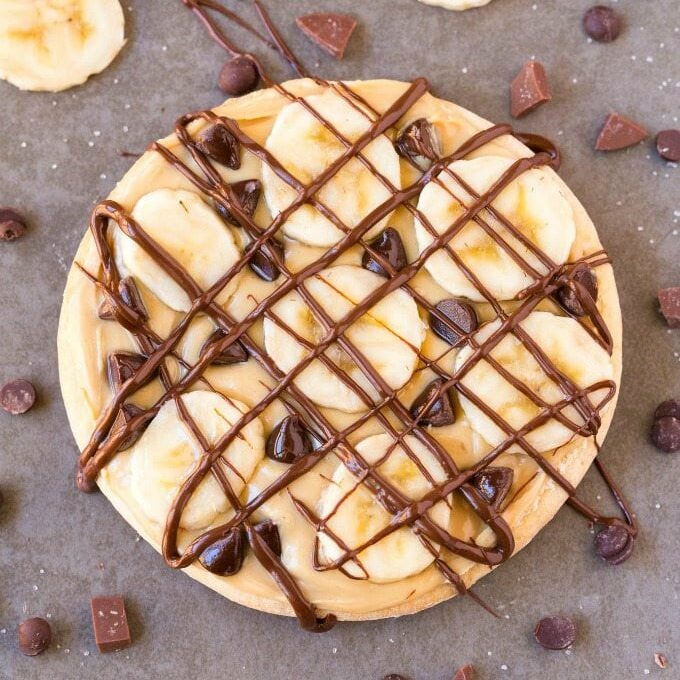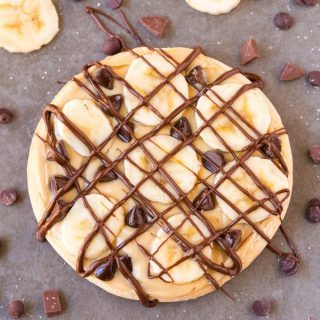 Healthy Low Carb Chunky Monkey Breakfast Pizza
This healthy low carb chunky monkey breakfast pizza is a guilt-free and protein-packed sweet breakfast which tastes like dessert! Quick, easy and delicious, this low carb pizza is naturally gluten free, vegan, paleo, dairy free, sugar free and grain free!
Instructions
If you'd like a crispy pizza crust, lightly pan grill or oven bake your pizza base until desired texture.

Cover your pizza crust with nut butter. Top with sliced banana and either top with chocolate chips or if preferred, divide chocolate chips and drizzle one tablespoon over the top.
Notes
Breakfast pizza can he warmed up slightly, but ensure the crust has been preheated before topping to ensure it doesn't fall apart.
Nutrition
Serving:
1
pizza
Calories:
262
kcal
Carbohydrates:
18
g
Protein:
7
g
Fat:
19
g
Sodium:
8
mg
Potassium:
362
mg
Fiber:
5
g
Vitamin A:
65
IU
Vitamin C:
9
mg
Calcium:
63
mg
Iron:
3
mg
NET CARBS:
13
g
More delicious sweet breakfasts? Gotcha covered!
Healthy Low Carb "Nutella" Breakfast Pizza
Healthy Flourless Blueberry Breakfast Cake
Healthy No Bake Breakfast Brownies
Healthy Flourless Blueberry Blender Muffins
Healthy Thick and Fluffy Banana Smoothie Pancakes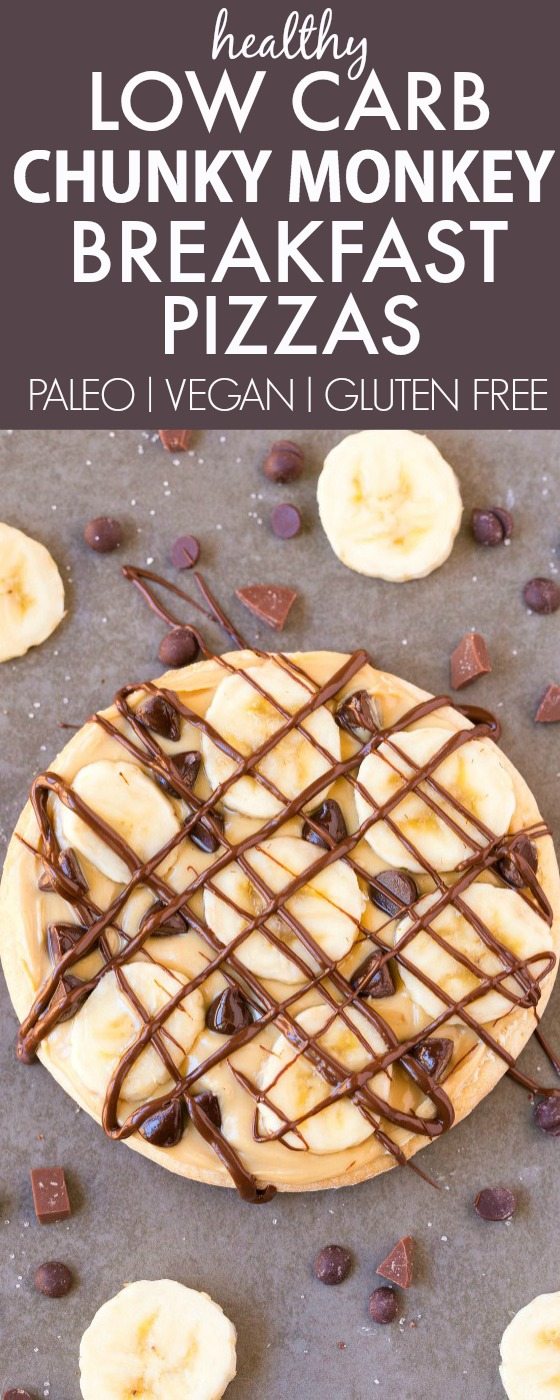 What is a simple snack you are a fan of?
The Big Man's World is a participant in the Amazon Services LLC Associates Program, an affiliate advertising program. This means that if you click and make a purchase, TBMW receives a small commission, at no cost to you. Cheers, hugs, and handshakes for supporting TBMW!
Disclosure: This post may contain affiliate links. I may earn a small commission for my endorsement, recommendation, testimonial, and/or link to any products or services from this website.