Healthy No Bake Banana Bread Breakfast Bars
These healthy no bake banana bread breakfast bars are thick, chewy and packed with protein, they'll keep you satisfied for hours! Made without any butter, oil, grains or granulated sugar, they can easily be enjoyed as a snack or light dessert! They are suitable for those following a vegan, gluten free, paleo, dairy free and refined sugar free diet!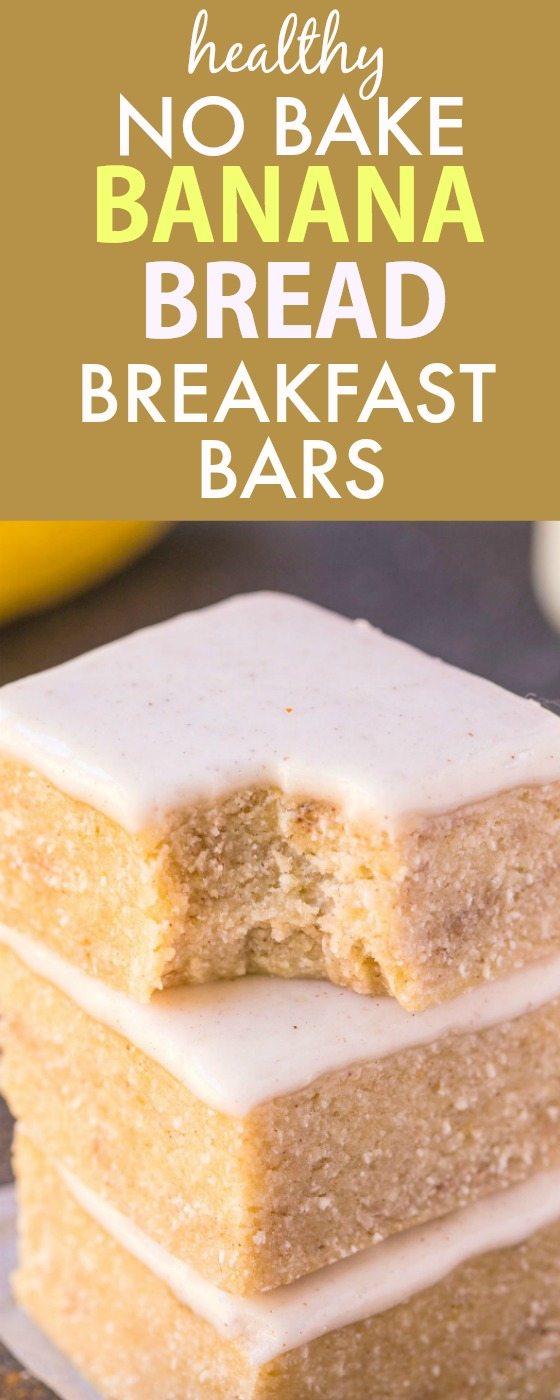 I cringe over some of the breakfast television shows I watched as a kid growing up.
Are you guys familiar with the term 'breakfast television'? During my childhood, it was a select number of shows shown during the morning period, usually just before school. These hours were often between 6.30am-8am and often were filled with 5-6 short cartoons or shows.
While us Aussies were fortunate to have some international gems sent our way (Babar, Rugrats, Arthur, and Madeline), we had to also endure some home grown 'talent.' Many of them seemed to be poor rip-offs of American classics. Some, however, were simply cringe-worthy. The biggest offender was the show, 'Bananas in Pyjamas'.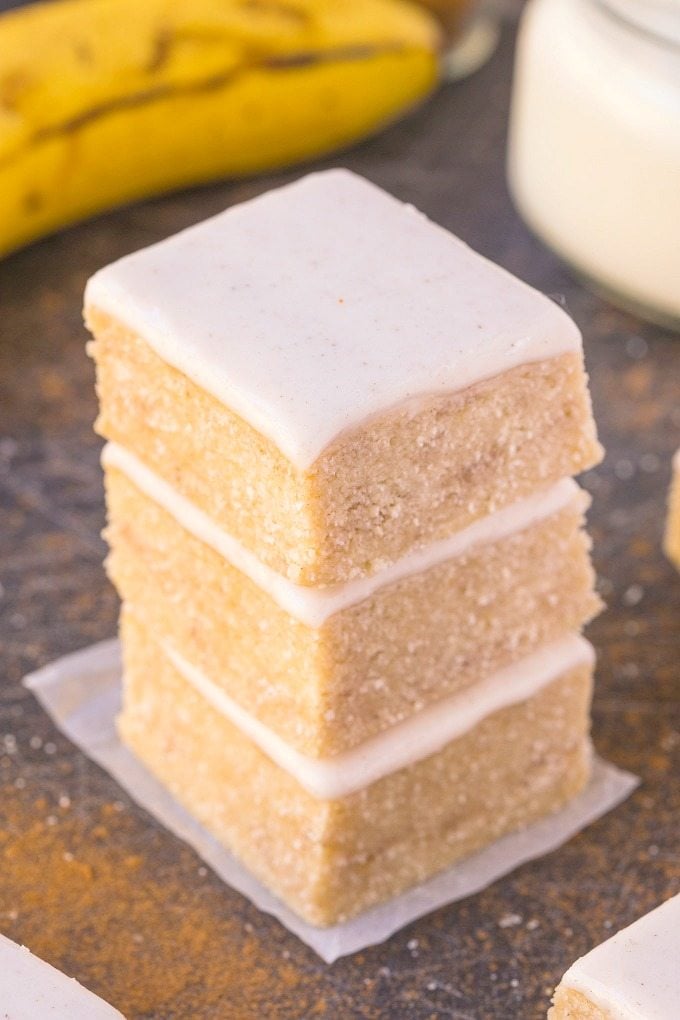 You guys, I'm not going to lie- I spent close to an hour on Youtube, watching clip after clip, and dying a little inside. When you compare that to the content provided by Cookie Jar Group (previously known as Cinar- They produce Canadian children's shows, like Arthur), I wonder why we didn't just consider just syndicate their entire channel over here.
This isn't to hate on Australian children's television offerings; there were definitely some gems in there. However, during my childhood, our American/Canadian and even Asian translated counterparts CREAMED us (hello, SAILOR MOON AND POKEMON!). The theme song for that silly show was enough to make you turn a shade of tomato, but after watching the first minute….
Oh well, there was still Vegemite, Hugh Jackman and Fairy Bread….
ANYWAY.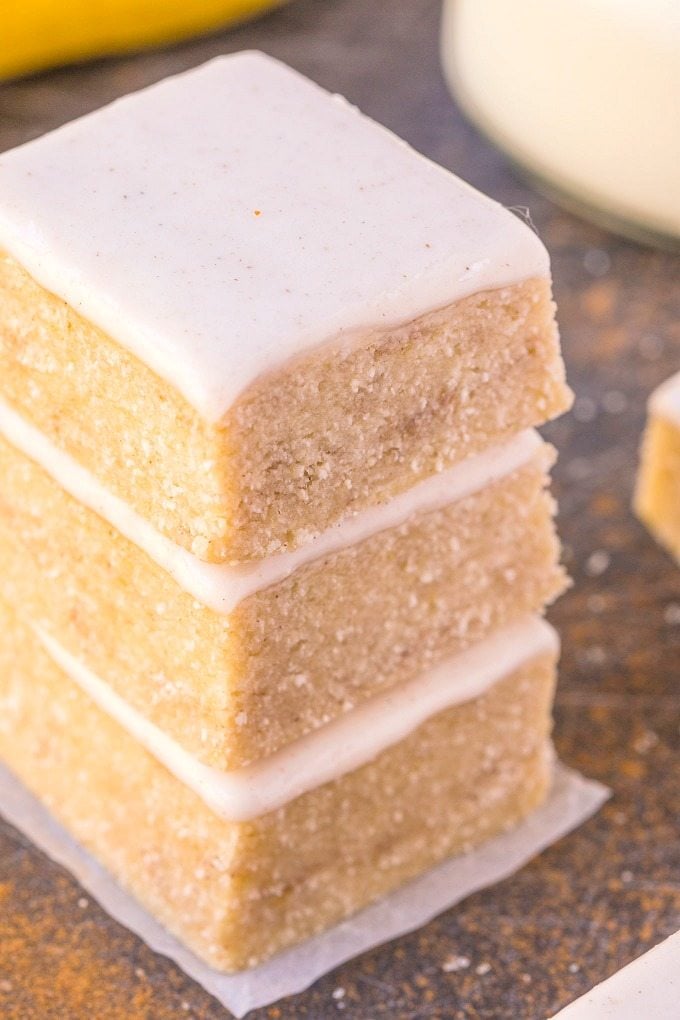 While bananas in Australian children's breakfast TV shows sort of failed (in my eyes at least), they certainly don't fail in the actual edible sense. Today's recipe came about after I went over to mum's place and stole the last 3 bananas in her fruit basket. I seriously don't get why she continues to restock it.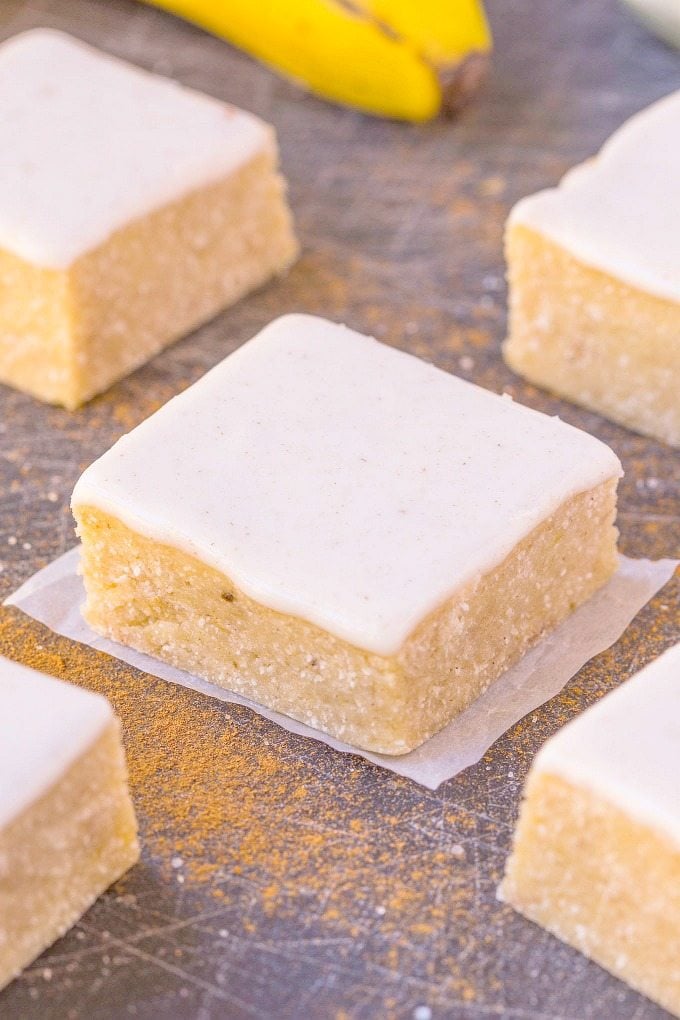 There's a cycle which happens-
Mum buys bananas for Niki, Niki never eats them, they go pretty much black and then mum screams at Niki….then makes pancakes.
Repeat.
This time, I saved mum screaming at Niki, and simply stole them to use in some recipes and left them BOTH without pancakes. Actually, Niki is totally the smart one here…pancakes every weekend made by mum? I could get accustomed to that. Okay, I'm off on another tangent. Enough banana talk, let's jump into today's recipe!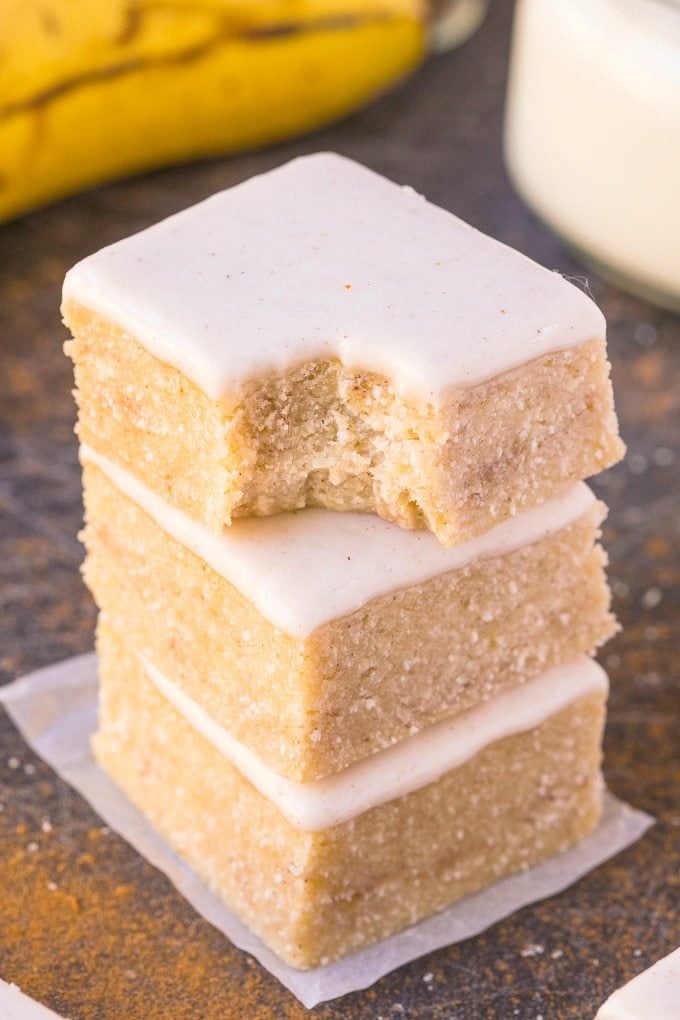 These healthy no bake banana bread breakfast bars are the perfect quick and easy recipe to prep and enjoy all week long! They are thick, chewy, slightly soft and taste so decadent, you'd be fooled into thinking you were enjoying a delicious blondie! Unlike actual blondies, these banana bread bars contain no butter, oil, grains (if you choose the paleo option!) or white sugar, but you'd never tell! The icing on the cake is the frosting, which is secretly healthy (and protein packed!) too! Based on the combination of ingredients used, they are suitable for those following a vegan, gluten free, paleo, dairy free and refined sugar free lifestyle!
HACK! Want to enjoy these as individual snacks over breakfast bars? Simply individually wrap each one in saran wrap or grease proof paper and place in the freezer. The day you want to enjoy one, simply allow to thaw slightly and devour! In fact, I prefer the texture this way.
Freezer thawed = fudge like.
BOOM.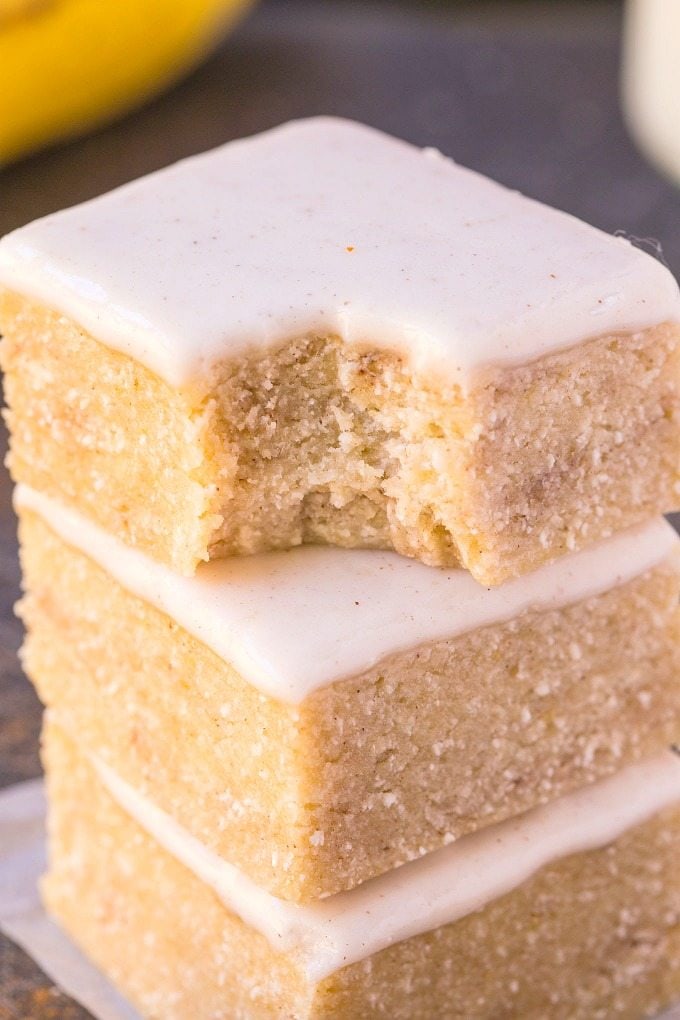 Make these healthy no bake banana bread breakfast bars and don't go Youtube the aforementioned TV show.
You'll have the darn theme song stuck in your head.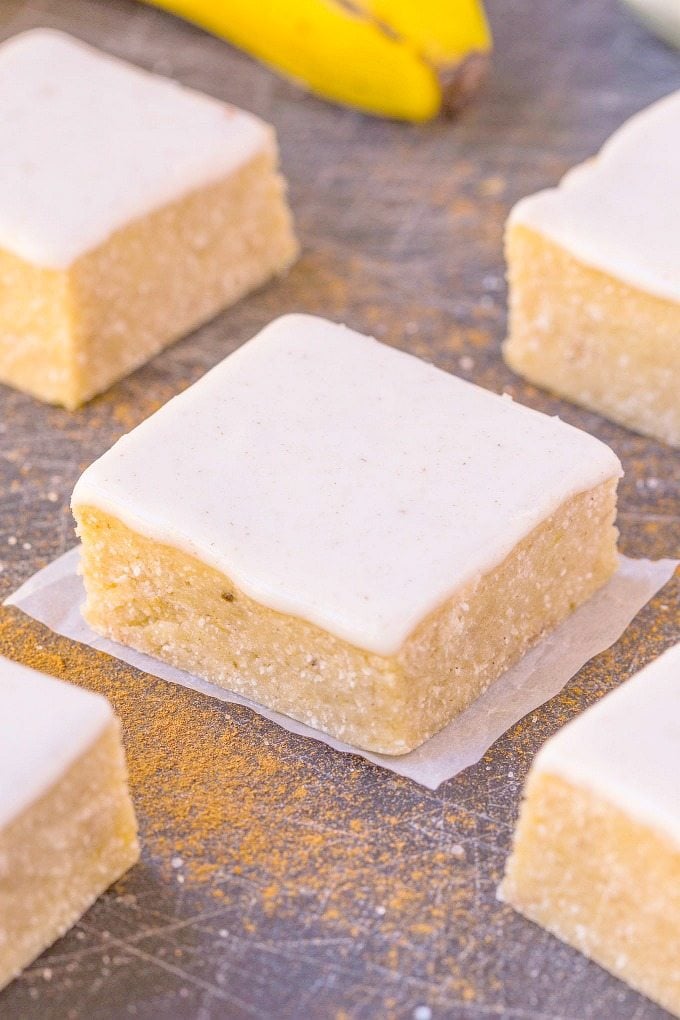 Healthy No Bake Banana Bread Breakfast Bars
2016-07-17 07:58:08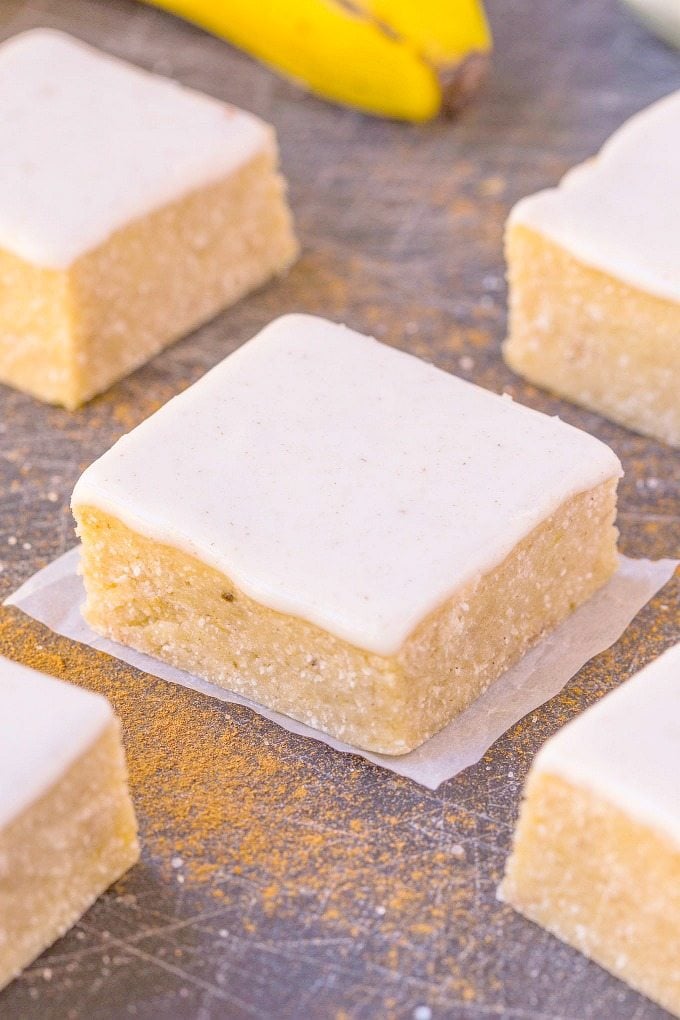 Serves 6
Healthy No Bake Banana Bread Breakfast Bars which are packed with protein and naturally gluten free, vegan, paleo and dairy free!
For the bars
3 cups gluten free oat flour OR 2 cup coconut flour (Paleo option)
1 cup vanilla protein powder (optional)
pinch sea salt
Cinnamon
1/4 cup granulated sweetener of choice
1/2 cup overripe mashed banana (about 2 small)
1/4 cup pure maple syrup (can sub for brown rice or honey if no diet restrictions)
1/2 cup drippy cashew butter (can sub for any nut or seed butter)
pinch vanilla extract
1/2 cup + milk of choice*
For the high protein frosting
2 scoops vanilla protein powder (see tested recommendations under 'shop')
1-2 T granulated sweetener of choice (optional)
1-2 T nut butter of choice (optional)
Milk to form batter
For the coconut butter frosting
1/2 cup coconut butter, melted
2 T coconut oil, melted
1 tsp maple syrup
Instructions
Line a 9 x 9 baking dish with parchment paper or aluminium foil and set aside.
In a large mixing bowl, combine flour, protein powder, cinnamon, sea salt, granulated sweetener of choice and mix well. Add in the mashed banana- Mixture should be very crumbly.
In a microwave safe bowl or stovetop, melt your cashew butter with maple syrup. Whisk in the vanilla extract and pour into the dry mixture. Mix very well until fully incorporated.
For a more soft and fudgy banana bread bar, add milk of choice until a relatively thick batter is formed. For a firm and chewy bar, add milk of choice only if needed to desired thickness. Transfer to lined baking tray and press firmly in place.
Refrigerate for at least 10 minutes, or until firm. Once firm, add frosting of choice and refrigerate for another 30 minutes to firm up before slicing.
To make frosting/s
Combine all ingredients and mix well until a thick frosting is formed. Cover the banana bread bars and refrigerate for a further 10-15 minutes, for frosting to firm up.
Notes
* Adjust dairy free milk accordingly- Depending on the flour or protein powder combination, you may need more- Especially with coconut flour.
Breakfast bars don't need to be refrigerated, but taste amazing frozen and slightly thawed.
The Big Man's World ® https://thebigmansworld.com/
More delicious fruit-filled breakfasts? Gotcha covered!
Healthy Blueberry Breakfast Crumble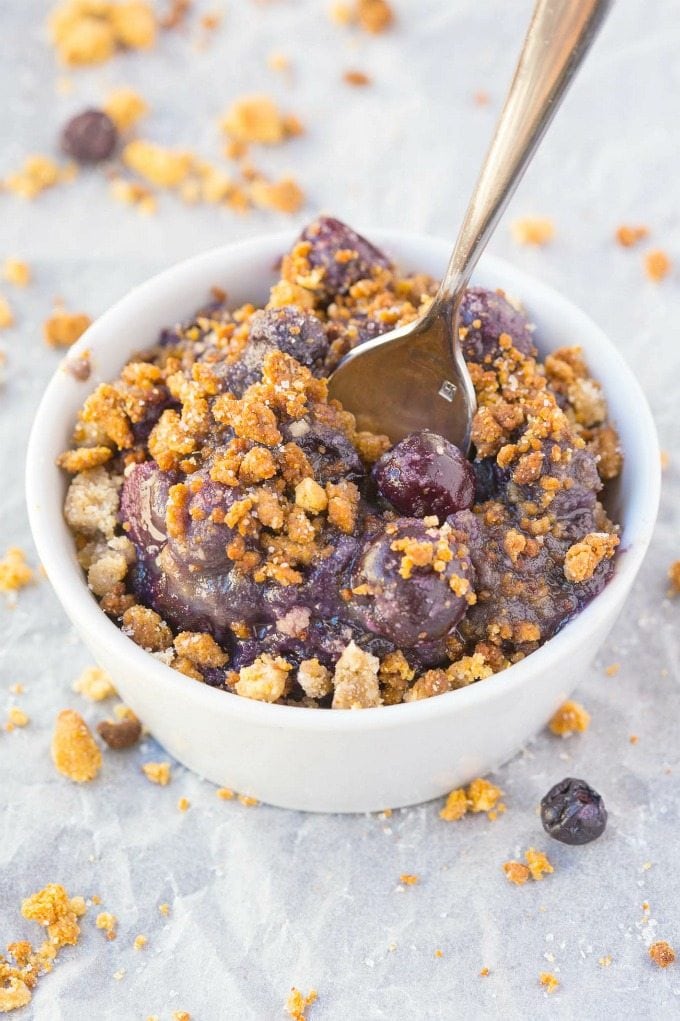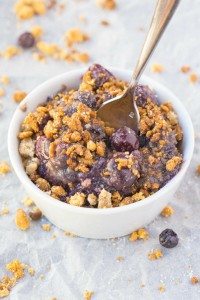 Healthy No Bake Breakfast Brownies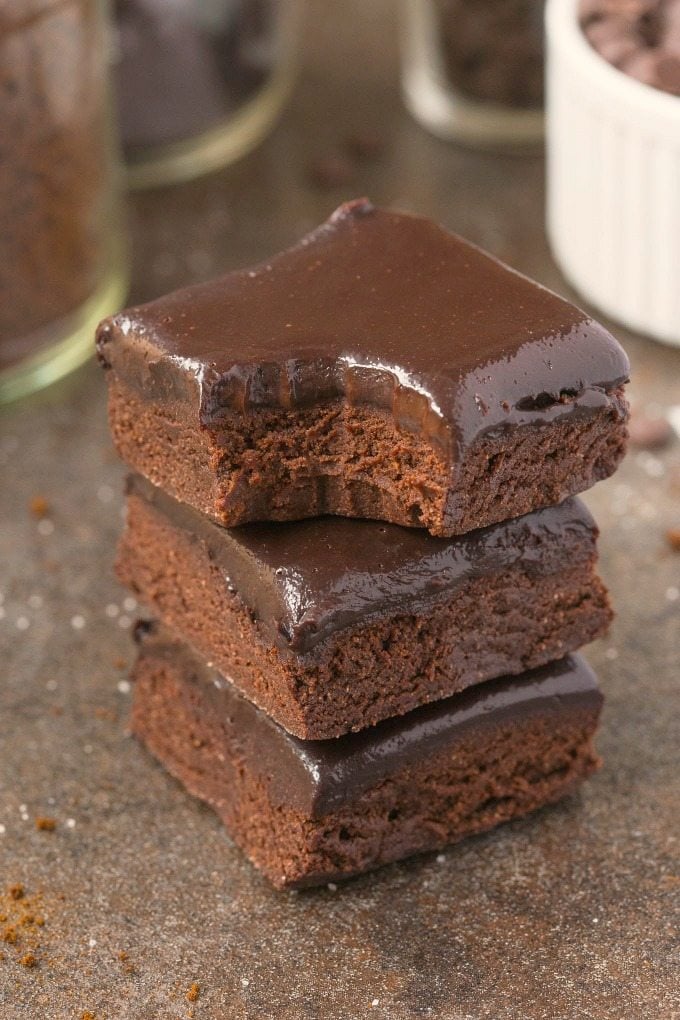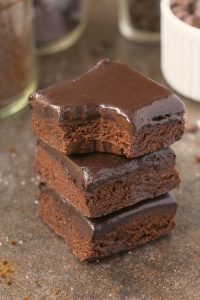 Healthy Almond Butter and Jelly Breakfast Bars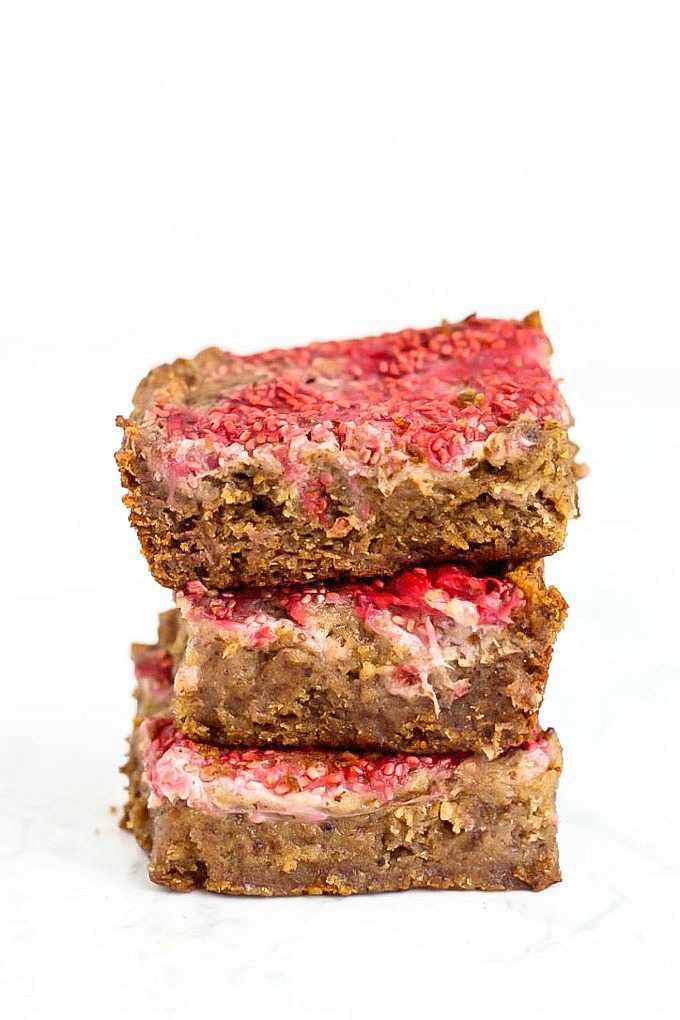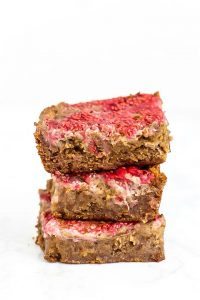 Did you ever watch breakfast television?
What was your typical childhood breakfast? Not these.