Healthy No Bake Breakfast Brookies
The ultimate definition of dessert for breakfast- Healthy No Bake Breakfast Brookies! A thick, chewy and fudgy brownie base with a thin cookie dough layer, and super simple, quick and delicious! It's also suitable for those following a vegan, gluten free, paleo, grain free and refined sugar free lifestyle!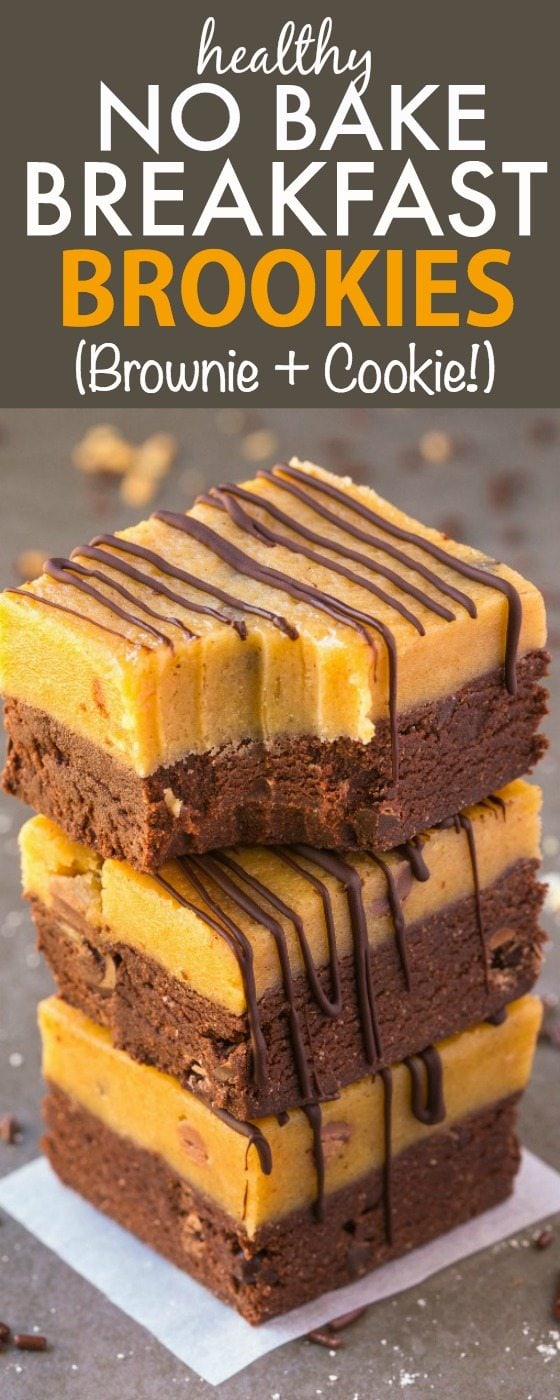 It's wedding season, friends.
FOOD wedding, that is.
(Well, friends and family too- I have 4 weddings in the coming 3 months, but let's hope I'm conveniently on a plane somewhere).
I was going through my inbox a few weeks ago, and two recipes were getting some big love. I was getting pictures sent in, along with some fantastic feedback. The two recipes had a similar theme-
– They were both no bake recipes
– They were both pretty much dessert for breakfast
– They were both secretly healthy- Something we can ALL be on board with.
The two recipes highlighted were these no bake breakfast brownies and edible breakfast cookie dough.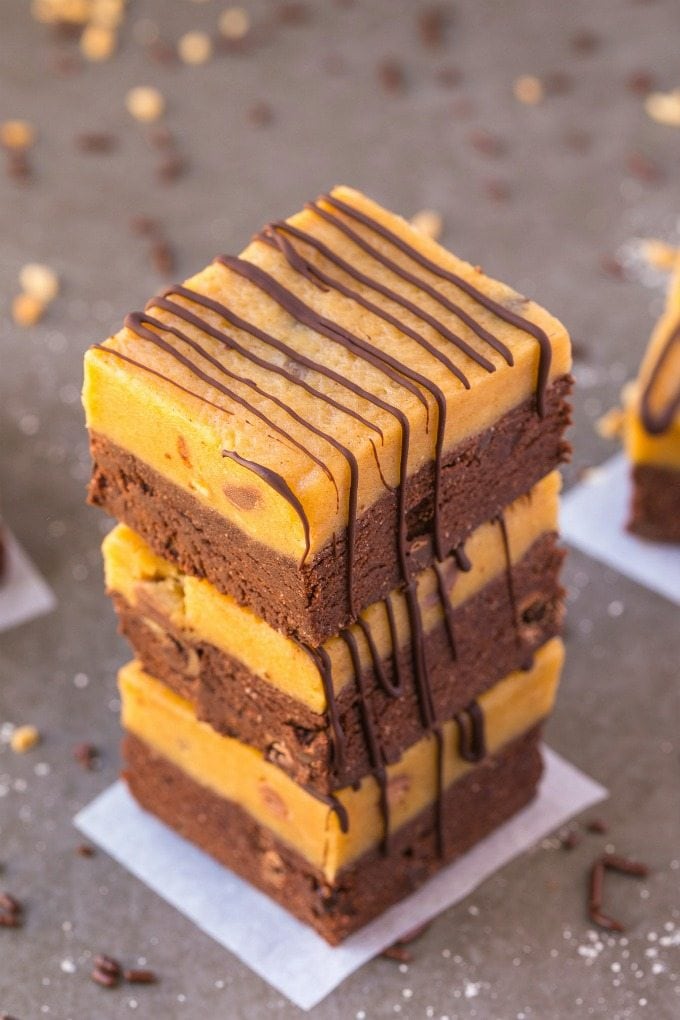 It doesn't surprise me much- I've come to realize that recipes I make for myself consistently, tend to be ones which are the recipes readers seem to enjoy the most too. I remember making the edible cookie dough out of pure laziness. I was over oatmeal, over Greek yogurt and definitely over anything savory. I nixed the egg (serious laziness factor right there) and slowly added almond milk until a batter of sorts was formed. I let it sit in the fridge then when hunger strike, I was presented with a delicious cookie dough…by accident. As for the brownies, what started out as no bake brownie protein bars morphed into brownies, thanks to going a little overboard with the almond milk.
Wait, just reading over that, it seems like almond milk is the key ingredient to transform recipes.
ZING.
I never thought to marry the two together, until I was playing around with a brownie recipe. I had big intentions to make brownies with cookie dough baked into it.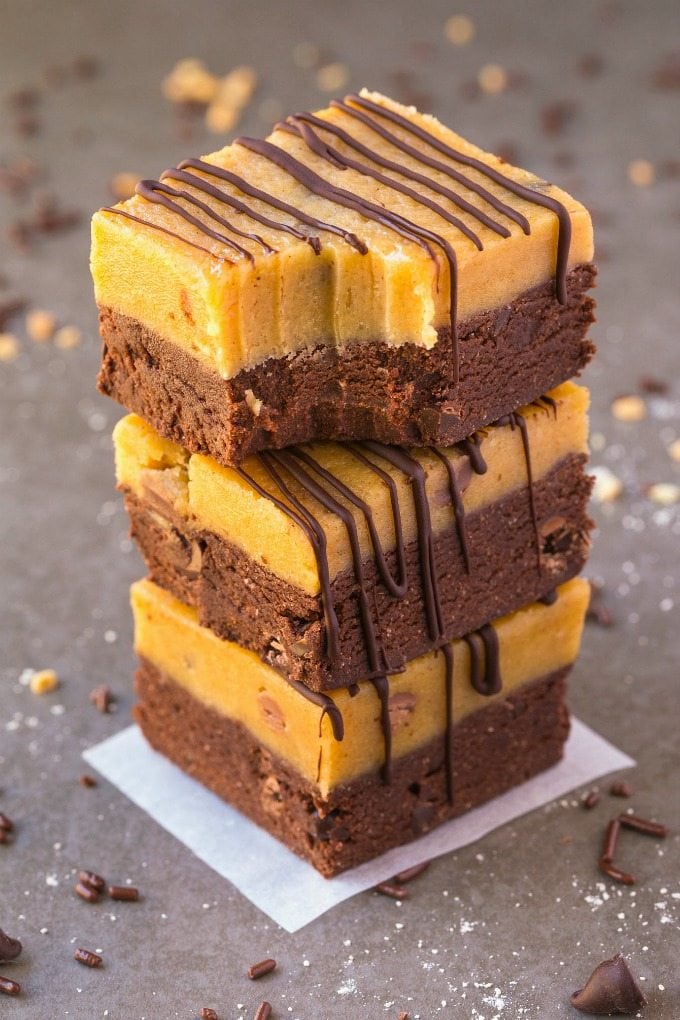 It tasted delicious.
It was fudgy, rich, and the perfect balance of rich and smooth.
It tasted delicious fresh from the oven, and even more delicious straight from the fridge.
….It also looked like *insert negative image of choice*
You guys, I've never come across a brownie/cookie hybrid which looked so ugly- Seriously, it looked like Niki edible punishment. It did NOT, however, taste like punishment. This just means I need to work on it harder because I promise, it's delicious.
Instead, I kind of, sort of, really did go the lazy route and married the two original no bake creations together- My no bake breakfast brownies + my edible breakfast cookie dough = Healthy No Bake Breakfast Brookies!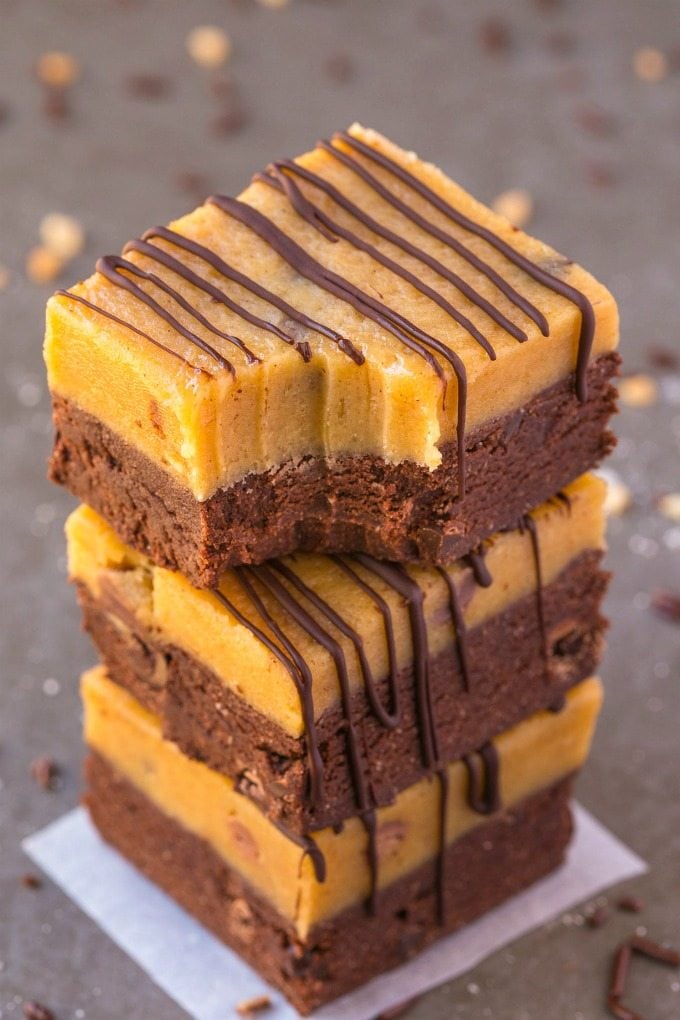 These healthy no bake breakfast brookies combine two popular and classic desserts- Brownies and cookies. Unlike both of their classic origins, we've given them a healthy AND breakfast twist! If you've made either of these recipes before (bonus points if you have done both!), you know how easy, simple and delicious they are on their own….and how much BETTER they are together! Not only are they incredibly easy and delicious, they are also suitable for those following a vegan, gluten free, paleo, dairy free and refined sugar free lifestyle!
Let's talk the brownie portion- The brownie layer is the 'meat' in the vegan cheezeburger. It's a thick, hearty and filling base loaded with chocolate goodness. Unlike traditional brownies, this contains no butter, oil, grains or sugar, yet they taste rich, fudgy and slightly chewy. Instead of white flour or sugar, we swapped these with coconut flour and pure maple syrup. I preferred a milder cocoa taste, so used half dark cocoa powder and half original cocoa powder. The final two additions are drippy almond butter and protein powder. The protein powder is completely optional, but adds a solid dose of protein, along with extra chocolate flavor.
Now the cookie dough layer! Because I wanted it a single, thin layer, I opted to simply make this edible cookie dough recipe. There are two options for you to choose here- If you aren't strictly paleo and want a more classic cookie dough, use this breakfast oatmeal cookie dough. If you follow a grain free and/or paleo lifestyle, this edible breakfast cookie dough is for you! Either option, one thing is certain- It is delicious. If you'd like, you can omit the protein powder from the brownie base and add it here- As always, I opt for my favorite casein protein powder, brown rice vegan protein powder, and paleo protein powder.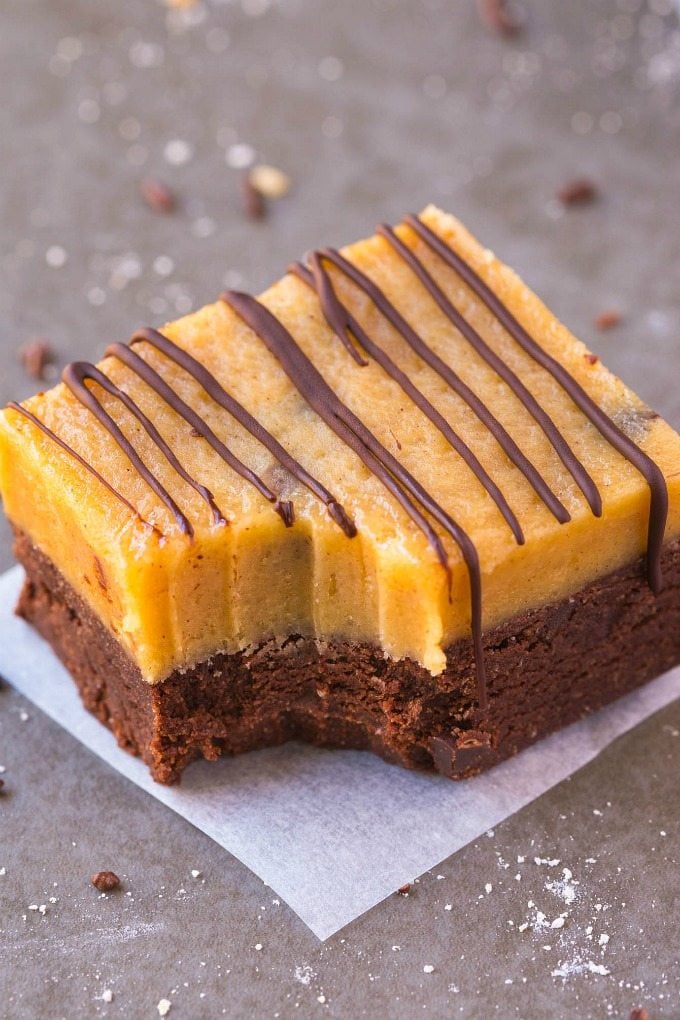 HACK! These aren't just reserved for breakfast- They make an incredibly filling snack or healthy dessert to! I'd recommend you wrap each bar individually, and freeze them in single serve portions! As always, do me a favor- These NEED to be enjoyed straight from the fridge for the ultimate fudgy, delicious texture.
Ever.
Make these healthy No Bake Breakfast Brookies and don't forget to RSVP.
…to breakfast.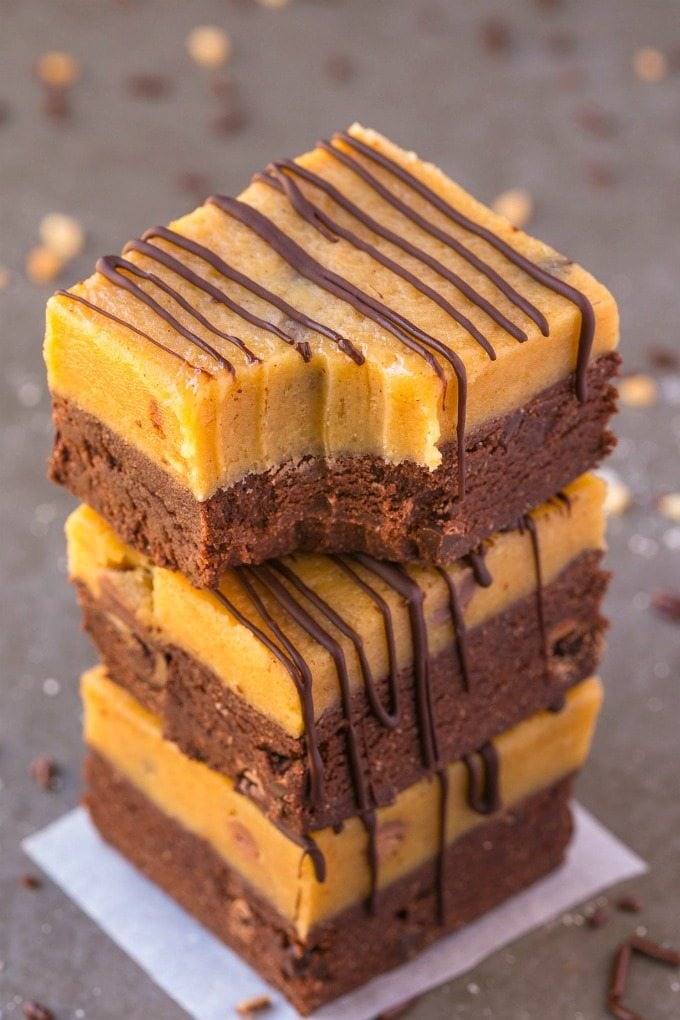 Healthy No Bake Breakfast Brookies
2016-09-09 02:13:19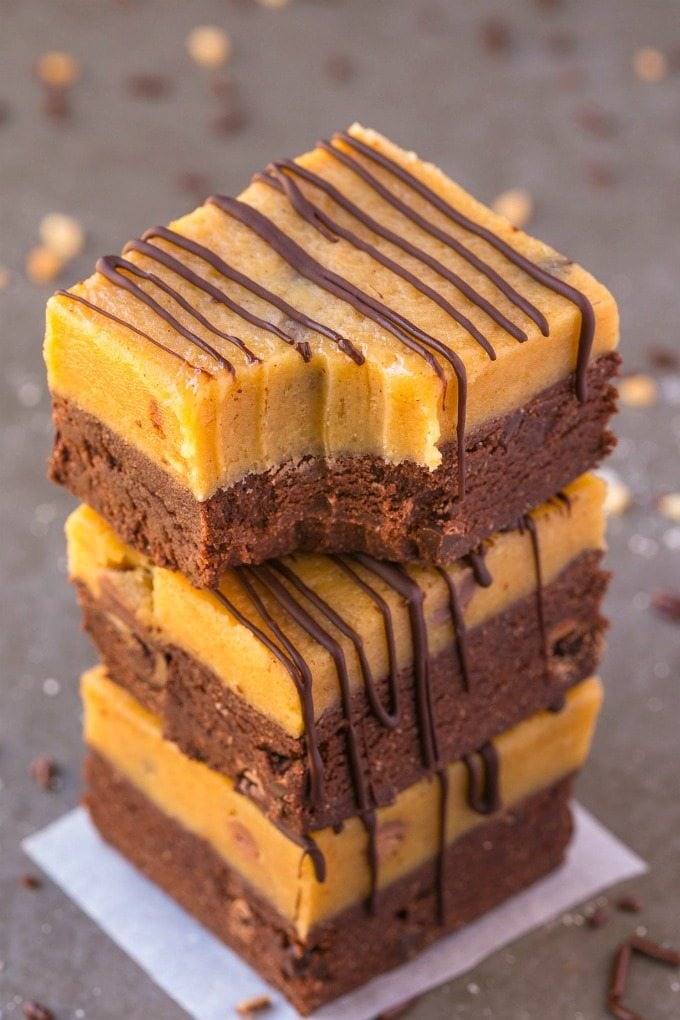 Serves 6
These healthy no bake breakfast brookies (brownie and cookies!) are thick, chewy and easy to whip up- Naturally gluten free, vegan, paleo, refined sugar free and dairy free!
For the brownie base
1/2 cup coconut flour, sifted
1/2 cup cocoa powder, sifted
1 scoop chocolate protein powder (optional)
1/2 cup nut butter of choice (I used drippy almond)
3/4 cup pure maple syrup (can sub for honey, agave or brown rice syrup)
1/2 cup mashed sweet potato (can sub for mashed pumpkin)
For the cookie dough layer
1 serving of edible breakfast cookie dough OR oatmeal breakfast cookie dough
Chocolate drizzle
Dairy free or sugar free chocolate of choice, to drizzle
Instructions
Line a small, deep baking tray (4 x 4 or 6 x 4, depending on thickness) with baking paper and set aside.
In a large mixing bowl, add your coconut flour, cocoa and protein powder and set aside.
In a microwave safe bowl or stovetop, melt your nut butter with your maple syrup until combined. Add the wet mixture to the dry mixture and mix until fully incorporated. Stir through the mashed sweet potato until fully incorporated and batter is even. If batter is too thick, add a tablespoon or more of milk of choice until a very thick batter is formed. If batter is too thin, add a dash more coconut flour.
Pour batter into the lined baking dish and refrigerate for at least 30 minutes to firm up.
While no bake brownies are firming up, make your cookie dough layer as per instructions linked above. Top the brownies with it and allow it to cool until firm. Drizzle with optional chocolate and cut into 6 thick bars.
Notes
Brookies are best enjoyed straight out of the fridge- They are also freezer friendly too.
The Big Man's World ® https://thebigmansworld.com/
More delicious breakfast options? Gotcha covered!
Healthy No Bake Banana Bread Breakfast Bars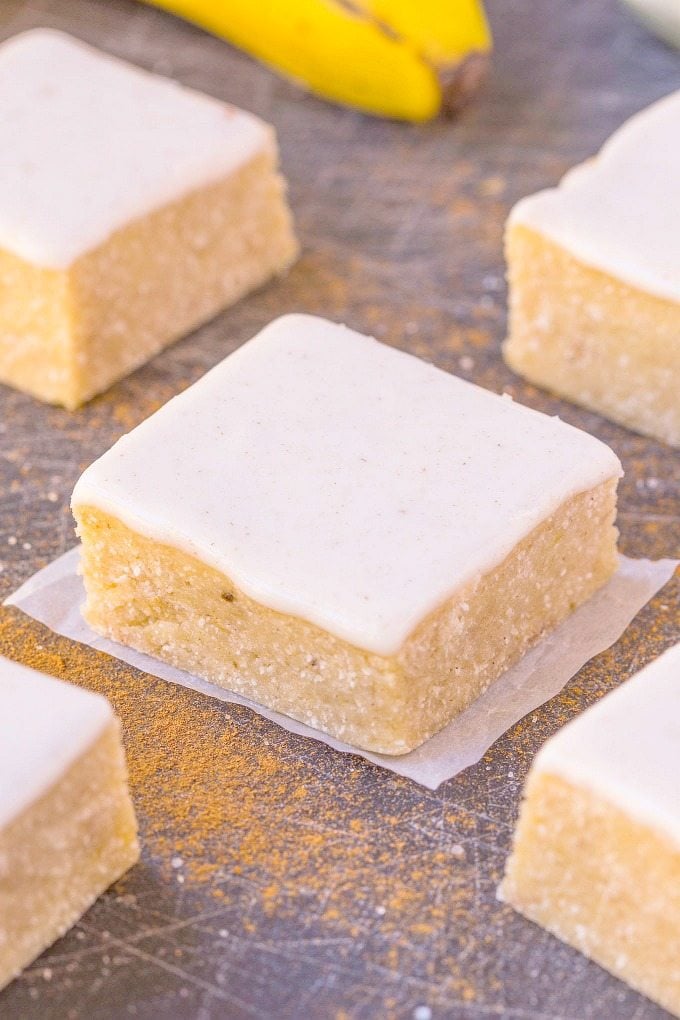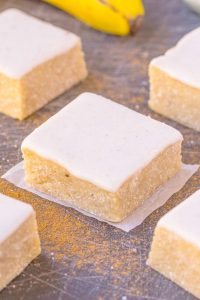 Healthy No Bake Peanut Butter Breakfast Blondies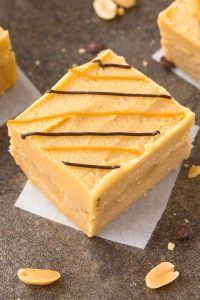 Healthy Flourless Blueberry Breakfast Muffins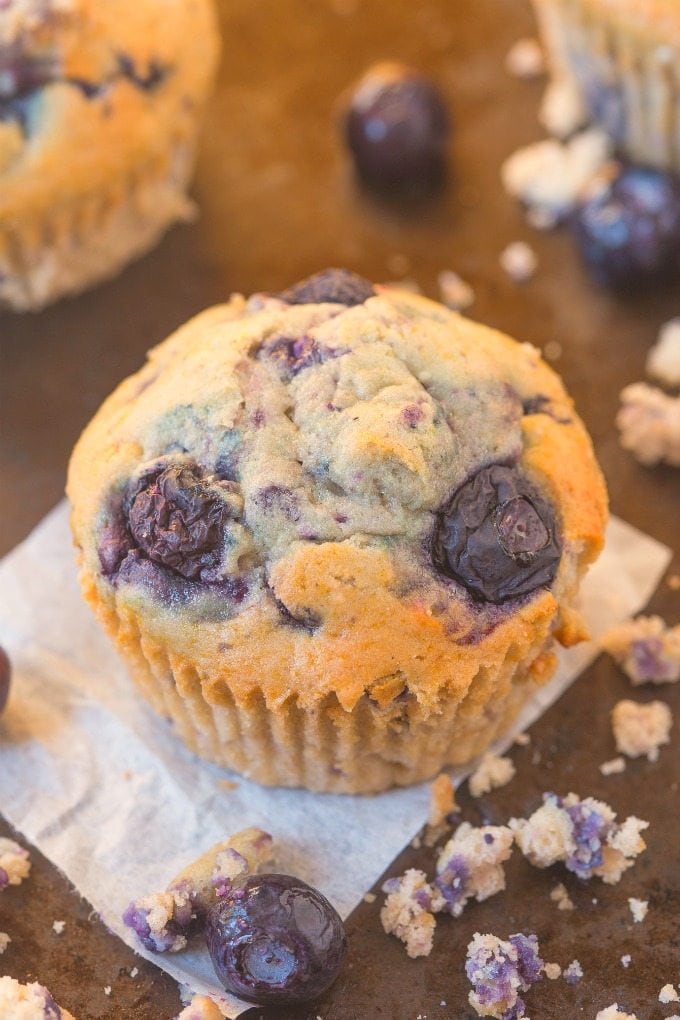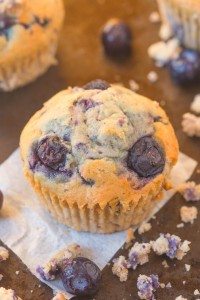 Have you ever tried a brookie, cronut or some other dessert hybrid?
If you had to choose, brownie OR cookie?
Click here for all blog policies, disclaimers and affiliates.