Healthy No Bake Eggnog Bars
These healthy no bake eggnog bars are packed with protein and take minutes to whip up- The perfect healthy grab and go snack or dessert! They are suitable for those following a vegan, gluten free, paleo, refined sugar free, dairy free and grain free lifestyle! Also, completely alcohol free!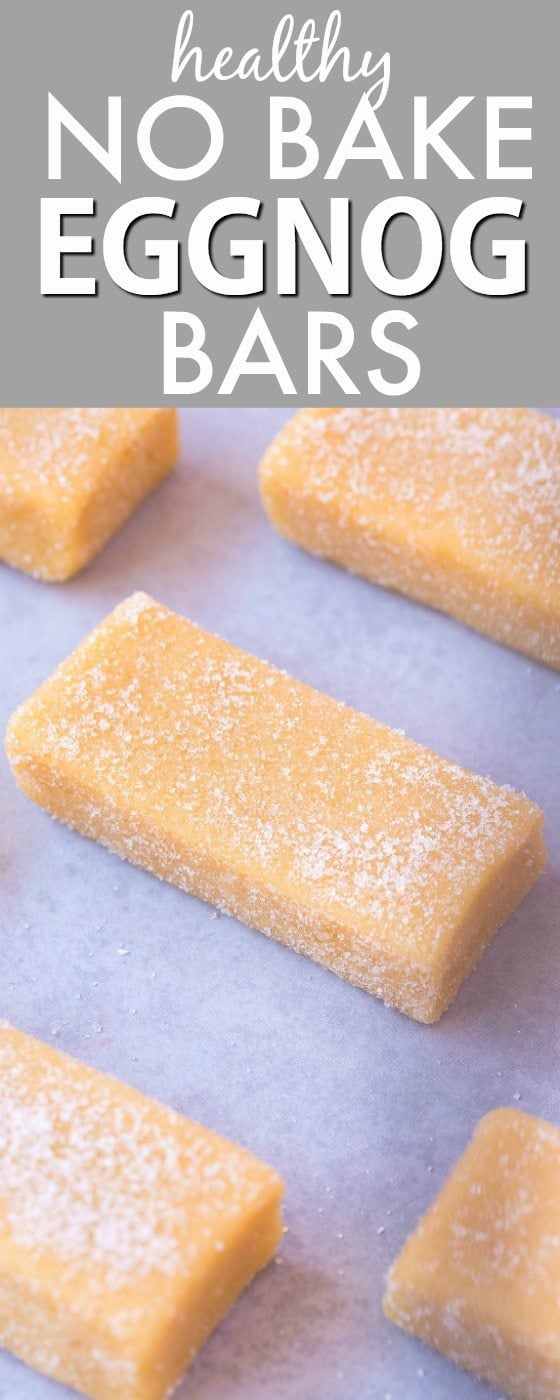 John Mayer sang 'your body is a wonderland' and mine is totally not.
It's seasonally dysfunctional.
Case in point?
The warmer months, my body craves searing hot bowls of oatmeal, fluffy muffins….and hot coffee.
The cooler months, my body craves ice cream, smoothies and….iced coffee.
My current dilemma is spending time between two different parts of the world- Literally the northern hemisphere and the southern hemisphere. Whenever I'm working back in Australia and it's blistering hot, it's near freezing in my home city of New York. When it's oven-like in New York, it's like a gloomy mushroom in Australia.
Wait. What is a gloomy mushroom…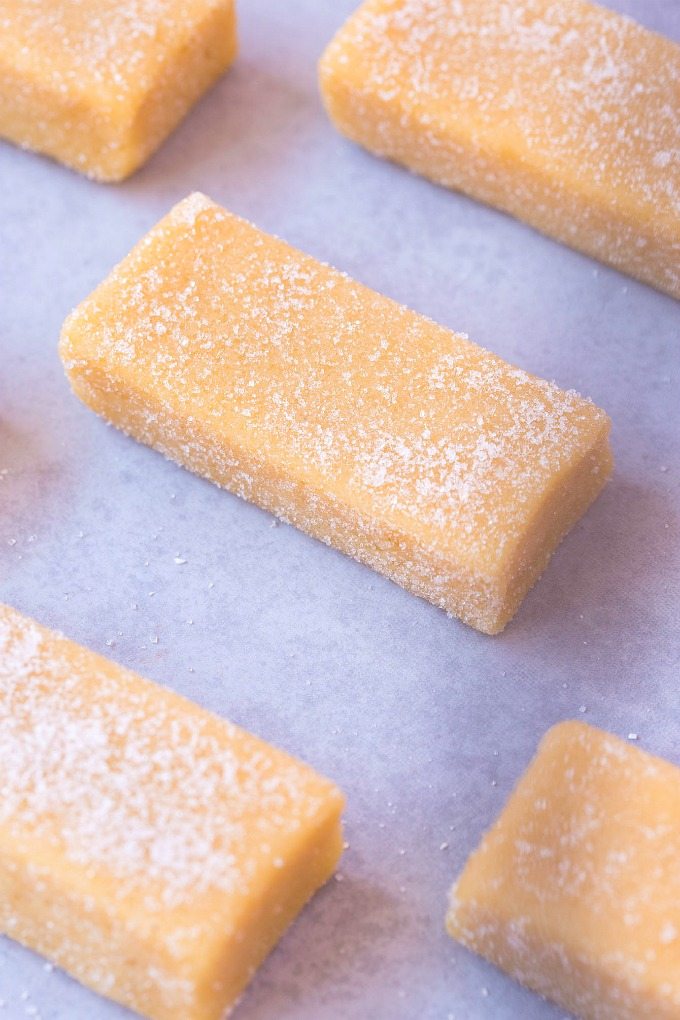 ANYWAY.
If we throw back to a few weeks ago, I tried International Delights new seasonal range, in particular, their Pumpkin Pie Spice iced coffee AND creamer. This made my seasonally dysfunctional body extremely happy- I could enjoy a hot AND cold drink.
This time, I was keen to try one of their seasonal creamers which leaped out to me- The white chocolate and raspberry creamer! Long term readers know I am beyond obsessed with this combination- They've taken center stage in no bake cookies and no bake protein bars. We even had them in a giant (but still healthy!) cookie form. Now? It's time to test it out coffee style.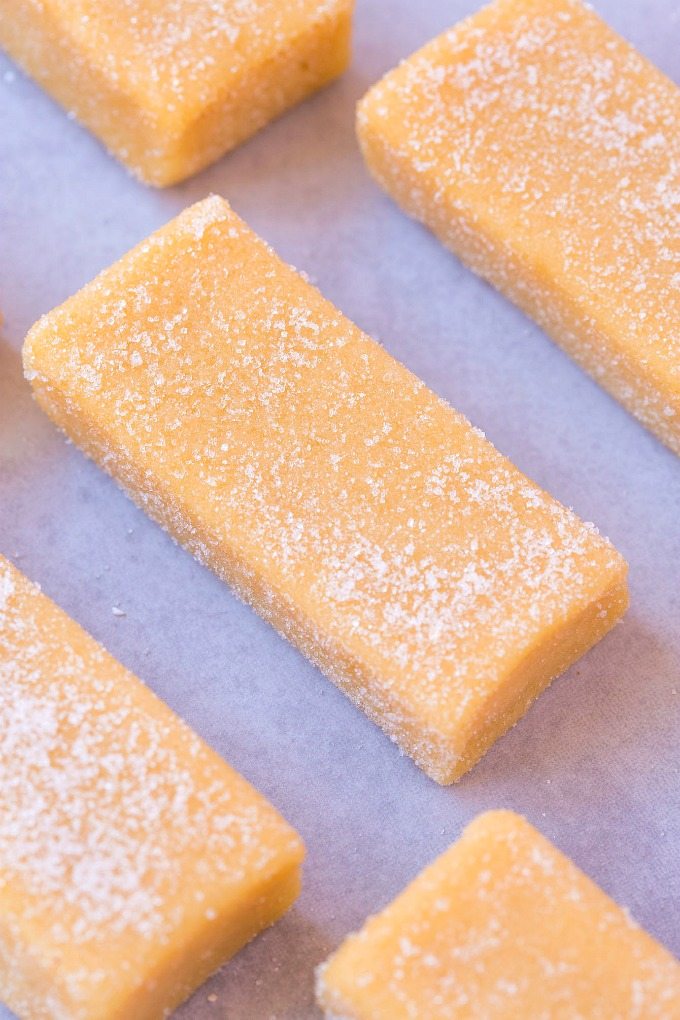 Unlike the pumpkin version which came chilled, this one was only available in creamer style.
How do I combat this?
Put it to the taste test Hot AND Cold!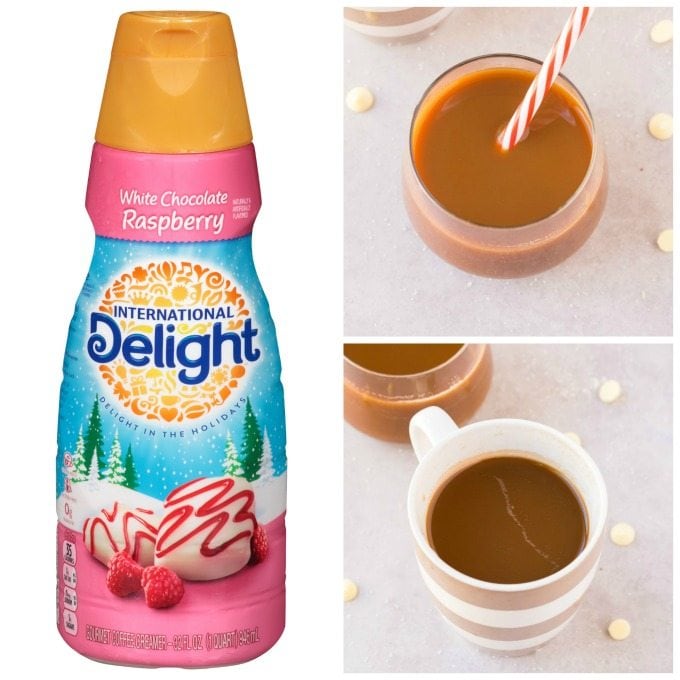 While I'd never thought to pair this particular flavor to coffee, I must say I was very impressed. However, one of the two took the cake for being better tasting that the other one….
The winner is….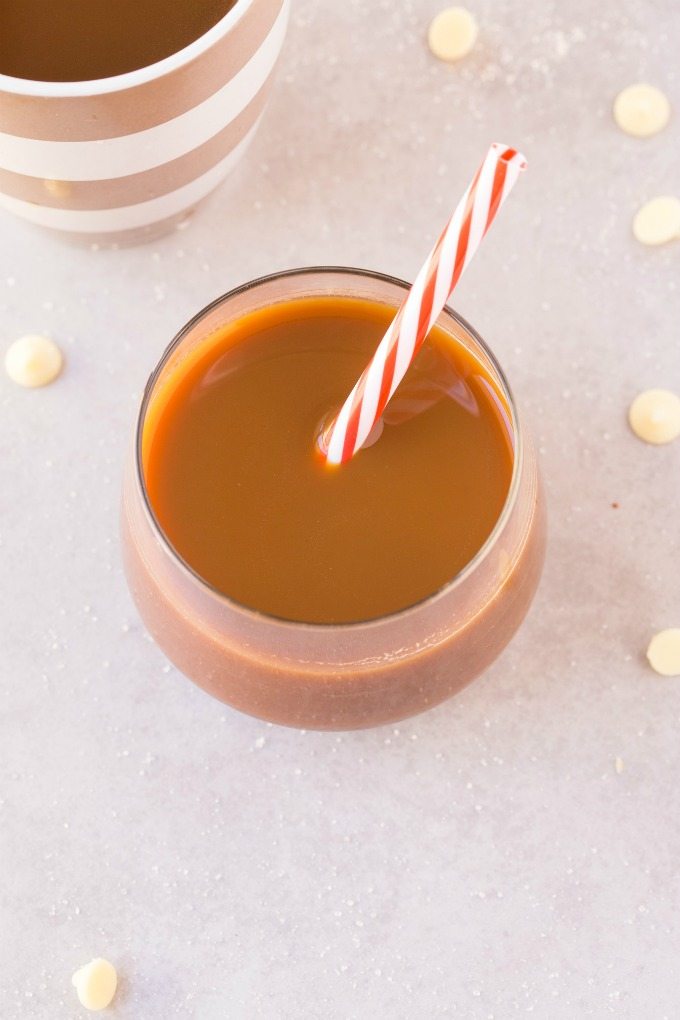 I'm sorry, hot coffee.
Your chilled and mellow counterpart took the cake.
1 cup chilled coffee + 1 tablespoon International Delight White Chocolate Raspberry Creamer + optional ice = BLISS.
In the seasonal theme we have happening here, I thought I'd throw in a seasonally inspired recipe to boot! Actually, this might be a not so subtle hint to the team at ID to come up with a creamer for perhaps my favorite holiday flavor- Eggnog!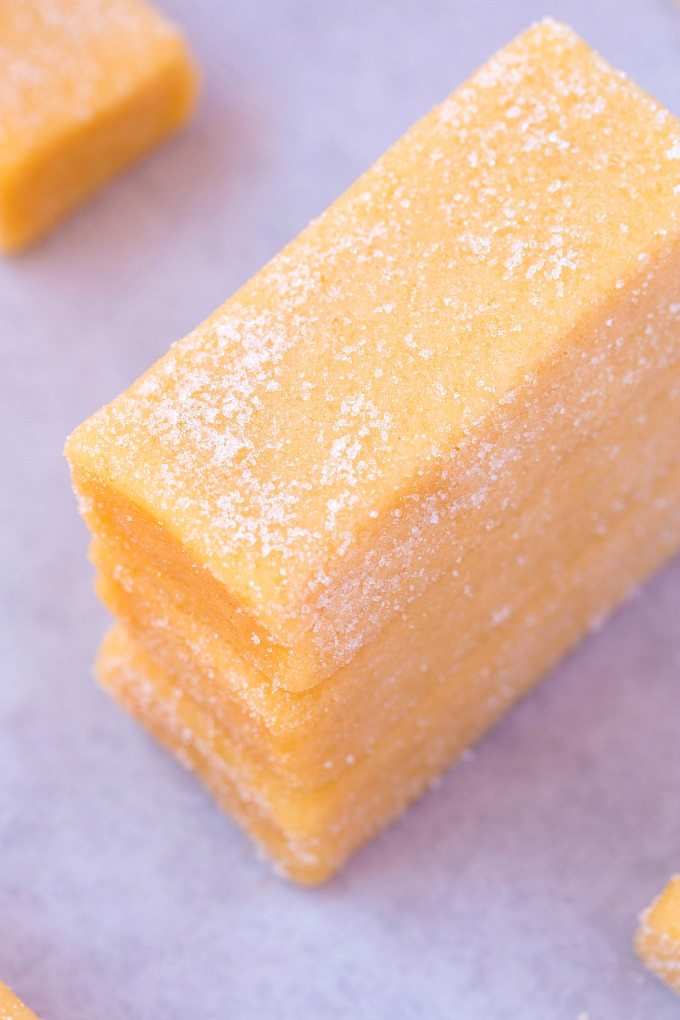 I sometimes feel that eggnog should be a year round flavor, but then I take that back. There's something exciting and unique in having it around for a limited time only, which makes it even more enjoyable. While drinking warm eggnog is delicious, let's put eggnog in our food in no bake form– These healthy no bake eggnog bars packed with protein!
These healthy no bake eggnog bars are thick, chewy and the perfect snack or clean eating dessert to enjoy anytime! They are a no mess, fuss-free recipe, using just one bowl and no fancy gadgets whatsoever! Texture wise, these eggnog bars can be firm (if you enjoy them straight out of the refrigerator), SUPER soft and fudgy (if you let it sit at room temperature for a little while) or dense AND fudgy (slightly thawed out of the freezer).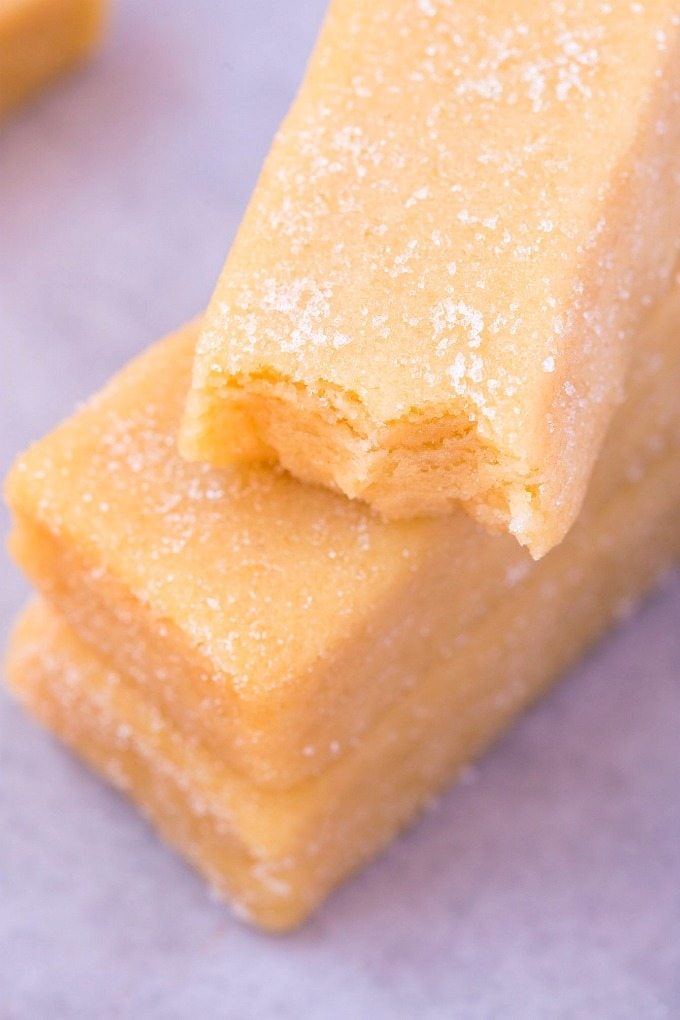 There is two cheeky way to whip up these no bake bars- Either using a shortcut (dietary preferences out the window!) or a simple addition of a few easy spices. The latter method makes these bars much more dietary acceptable, and perfect for those with restrictions! Depending on which option you choose, these delicious healthy no bake eggnog bars are naturally gluten free, vegan, paleo, dairy free, grain free, refined sugar free and also…alcohol free!
HACK! Want to make these no bake PROTEIN bars? I got you covered! You can use either an unflavored or a vanilla protein powder for this (I guess you could use chocolate but…wait…chocolate eggnog? Imagine that!). As always, I recommend a vegan brown rice protein, casein protein powder, or this paleo protein powder. I do not recommend whey protein- They turn out a little too sticky and hard to form into portable bars!
Also, to keep these nut free, swap out the drippy cashew butter for soy nut butter or sunflower seed butter. I don't recommend tahini for these- It is too overpowering and makes it a little oily.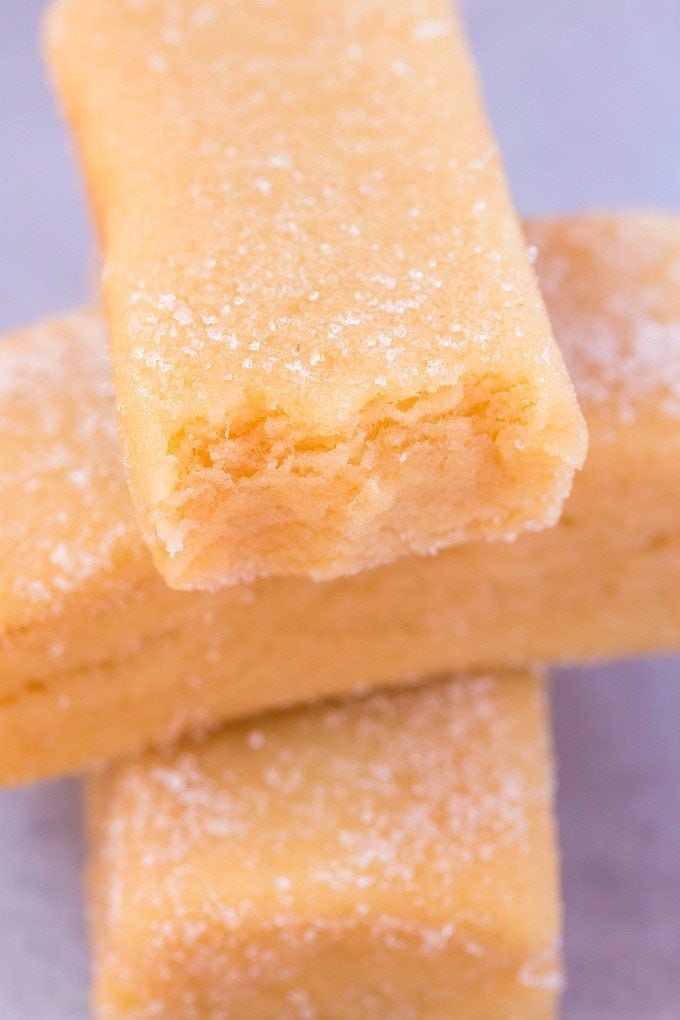 Make these healthy No Bake Eggnog Bars and embrace your wonderland of a body.
…even if it's seasonally dysfunctional.
ZING.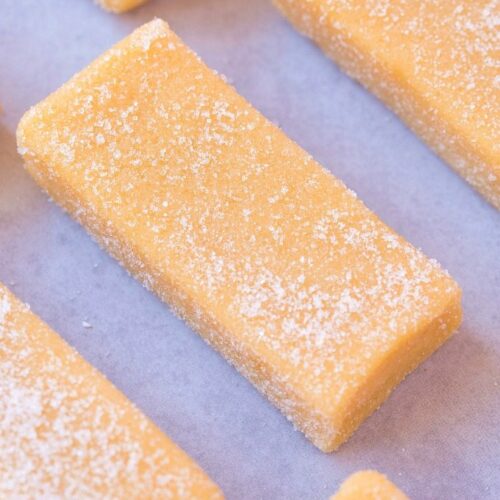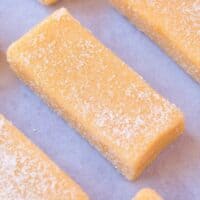 Healthy No Bake Eggnog Bites
These healthy no bake eggnog bars are packed with protein and take minutes to whip up- The perfect healthy grab and go snack or dessert! They are suitable for those following a vegan, gluten free, paleo, refined sugar free, dairy free and grain free lifestyle! Also, completely alcohol free!
Print
Rate
Ingredients
1 3/4

cups

gluten-free oat flour or almond flour

can sub for quick oats, rolled oats or oat bran

1/4

cup

coconut flour

can sub for almond or extra oat flour*

1

scoop vanilla protein powder

optional**

2

tablespoon

granulated sweetener of choice***

1/2

teaspoon

nutmeg

1/4

teaspoon

cinnamon

1/2

cup

cashew butter

can sub for any nut butter or nut butter alternative

1/4

cup

brown rice syrup OR pure maple syrup

can sub for honey or agave

1/2

teaspoon

rum extract

can sub for vanilla extract

1/4

cup

+ milk of choice****

Extra coconut flour/sweetener to coat
Instructions
Line a loaf pan or 8 x 8 baking pan with parchment paper and set aside.

In a large mixing bowl, combine the flours, protein powder, granulated sweetener of choice, nutmeg and cinnamon and mix well.

In a microwave safe bowl or stovetop, heat your nut butter with your sticky sweetener until combined. Pour your wet mixture, along with rum extract, to the dry mixture and mix well until crumbly. Using a tablespoon, add milk of choice until a very thick batter is formed.

Pour eggnog bar batter into the lined baking pan and press firmly in place. Lightly sprinkle with extra coconut flour/sweetener and refrigerate for at least 30 minutes, to firm up. Slice into bars and enjoy!
Notes
* If you swap out the coconut flour, the bars will be less firm and need less milk.
** Depending on what protein powder you use, you may need more milk than 1/4 cup.
*** Adjust accordingly- My protein powders are sweetened so I kept it to 2 tablespoons
**** Depending on the brand of protein powder and/or coconut flour, you'll most likely need more.
If you want a shortcut, feel free to swap out the milk of choice with cartoned eggnog. Simply leave out the nutmeg and increase the cinnamon by 1/4 teaspoon.
Bars should be kept in the refrigerator, and are freezer friendly.
More delicious holiday favorites? Gotcha covered!
This mug cake tastes like gingerbread, minus the overpowering cray-cray molasses!
Check out these thick and chewy cookies which could totally pass as breakfast!
Nothing beats a classic fudge, only this one….just saying.
Sugar and spice and everything snickerdoodle!
Larabar-WHO? These gingerbread beauties take the cake bar.

This is a sponsored conversation written by me on behalf of International Delight. The opinions and text are all mine.
Do you eat with the seasons?
How do you enjoy your coffee?
The Big Man's World is a participant in the Amazon Services LLC Associates Program, an affiliate advertising program. This means that if you click and make a purchase, TBMW receives a small commission, at no cost to you. Cheers, hugs, and handshakes for supporting TBMW!