These healthy no bake vanilla bean thumbprint cookies are the perfect guilt-free holiday-inspired cookie, perfect for Christmas, holidays, parties and even cookie exchanges! Made with no butter, oil, flour or granulated sugar, these no bake vanilla bean thumbprint cookies are naturally gluten free, vegan, dairy free, paleo, grain free and packed with protein!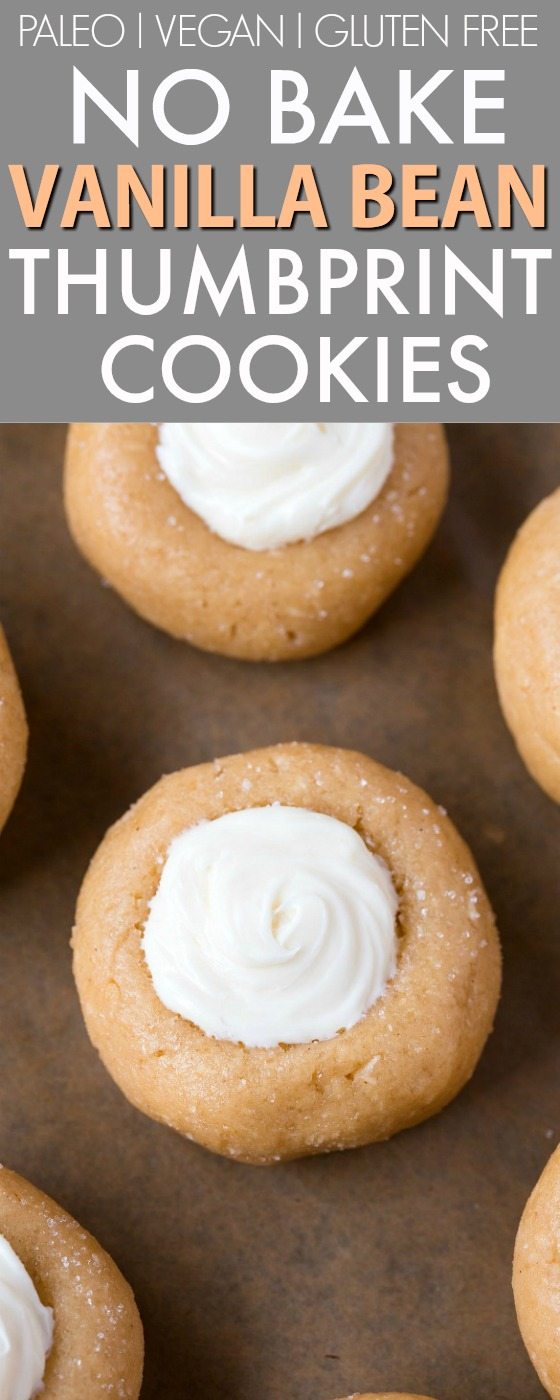 A few years ago, I swear all the malls and shopping outlets received a memo.
A memo to have 'Jingle Bell Rock' by Billy Idol blasting through their sound systems.
To be completely honest, I don't really think of Mariah when it comes on. I think of four girls in Santa 'costumes' gyrating, following by some thigh slapping.
Now the jingle hop has begun.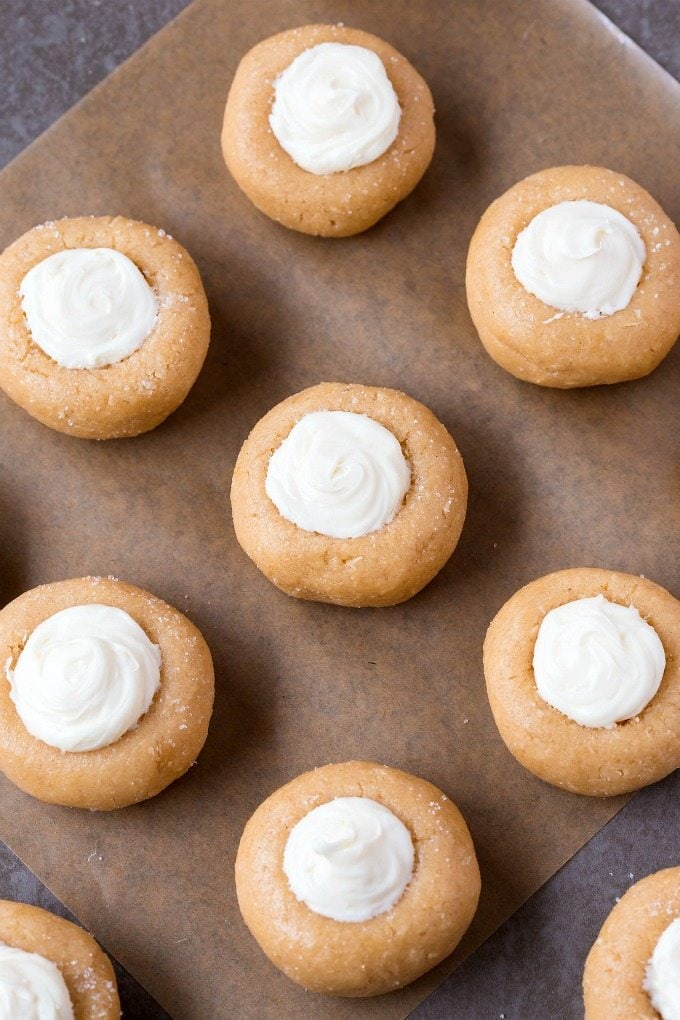 This year, they've progressed from Billy Idol to Mariah Carey.
If I could get a dollar for every time I've heard 'All I want for Christmas is you!' at the malls, I'd be a very rich man.
Just kidding, I'd have twenty dollars, but still.
Something else in common with all the malls?
Cookies.
Christmas cookies.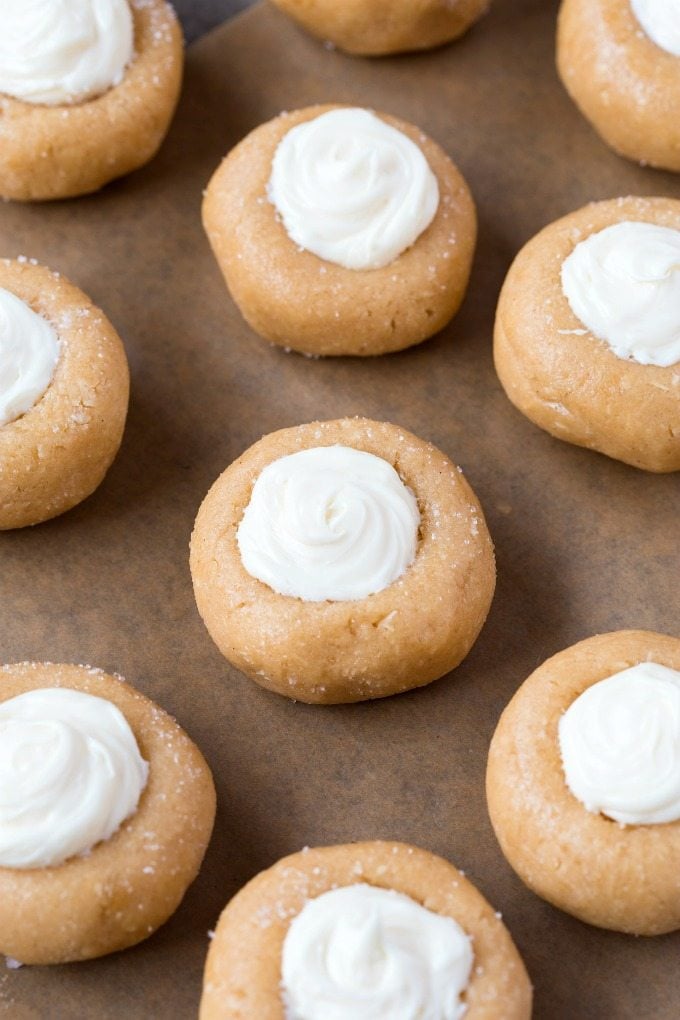 I didn't realize cookies were a real 'thing' when it came to the holidays. I knew they were a part of it, but not the main star. What about puddings, tarts, and pastries? Why are we so seasonally racist to them?
I digress.
Luckily for you guys, I like looking at cookies, I like making cookies, but most importantly I like eating cookies. In fact, if you stopped by yesterday, we made a collection of some of the BEST holiday cookies ever! Remember when I said no bake recipes weren't making a comeback, but rather, a takeover? I wasn't kidding. Although I have been sharing a few cookie inspired recipes like these ones here, these ones here, and these beauties here. Instead of all the current obsession with peppermint, eggnog, gingerbread and sugar cookies, we'll be going a more classic route- Vanilla bean.
When I think of vanilla bean, I think of it purely as just a fancier version of vanilla. Sometimes, you'll be lucky to get a vanilla pod and have specks, but I was unfortunate and had a vanilla bean extract. Being the absolute goose genius I am, I tried normal vanilla extract and compared it to vanilla bean extract (yes, a 1/4 tablespoon on its own) and I was right-
The vanilla bean > the standard vanilla.
In the midst of all things peppermint, gingerbread, eggnog, sugar cookie and Beyonce, we're going back to basics a la vanilla- In no bake vanilla bean thumbprint cookie form!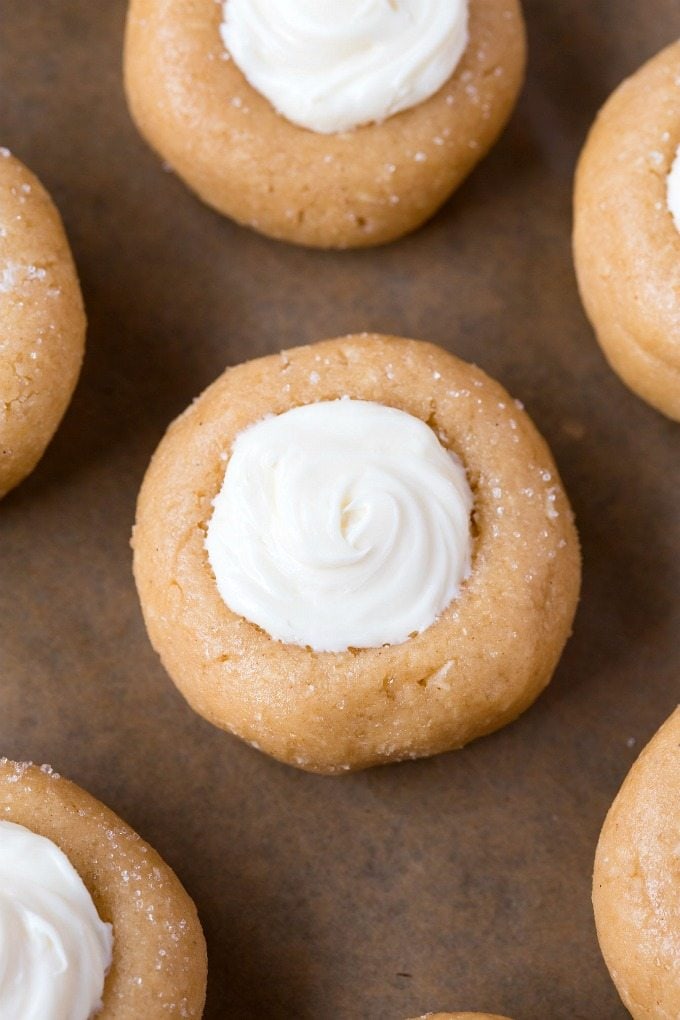 These healthy No Bake Vanilla Bean Thumbprint Cookies are a delicious, easy and quick dessert or snack recipe which takes minutes to whip up! The base is a healthy soft and chewy cookie base and the center is filled with an easy, creamy sinfully nutritious center! They are the perfect holiday, Christmas or festive cookie recipe to enjoy, and are even perfect to give as gifts!Unlike traditional thumbprint cookies, these contain no grains, butter, oil, white sugar or dairy, but you'd never be able to tell- The cookie base is chewy and doughy (thanks to the coconut flour and almond flour combination!) and the frosting in the center is packed with protein and bursting with vanilla bean goodness! Bonus? There are four options for the thumbprint cookie filling, depending on what you prefer!
Not only are these thumbprint cookies healthy and require no baking (seriously, it only uses one bowl!), they are also suitable for those following a paleo, vegan, gluten free, grain free, dairy free and refined sugar free lifestyle! Just keep an eye out on which frosting choice you choose…
Speaking of which, Let's talk the creamy, vanilla bean filling! There are FOUR options for this- An easy coconut cream option, a coconut butter option, a protein packed frosting option and a cheat's option!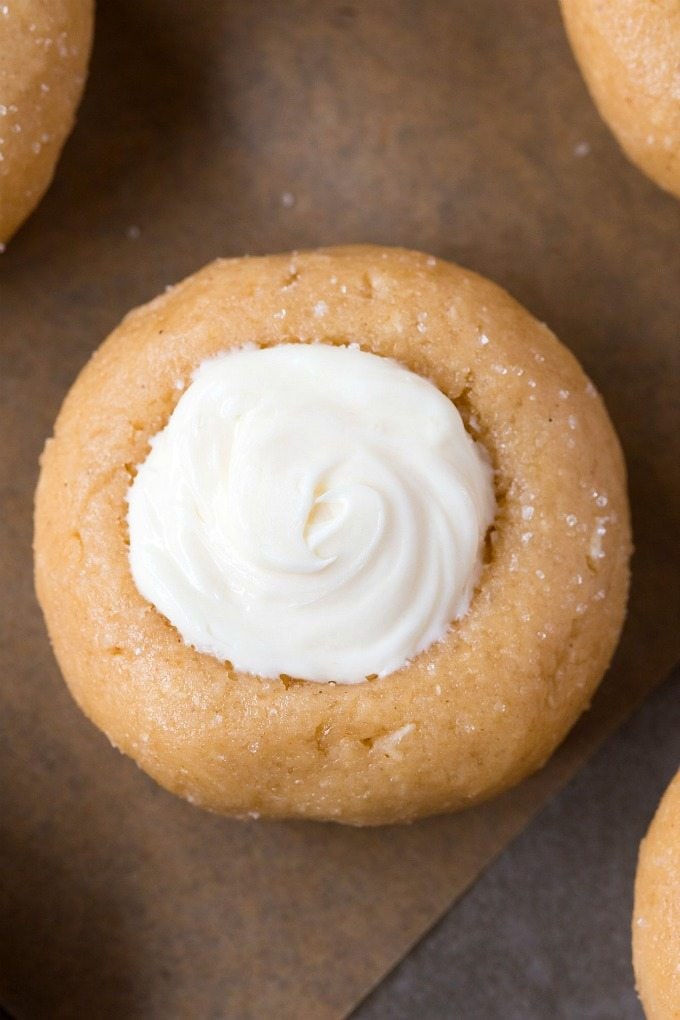 The first- The coconut cream option!
For this, all you'll need to do is chill a can of full-fat coconut milk overnight. The next morning (or before you want to add to the center of the cookies!), remove the firm layer at the top of the can (none of the liquid) and place in a large bowl and beat with a teaspoon of pure vanilla bean extract.
NOTE- This will not be firm- If you'd like it to be a thicker, similar a frosting, I'd recommend adding some powdered sugar. Alternatively, I've used this recipe many times when I want a thick frosting.
The second- The coconut butter option!
This is ridiculously easy and takes seconds. You'll need to warm up your coconut butter until smooth and melted. You will then whisk in your vanilla bean extract and pour into each cookie. It should start firming up within 1-2 minutes and be fudge-like at room temperature.
The third- The protein frosting option!
I love this version, and it's the one pictured! I love this because then these cookies can totally pass a pre or post workout snack! Actually, even with the other frostings, it could totally still be, but yes. For this, we'll be starting with either a vegan brown rice protein powder, casein protein powder, or paleo protein powder. You'll slowly add a liquid of choice (I prefer unsweetened coconut or almond milk) and vanilla bean extract and whisk until a thick batter is formed.
The fourth- The 'cop out' version!
Okay, cop out is a little harsh. If you don't have dietary restrictions and/or just don't have the time, simply fill it with your favorite vanilla based or cream cheese frosting!
HACK! Texture lovers, enjoy these thawed slightly from the refrigerator- It takes a slightly fudgy and soft texture which literally melts in your mouth! Alternatively, keep them frozen (not possible with the coconut whipped cream version!) and thaw just before consumption- They will be still fudgy, but considerably firmer!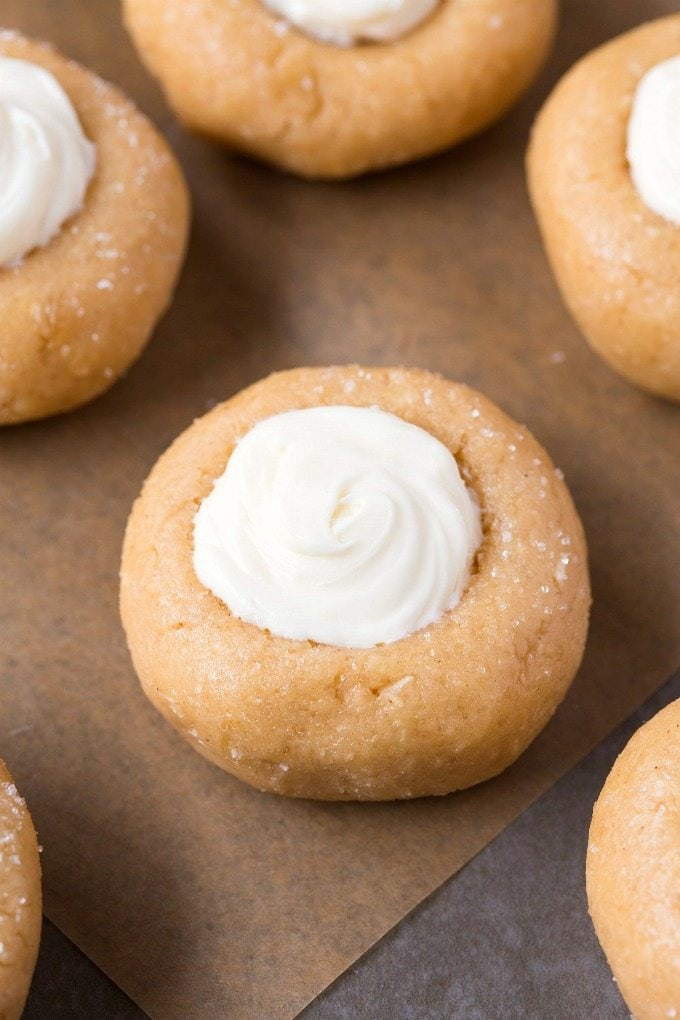 Make these healthy No Bake Vanilla Bean Thumbprint Cookies and let's get those cookies going on exchange…
…with me.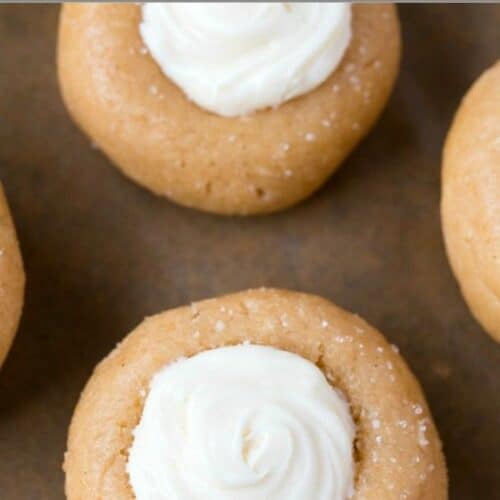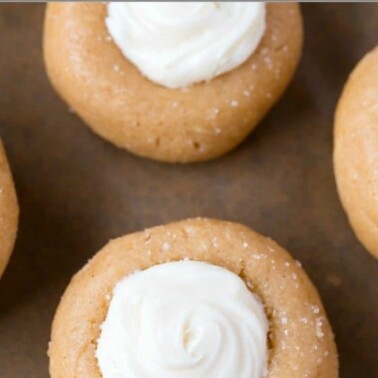 Healthy No Bake Vanilla Bean Thumbprint Cookies
These healthy no bake vanilla bean thumbprint cookies are the perfect guilt-free holiday-inspired cookie, perfect for Christmas, holidays, parties and even cookie exchanges! Made with no butter, oil, flour or granulated sugar, these no bake vanilla bean thumbprint cookies are naturally gluten free, vegan, dairy free, paleo, grain free and packed with protein!
Ingredients
1 1/2

cups

gluten free oat flour OR almond flour

1/4

cup

coconut flour

pinch

cinnamon

1

scoop vanilla protein powder

optional

2

tablespoon

granulated sweetener of choice

I used a monk fruit stevia blend

1/2

teaspoon

vanilla bean extract

can substitute for original or Madagascar vanilla

1/2

cup

cashew butter

can sub for any nut butter or nut free alternative

1/2

cup

brown rice syrup

sub for maple syrup or light agave syrup for paleo option

1

tablespoon

+ milk of choice*

Vanilla bean filling of choice

see above recipe card
Instructions
In a large mixing bowl, combine your flours, protein powder, cinnamon and granulated sweetener and set aside.

In a microwave safe bowl or stovetop, melt your cashew butter with the brown rice syrup (or maple/agave). Whisk in the vanilla bean extract and pour into the dry mixture. Mix very well until fully incorporated. Using a tablespoon, add milk of choice until a very thick batter is formed.

Using your hands, form into small golf ball sized balls. Place balls on a large, lined plate. Once balls are formed, press a small hole in the center, forming a deep cave. Place thumbprint cookies in the refrigerator to firm up.

While cookies are firming up, make your frosting of choice and if using the protein or coconut butter option, frost immediately. If you use the whipped coconut cream option, only add it before consuming.
Notes
* Depending on what brand coconut flour/protein powder you use, you'll need more than a tablespoon. Adjust accordingly.
No Bake Vanilla Bean Thumbprint Cookies need to be kept refrigerated,

Disclosure: This post may contain affiliate links. I may earn a small commission for my endorsement, recommendation, testimonial, and/or link to any products or services from this website.