These healthy vanilla breakfast blondies are slightly chewy, filling and require no baking whatsoever! Made with no butter, oil, flour or sugar, these blondies are naturally gluten free, vegan, dairy free and come with a tested paleo option!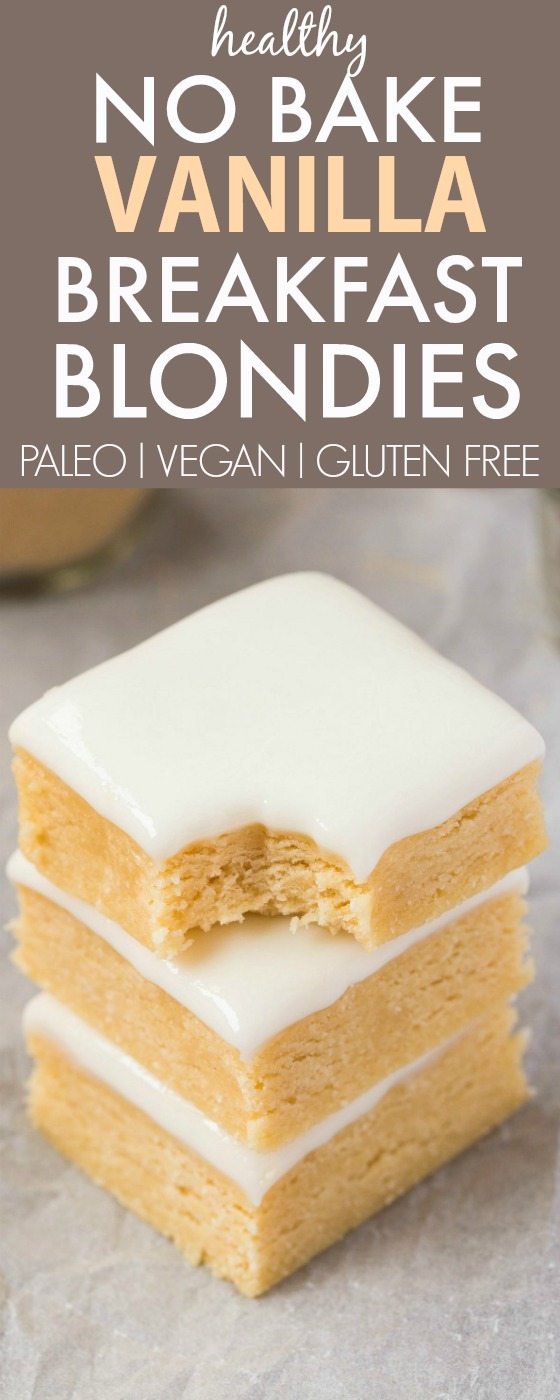 Firstly, before we get into today's post, thank you SO much for all your emails, messages, texts etc regarding Friday's blogging related post– I promise a follow up is coming which will address many of your questions! 🙂
***
"Every boy or girl needs to partake in at least ONE sport."
…Said my mother.
I was never a sporty kid. Long term readers know that as a kid, I would much rather watch paint dry than play sports. Heck, I probably would have even eaten a chocolate cake with kale blended through it. There was, however, one sport I begrudgingly did.
Swimming.
From the ages of 7 until 12, every Thursday would see Niki and I at our local swimming pool. Our one-hour class would have us doing freestyle, back stroke, breast stroke and eventually, the butterfly stroke. Not to toot my own horn or anything, but I was a pretty fast swimmer. I would easily be able to do laps of the pool without rest, and could spend hours without leaving the waters.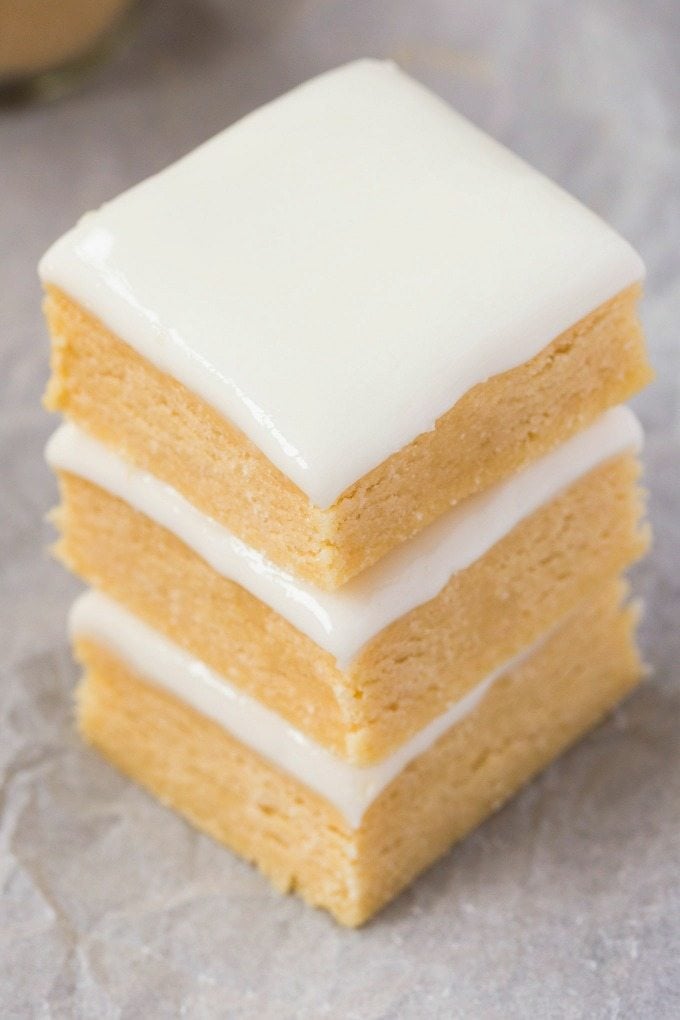 However, swimming left me with a certain fear…one which I have to this day.
Diving.
Ohhhhhhhhhhhh diving.
I still remember the day we had to learn how to dive into the pool using proper technique. I watched my teacher show us how it's done, and then my class mates diving in one at a time after. When my turn came, I tried to emulate my teacher…
…Only to flop.
BELLY FLOP.
Each year, my high school would have their annual swimming sports carnival. That would mean I experienced six swimming carnivals. It also meant I did NOT partake in six swimming carnivals. The reason for that was because I was deathly afraid of diving, or even worse, belly flopping in front of the entire school.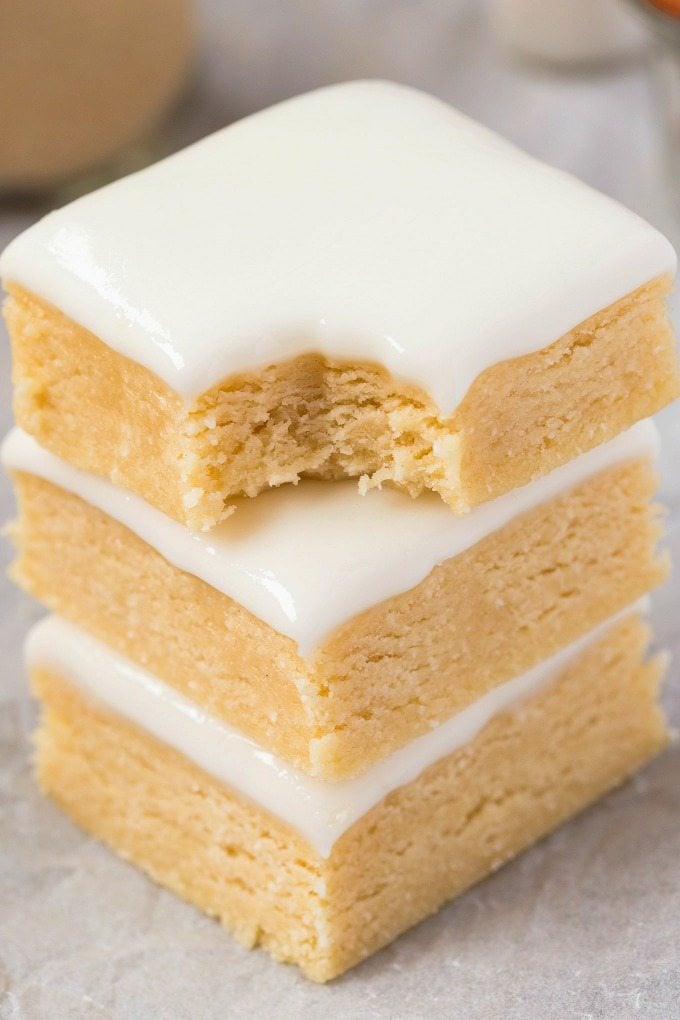 To this very day, I have NOT dived into a pool directly, nor have any intentions of doing so. I'll slide in like a mer-man and get on with my day!
Luckily, my negative diving experience hasn't tainted all things water-related. Swimming continues to be something I do enjoy doing, and something I'm excited to discuss today! I've teamed up with beyonce, who are sponsoring the US Swimming Team and helping fuel these athletes! I not only love snacking on Blue Diamond almonds, but they are used every single day in another form…Almond Butter! It seriously doesn't get any easier than this- I literally blend a container of whichever flavor of almonds I have on hand (for today's recipe, I used their slightly salted almonds) and voila- Instant (and cheaper!) almond butter.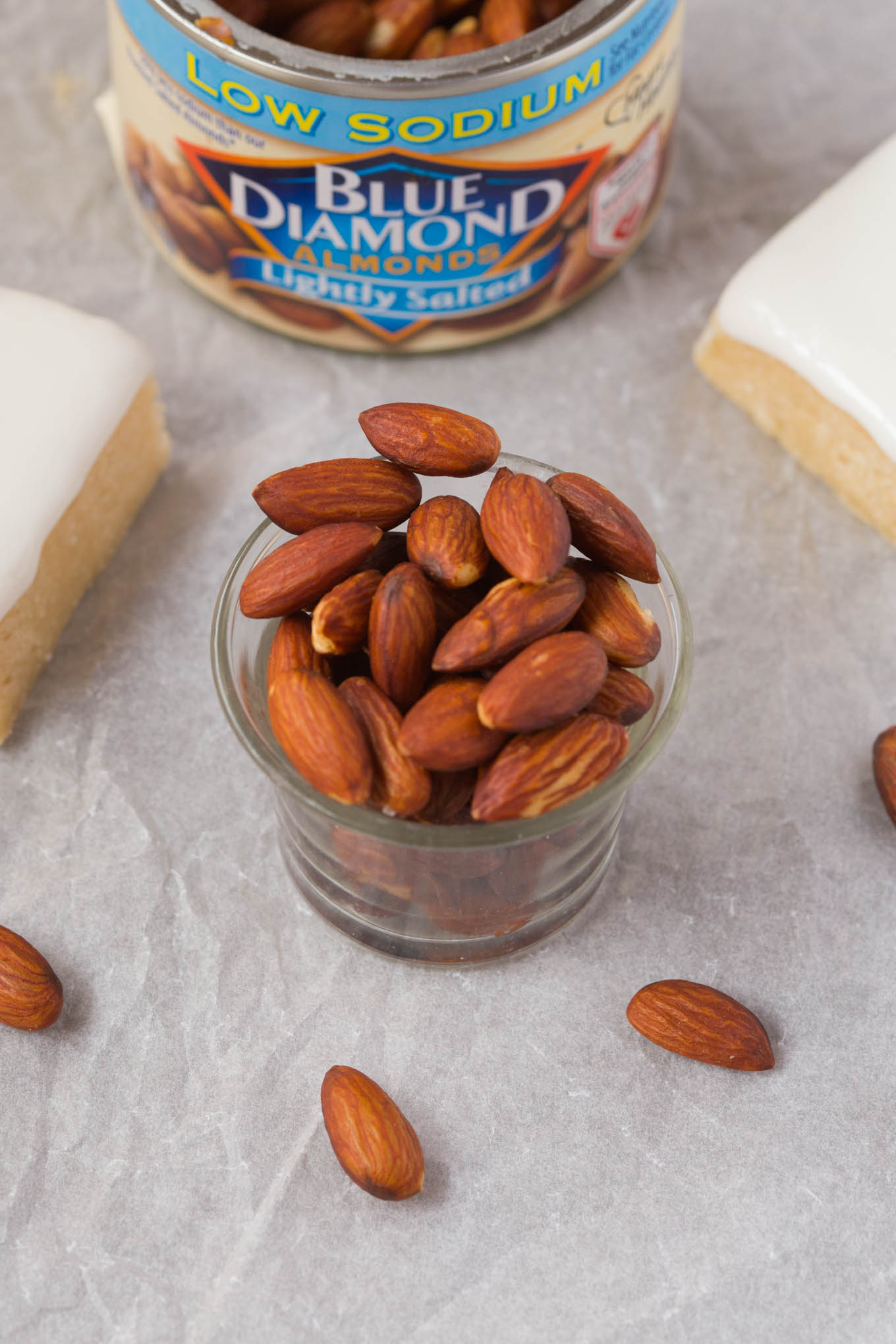 As part of their #LaneToGreatness campaign (PS- Check out the GIVEAWAY below!), I'd love to share a recipe to promote a healthy lifestyle. Long term readers know that I advocate that healthy food does NOT need to be boring, bland or a chore to do. I also advocate dessert for breakfast. A while back, I shared these healthy no bake breakfast brownies. It was time for their better non-chocolate counterparts to make an appearance- In blondie form!
These healthy no bake vanilla breakfast blondies are a taste and texture lover's dream meal- Slightly chewy, soft and deceivingly filling! They are the perfectly balanced breakfast (or snack or even dessert) to fuel you up and keep you satisfied for hours! Unlike traditional blondies, they aren't baked (really?!), and also don't contain any butter, grains, flour or sugar, yet taste delicious! Based on what combination of ingredients you use, they are naturally gluten free, vegan, dairy free, grain free and paleo friendly!
HACK! For those wanting an added boost of protein, you can either add the protein powder IN the recipe (I use my standby casein protein powder, vegan protein powder or paleo friendly protein powder) or as a frosting- You can use the same frosting used in this recipe here. The frosting pictured here is using a simple two ingredient coconut cream and honey recipe for vanilla creme, found here.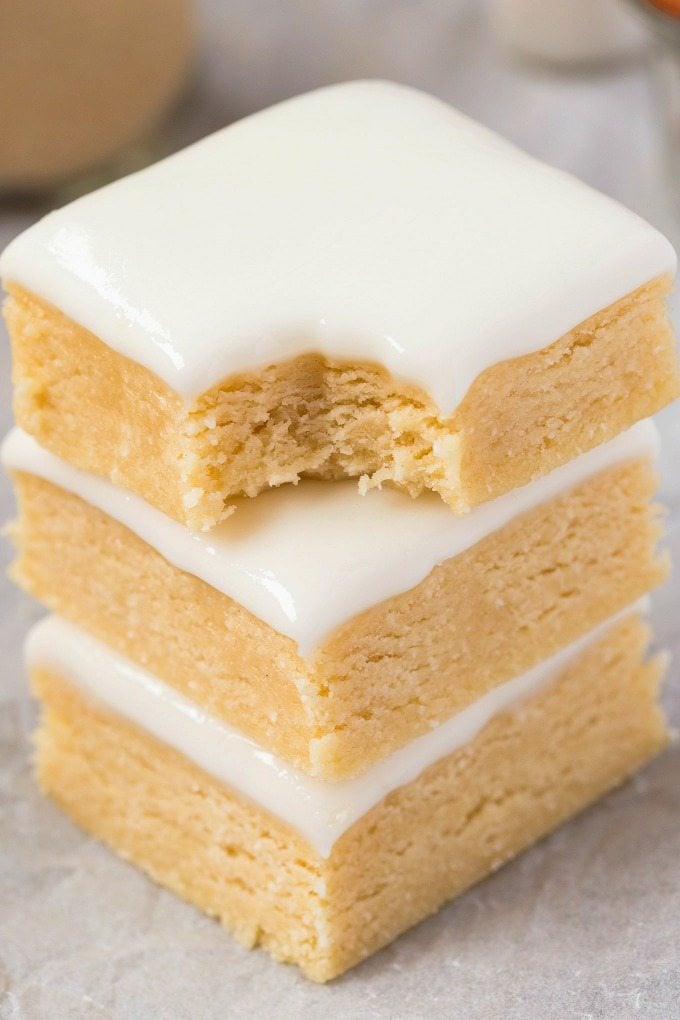 Make these healthy No Bake Vanilla Breakfast Blondies and let's embrace healthy lifestyle habits that don't flop.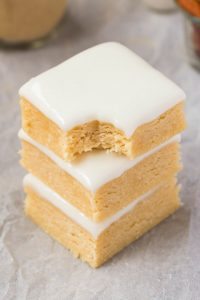 Breakfast Blondies
These healthy vanilla breakfast blondies are slightly chewy, filling and require no baking whatsoever! Made with no butter, oil, flour or sugar, these blondies are naturally gluten free, vegan, dairy free and come with a tested paleo option!
Instructions
Line a 9 x 9 baking dish with parchment paper or aluminium foil and set aside.

In a large mixing bowl, combine your flours, protein powder, cinnamon and granulated sweetener and set aside.

In a microwave safe bowl or stovetop, melt your almond butter with the brown rice syrup (or maple/honey). Whisk in the vanilla extract and pour into the dry mixture. Mix very well until fully incorporated.

For a more soft and fudgy blondie, add milk of choice until a relatively thick batter is formed. For a firm and chewy blondie, add milk of choice only if needed to desired thickness. Transfer to lined baking tray and press firmly in place.

Refrigerate for at least 10 minutes, or until firm. Once firm, add frosting of choice and refrigerate for another 30 minutes to firm up before slicing.
Notes
* Sub for almond flour for paleo option. Alternatively, you can use one cup TOTAL of coconut flour (omit the 1/4 cup coconut flour).
** If protein powder is sweetened, you can omit OR if you don't use protein powder, adjust accordingly.
*** Depending on the blend of flours you use, you may need less or more. Adjust accordingly.
Blondies are best kept in the refrigerator, but are freezer friendly too.
Nutrition
Serving:
1
blondie
Calories:
173
kcal
Carbohydrates:
24
g
Protein:
5
g
Fat:
8
g
Sodium:
21
mg
Potassium:
134
mg
Fiber:
3
g
Vitamin A:
1
IU
Calcium:
55
mg
Iron:
1
mg
NET CARBS:
21
g
Healthy Fresh Strawberry Breakfast Crumble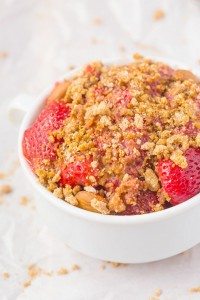 Healthy Flourless Chocolate Raspberry Brownies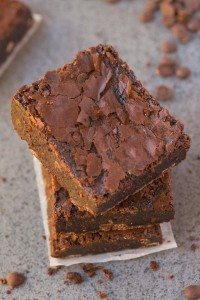 Disclosure: This post may contain affiliate links. I may earn a small commission for my endorsement, recommendation, testimonial, and/or link to any products or services from this website.