This healthy edible paleo breakfast cookie dough is made with no eggs, and specifically designed for breakfast! Made with no butter, oil, grains or sugar, this edible cookie dough is naturally gluten free, paleo, vegan, dairy free and refined sugar free!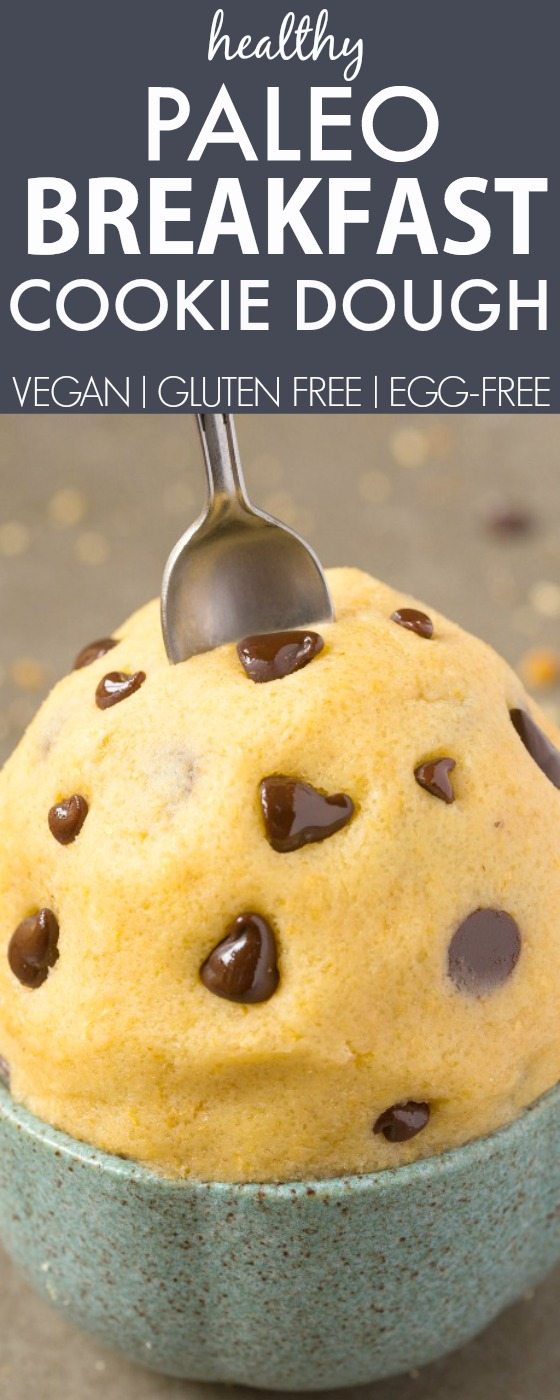 Happy Wednesday, kiddos!
If you are here for What I ate Wednesday, the link up is still open below- Unfortunately, I've been a little bit sick these past few days and as such, hadn't documented a full day of eats for you! Instead, let's throw back to the time I ate FLATOUT wraps for every single meal and snack.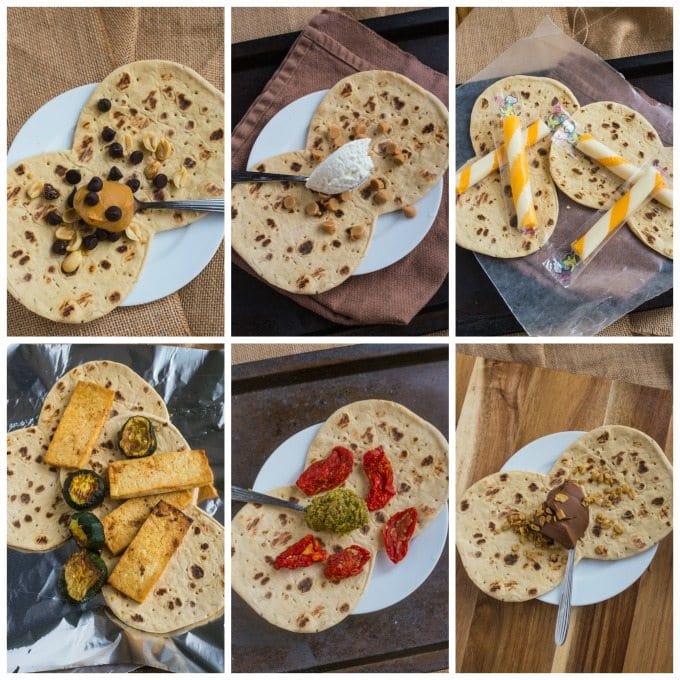 I mean, today they will be featured again! To compensate, I'm not only sharing ONE recipe today but TWO!
Whether you like the breakfast cookie dough OR the dippers OR both- We've got you covered!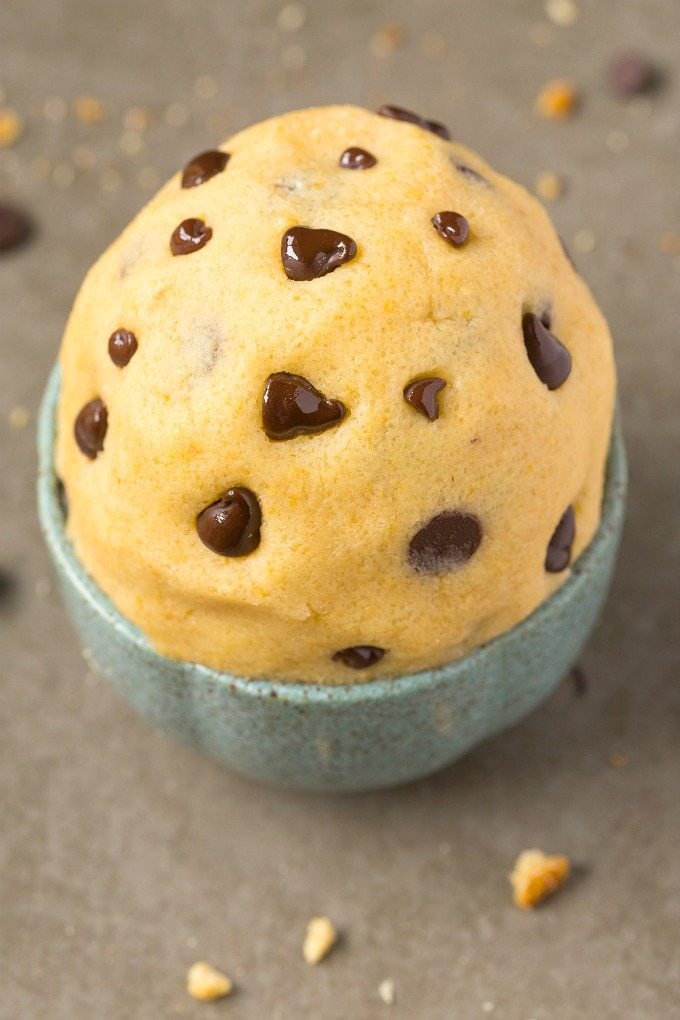 I'm excited to back again this month with another seasonal pita chip flavor made with my favorite Flatout wraps! So far, we've had cinnamon bun pita chips, churros pita chips and of course, the popular apple pie pita chips! It's been awesome to see many of you guys enjoy these sweet twists on pita chips, so we're back with a new flavor this month- SNICKERDOODLE!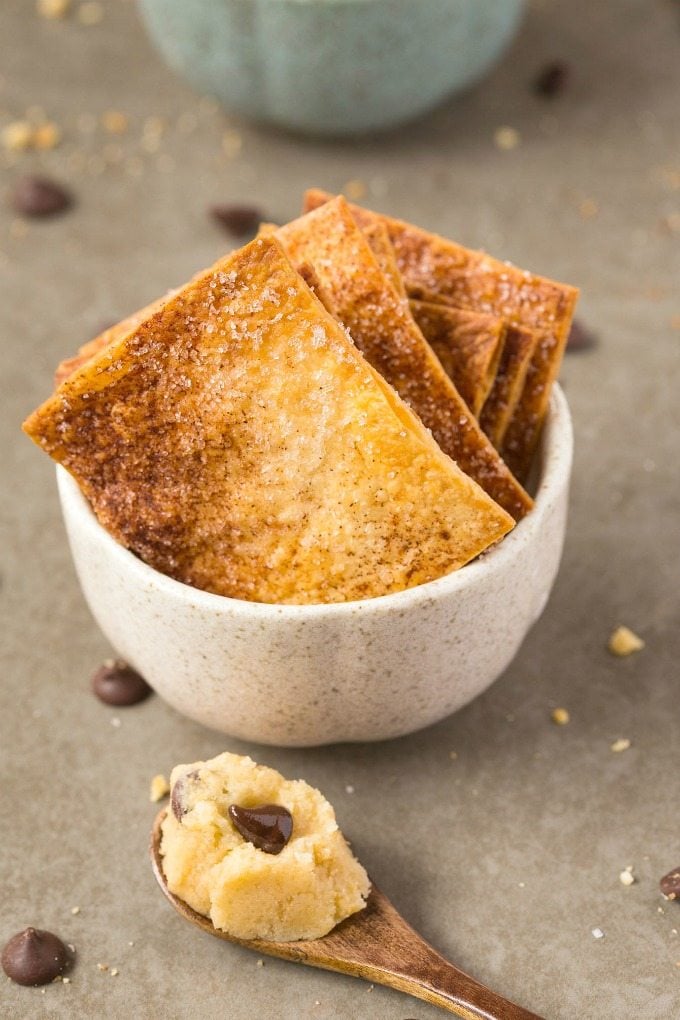 Traditional snickerdoodle cookies are essentially Paula Deen covered in cinnamon sugar- Butter, shortening, and sugar. We'll be incorporating the cinnamon/sugar combination, but with a healthy spin! Previously, I'd used a granulated stevia blend based off monk fruit sweetener. This time, we're going to be using something different- Erythritol! The reason why we used erythritol over monk fruit is that once baked, the granulated sweetener stays in a better-granulated state- I think this is key to achieve a more accurate snickerdoodle texture! Also, I opted to use standard cinnamon instead of Saigon cinnamon, as the latter was a little too overpowering! Regardless, you can use any of those interchangeably, but they still taste great!
For the Flatout base, I stick to either the original or the ProteinUP varieties- They are slightly thinner and provide a crispier chip. You can use any of their fold-its too, but be wary some of their varieties are savory flavored- Enjoy those as a sandwich later in the day!
ZING.

So let's talk part 2- The breakfast cookie dough!
If you've been a reader in this neck of the woods for the past little while, you know there's been some cookie dough twists on here! My initial idea was to share a snickerdoodle cookie dough. However, I realized that I'd already shared that this time last year! Besides snickerdoodle, we've also had pumpkin and a classic version. Most recently, I shared this oatmeal chocolate chip breakfast cookie dough. Now? It's time for our paleo friends to be in on the action!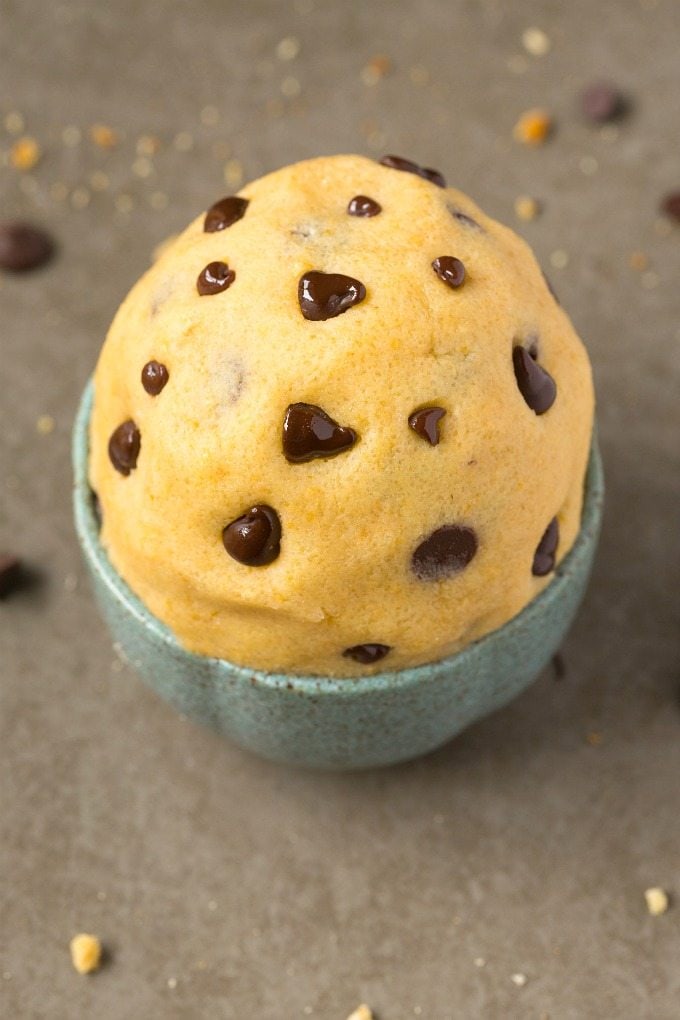 This healthy paleo breakfast cookie dough is thick, satisfying and has the exact texture of cookie dough! Unlike traditional cookie dough, this contains no butter, grains, sugar, oil or dairy, but you'd never be able to tell! Also, it contains NO eggs, so don't feel the least bit wary before digging in. By using smart swaps and simple hacks, this grain-free cookie dough is replicated to taste like the classic! It's also single serve, but can easily be doubled, tripled or hundroopled.
Yes, that is a new word.
It's suitable for those following a paleo, vegan, gluten free, sugar free, dairy free and grain free lifestyle! Let's get into a little bit of specifics about the base!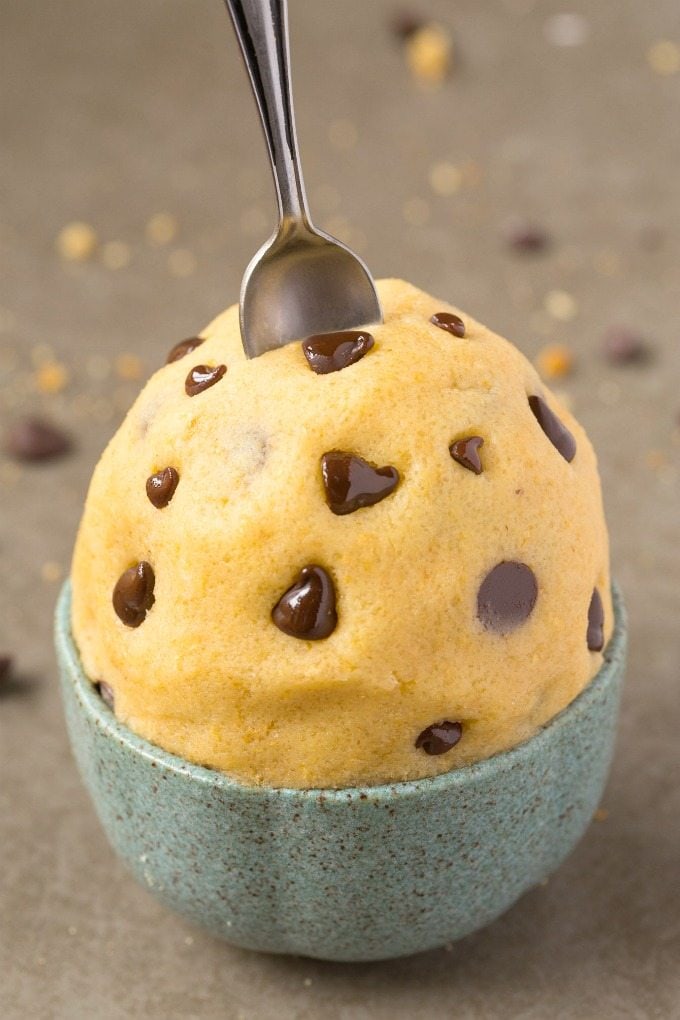 If you've been a long-term reader on here, you know I tend to stick to coconut flour as my nut-free and paleo friendly flour. While coconut flour WILL be partaking in today's concoction, the main flour base will actually be almond flour! I found almond flour to lend a creamier texture for this, and perfect to enjoy without chilling! For the nut butter, I've opted to use cashew butter, because it's mild and not overpowering. Almond butter would also work, or even sunflower seed or soynut butter. You CAN use peanut butter (it technically won't be paleo anymore), but it is overpowering and will be very prominent.
Now here is the part which can affect the sweetness/texture- If sugar isn't an issue, I'd recommend using the pure maple syrup. It really does add to the 'cookie dough' texture. I would NOT recommend using a sugar free maple or pancake syrup blend, as it doesn't hold up whatsoever. You could sub it for agave or even brown rice syrup (this will also not be paleo). You can switch out the sticky sweetener or a granulated kind- Monk fruit sweetener or the above-mentioned erythritol would work, but please make sure to increase the milk of choice by a tablespoon or two.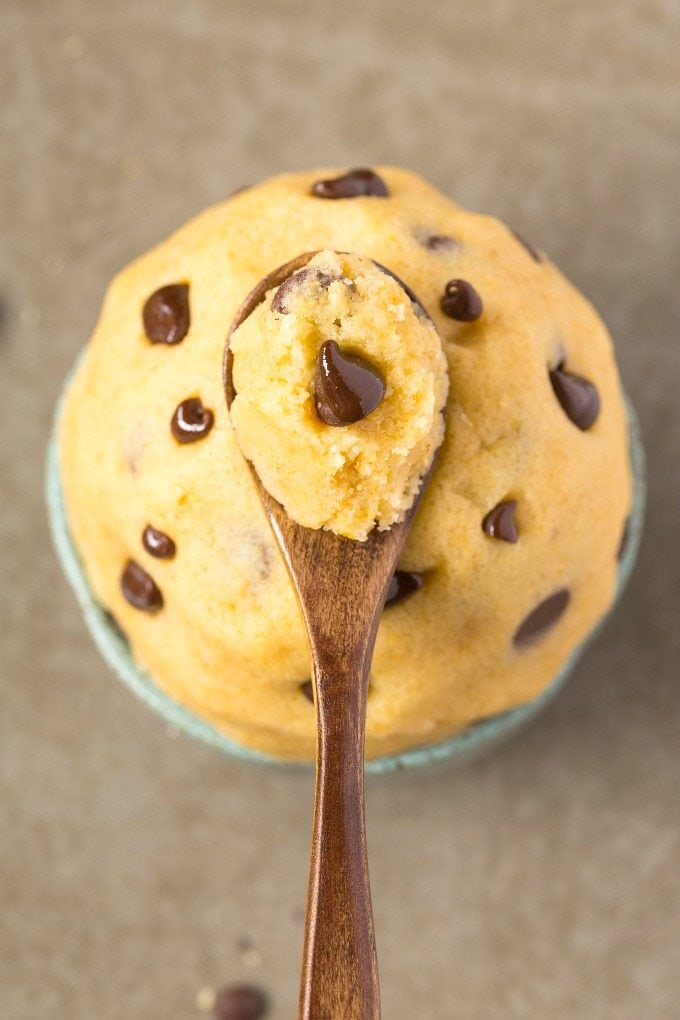 HACK! Want an added boost of protein? This totally works with adding protein powder! Check out recommendations here, as they all will work. If you opt for the casein or vegan brands, you'll need to increase the milk- They are naturally thicker!
Make these healthy snickerdoodle pita chips AND paleo breakfast cookie dough and kickstart your morning with sweet, sweet style!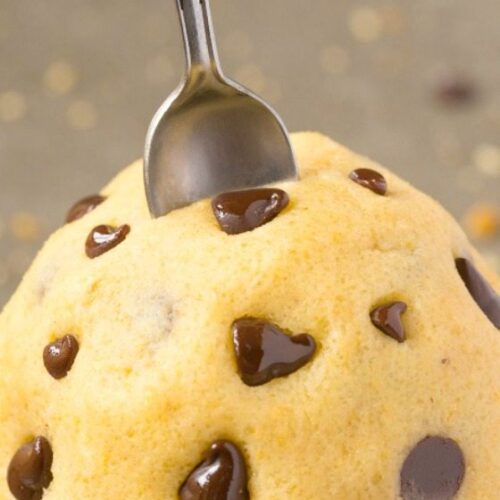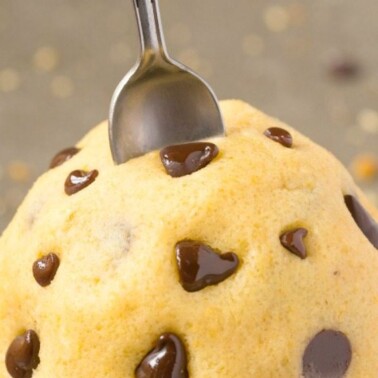 Healthy Paleo Breakfast Cookie Dough
This healthy edible paleo breakfast cookie dough is made with no eggs, and specifically designed for breakfast! Made with no butter, oil, grains or sugar, this edible cookie dough is naturally gluten free, paleo, vegan, dairy free and refined sugar free!
Ingredients
For the Paleo Breakfast Cookie Dough
For the Snickerdoodle Pita Chips
Instructions
For the Paleo Breakfast Cookie Dough
In a small mixing bowl, combine your dry ingredients and mix well.

In a microwave safe bowl or stovetop, melt your nut butter with maple syrup until combined. Mix through the vanilla extract and transfer to the dry mixture- The mixture should be crumbly. Using a tablespoon, add milk of choice until a thick batter is formed. Fold in the chocolate chips and if desired, add a dash more milk.
For the Snickerdoodle Pita Chips
Preheat the oven to 350 degrees Fahrenheit. Spray a large baking tray with cooking spray and set aside.

In a small bowl, combine your oil, cinnamon and erythritol and mix well. Cut up your Flatout bread and using a brush, lightly coat each side of the pita chips and lay in a single layer on the greased tray.

Bake pita chips for 12-15 minutes, or until golden and crispy. Sprinkle with extra cinnamon and enjoy!
Notes
* Depending on the flour you use and protein powder, you may need less more.
The cookie dough has a fantastic consistency when allowed to sit for half an hour or so before enjoying. If prepped in advance, keep in the refrigerator.
The baked chips store well in a sealed container for up to 3 days.

This post is sponsored by Flatout Bread. Cheers, hugs, and handshakes for supporting companies and brands which allow me to do what I'm passionate about every day and make The Big Man's World possible.
Are you a fan of a snickerdoodle flavor?
What has been on your breakfast menu lately?
The Big Man's World is a participant in the Amazon Services LLC Associates Program, an affiliate advertising program. This means that if you click and make a purchase, TBMW receives a small commission, at no cost to you. Cheers, hugs, and handshakes for supporting TBMW!
Disclosure: This post may contain affiliate links. I may earn a small commission for my endorsement, recommendation, testimonial, and/or link to any products or services from this website.