A quick and easy smoothie recipe which tastes like a peppermint patty but filled with superfood! Naturally vegan, dairy free, gluten free, sugar free and paleo- Creamy, thick and just like ice cream!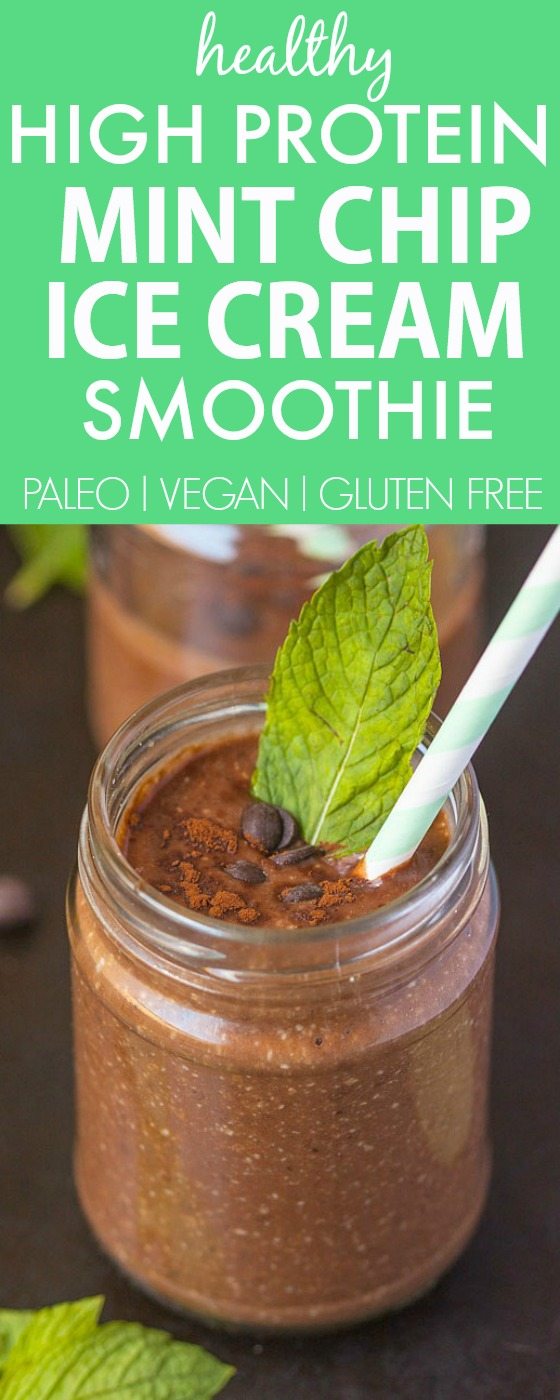 This recipe contains many firsts.
The first time….I'm sharing a smoothie recipe on TBMW.
The first time….I used an avocado in something sweet.
The first time….I tried blending an actual chocolate bar in my blender (don't do it)
The first time….I almost threw my camera out the window and wished the St.Patrick's Day leprechans would chuck a pie in my face.
Okay the last part is incorrect. There have been many times I wanted to throw my camera out the window, but this time was one for the books. To those I sent frustrated texts and messages too- Thanks for bearing with me. Seriously, photographing a smoothie or any drink for that matter drove me bonkers. No matter what I did, it just would not come out. It made the smoothie look like punishment you'd serve to someone in jail!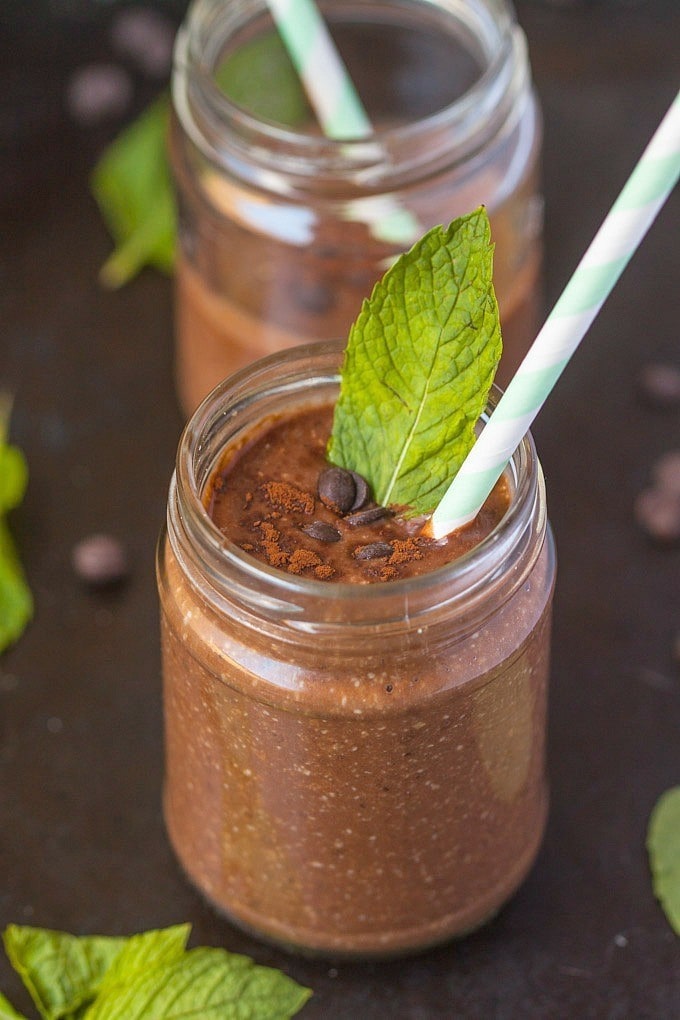 Anyway, enough about the fourth line of firsts.
Let's dissect the third line and talk about the dumb things you chuck in a blender.
I've finally had success for a recipe which will feature in my upcoming e-cookbook which involves a blender. Said recipe involves blending something outside the box inspired by one of my favourite milkshakes I was fortunate to faceplant in America. When replicating this healthy Peppermint Patty Smoothie, I wanted to actually take it to the next level and blend an unbroken, large peppermint patty in it.
Friends, don't do that. Even if you have a supercharged blender.
I think it gave my neighbours cat a heart attack with the sounds it was making.
Safe to say, blending actual chocolate bars in whole form is not a wise idea. Luckily, this healthy peppermint patty smoothie tastes like a peppermint patty without the need to actually add the chocolate bar in it.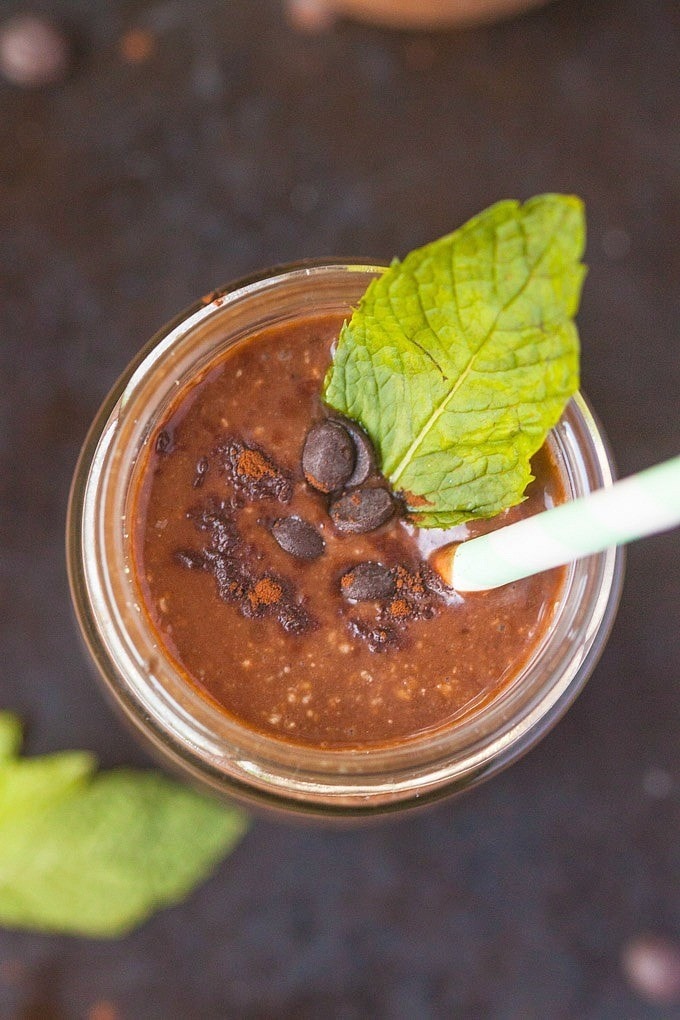 Now for line number two– For those of you who've previously posted recipes involving avocados and sweet treats before, you've probably heard me lament how one day, I will give it a go. I'm stoked to have bitten the bullet because damn….I've never tried something with such a creamy consistency without ice cream! With my upcoming vegan month and my love of all things cheese and creamy- I'm kind of excited to keep experimenting with this!
Being the first of hopefully more smoothie recipes on here, I wanted to start with a bang and make it appropriate with St.Patrick's day around the corner. This year, I won't be sharing a Irish themed recipe on the actual day because I have something special already planned. Now this has nothing to do with traditional St.Patricks Day classics like cabbage, beef stews or Guiness. The only thing relatable to it is that it is green. Well, technically it's cocoa coloured but still…The Concept is green.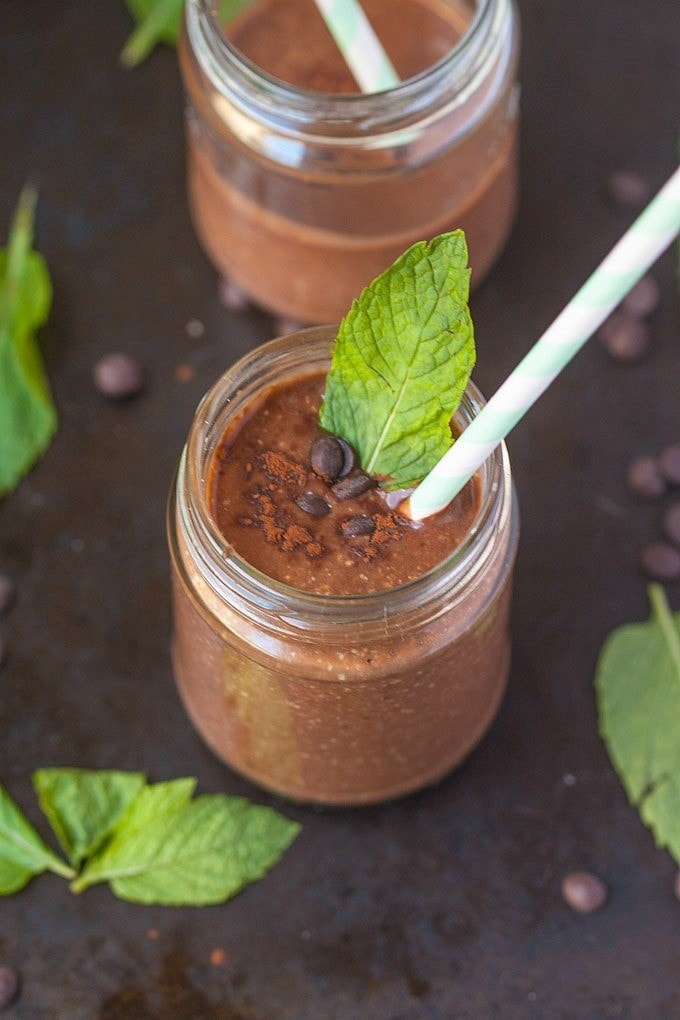 This Healthy Peppermint Patty smoothie is pretty much a superfood smoothie but with a sexier name. Actually, don't take that line to heart. In my eyes, any food that makes me feel good is a 'Superfood' so even if it had an actual peppermint patty in it, I'd still make that claim. Thanks to the frozen avocado and coconut flour, the consistency is thick and creamy. It's naturally paleo, vegan, gluten free and sugar free. For those wanting a boost of protein, add a scoop of your favourite protein powder. Cold, creamy, filling and tasting too sinful to be good- This Healthy Peppermint Patty Smoothie has you name on it. Also, don't bother gulping it down- You'll need a spoon- It's that thick!
Now that I think about it…I'm kind of disappointed I didn't try blending one of these in it. Next time.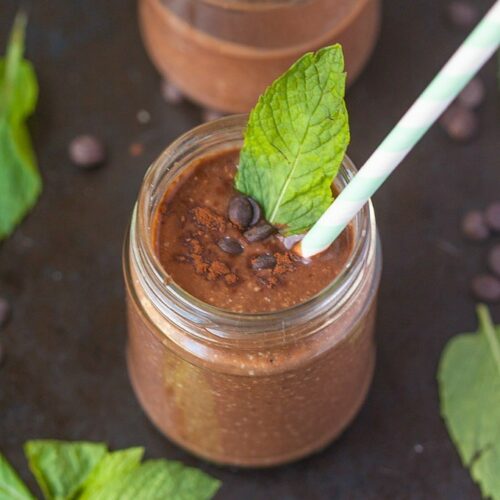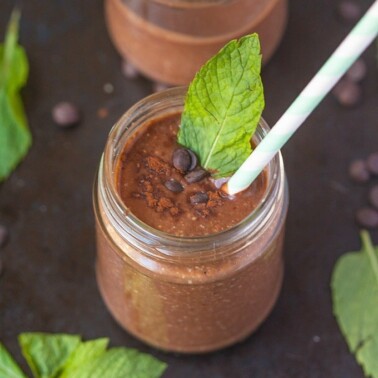 Healthy Peppermint Patty Smoothie
A quick and easy smoothie recipe which tastes like a peppermint patty but filled with superfood! Naturally vegan, gluten free, refined sugar free, dairy free and paleo with the consistency of ice cream!
Ingredients
1/2

large frozen avocado

1

tablespoon

coconut sugar

can substitute for any granulated sweetener of choice

1

tablespoon

coconut flour

can sub for almond flour but will change taste and consistency

2

tablespoon

raw cacao powder*

1

scoop of protein powder of choice**

1/2-1

cup

unsweetened dairy free milk

I used almond***

Dairy Free chocolate chips

optional
Instructions
Add all the ingredients in a high speed blender and blend until desired consistency is reached.

Pour and top with extra cacao powder and dairy free chocolate chips
Notes
* I like a rich chocolate taste- Adjust to just 1tablespoon if desire
** For a vegan version, I recommend a brown rice chocolate blend
*** Depending on brand of coconut flour and protein powder, you may need to increase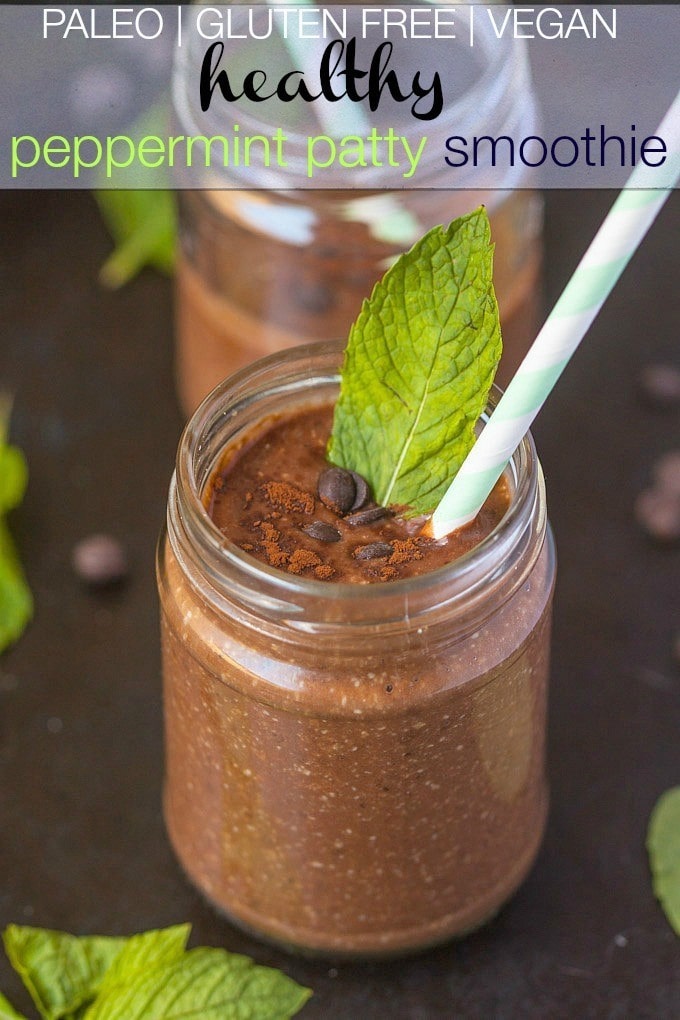 PS- Tomorrow I'll be sending off the second newsletter of blog updates, news and some exclusive giveaway information- Be sure you're signed up either in the top bar or the side bar!

What do you define as a 'superfood'?
What is the strangest thing you've ever blended?
Have you ever eaten avocado in a dessert?
Disclosure: This post may contain affiliate links. I may earn a small commission for my endorsement, recommendation, testimonial, and/or link to any products or services from this website.