This single serve caramel apple dip is low in carbs, packed with protein, and designed specifically for breakfast! Thick, creamy and perfectly portioned, it can be enjoyed with some baked apple pie pita chips too! The healthy single serve caramel apple breakfast dip is suitable for those following a vegan, gluten free, paleo, dairy free and sugar free lifestyle!
To everyone who ever wanted to eat a dip, sans crudites/cracker/veggies- This one is for YOU.
To everyone who wants a sweet dip with a sweet dipper- This one is for YOU.
To everyone who wants dessert for breakfast- This one is for YOU.
To everyone who wants the sweet dipper, without the dip- This one is for YOU.
To everyone who wants TWO recipes in ONE- This one is for YOU.
To everyone who eats food- This one is for YOU.
I solemnly swear that I am up to no good hope I have not omitted any parties with the above statements.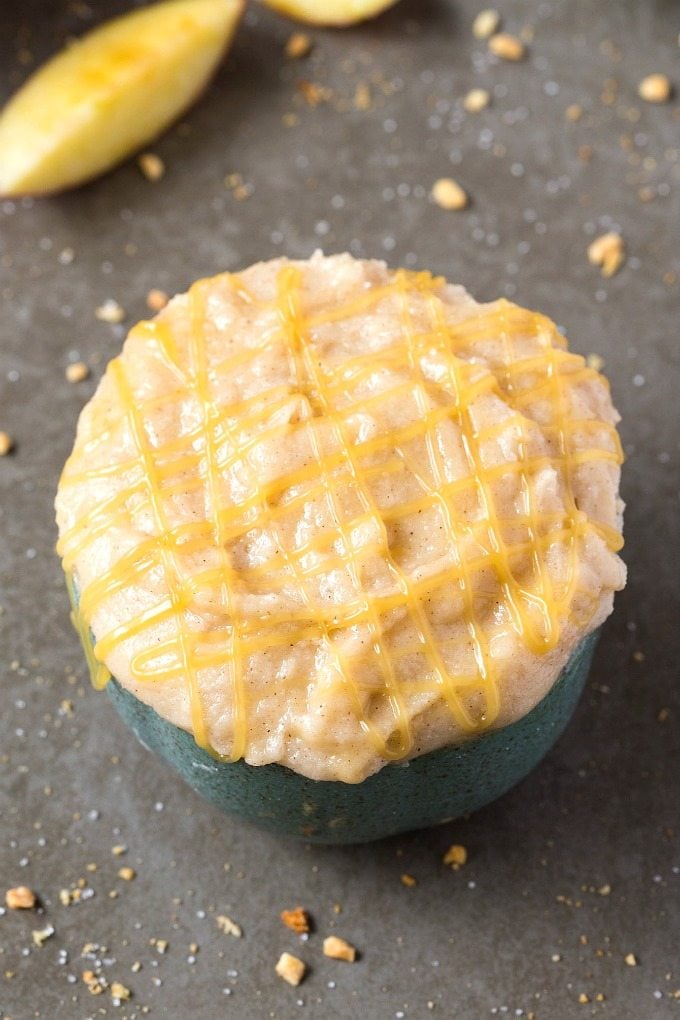 Growing up, I was always told off for double dipping or using a single corn chip as a vehicle to polish off an entire tub of hummus. While corn chips in their own right are delicious, when it comes to dips, we know who takes the chickpea cake. After being told off one too many times (and being chased with a wooden spoon), I soon learned sneaky means of getting as much bang for my buck dip as possible, without double dipping- Choose the right vehicle (read- The most sturdy) and then dunk and load up the dip. This clearly ruled out corn chips, as they were flimsy at best. I resorted to carrots and celery sticks, the former being the more favored one.
When I first moved out of home, all bets were off- Salsa, french onion dip, and guacamole were all eaten with a spoon. In fact, I convinced myself that polishing off an entire jar of salsa in one sitting was pretty much the same as eating gazpacho…sort of.
Before we jump into today's recipe, it's Wednesday!!! Let's check out what has made my plate! This is from Monday, and it included mum's leftovers and a (failed) attempt of recreating a chain restaurant salad!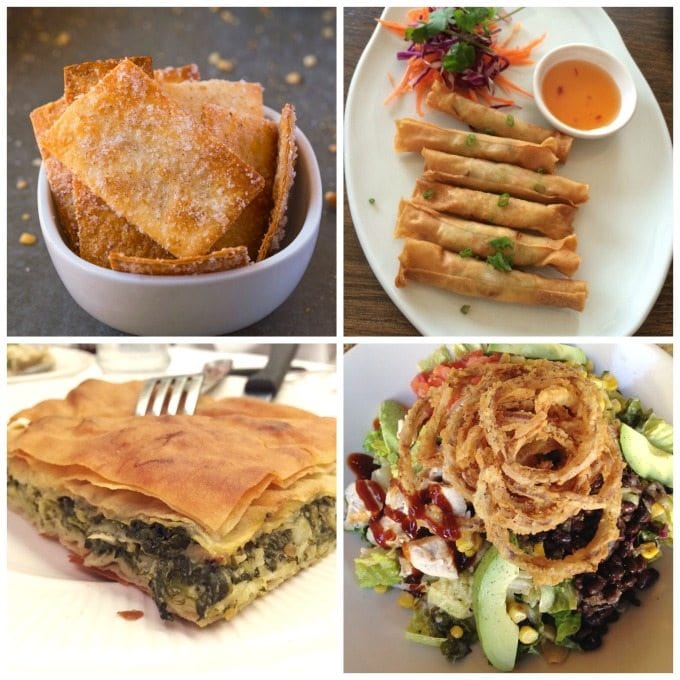 Breakfast- Cold spinach and feta pie from mum. Seriously, this tasted SO good cold. Lunch/Snacks– I kind of picked at my recipe during the shoot (and after), so when I went to meet a friend for lunch, I went light with some tofu spring rolls. Dinner- I tried to recreate the 'Cheesecake Factory' salad, but failed miserably. Making your own onion rings = No bueno. Pictured is what I ordered when out, not my own creation. It was still delicious!
Okay, now it's time to get dipping!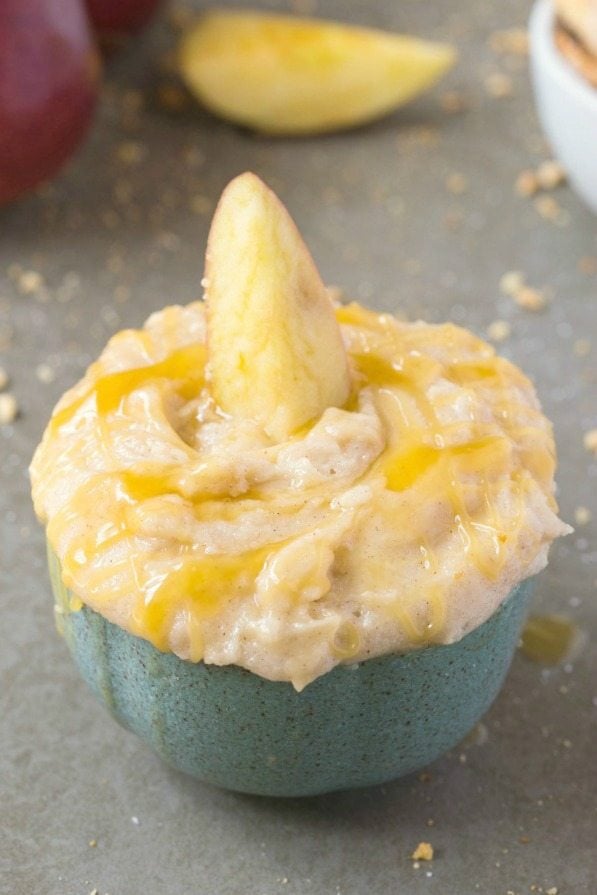 As mentioned in this post, I've slowly transitioned to sweet dips, especially ones which require nothing but a spoon. However, I AM a huge fan of accompaniments which are on the sweeter side and pair well with said dip.
Let's look at the maths equation at hand-
Single serve? Check.
Breakfast worthy? Check.
Spoon-worthy? Check.
Tasting like dessert? Check.
Healthy too? Double check.
The answer? this healthy Single Serve Caramel Apple Breakfast Dip!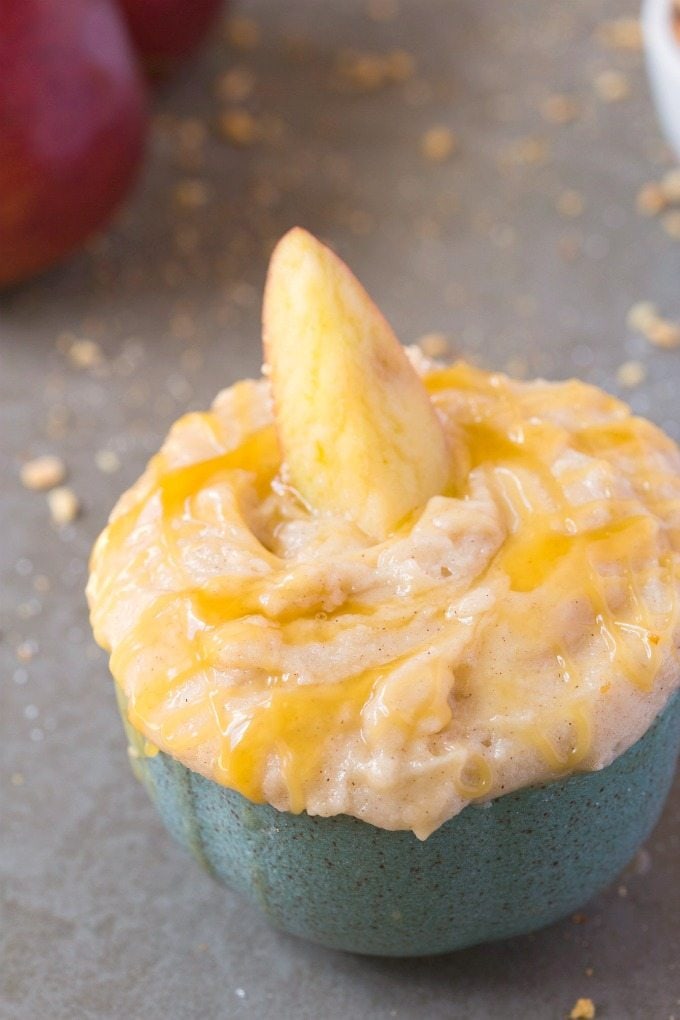 This healthy Caramel Apple Breakfast Dip is smooth, thick, creamy and is specifically designed for the most important meal of the day- Breakfast! It's packed with protein (As always, I recommend this vegan protein powder, this casein protein powder, and this paleo protein powder), fiber and can be made completely sugar free! It's a quick and easy recipe, which can be easily prepped the night before or minutes before hunger strikes! Not only is it suitable for breakfast, it can also be a filling snack, or an evening dessert. For the 'caramel' option, you can either used this caramel sauce here (paleo, vegan, and gluten free!) or this store bought caramel sauce, which is completely sugar free! The dip has been tested with a few dairy and non-dairy bases. As such, it's suitable for those following a vegan, gluten free, paleo, sugar free and grain free diet and lifestyle!

HACK! For those who need some dipping action, you've been covered. Long term readers know that my favorite 'chip hack' is using Flatout wraps, and this situation is no different. We've done cinnamon protein pita chips, churros pita chips and cinnamon bun pita chips. What pairs well with Caramel Apple dip? HEALTHY BAKED APPLE PIE PITA CHIPS!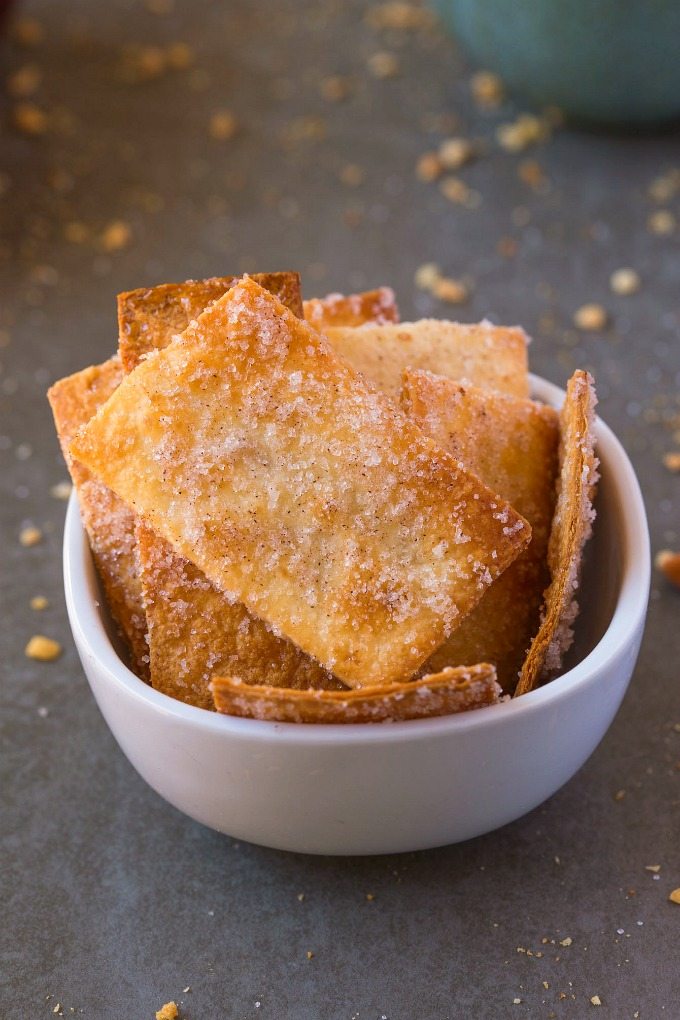 These baked pita chips taste like apple pie, thanks to the unique mixture of applesauce, apple pie spice, and a sprinkling of my favorite sugar-free granulated sweetener! These can be eaten with or without the dip, and can be prepped in advance!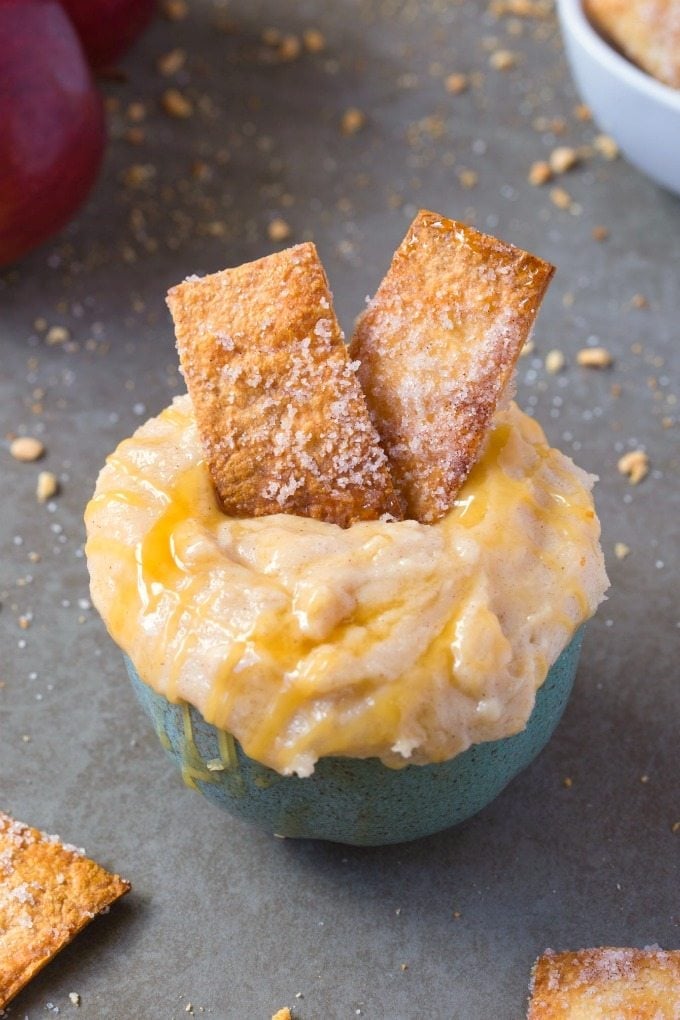 Make this healthy Single Serve Caramel Apple Breakfast Dip and never feel guilty for digging in…
…sans dipper.
Unless it's apple pie pita chips.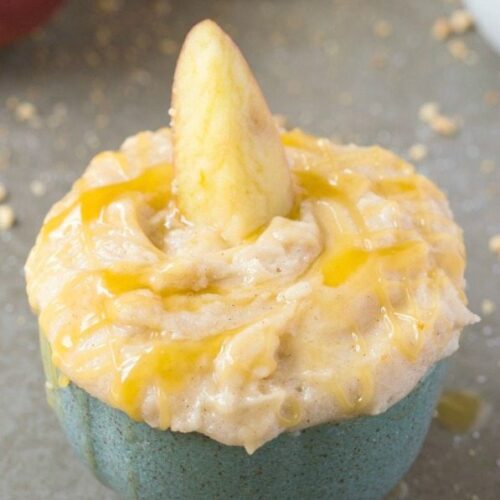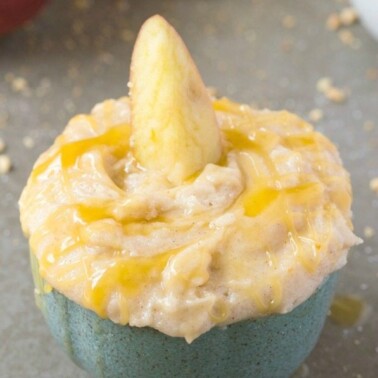 Healthy Single Serve Caramel Apple Breakfast Dip
Healthy Single Serve Caramel Apple Breakfast Dip- Thick, creamy and secretly healthy, it's packed with protein and perfectly portioned- You just need a spoon! A quick and easy breakfast, snack or clean eating dessert flavored with caramel and apple pie spice! Paleo, vegan and gluten free!
Ingredients
For the caramel apple breakfast dip
6

oz

170 grams plain yogurt of choice (Greek, dairy free or coconut)

1

scoop vanilla protein powder

32-34 grams

1

tsp

apple pie spice

cinnamon, nutmeg and all spice

1-2

T

coconut flour

Can sub for oat flour or almond flour*

1-2

T

caramel sauce of choice

homemade or sugar free
For the apple pie baked pita chips
Instructions
To make the Caramel Apple breakfast dip
In a mixing bowl, add your yogurt of choice. Stir through your applesauce, protein powder, apple pie spice and sweetener of choice.

Slowly add your coconut flour. If mixture is too thick, add a dash of milk of choice. Top with caramel sauce and enjoy, or use as a dip base!
To make the apple pie pita chips
Preheat the oven to 350 degrees fahrenheit. Spray a large baking tray/dish with cooking spray. Slice the flatout wrap into squares and set aside.

In a small mixing bowl, whisk the applesauce, apple pie spice and coconut oil. Lightly cover each pita square and place on the lined baking tray. Cover with the sweetener and cinnamon and bake for 10-12 minutes, until golden brown and crispy.
Notes
* For a thicker dip, use 2 tablespoons
** For a thinner dip, use a tablespoon and add milk of choice until desired texture is achieved.
Dip can be made in advance- It thickens when refrigerated.
Pita chips can be kept for up to 2 weeks, in an airtight container or ziplock bag.
Disclosure: This post may contain affiliate links. I may earn a small commission for my endorsement, recommendation, testimonial, and/or link to any products or services from this website.