This healthy GIANT White Chocolate Raspberry Cookie is single serve, easy and perfectly portioned for one! Made with wholesome, everyday ingredients, it's naturally gluten free, vegan, dairy free and has a sugar free option!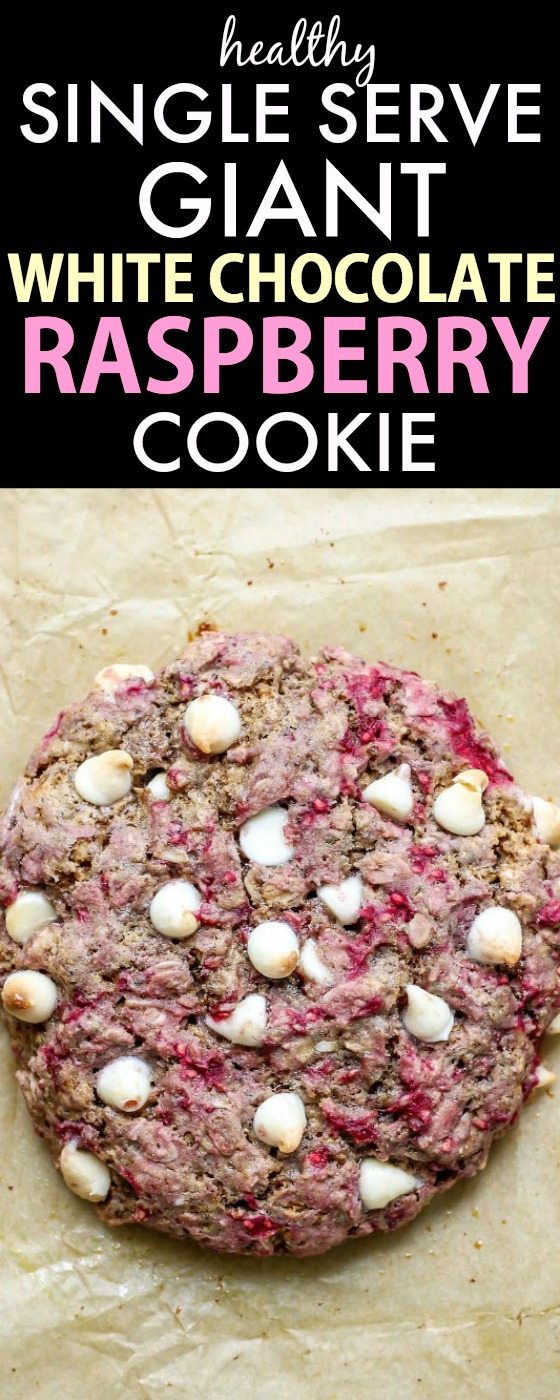 In the midst of all things pumpkin and apple, I'm stoked to have Ashley here to share a recipe- Cookie style! Long term readers know I'm a huge fan of all things white chocolate and raspberry. Case in point- these no bake cookies and these protein bars are two reader favorites! Now? Ash's cookie will make your weekly food prep list!

MY OTHER RECIPES
***
Before we chat about this giant oatmeal cookie that is happening today, let me just give you a little insight as to what goes down BTS while my husband is home and I photograph this lovely recipe…
(climbs up step ladder and gets into position)
Mr. FMK: You're not supposed to stand on the top step.
ME: It's a two-step ladder! I can stand on the top step. (proceeds to take pictures)
Mr. FMK: Do you always do this?
ME: Yes. (clicks away)
Mr. FMK: You're standing on your toes! You're gonna fall.
ME: I'm fine! I have good balance. (continues to balance on toes)
Mr. FMK: Have you fallen off before?
ME: *sighs* Almost, yes. (wobbles a little)
Mr. FMK: Do other bloggers do this?
ME: *groans* YES.
…
….
Mr. FMK: You bloggers are crazy…
(Finally gets shot once all the chatter subsides)
Goodness gracious, that was a rough one!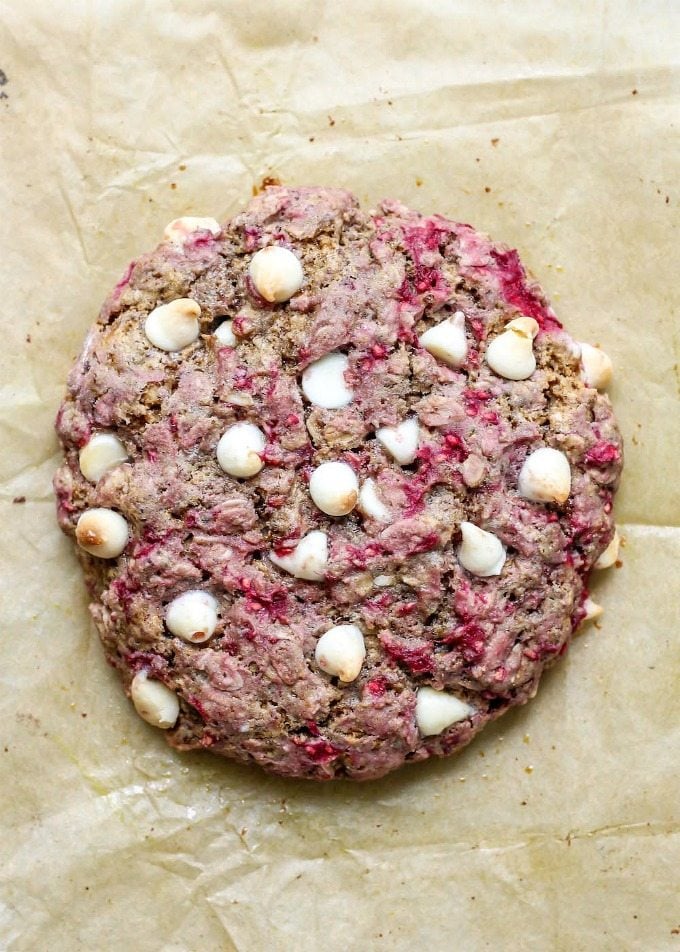 But the good news is the hubs approves of this cookie. And if you didn't know, that's a pretty big deal because he is legit the cookie monster. I made this 3 times before getting it right. The first time I was so kindly reminded that I forgot to add vanilla in the first batch. Lord help me, he is a cookie diva.
So today this cookie is a little rendition of my giant GF & vegan chocolate chip cookie, but with some slight adjustments to help cut back on total time… read: no dough chilling.
Can I get a HOLLA?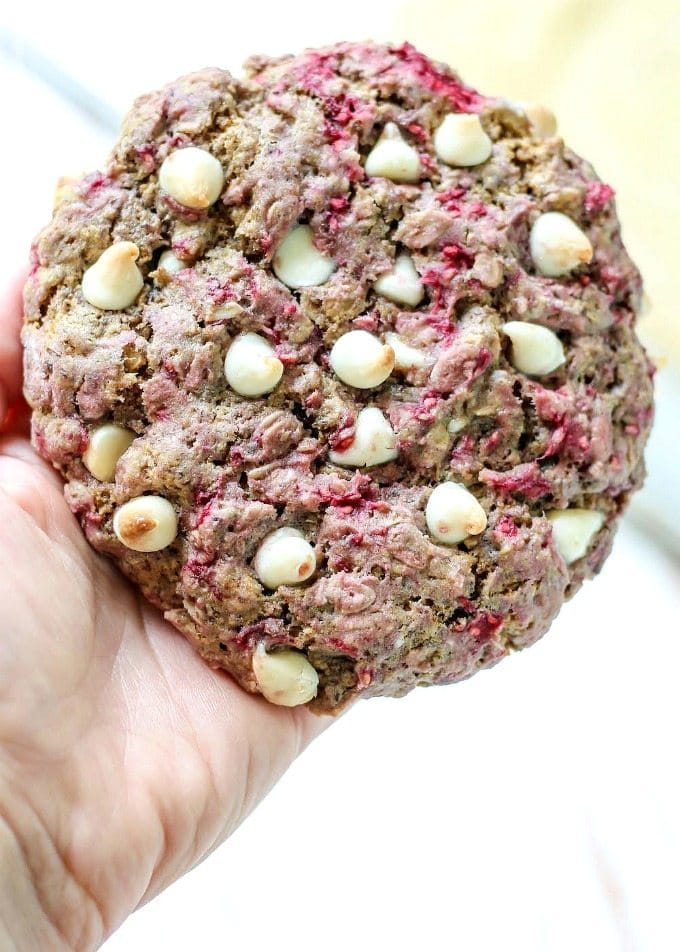 This giant raspberry white chocolate oatmeal cookie is thick, chewy and slightly crisp around the edges. I don't know about you but those qualities in a cookie are my favorite. Oh! I almost forgot… It's also gluten-free and vegan-friendly.
I used fresh raspberries for this recipe but I also tried it with dried cranberries (I couldn't seem to find dried raspberries anywhere…) Either way, both cookies were delicious! Just note that if using fresh raspberries, the dough will be a little sticky. If you opt for dried berries the cookie dough will not be sticky, and all you need to do is cut back on the flour by a half tablespoon.
I can't get over how good this cookie is! I hope you all give it a try 🙂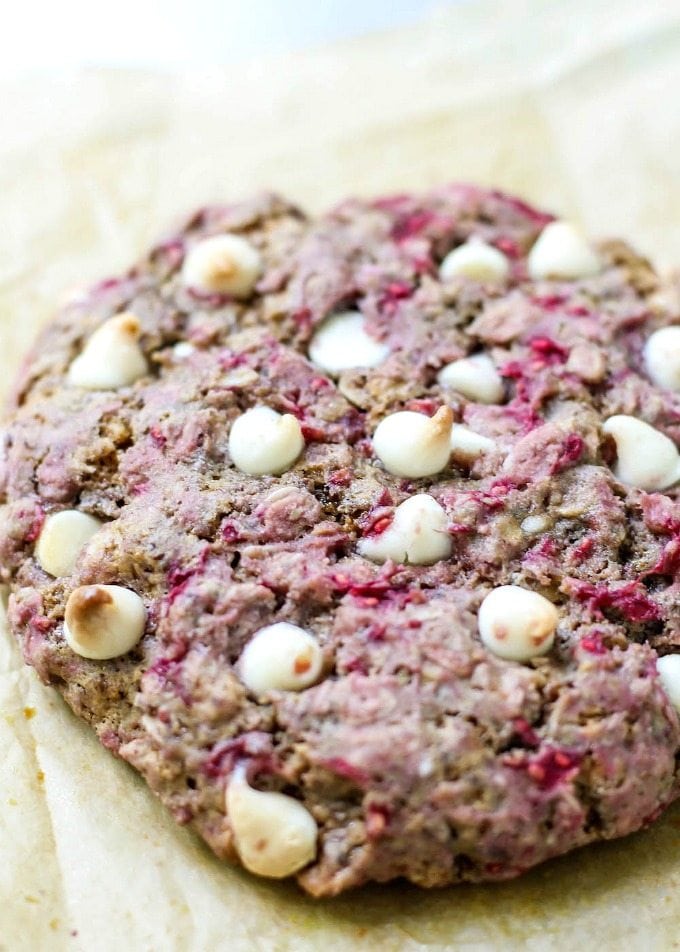 Editor's notes- I wanted to see if I could try this completely sugar free- It worked! The changes I'd recommend if you go that route is to use freeze dried or dried raspberries. The reason for this is that I found it didn't fall apart and remained crisp (as we are using a granulated sugar substitute here). I used this granulated stevia blend, which is my personal favorite- It doesn't leave a bitter aftertaste. I also used gluten free oat flour (as opposed to the gluten free all-purpose flour) and although a little more dense, came out really well! As for the white chocolate chips, I simply omitted it from the cookies and drizzled some melted coconut butter over it and allowed it to harden.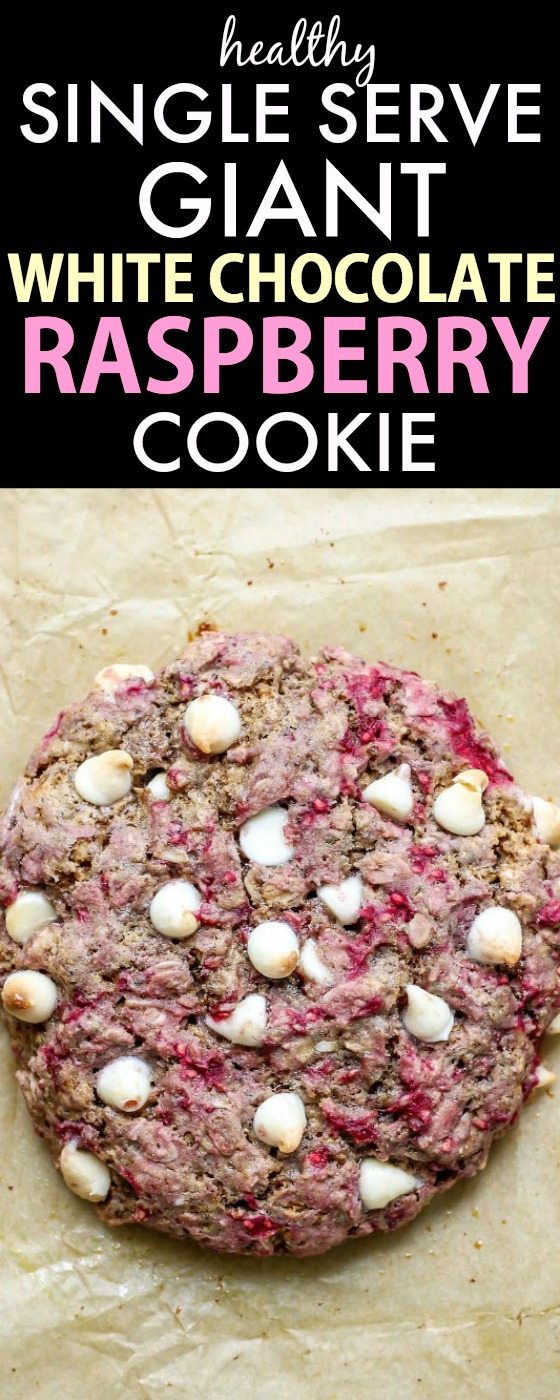 Healthy Single Serve Giant White Chocolate Raspberry Cookie
2016-09-13 06:48:33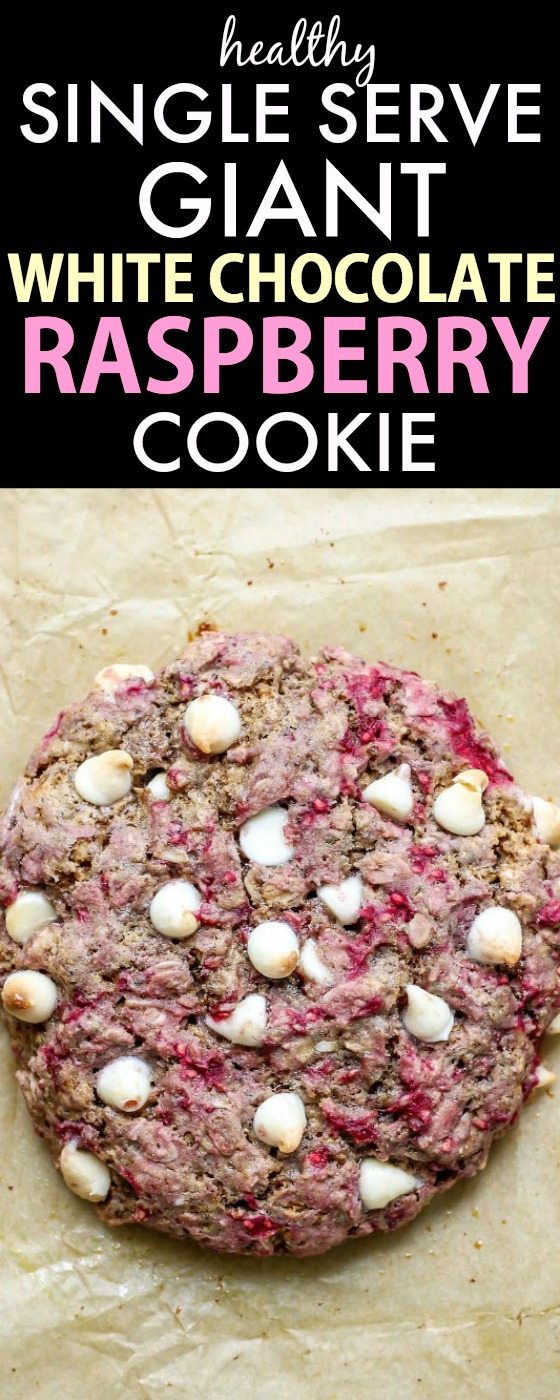 Serves 1
This healthy GIANT White Chocolate Raspberry Cookie is single serve, easy and perfectly portioned for one! Made with wholesome, everyday ingredients, it's naturally gluten free, vegan, dairy free and has a sugar free option!
Ingredients
2 tsp flaxseed meal + 1 TBS water, sit for 3 minutes
2 TBS coconut sugar (can sub for a granulated sugar free sweetener)
1 TBS natural nut or seed butter (I used a thick, creamy cashew)
1 TBS coconut oil, melted & cooled (use a butter infused coconut oil for added flavor)
1/4 tsp vanilla extract
1/4 cup gluten-free rolled oats
2 1/2 TBS gluten-free all-purpose flour* (I used Bob's Red Mill)
1/8 tsp baking soda
dash of salt
dash of cinnamon
1-2 TBS white chocolate chips (can sub for melted coconut butter)**
5 fresh raspberries***
Instructions
Preheat oven to 350F. Line a small baking sheet with a cut piece of parchment paper, set aside.
In a small bowl combine flaxseed + water, set aside for 3-5 minutes.
In a medium bowl add coconut sugar, nut or seed butter, and melted coconut oil. Whisk vigorously (yes, vigorously) until sugar is mostly dissolved, about 1 minute.
Add vanilla extract and flaxseed mixture and whisk again until combined.
Add rolled oats, flour, baking soda, a dash of salt and cinnamon. Use spoon or spatula to combine, then gently fold in fresh raspberries and chocolate chips. (I incorporated the raspberries in fully, but feel free to leave some whole if you'd like). Raspberries will make the dough rather sticky, but this is okay. Just shape the dough as best as you can, about the size of your palm, and place on lined baking sheet.
Bake cookie for 14-17 minutes, until edges are lightly browned. Allow cookie to cool on baking sheet for 5 minutes before enjoying.
Notes
*all-purpose flour or whole wheat white flour may be subbed if not gluten-free
** If you use coconut butter, don't add to mixture- simply drizzle on top of cookie
***Dried fruit may also be used in this recipe, about 2 TBS. If using dried fruit, reduce flour by ½ TBS. Dough will also not be as sticky. Continue to shape to about the size of your palm, slightly rounded and pressed. Dough will spread slightly while baking.
The Big Man's World ® https://thebigmansworld.com/
More delicious single serve cookies? Gotcha covered!
Healthy No Bake Giant Peanut Butter Cup Breakfast Cookies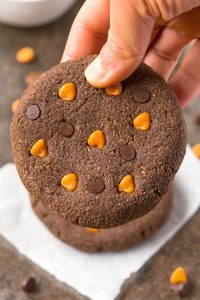 Healthy No Bake Giant Monster Cookie For One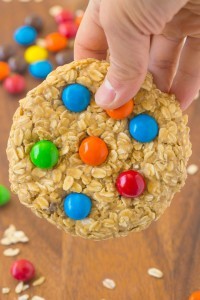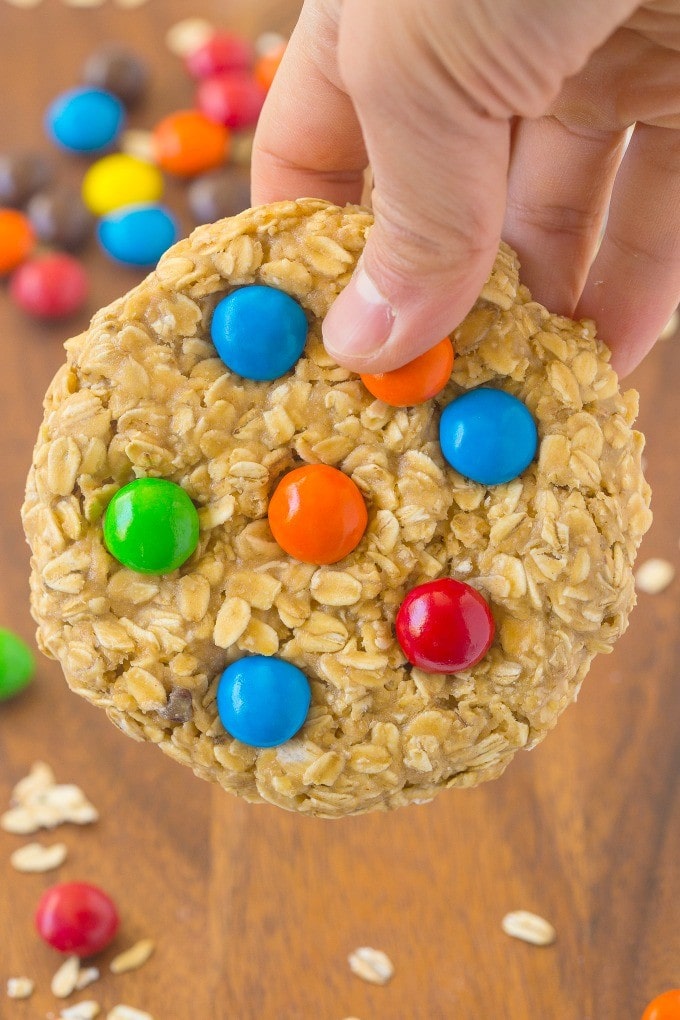 Healthy No Bake Giant Paleo Cookie For One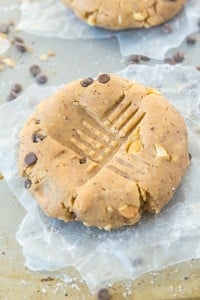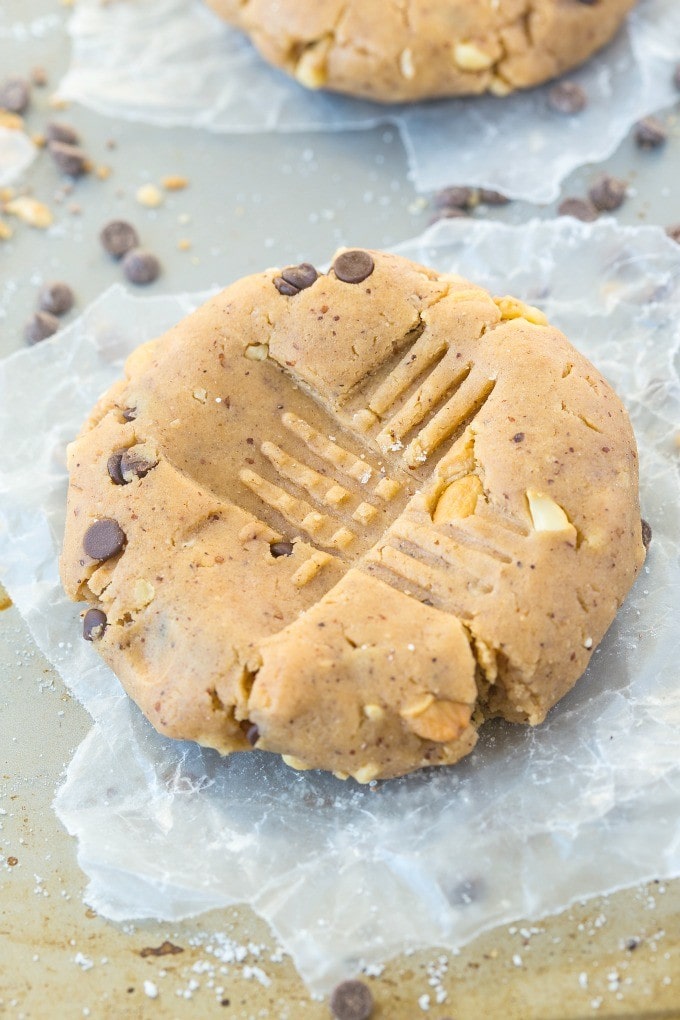 Don't forget to stop by Ashley's blog for delicious, healthy recipes. You can also connect with her onFacebook, Instagram, Pinterest and Twitter.
Food bloggers, any cray-cray food photography stories?
What is your favorite berry recipe?
Click here for all blog policies, disclaimers and affiliates.