This healthy sugar free rocky road is a quick and easy snack or dessert recipe which takes less than five minutes to whip up! Unlike traditional rocky road, it contains no marshmallows, sugar or butter but tastes incredible! Naturally gluten free and vegan and comes with a tested dairy free and paleo option!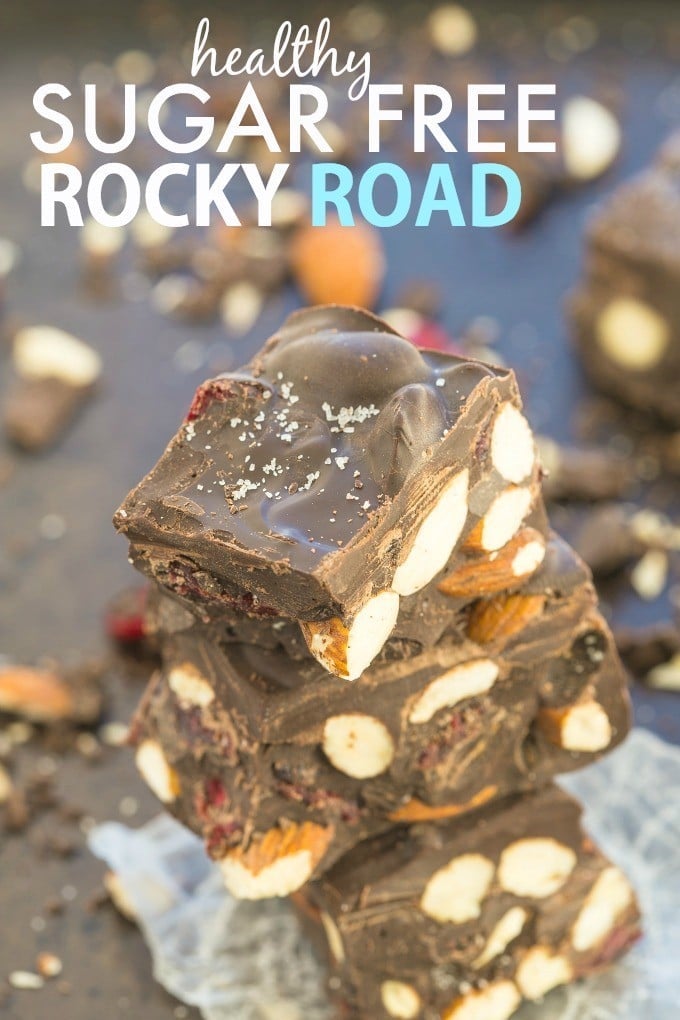 Let's talk about the time I asked Niki to buy rocky road ingredients.
Rocky road was ALWAYS the treat or dessert recipe we'd bring to family gatherings or to our friend's place whenever we had dessert duty OR we were lazy.
Honestly speaking, it was definitely the latter.
This one time, we had to go to our family friend's house for a bbq and we were given dessert duty. Mum was busy working all week so instead of her coming home and whipping up her infamous trifle (You guys, it's amazing. Go to Australia and get her to make it for you), we decided to be angelic kids and have it all sorted for her.
I bet she regrets it now.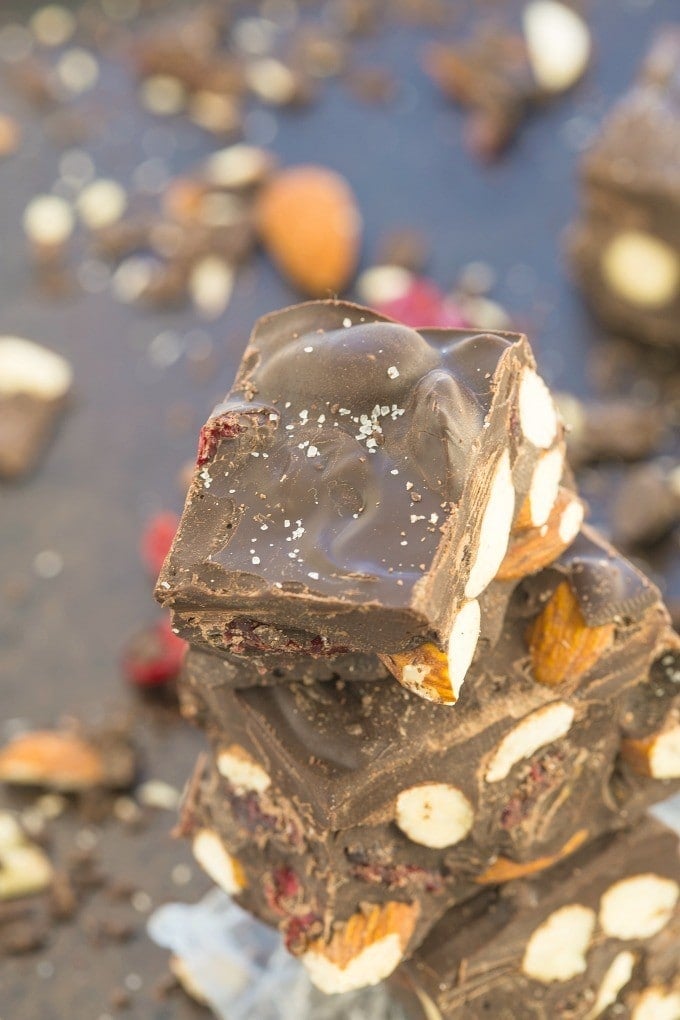 I was at university in the morning so didn't have a chance to hit the shops. I messaged Niki and asked her to pick up the basic ingredients for rocky road- Good quality dark chocolate, marshmallows and peanuts. I arrived home to Niki vegged out in front of the TV watching One Tree Hill AGAIN. I saw a plastic bag which the supermarket logo and was satisfied- She did the one task I asked her……until I looked in the bag.
"Niki…Why didn't you buy what I asked you to?"
"I did. Well, I bought better stuff."
"Niki, you bought a kit kat, chocolate covered raspberries and ferrero rochers. How is that anything I asked you?"
"Melt the kit kat, add the chocolate covered raspberries and crush up the ferrero rochers. They are pretty mixed nuts but in a chocolate ball form. Raspberries are pink like pink marshmallows."
….I seriously don't understand how her brain works sometimes.
It was too late for me to go back to the store and get the proper ingredients so I took my chance and melted the kit kat over the stove and added the chocolate raspberries and Ferrero rocher chocolates. I can confidently say that it tasted absolutely delicious.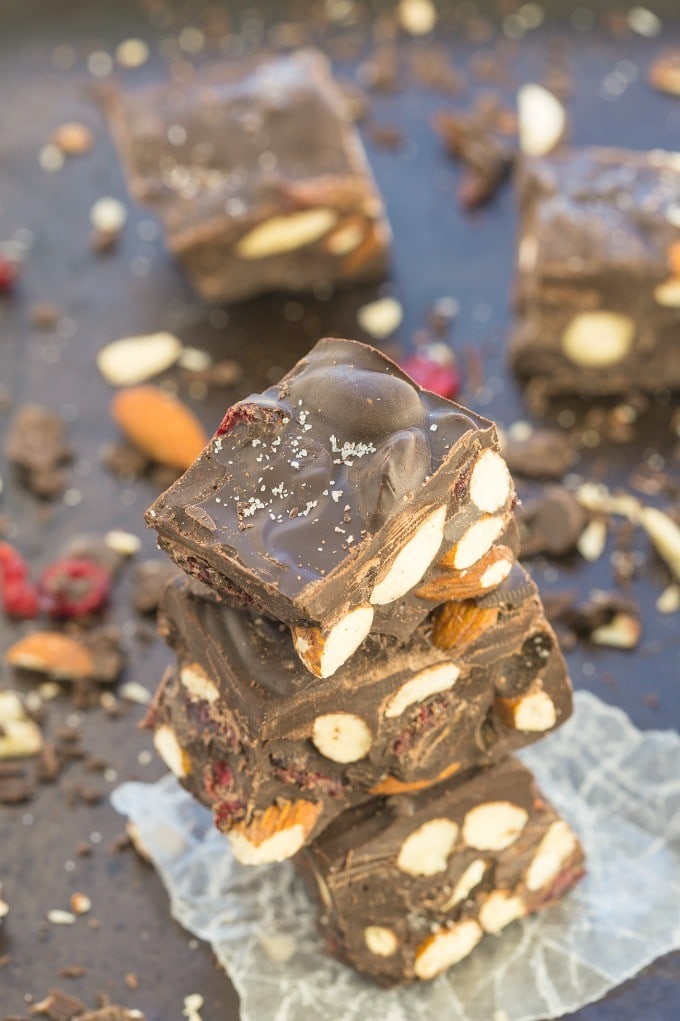 I can confidently say that it tasted absolutely delicious.
I can confidently say that it looked like Cinderella's stepsisters in saccharine form.
As expected, en route to the dinner party, we picked up a cake and Niki got the blame for the lack of homemade goods. However, we certainly did enjoy the faux rocky road so I guess there was some merit to all of it. To this day, I still don't understand her reasoning.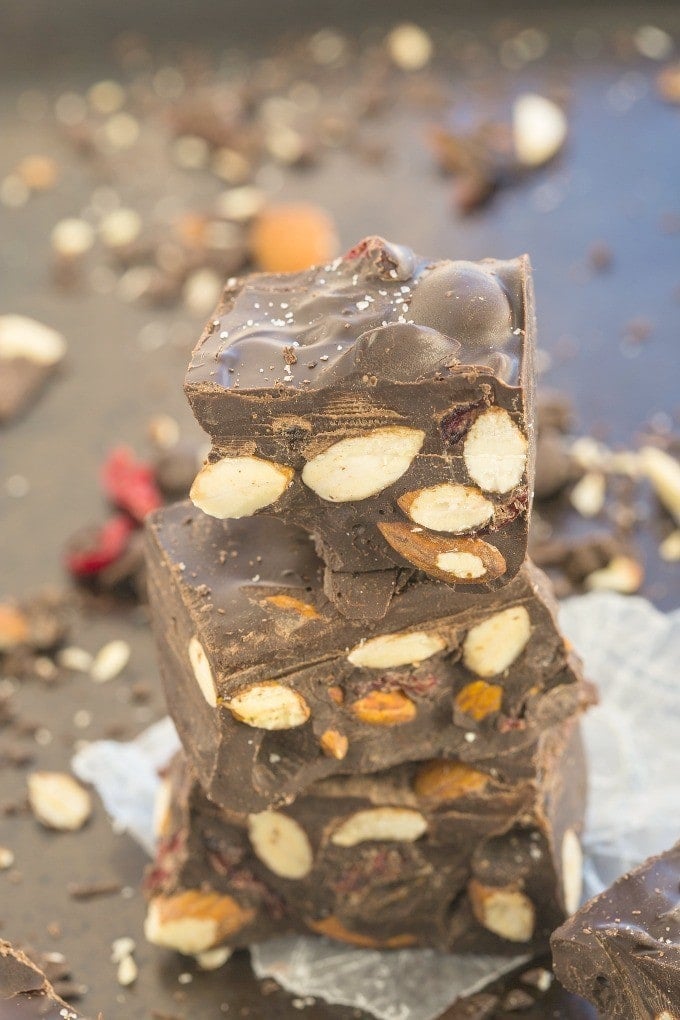 When my friends at Blue Diamond suggested a recipe idea to bring to potlucks or family gatherings, I remembered that particular event. While Niki's version of rocky road was certainly delicious, it wasn't a particularly good choice to enjoy on a consistent basis and let's face it- Was visual punishment to look at. I wanted to give
I wanted to give rocky road a healthy twist which could be brought to all festive events or to have on hand to snack on anytime- Enter- Healthy Sugar Free Rocky Road!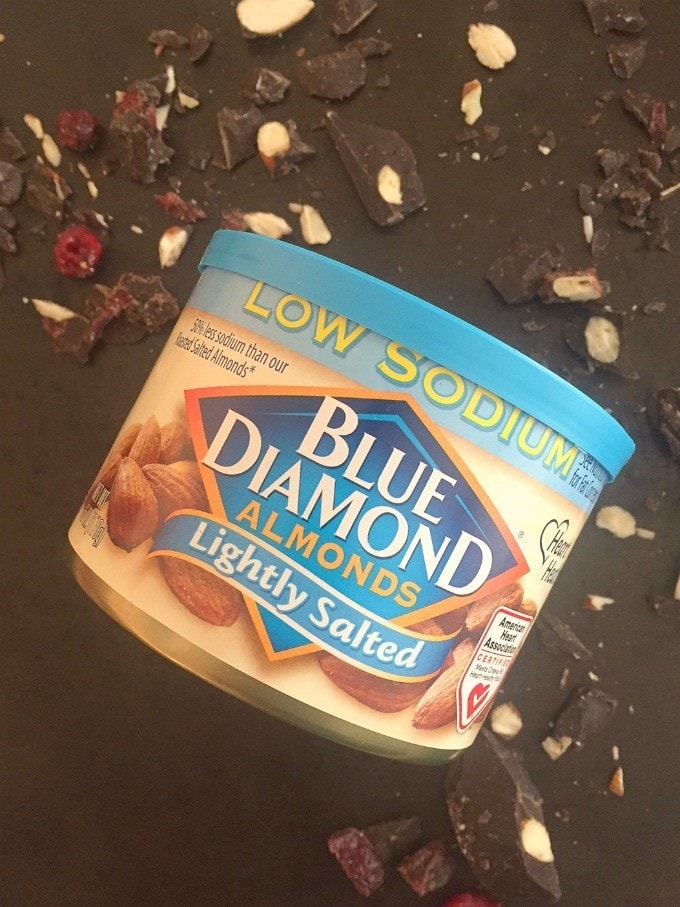 This healthy sugar free rocky road could not be any easier to whip up and will be a hit at your next gathering- You can't tell it's healthy! Unlike traditional rocky road, the base uses sugar free chocolate and doesn't contain marshmallows, butter or oil to form! I chose to add these Lightly salted Blue Diamond almonds (which paired SO well with the chocolate), along with unsweetened cranberries for some tang and color. Depending on which chocolate you choose, it's not only sugar-free, gluten free and vegan, but it can also be paleo and dairy free. This base can also be adapted to add other fun add-ins like other dried fruits, but not raisins.
NEVER RAISINS.
HACK! The original base uses this sugar free chocolate and while delicious, I wanted my paleo and dairy free friends to be in on this action too. As such, I made a version using these chocolate chunks which came out perfectly. This also works with this dark chocolate but note- It's VERY rich and not sweet at all- It would be perfect if your add-ins are on the sweeter side! Also, for some honey loving flavor, Blue Diamond's honey roasted version would be on point!
Make this healthy sugar free rocky road and be the king of your next gathering…unless you got Niki to do your ingredient shopping for you.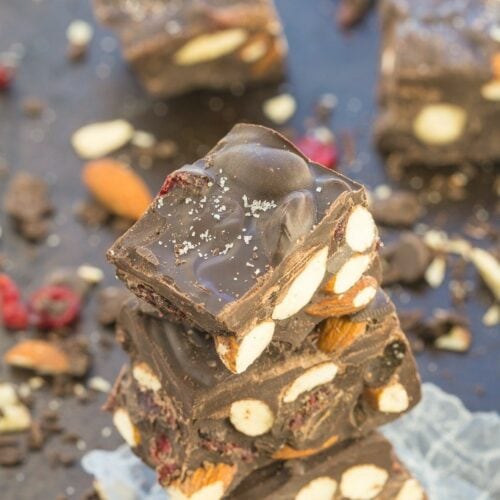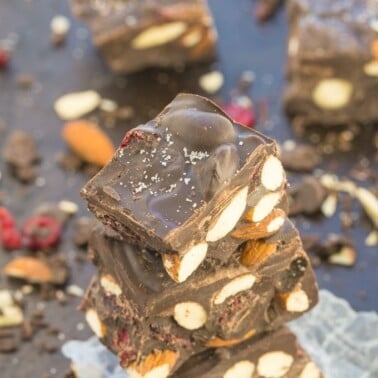 Healthy Sugar Free Rocky Road
This healthy sugar free rocky road is packed full of superfoods and takes less than 10 minutes preparation! Unlike traditional rocky road, this version contains no marshmallows, oil or white sugar but does not sacrifice on taste! It's naturally gluten free, vegan and comes with a tested paleo and dairy free option!
Ingredients
2

cups

chocolate chips/chunks

1/2

cup

Blue Diamond slightly salted almonds

1/4

cup

dried unsweetened cranberries

Can sub for any dried fruits

Sea salt

to top
Instructions
Coat a baking dish or cake pan lightly with cooking spray and set aside.

In a microwave safe bowl or stovetop, melt your chocolate completely or as directed.

While still warm, stir through the nuts and cranberries until fully combined. Pour the mixture into the greased baking dish or cake pan and refrigerate until firm.

Once firm, top with sea salt and using a slightly damp sharp knife, cut into rough chunks.
Notes
These can be kept at room temperature, but is fridge and freezer friendly too.
Blue Diamond almonds aren't just for snacking…Check out these other beauties featuring them!
Healthy Sugar Cookie Batter Oatmeal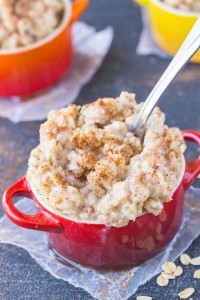 Healthy Sugar Free Stovetop Caramelized Almonds
Healthy No Bake Tiramisu Cookies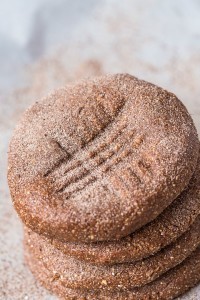 This post is sponsored by Blue Diamond Almonds. Cheers, hugs and handshakes for supporting companies and brands which allow me to do what I'm passionate about every day and make The Big Man's World possible.
Are you a fan of rocky road?
What is the most random sweet concoction you've ever come up with? Ice cream soup.
Disclosure: This post may contain affiliate links. I may earn a small commission for my endorsement, recommendation, testimonial, and/or link to any products or services from this website.