Baked not fried, the humble potato gets a delicious (and healthy!) makeover for a flavour lovers dream! Sweet, salty and a little bit of spice, these kettle corn baked potatoes are paleo, gluten free, vegan, dairy free and are the perfect side for your picnic and are even delicious grilled!

I professed my love for potatoes before.
I professed my love for potatoes by eating a kilo of them in a day.
I professed my love for potatoes by eating 7 kilos in 7 days.
I also recently professed my love for kettle corn by combining them in these no bake Kettle Corn Granola Bars.
After the wholeArman challenge, several readers asked whether I was sick of potatoes. That, my friends, would never happen. Potatoes are the one vegetable you will always find in my pantry. Similar to eggs, when there are less than 4 left, it may or may not result in borderline emergency status.
Australia prides itself on it's variety of 'white' potatoes it has available- I'm not choosy. As long as it's not sweet or not low carb potatoes (Seriously. Remember that post?) I'm a happy camper!
My go to method of potatoes at night is basic- coat them in garlic olive oil, salt and pepper and chuck in the oven. During food prep, I usually would make a cold version usually in the form of a salad like this one. However, it was time to try and embrace the sweet and salty flavour combination I love- and who says it can't be used with actual baked potatoes as opposed to potato chips or popcorn? I mentioned on Monday last week of a potato recipe I served up at brunch and here is numero uno!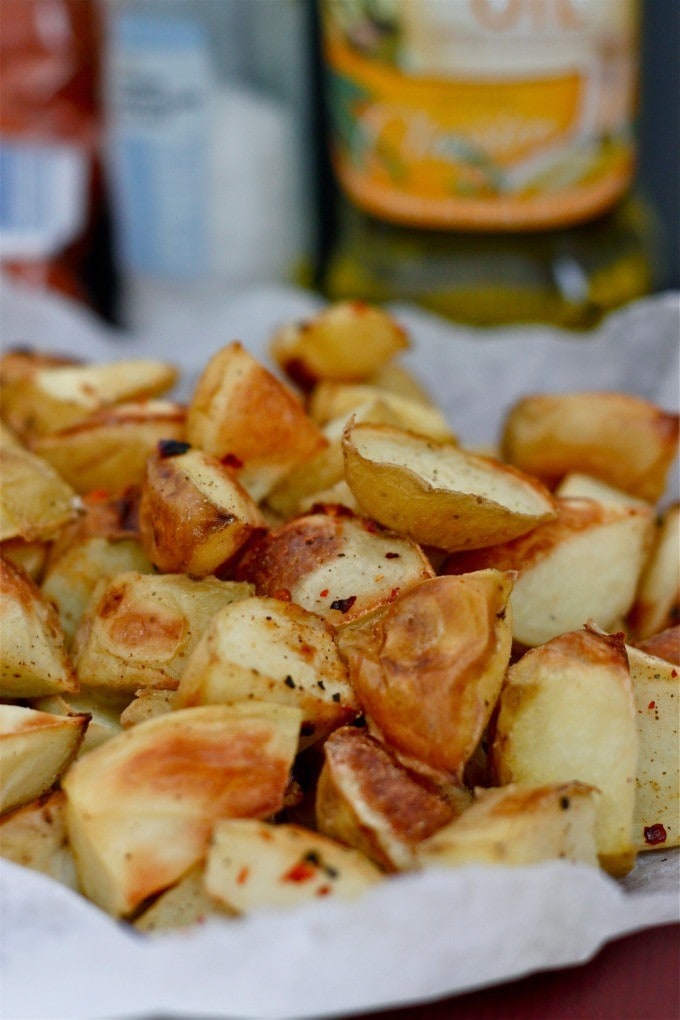 With a short ingredient list and barely any prep required- impress your friends like I did with the most delicious twist on the humble potato- I've had them for dinner, served them for breakfast with eggs and even found a way to merge the two- more on that to come! Do yourselves a favour and give your potatoes this makeover.
It's a party of the senses- sweet, salty, savoury, sexy.
Wait, what?
Gluten Free Kettle Corn Baked Potatoes
Share this recipe on Pinterest
Love this Kettle Corn Potatoes recipe?
Share it with the world on Pinterest.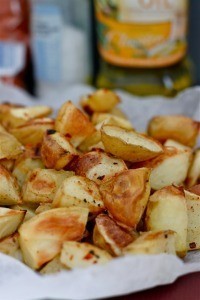 Kettle Corn Potatoes
A sweet and salty twist on the classic baked potato- add this delicious combination which pairs perfectly with all kinds of meals!
Ingredients
1

kg

potatoes

chopped into wedges

2

tablespoon

gluten free flour

separated (Sub coconut flour for paleo)*

¼

cup

coconut oil

separated

1

teaspoon

sea salt

1

teaspoon

smoked paprika

1

teaspoon

coconut palm sugar (

1

teaspoon

mixed herbs

optional
Instructions
Preheat the oven to 180 degrees Celsius. Cook the potatoes in the microwave or in a pot of boiling water until firm yet tender. Set aside.

Coat a large, deep baking pan with 2 tablespoons of the coconut oil and 1 tablespoon of the gluten free flour and rub pan to ensure it is evenly covered.

In a large bowl, add the potatoes with the remaining flour and oil and stir to combine. Add the salt, smoked paprika and sugar and rub into the potatoes until fully incorporated.Add the seasoned potatoes to the baking dish and roughly shake it up to cover evenly.

Bake in the oven for 40 minutes, turning halfway through. Serve immediately.
Notes
I used this particular gluten free flour blend because one of the flours in it lends itself to a sweeter flavour- thus reducing the amount of sugar needed.
For optimum crispy potatoes, serve potatoes the same day as baked. You can make them ahead of time, but ensure you reheat them in the oven.
Leftover potatoes work really well in this salad.
For a sweet potato version, check this out!
What is one food which you ALWAYS have in the pantry?
What is one food you ALWAYS have in the fridge?
Are you picky with your potatoes?
Disclosure: This post may contain affiliate links. I may earn a small commission for my endorsement, recommendation, testimonial, and/or link to any products or services from this website.