This healthy low carb sugar free Nutella breakfast pizza is the perfect protein-packed sweet breakfast, snack or dessert! This quick, easy and filling recipe is completely vegan, gluten free, sugar free, dairy free, paleo and grain free!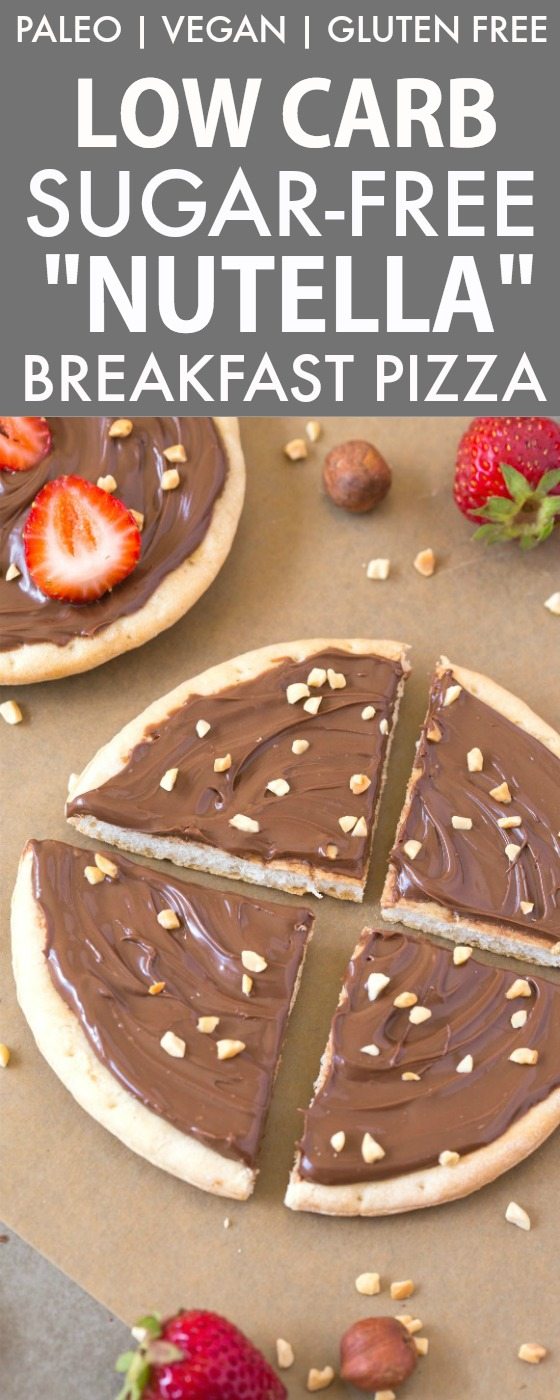 I'm sorry if this blog is slowly turning into an insight into life in Japan.
I thought it would be fun to share more bits and pieces of the conversations with my friend who is teaching in Japan, especially after Monday's post.
My friend teaches at two schools, one of them being an elementary school. She told me that the students there are eager to learn English and full of interesting and err…random questions.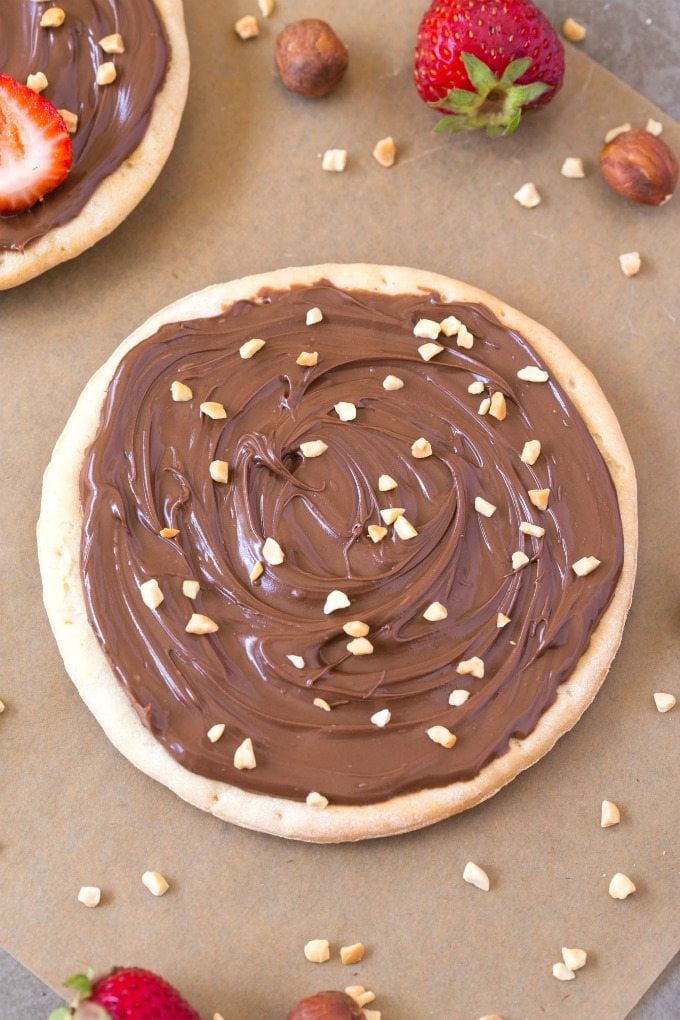 "What is your blood type?"
"Do you like sashimi?"
"Have you seen the cherry blossoms yet?"
"Do you like boing boing?"
….Do you like boing boing?
DO YOU LIKE BOING BOING?
PS- Want a video tutorial in how to make the pizza crust? Simply swap out the savory spices and you are on your way!
You guys, my friend and I spent a good 20 minutes going back and forth over what they could possibly mean by 'boing boing'. Our first thoughts were of an adult nature, but then we remembered these were FIVE-YEAR-OLDS. We came to no solidified conclusion and at the end, I forced her to ask her student what 'boing boing' was.
'Boing boing' was a bendy highlighter pen which went bounced when squeezed.
So that, my friends, is part of our continuous insight into life as an English teacher in Japan.
Boing.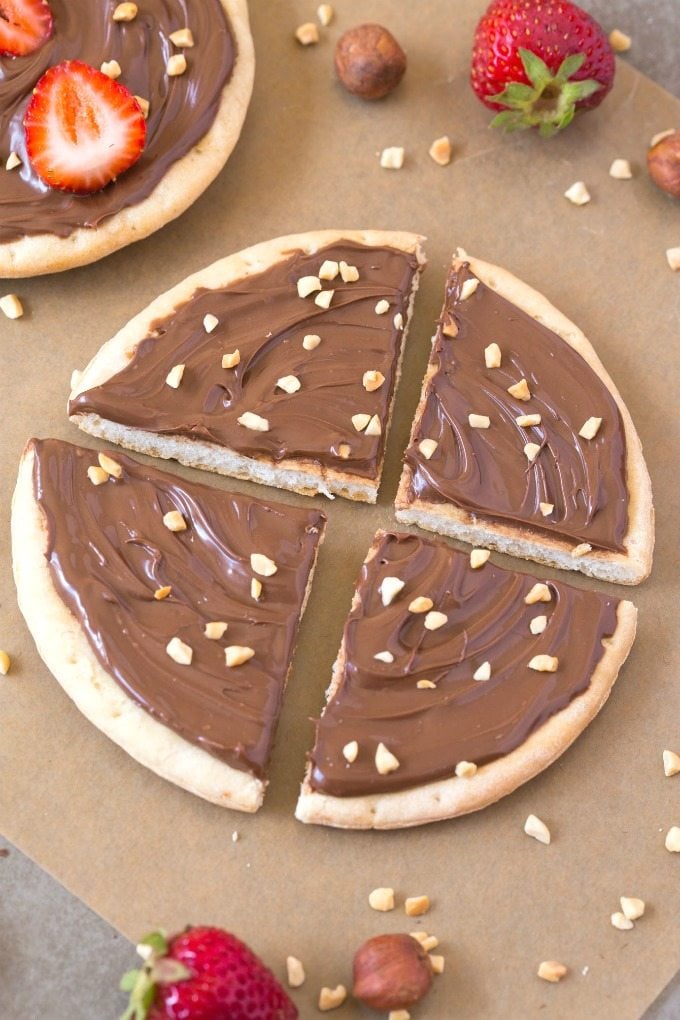 Before I decided to embark on the Whole 30 challenge, I went through a slight pizza phase. Granted, it was partly due to me sharing this recipe for low carb paleo pizza crusts. As I wanted to see how freezer friendly they were, I made a few.
A few meaning 15.
FIFTEEN.
By making fifteen pizza crusts meant I had to get a little creative with the toppings. The first few went the savory route, with eggs, cheese, and even plain basil pesto being the delicious victims. However, I got a little bit bored of that, and my sweet tooth was rearing it's polished whitened head. I soon started experimenting with a few different combinations and let's just say you have some delicious treats coming your way.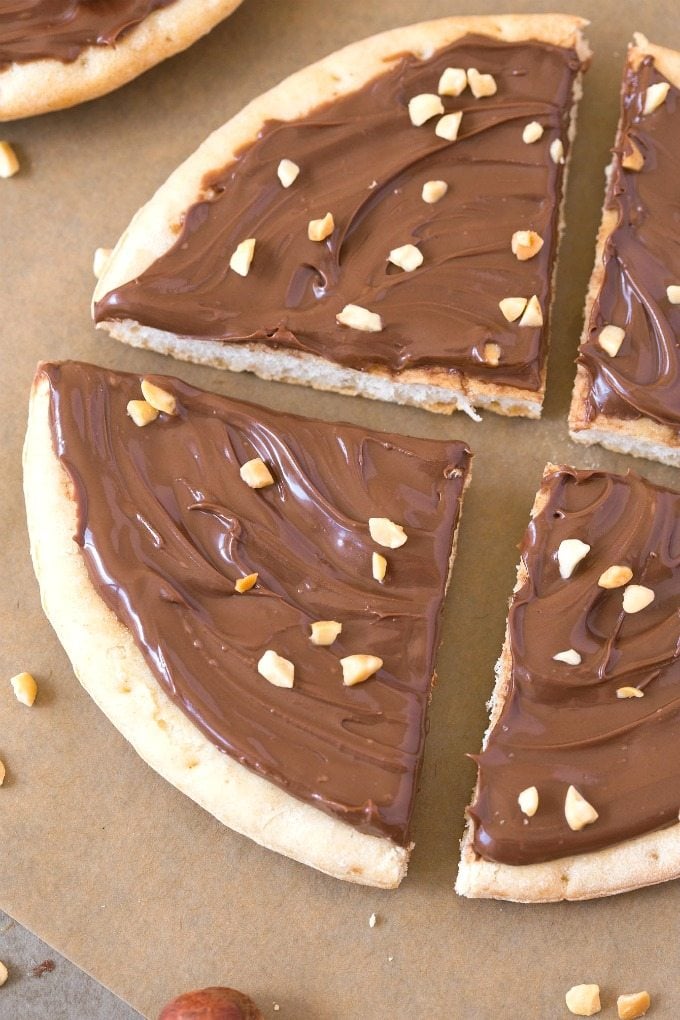 While I am a huge fan of pizzas, I have been converted to the sweeter side for breakfast. For 12 consecutive days, I had a sweet breakfast pizza and have narrowed down my favorite 3 to share- Starting with this delicious "Nutella" breakfast pizza!
This healthy low carb sugar free "Nutella" breakfast pizza is your guilt-free and protein packed breakfast, dessert or snack! It's a low carb pizza base topped with a creamy, chocolate-spiked spread and with some crushed hazelnuts for good measure! If you want to be a little bit fancy, you can also add some fresh, sliced berries too (which would be perfect for Valentine's day….or my self-imposed #foreveralone day). The crust is thin, chewy and pretty much used only as a vehicle for the topping! If you are more of a crust person, feel free to use an actual pizza crust of your choice. Because of the ingredients used, these healthy breakfast pizzas are completely paleo, grain free, gluten free, dairy free, sugar free and vegan!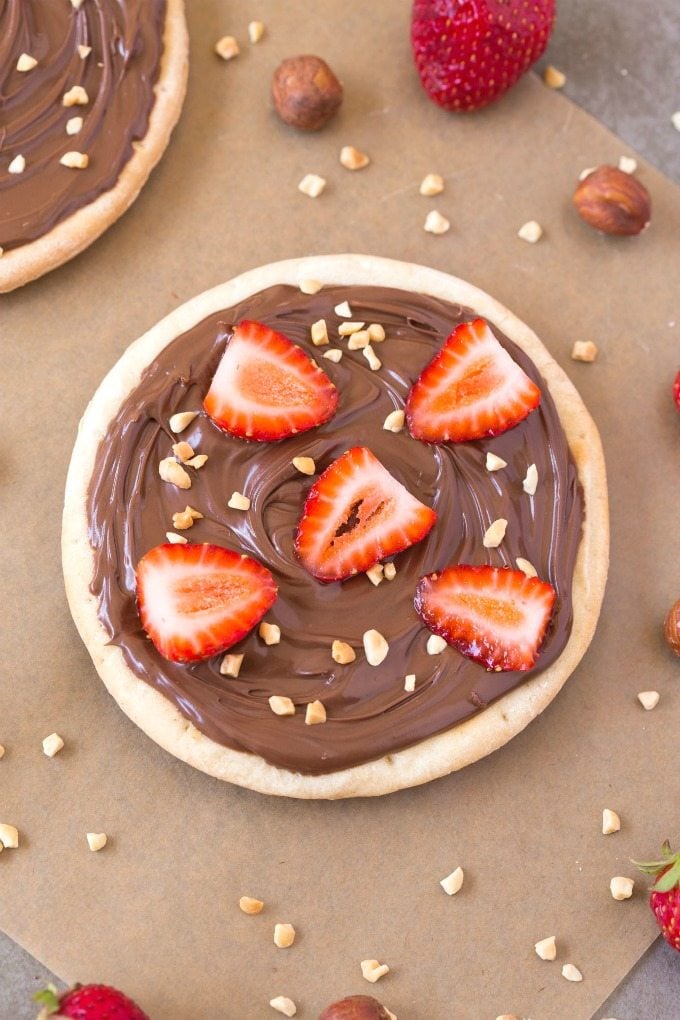 The best part about these pizzas? YOU DON'T NEED AN OVEN FOR THEM! All you need to do is whip it up stovetop and then top and voila! If you want a slightly crisper crust, you are more than welcome to grill it for several minutes!
Let's quickly chat the pizza crust! I've included two options here, as I don't want my vegan friends to miss out! Both can be made stovetop and are quick, easy and the perfect vehicle for the "Nutella" topping! The original 3 Ingredient Paleo Pizza Crust recipe or the two ingredient flourless flatbread recipe! If you'd like a visual aid, you can see exactly how the low carb paleo pizza crust is made here. For the flatbread, this is how it is made here.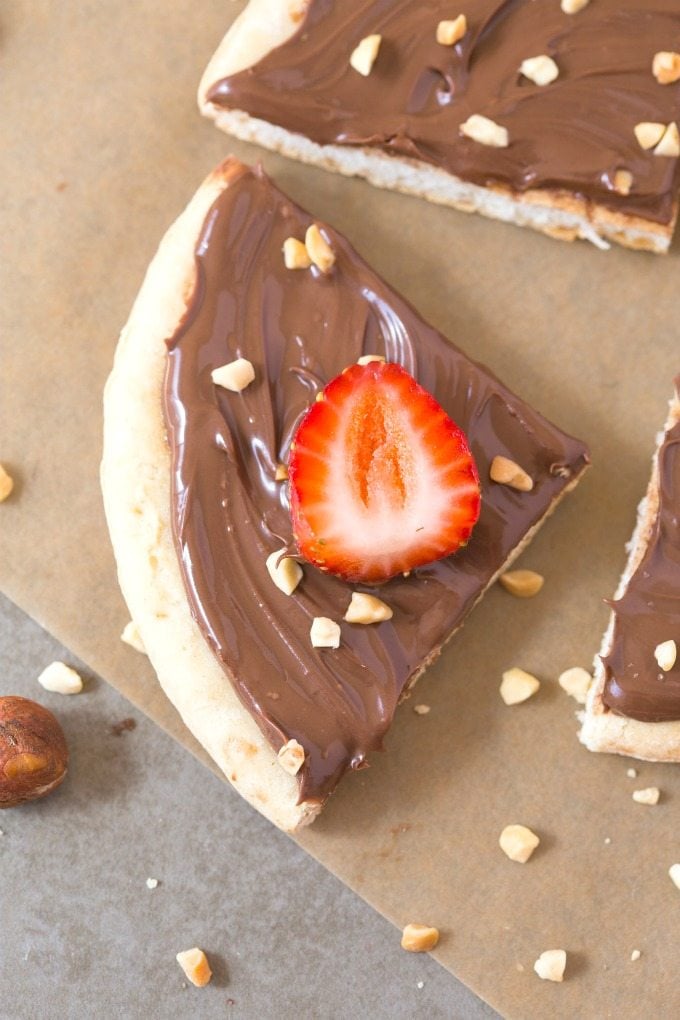 Let's quickly chat the "Nutella" topping here! I've mentioned on here several times, but I'll reiterate it! I use 1 cup of dry roasted hazelnuts, two tablespoons or so of cocoa powder and a tablespoon of coconut oil. If I'm going for a sweet "Nutella", I'd around 1/2 cup or so of a granulated sweetener (coconut palm sugar or monk fruit sweetener are great). If I'm strictly after a chocolate/hazelnut butter, I will sometimes leave it out completely. For those wanting a tried and tested recipe, I love this one which tastes almost like the original.
HACK! For my protein loving friends (and to keep it even lower carb), you can use a protein frosting which involves a scoop of chocolate protein powder (this vegan one, this paleo one and this casein protein are my recommendations) and add a tablespoon or two of the above "Nutella" and some milk of choice to thin out!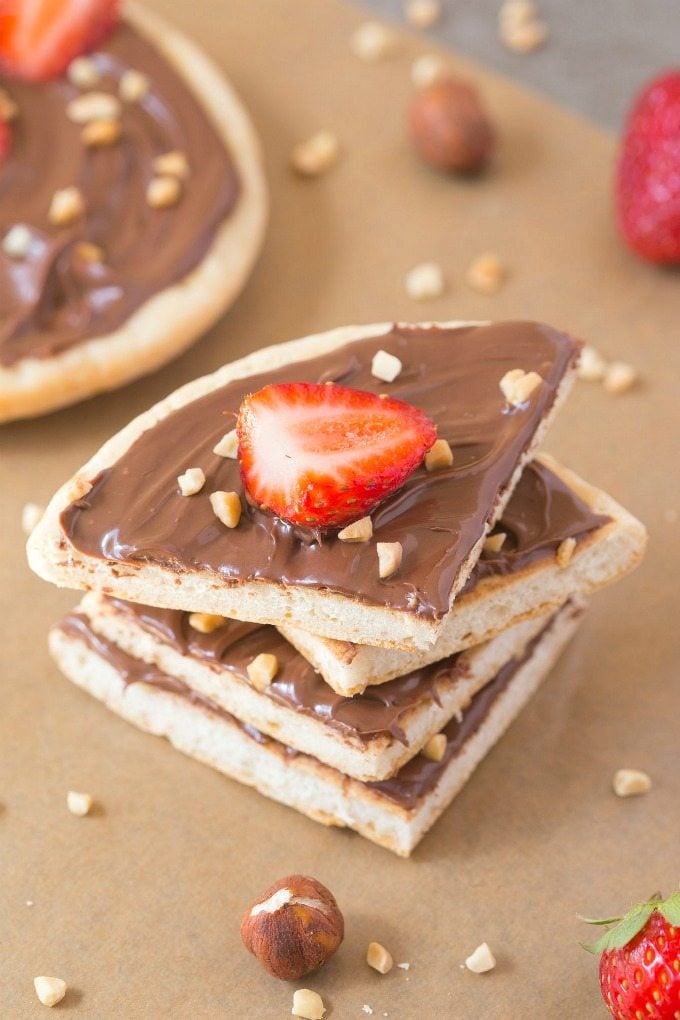 Make this healthy low carb sugar free "Nutella" Breakfast pizza and go boing boing over the goodness of this.
ZING.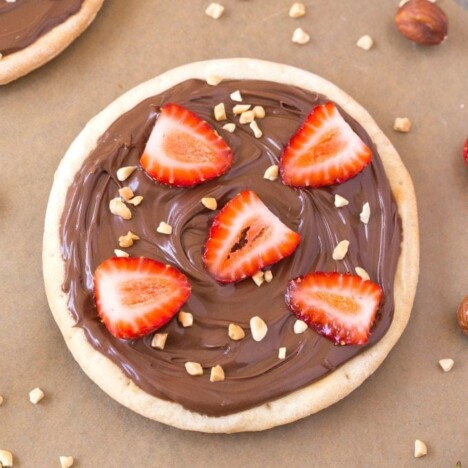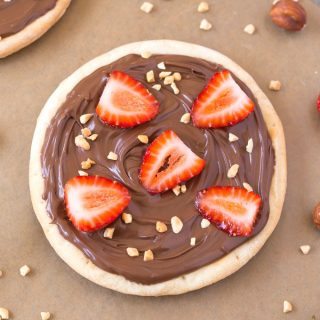 Healthy Low Carb Sugar Free "Nutella" Pizzas
This healthy low carb sugar free Nutella breakfast pizza is the perfect protein-packed sweet breakfast, snack or dessert! This quick, easy and filling recipe is completely vegan, gluten free, sugar free, dairy free, paleo and grain free!
Instructions
If you'd like a crispy pizza crust, lightly pan grill or oven bake your pizza base until desired texture.

Spread "Nutella" on pizza crust and top with crushed hazelnuts and if desired, berries of choice. Slice and enjoy immediately
Nutrition
Serving:
1
serving
Calories:
65
kcal
Carbohydrates:
2
g
Protein:
3
g
Fat:
7
g
Sodium:
5
mg
Potassium:
60
mg
Fiber:
1
g
Calcium:
32
mg
Iron:
1
mg
NET CARBS:
1
g
More delicious recipes using homemade sugar-free "Nutella"? Gotcha covered!
3 Ingredient Sugar-Free Nutella Fudge
Healthy No Bake Paleo "Nutella" Cookie Dough Breakfast Bites
"Nutella" Breakfast Cookie Dough

Disclosure: This post may contain affiliate links. I may earn a small commission for my endorsement, recommendation, testimonial, and/or link to any products or services from this website.