No Bake Peanut Butter Truffles
Happy Friday everyone! I'm assuming for many of you, it's been a short working week- I'm certainly not complaining!
The holiday season is without a doubt one of the busiest times regarding seeing friends for multiple get togethers, brunches and meals. This year, I had several 'potluck' style shenanigans and was always assigned to bring the sweet treats….not sure why. As most of these get togethers were done for brunch or lunch, I didn't want to bring something overly heavy or filling- something rich and satisfying to be the sweet ending to the meal.
I opted to make bite sized truffles, with a variety of coatings to the already delicious truffle base. The beauty of these truffles is that you can change up the coating to various combinations. I stuck to three varieties based on what I had on hand- a Nutella coating, a white chocolate and macadamia coating and a coconut flake coating. For those who don't want to coat them- No stress- these truffles taste amazing on their own. Refer to this post for proof. Thank you Laura and Kierston for your weekly recipe appreciation hostings! Be sure to stop by to check out some mouthwatering creations!
Festive Truffles (Loosely adapted from Coles Magazine, December 13′)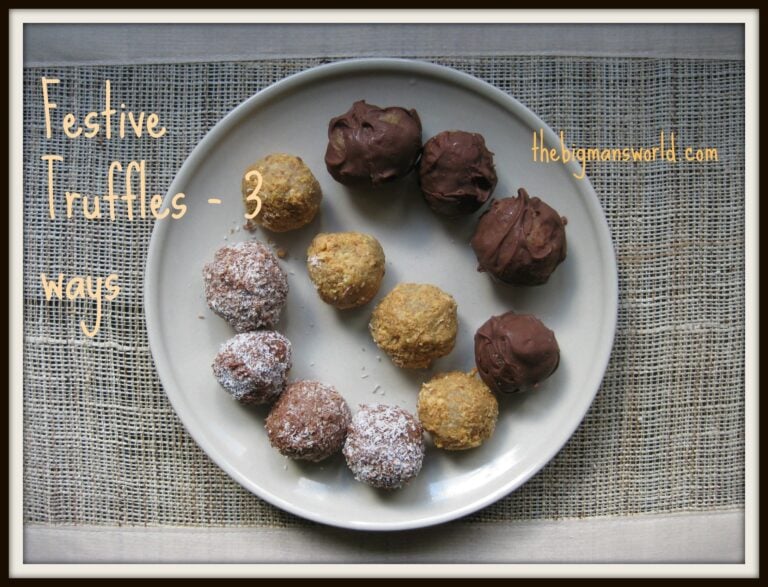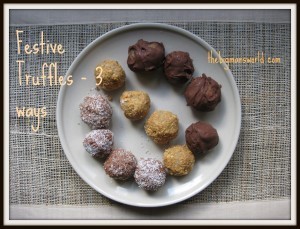 Basic Truffle Base

125 grams whole grain high fiber cereal of choice, crushed finely (I used

weet-bix honey bites

)
1 can [400 grams] of coconut cream (NOT cream of coconut)*
3/4 cup nut butter of choice (I've used both peanut and almond butters)
1 T coconut oil
1/4 tsp sea salt
2 tsp liquid stevia (Optional- If you don't use a sweet coating)
In a medium saucepan, add the coconut cream, nut butter and coconut oil. Heat on low until melted and just beginning to bubble. Remove from heat and stir in the crushed cereal of choice, sea salt and liquid stevia. Mix until fully incorporated
Line a 9 x 9 inch tin with baking paper. Pour the truffle mixture into it and spread evenly. Refrigerate until firm (Approximately 2 hours).
Using a tablespoon, scoop up mixture and roll into equal sized balls and set aside- Either keep as they or continue on if you want to add a delicious coating
Using a metal skewer, dip each of the truffles into one of the coating mixtures below.
Chill on a plate for at least an hour.
Note- If you don't have access to coconut cream, this can be replaced with condensed milk- however I would recommend you do NOT coat them with anything sweetened if you choose to follow this variation. These truffles should be stored in the fridge for up to 2 weeks or even frozen in batches. However, that wouldn't be a possibility, as they won't last that long.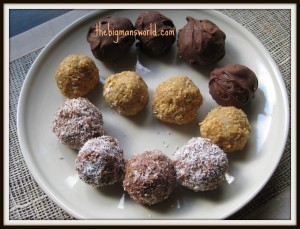 Nutella coating-
1/4 cup Nutella/Chocolate Hazelnut spread
120 grams dark cooking chocolate
Melt Nutella and cooking chocolate either in the microwave or over the stovetop.
White chocolate and macadamia crumble coating-
120 grams white cooking chocolate
1/2 cup crumbled macadamia nuts/nuts of choice
Melt the white cooking chocolate either in the microwave or over the stovetop. Place the crumbled nuts in a shallow dish. Once truffles have been covered in chocolate, roll them in the crushed nuts.
Coconut coating-
120 grams dark cooking chocolate
1/2 cup + shredded, unsweetened coconut
Melt the dark cooking chocolate either in the microwave or over the stovetop Place the shredded coconut in a shallow dish. Once truffles have been covered in chocolate, roll them in the shredded coconut.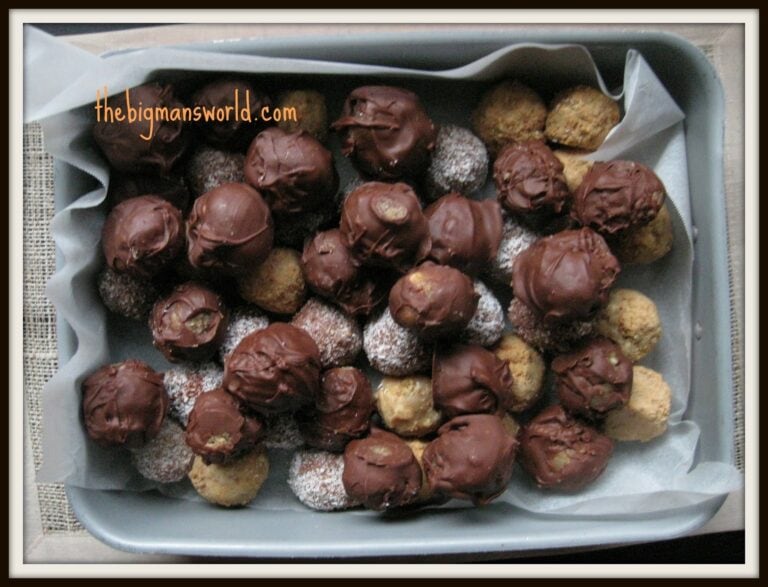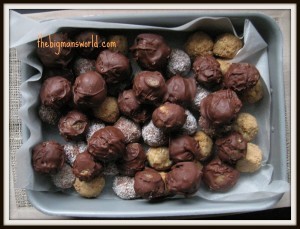 Hope you all have a great weekend- Hope to see you guys pop by Sunday for this week's round of 'Spill it, Sundays'- where you can highlight 5 (or any number, really!) of the most shocking or random things you either came across- it can be to you, on TV, in the media, ANYTHING! (But seriously- The breakup of Khloe and Lamar DOES. NOT. COUNT.).
What are your plans for this weekend?
Are you known amongst your friends/family for sweet or savoury?
Are you a fan of desserts at non traditional times?