These easy, baked Apple Pie bars taste exactly like the comforting dessert minus all the guilt! Paleo, Gluten Free, Vegan and refined sugar free- These bars are the perfect snack between meals!

Oh Jetlag. How I hate thee. I'm back on home soil and running on little sleep and two haagen daaz ice creams (the flight attendant found me charming and gave me an extra).
Something I love doing when travelling, is without a doubt checking out what unique foods are in different countries or cities- especially when it comes to snack foods.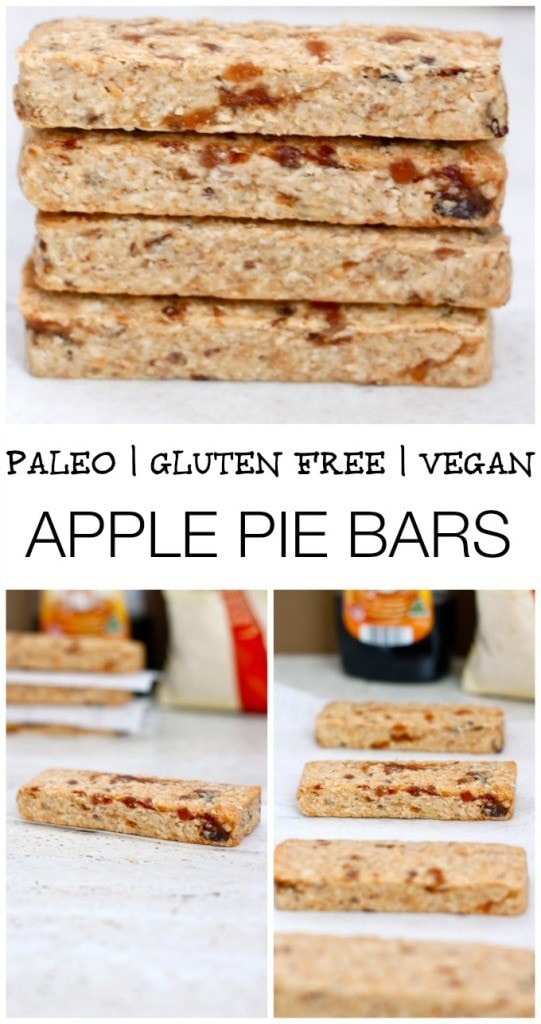 Even though it's only been less than 2 years since my last trip over to America, I was shocked with how many new products had hit the shelves- and even rebranding of older products to keep with current trends.
The biggest eye opener for me was seeing how many paleo snack options were available! I remember during my wholeArman challenge, hard boiled eggs, jerky and more eggs were my go to choices. These days- you could have a multitude of snack bars, granola less granola (is that the right name?) and even an abundance of baked goods!
It's amazing to see this variety- and something I truly hope Australia jumps on soon. Not just to Paleo snacks- but for diet lifestyle, including raw or vegan.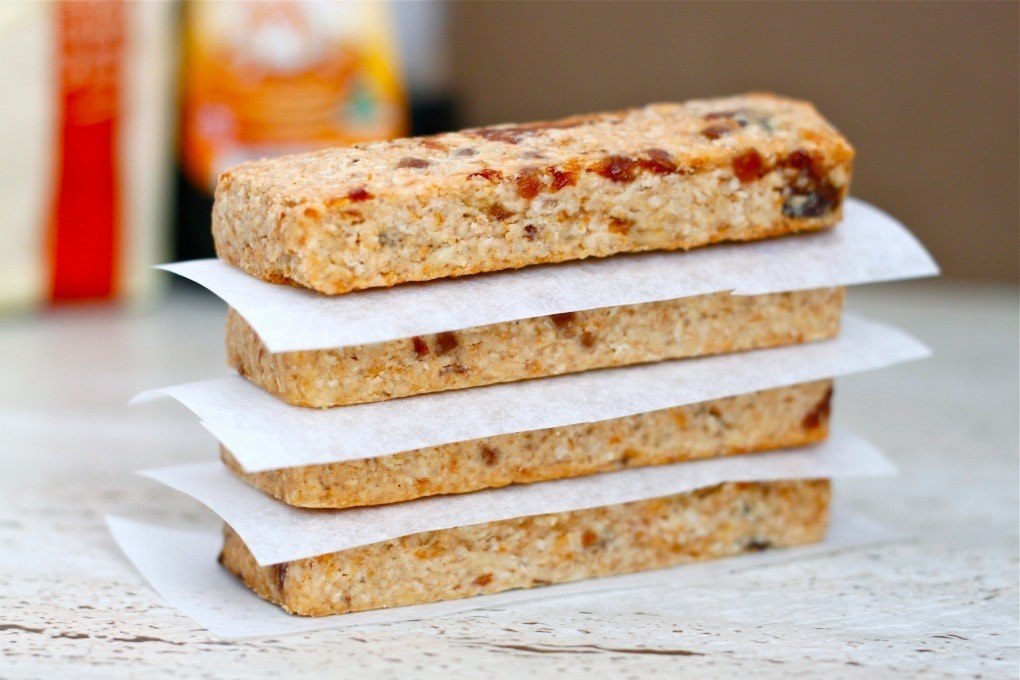 Ironically, during Niki's paleo challenge which she (un)gracefully failed, I had two recipes made for her which never made it on the blog. After my recent jaunt up north, it inspired me to share it.
The first is a baked snack bar which after many failed attempts (trying to perfect the right amount of ground nuts to syrup) and many crumbled bars (I went through 4 tubs of Chobani 2% Yogurt with the broken bars as a topping), I finally nailed it.
I made a batch to bring to work and none of my colleagues or friends are remotely Paleo, yet they all thought it was delicious and 'not healthy tasting'. (I seem to have that stigma attached to me).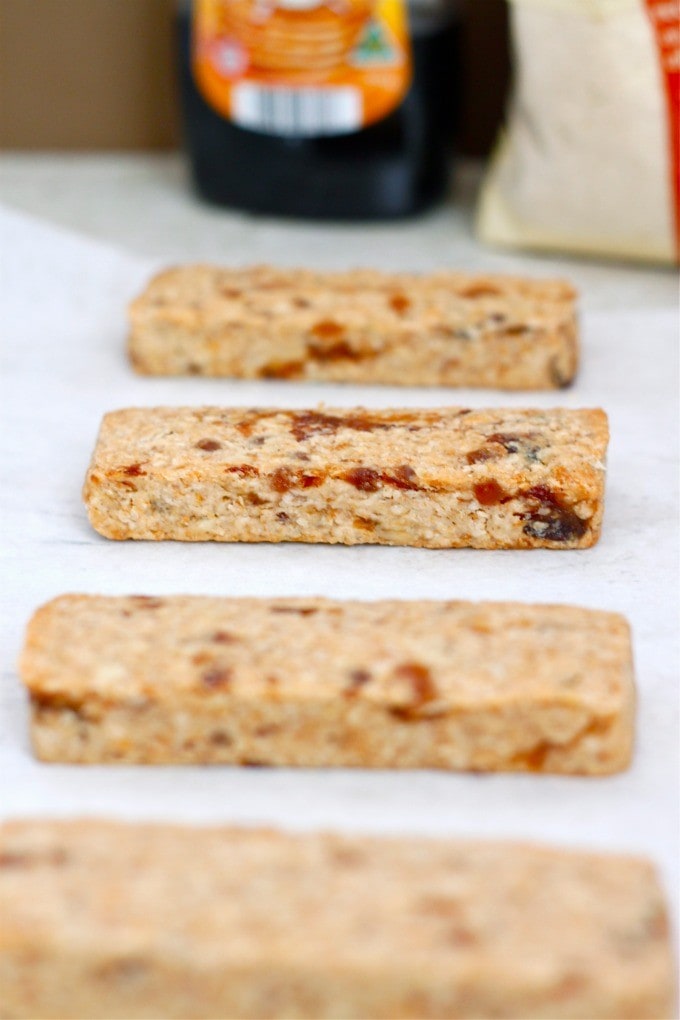 These bars are delicious and smell amazing straight from the oven- a cross between an apple pie and a pannetone (this cake my Italian friend would gift me EVERY. CHRISTMAS). I went a couple of days eating two or three of them for breakfast with a coffee and they revved me for the day- full of warming spices and the perfect amount of sweetness without giving you a sugar rush- it's perfection.
And in full disclosure here- because we all know blogger authenticity is key here– Only four of my bars turned our puuuuurty. The other four….not so much.
Remind me to ask mother dearest for some new kitchenware come Christmas.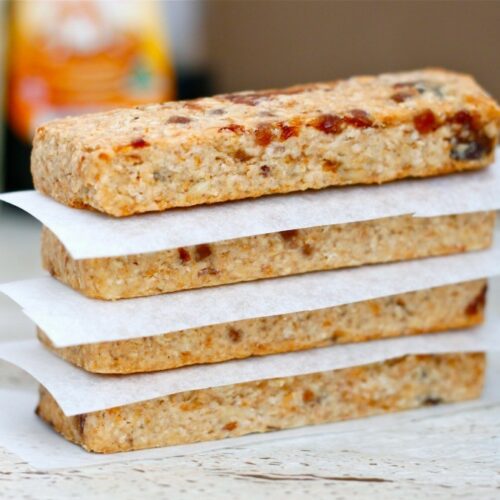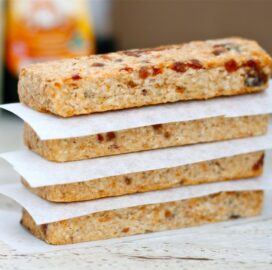 Paleo Apple Pie Bars
A delicious, baked bar perfect for breakfast which fits a paleo, gluten free or grain free lifestyle!
Print
Rate
Ingredients
1/2

cup

cashew flour*

1/2

cup

cashews*

1/2

cup

pepitas

1/2

cup

shredded coconut

1

tablespoon

flaxmeal

ground flaxseeds

1/2

teaspoon

salt

1

tablespoon

cinnamon

1

tablespoon

nutmeg

1/2

teaspoon

cardamom

1/2

cup

maple syrup

3/4

cup

cashew butter*

1

tablespoon

coconut oil

1

large egg

lightly whisked*

1/2

cup

dried unsweetened apples
Instructions
Preheat the oven to 180 degrees Celsius and line and grease a large baking tray with coconut oil generously

In a blender or food processor, combine the cashew flour, walnuts, pepitas, shredded coconut, flaxmeal, cinnamon, nutmeg and cardamom and blend until a course powder is formed. Set aside.

In a microwave safe dish, combine the maple syrup, cashew butter and coconut oil and heat for 1-2 minutes, or until completely melted.

In a large mixing bowl, combine the ground up nuts/flour and add the egg and mix well. Add the liquid mixture and ensure it is fully incorporated. Pour into the greased baking pan and press firmly to ensure an even layer is formed. Bake in the oven for 15-20 minutes, or until lightly golden on top.

Remove from the oven and allow to cool completely in the pan. Once cooled, remove and cut into even sized bars.
Notes
The cashew butter is preferred over almond, as it's mild flavour really brings out the apple pie flavour.
Cashew flour, butter and nuts can all be replaced with almonds or another nut.
For a vegan version, omit the egg and substitute it for an extra T of flaxmeal.
These bars can be left in an airtight container for up to a week or frozen for later snacking (my preferred method)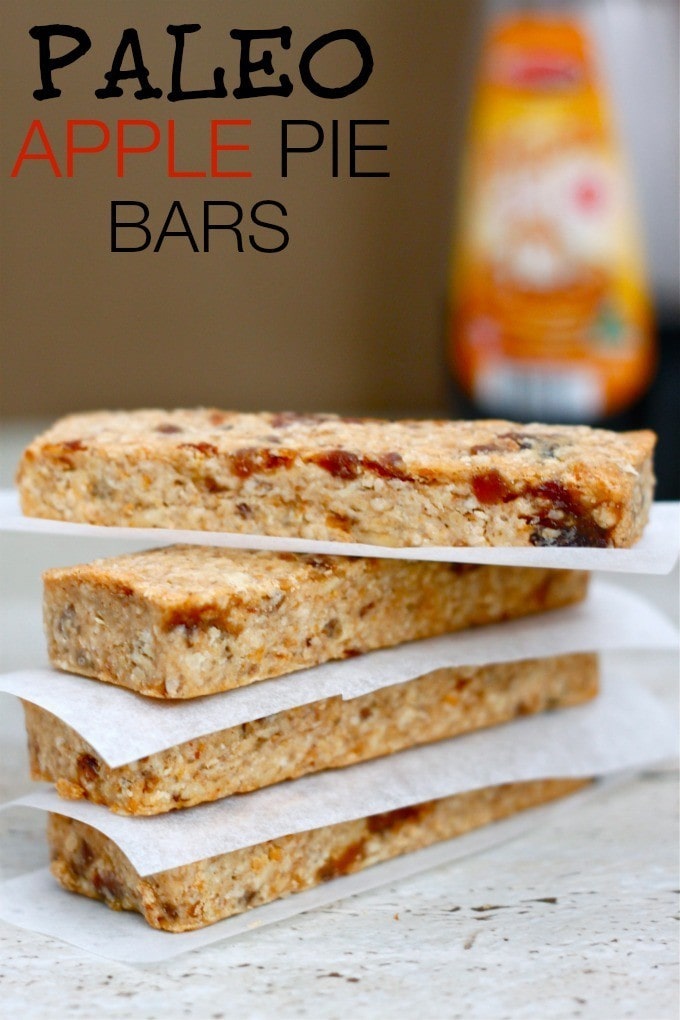 Speaking of snack bars, swing by Friday for some of my travel snacks (which could fit many diet lifestyles!).
Have you noticed snacks trending with current dietary choices?
Have you ever eaten or been gifted the infamous Pannatone?