Paleo Chicken and Mushroom Pilaf
A low carb and paleo version of a traditional chicken and mushroom pilaf based off cauliflower rice. High in protein, one pot needed and super simple to whip up! Naturally gluten and grain free.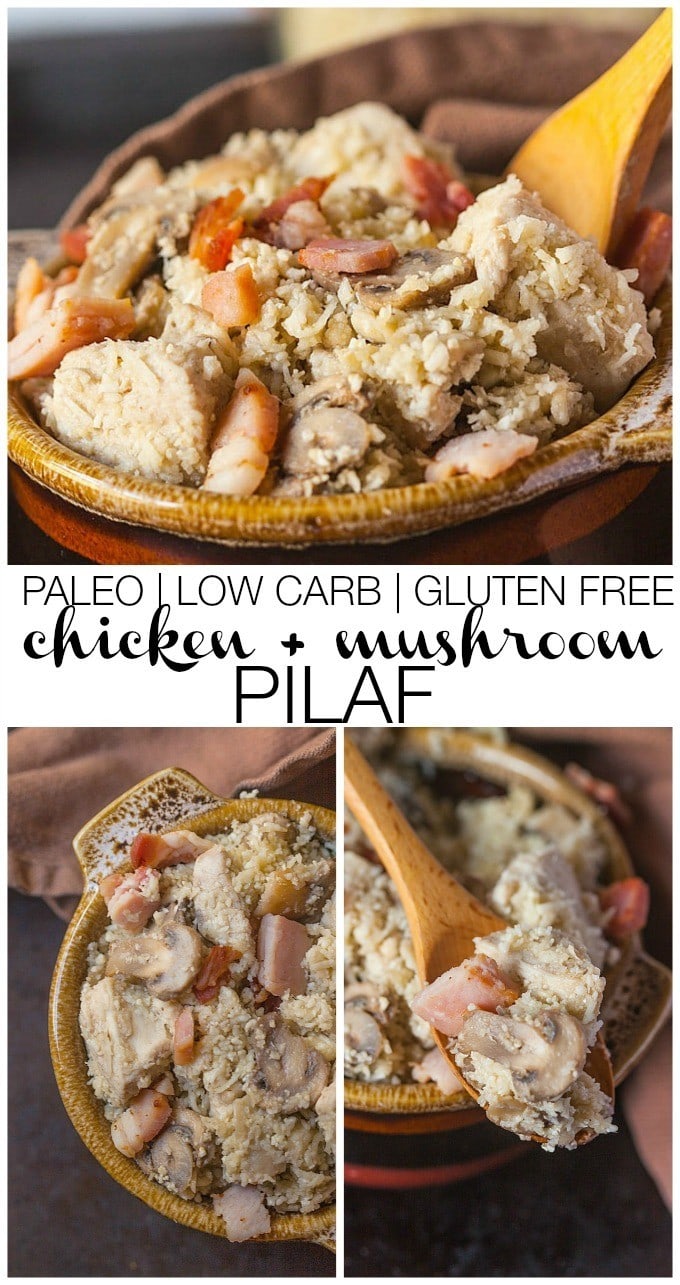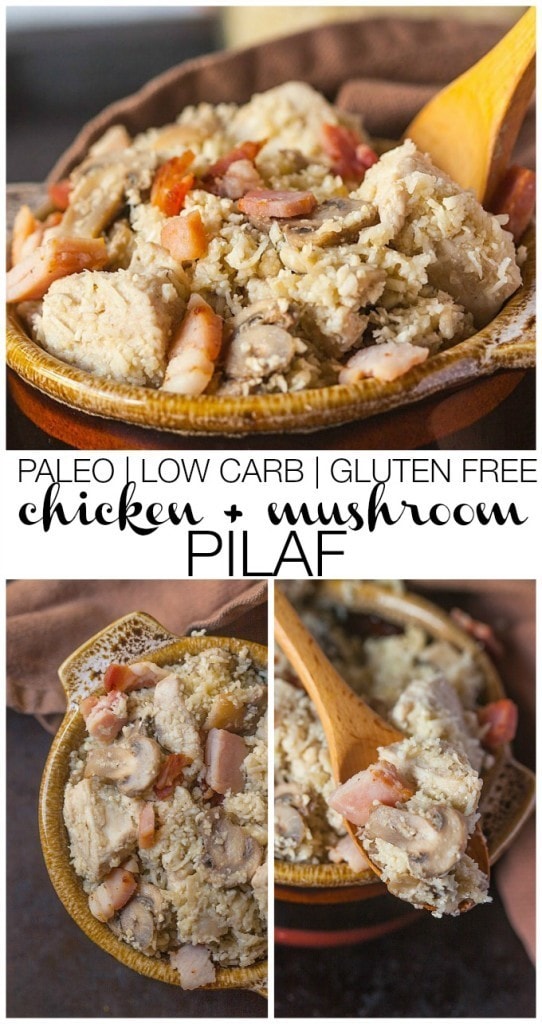 'Cauliflower rice tastes EXACTLY like white rice. I couldn't tell the difference.'
This is a phrase I've read many times on multiple blogs sharing recipes for cauliflower rice. I'm not one to proclaim false advertising in my recipes or my content on here so telling you that would be dishonest. It doesn't taste 'exactly like white rice.' I also could most definitely tell the difference. (Ignoring the fact that I made the dish).
Saying that, cauliflower rice does provide a similar 'bulk' to rice and one up on it- It absorbs flavour so much better than rice does. For those watching their carbohydrate or calorie intake, it's a very smart swap. When I first intended on going Paleo for a month, developing a simple (delicious) recipe around cauliflower rice was something I had intended to do.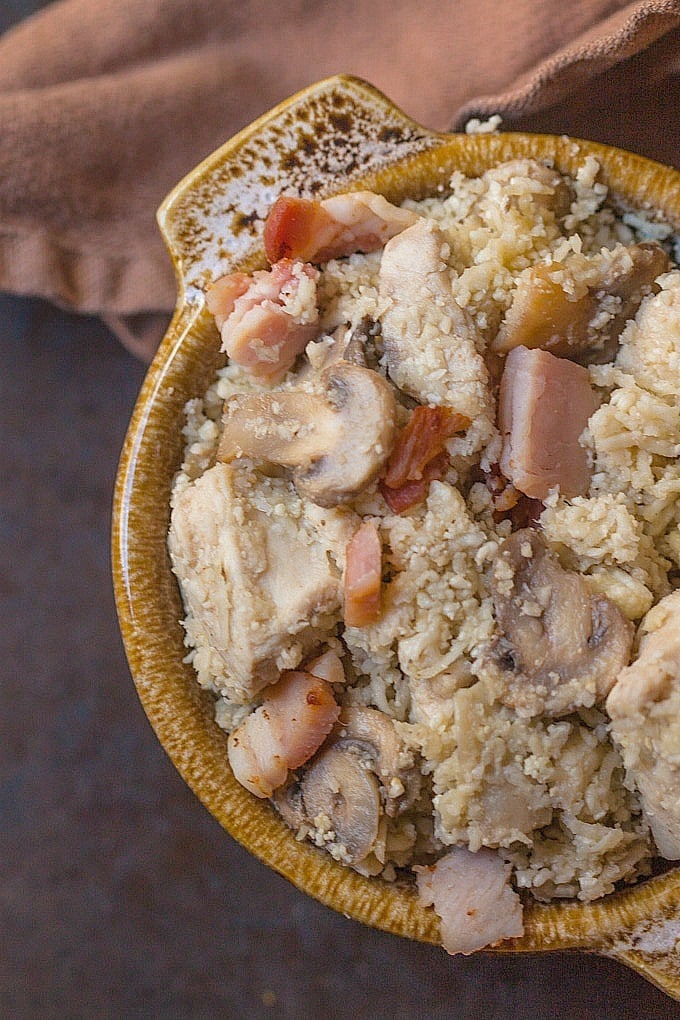 Growing up from a hybrid Chinese/Persian background, rice was central to 95% of all meals. The other 5% was bread, eating out (which probably contained rice) or maybe we were sick and had no appetite. My mum being a talented cook in the kitchen, would have a variety of rice based dishes on hand. Persian style dishes incorporated many spices, flavours and a combination of the sweet and savoury. The Chinese style was more laid back and used more simple ingredients and one or two strong sauces to add flavour.
Ironically, one of my favourite rice dishes came from neither cultures- A chicken and mushroom pilaf. Chicken and mushrooms are one of my all time favourite combinations for a pasta or risotto based dish, especially if there is a delicious, creamy sauce to accompany it. This, however, was only eaten on the rare occasion I would dine out in an Italian restaurant. At home, we'd have something similar but use basmati rice instead of arborio rice and add an Asian based sauce instead of a creamy one.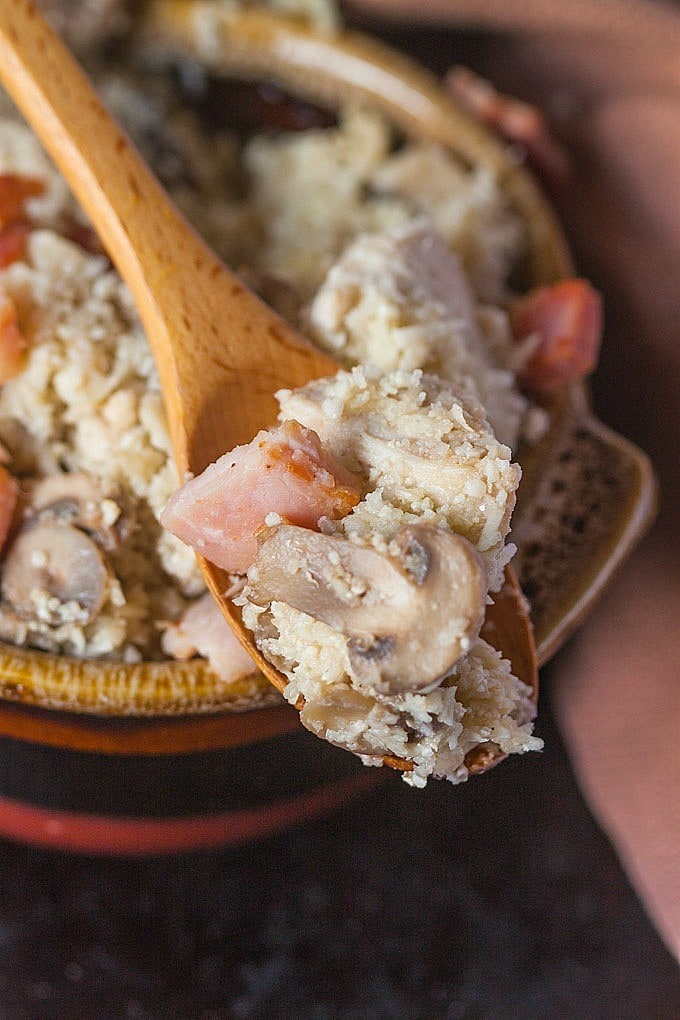 Still treading waters when it comes to Paleo style savoury dishes, I opted to start easy with the Asian style sauce and before messing about with a combination of butter and 'cream' blends. I had my doubts before serving it to my friends and ironically, it was their favourite!
Paleo Chicken and Mushroom Pilaf sounds so fancy, but in reality, it's super simple to whip up. I used one pot and just added ingredients as needed be. The addition of bacon is completely optional but one I would recommend- It pairs well with the simply seasoned chicken.
So is cauliflower rice 'just like white rice'? No, it isn't. However, I won't underestimate it as a decent substitution when rice is not an option. Just like Niki said- I like white rice and I cannot lie.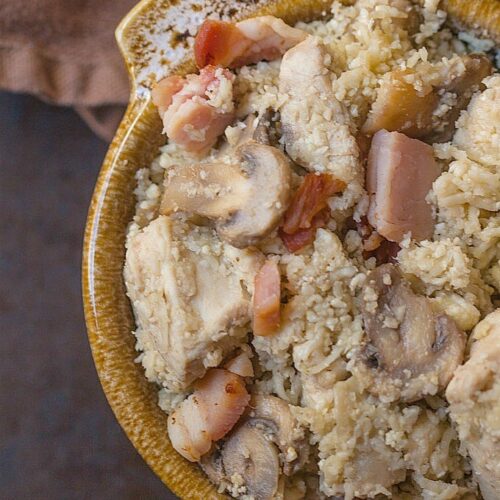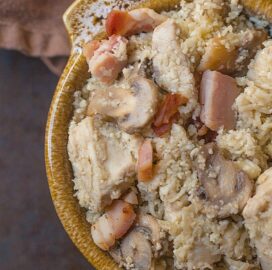 Paleo Chicken and Mushroom Pilaf
A low carb and paleo version of a traditional chicken and mushroom pilaf based off cauliflower rice. High in protein, one pot needed and super simple to whip up! Naturally gluten and grain free.
Print
Rate
Ingredients
1

medium head of cauliflower

riced/grated with excess liquid removed

2

chicken breasts

chopped into bite sized pieces (approximately 300-400 grams)

6

rashers of middle bacon

chopped into bite sized pieces

1

cup

mushrooms

sliced

2

gloves garlic

minced finely

1/2

onion

chopped

3

tablespoon

sesame oil

separated

2

tablespoon

water

1/4

cup

coconut aminos

can sub for gluten free soy sauce if not strictly paleo

1

tablespoon

red pepper flakes

for seasoning

Extra coconut aminos

for seasoning
Instructions
Heat a large pot on medium heat and generously coat with 1 tablespoon of the sesame oil. Fry the bacon lightly before adding the chicken, garlic, onion and mushrooms and stir fry for 5 minutes. Add the water and cook for an extra 2 minutes. Add the riced cauliflower and immediately add the remaining sesame oil and coconut aminos and mix well to ensure all ingredients are fully incorporated.

Cook for approximately 10-15 minutes, until chicken is fully cooked and broth has thickened the rice. Remove from heat and top the pilaf with red pepper flakes and extra coconut aminos if desired.
Notes
This pilaf tastes great the longer it sits, so whip up extra and keep it in the fridge for meals for the week.
For a vegetarian or vegan option, omit the chicken and bacon and add extra mushrooms- The sauce is so flavourful, the simplicity tastes great.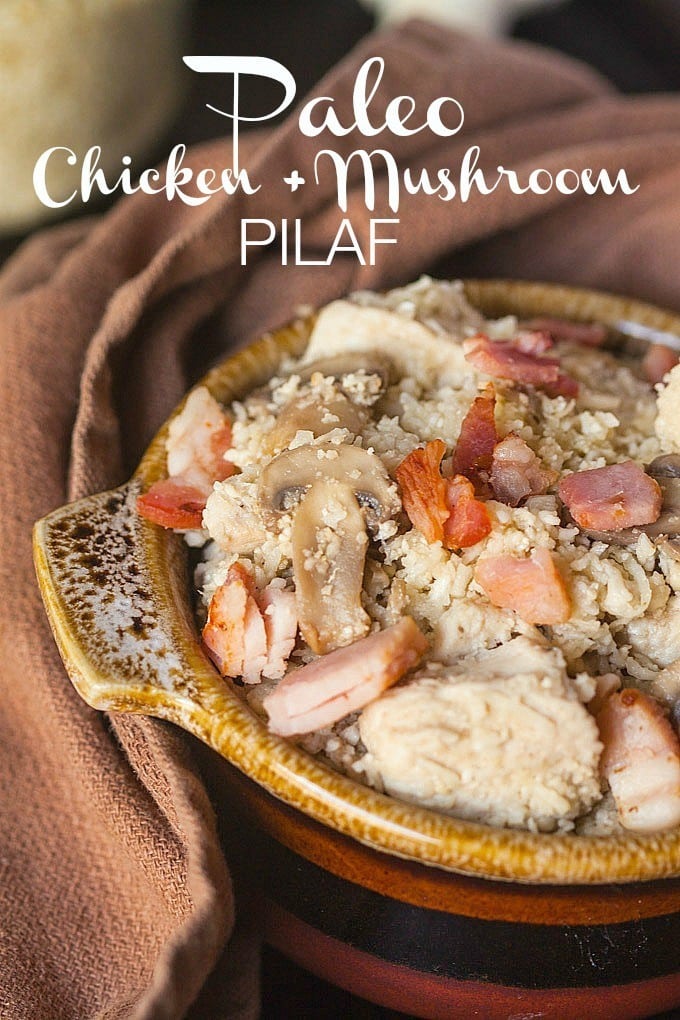 Want more Paleo recipes which are savoury? Check these out!
Smoked Paprika Roasted Salmon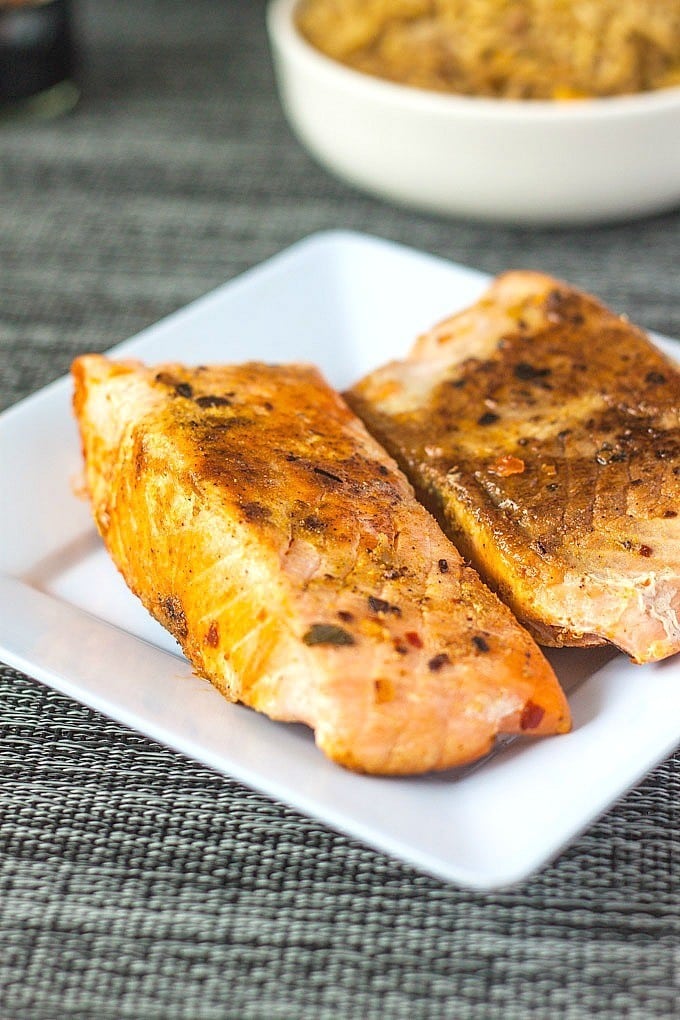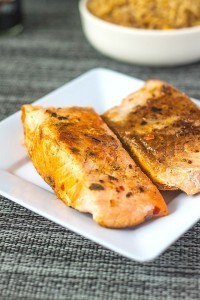 Easy Slow Cooker Vegetable Korma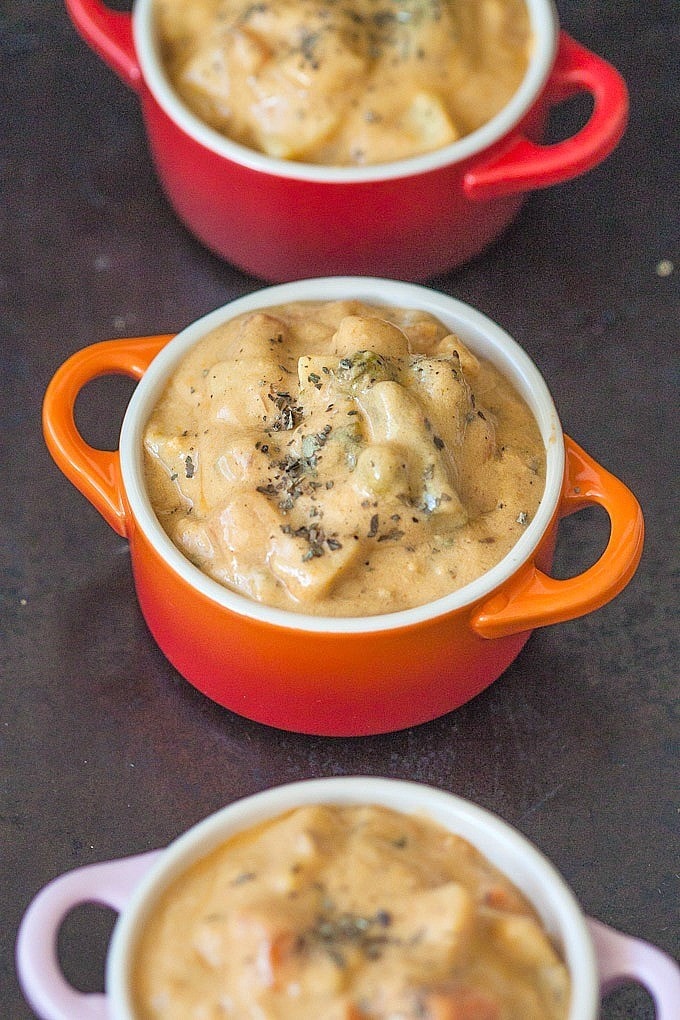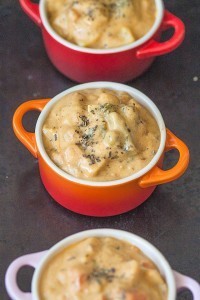 Curry Sloppy Joes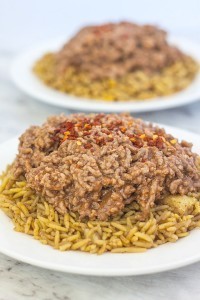 Copycat Panda Express Broccoli Beef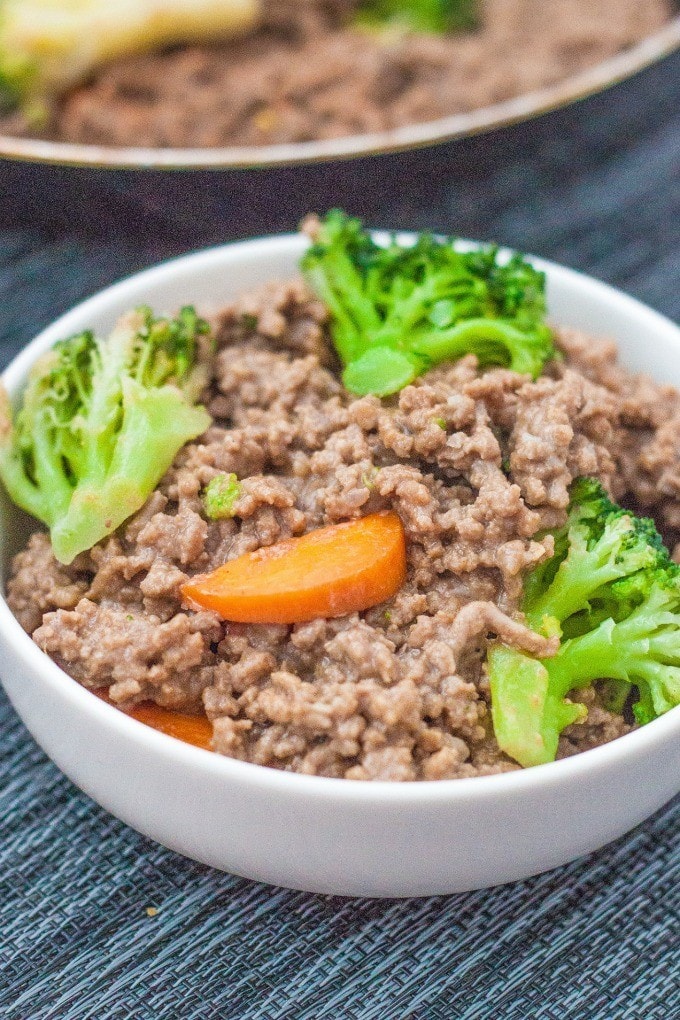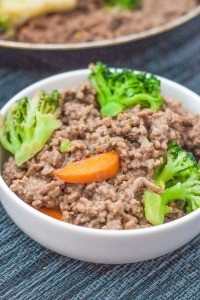 Linking up with these amazing parties- #recipeoftheweek, simple supper Tuesdays, Gluten Free Wednesdays, what's cookin' Wednesdays, Saturday Sharefest, DIY With the SITS and some weekend pot luck lovin
Have you ever used cauliflower rice?
What was a popular home cooked meal for you growing up?
What background do you come from?