1 bowl and 5 minutes is all you'll need to whip up these Paleo Chocolate Raspberry truffles which are paleo, gluten free, vegan, dairy free and very low in sugar- The perfect healthy snack between meals, dessert or even after a workout!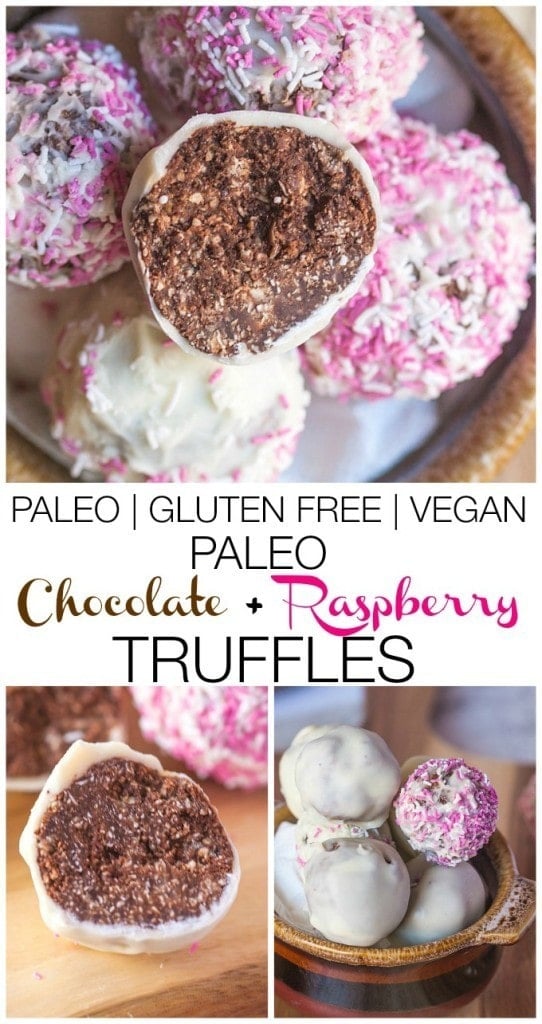 A recipe on a Sunday? Nope, you're eyes aren't deceiving you. I'm trialling out a new posting schedule and going with a recipe today and a catch up style post on Monday.
'If my other half is paleo and it's Valentine's day, would I give them a hunk of cheese?'
'No. Because cheese is definitely not paleo.'
Clearly my sister's knowledge of the paleo diet hasn't progressed since her failed paleo challenge. She still thinks the only foods that those following a paleo lifestyle don't eat are gummy bears and coke. She clearly forgot that time I made her Paleo truffles…which was the inspiration for this recipe.
Australia, much like many other countries, love to go crazy whenever there is a holiday of some sort. They take it to the point of starting to bring out seasonal products far too early than reasonable.
Christmas- Stores start stocking trees, decorations and gift packs in August.
Easter- Hot Cross Buns and seasonal eggs hit the shelves mere weeks after Christmas.
Mother's Day- All things Pink and feminine start trending in March.
Father's Day- One week beforehand….because everyone shops for dad at the last second.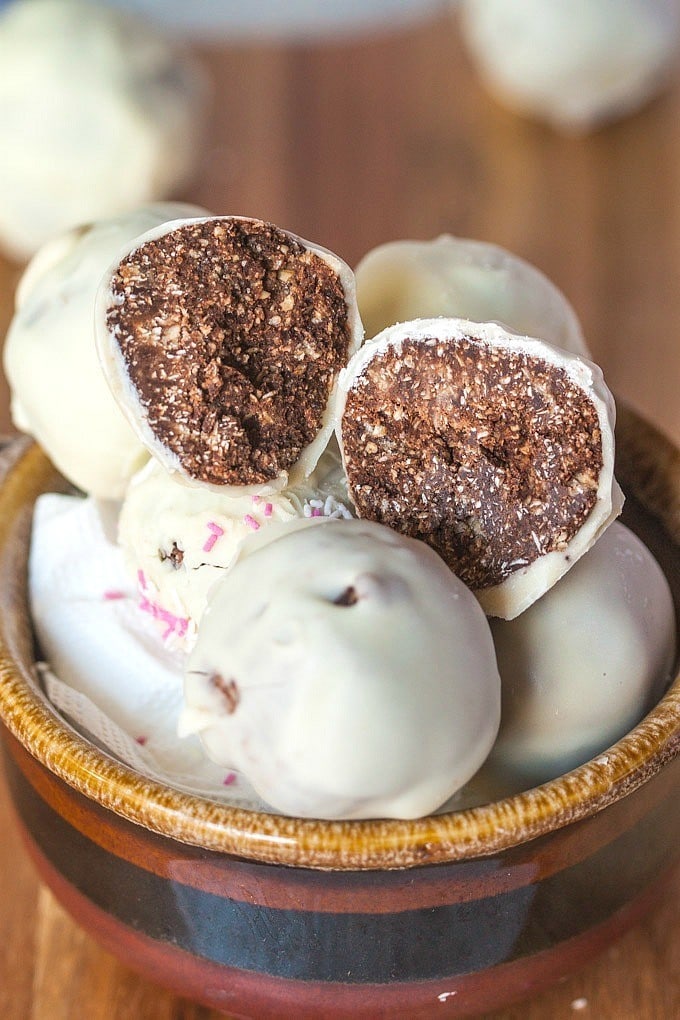 Hitting the supermarket over the last few weeks, I've noticed chocolate boxes coming in heart shapes, certain chips and snacks coming in pink packaging and some silly ploys by companies to make a dollar on this holiday….like pumpkins being coloured pink.
WHO WILL BUY A PINK PUMPKIN?
Okay, I might.
But seriously Australia. I wonder what it will be tomorrow. Pink chia seeds or pink dyed almond milk.
I've realised with blogging and especially with sharing recipes, being seasonal or sticking to the festive season is beneficial. Don't ask me why I started posting Thanksgiving style recipes like these muffins AFTER the actual day, or the fact that I thought gingerbread and pumpkin would trend in June.
I'm on my A-Game for Valentine's day by giving ample time with this recipe. Based off the original Paleo truffles, these literally take 5 minutes to whip up- The most time consuming part is dipping the truffles in the optional coconut cream frosting and (for those who aren't following a paleo style of eating) the extra dipping in sprinkles.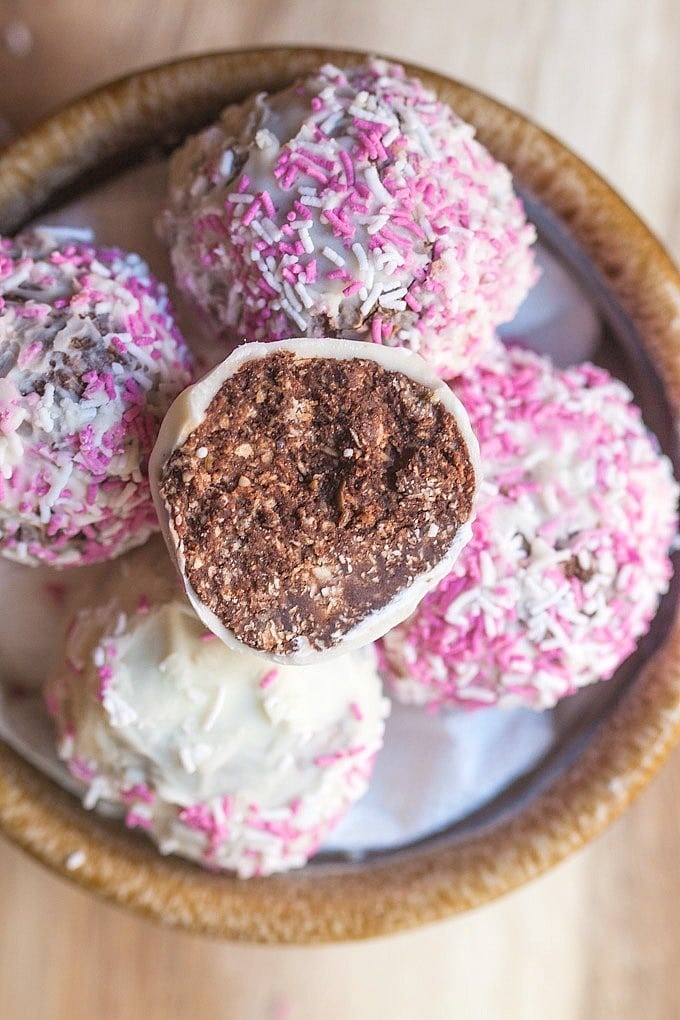 These truffles aren't reserved JUST for Valentine's Day- You can snack on them (like I do!) and yes…even with the sprinkles. They may or may not have fuelled a workout with my Niki over the weekend. By workout I mean sitting on the exercise bike and going through my instagram feed.

Excuse me as I hit up the supermarket now….to buy a pink pumpkin.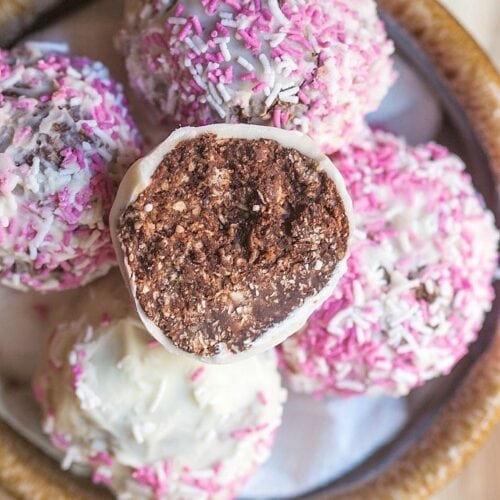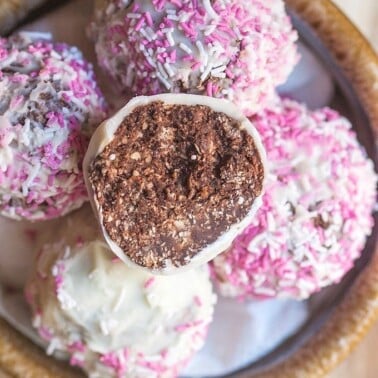 Paleo Chocolate and Raspberry Truffles
1 bowl and 5 minutes is all you'll need to whip up these Paleo Chocolate Raspberry truffles which are paleo, gluten free, vegan and very low in sugar- Perfect to gift someone these Valentine's Day or to eat yourself anytime! Sprinkles optional!
Ingredients
For the Truffles
1

cup

coconut flour

sifted

2

tablespoon

cocoa powder

sifted

1/2

teaspoon

sea salt

1

tablespoon

chopped nuts of choice

I used chopped almonds

2

tablespoon

dried unsweetened raspberries

1/2

cup

mild tasting nut butter of choice

I used homemade 'nutella'

1/2

cup

maple syrup

can sub for honey if not vegan

1/4-3/4

cup

unsweetened almond or coconut milk*
For the white chocolate coating
3/4

cup

coconut oil

melted

1/2

teaspoon

sea salt

1

tablespoon

+ 1 tsp maple syrup
Instructions
Line a large baking tray with baking paper and set aside.

In a large mixing bowl, combine the coconut flour, cocoa powder, sea salt, chopped nuts and dried raspberries.

In a small microwave safe bowl, combine the maple syrup and nut butter until melted together. Add the mixture in the dry and mix until well combined- the batter should be extremely crumbly.

Slowly add the almond milk until it reaches a firm batter consistency. Using your hands, form into golf ball sized balls and set aside on a plate or tray.

In a small bowl, combine the melted coconut oil and maple syrup until a thick frosting is made. Acting quickly, dip the truffles in the frosting and ensure fully coated. If desired, dip in sprinkles straight after and place back on the baking tray. Continue the process until all the truffles are coated. Refrigerate for at least 30 minutes for truffles to firm up.
Notes
Coconut flours differ brand by brand so add the milk very slowly to achieve the right consistency.
These truffles taste good without the frosting- It can be quite tedious to do but delicious all the same.
Adapted from Paleo Truffles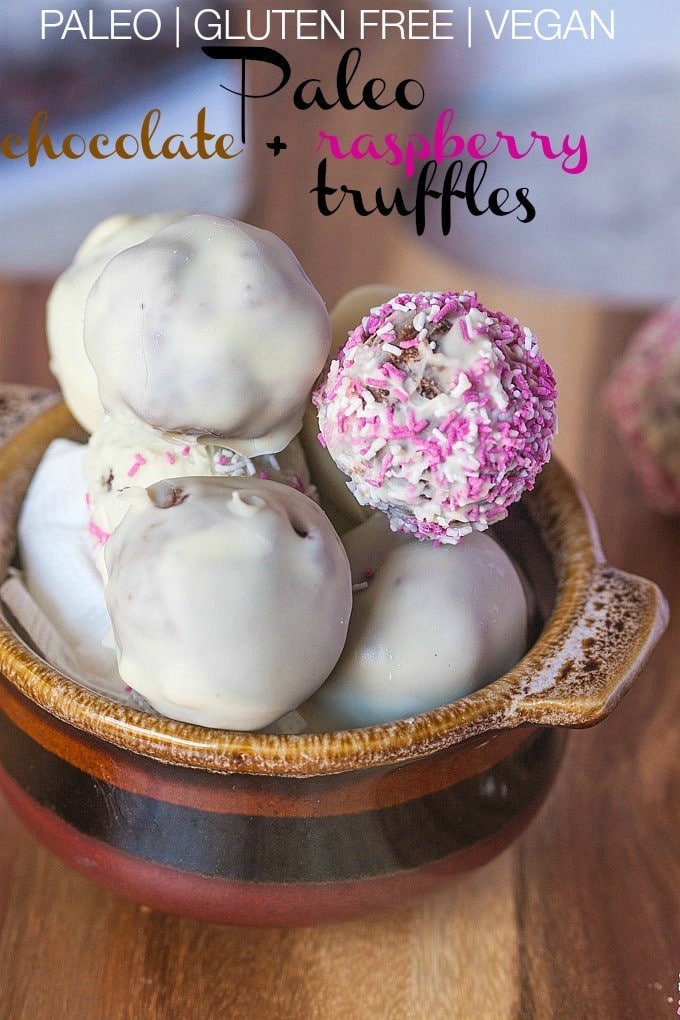 Disclosure: This post may contain affiliate links. I may earn a small commission for my endorsement, recommendation, testimonial, and/or link to any products or services from this website.