Paleo [chocolate covered] truffles
I teased you with this recipe on Wednesday and then after Niki's rant on Thursday, I thought it was only fitting to share her favourite Paleo friendly recipe- How is that for irony!
So clearly Niki made it evident that the breakfast cookie dough was not a Lindt truffle. Well, duh. It was never stipulated to taste like a Lindt truffle, nor was it intending to emulate it. Well, neither is today's recipe.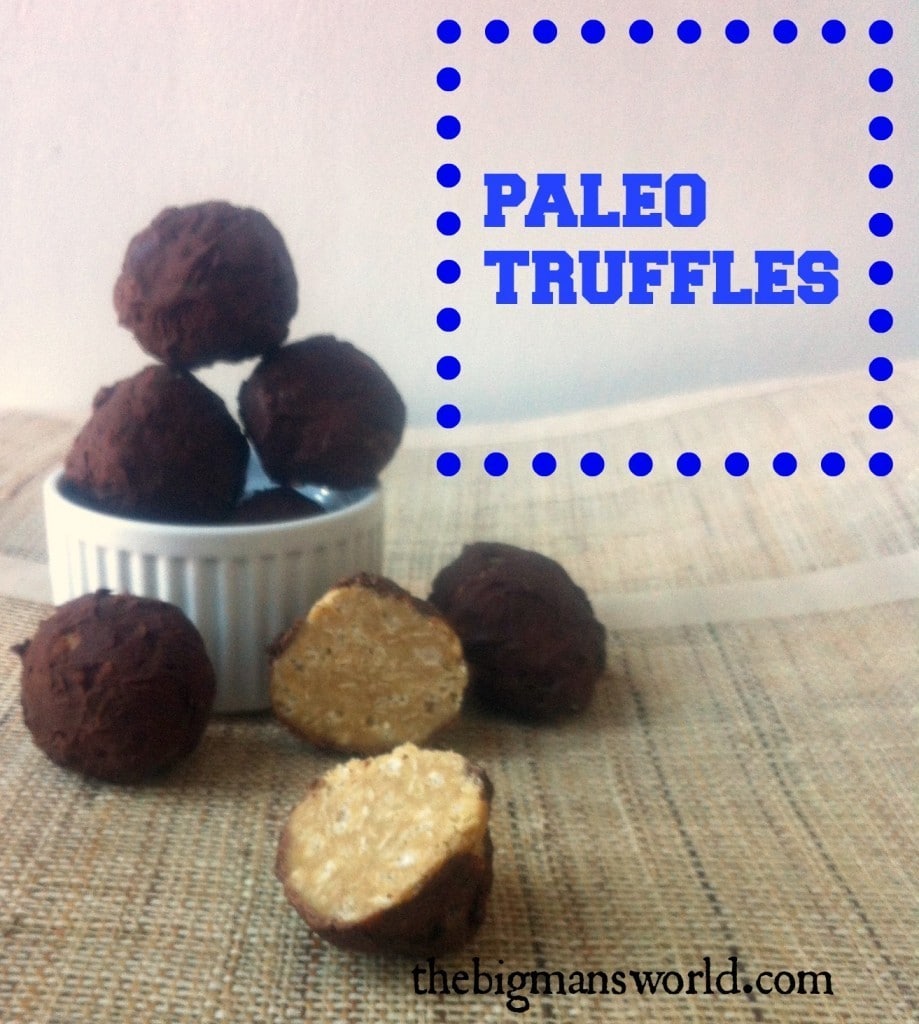 Growing up, Niki and I would always fight over the truffle chocolates in those assorted boxes. Actually, Niki would cry and get first choice. Being the smart nice brother I was, I'd always direct her to choosing the truffle which looked most delectable, but knowing it was clearly one of the gross ones- cherry (which tasted like cough syrup) or the one which had nothing but a giant hazelnut in it. How did I know this? Well, I would sneakily look under the box which gave a description of what each truffle would contain.
Anyway, back to the story. While Niki would cry again that she got a cough syrup flavoured truffle, I would quickly snatch the mint AND the caramel truffles- a.k.a. the good ones.
Then I'd get sent to my room or chased around the house with a wooden spoon.
Luckily, these truffles play fair and contain the same interior and exterior. Staying true to the paleo theme, they turned out like a delicious, healthy version of a truffle- one which would be perfectly acceptable as a snack any time of the day , or if you're like me- bagging up 4 or 5 of them and calling it breakfast. True story. Just ask my snapchat buddies.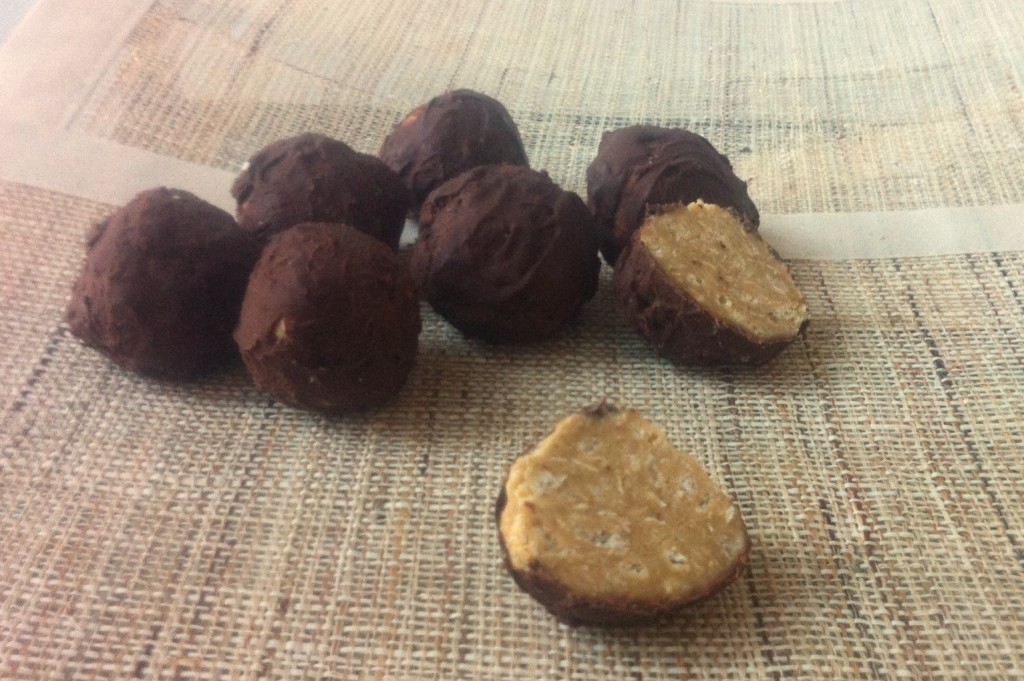 These truffles have the ideal combination of fiber, protein and healthy fats to keep you energised- Being Paleo friendly makes them grain free, vegan and gluten free- but labels are irrelevant if at the end of the day, the outcome is one thing- Delicious.
The only caveat- they taste pretty darn good, sibling fights would most likely ensue.
Paleo Chocolate Covered Truffles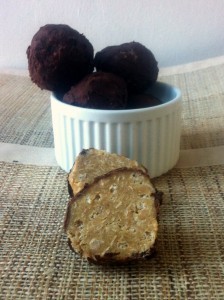 Paleo [chocolate covered] truffles
Paleo friendly chocolate covered truffle recipe which are healthy enough to eat for breakfast! The perfect grab and go snack to fuel...anything!
Print
Rate
Ingredients
1

cup

coconut flour

sifted

½

teaspoon

sea salt

½

cup

honey

½

cup

mild tasting nut butter

I used almond butter

2

tablespoon

chopped nuts

try to use the same as the nut butter- I used chopped almonds

¾

cup

almond milk

Paleo Chocolate

Sea salt to garnish
Instructions
Line a large baking tray with baking paper and set aside.

In a large mixing bowl, add the coconut flour, sea salt and chopped nuts.In a small microwave safe bowl, combine the honey and nut butter until melted together. Add the mixture in the dry and mix until well combined- the batter should be extremely crumbly.

Slowly add the almond milk until it reaches a firm batter consistency. Using your hands, form into golf ball sized balls and set aside on a plate or tray.

In a microwave safe bowl, melt the chocolate and using two forks, add each truffle one at a time until fully coated in the chocolate and set aside on lined baking paper. Sprinkle coarsely with sea salt and freeze for up to an hour or refrigerate for 2 hours.
Notes
These truffles can be stored at room temperature, however will be less firm than refrigerated ones. If you don't have coconut flour you can sub it for almond flour however reduce the almond milk accordingly as the former flour absorbs liquid.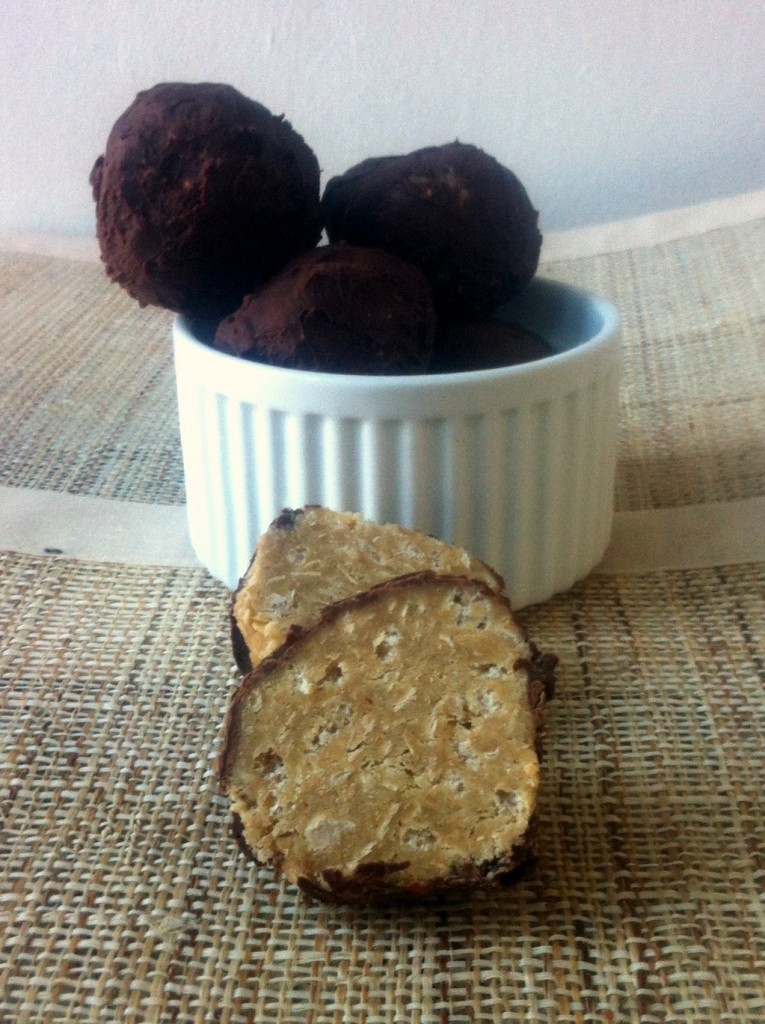 Linking up with Laura and Kierston for their Friday recipe par-tays!
See you guys on Sunday for some Spill it, Sundays action- this week we hit the city of Rome!
Have you ever tried one of the Lindt chocolate truffle flavours?
What was your favourite chocolate from an assortment box?
What did you fight with your siblings over, if you have one?