And just like that, its Wednesday again! Before we get into some eats, I'd like to start with a review of a product I was recently sent to try!
Mix My Muesli is an Australian company founded by Tony and Rob in 2009 as a means to improve the health of Australians starting with the most important meal of the day- breakfast.
The Mix My Muesli concept involves you making a custom made cereal with a number of additions to add to amp up the flavour and combination!
The first step involves picking a base such as oats, triticale and barley. You can also pick from several mixes including a super grain or high protein one. I went with the Super grain mix which included a blend of Organic jumbo oats, organic quinoa, organic amaranth and organic rolled spelt.

MY OTHER RECIPES
The second step is where you can add dried fruits, nuts and seeds. For dried fruit, I went with dried wild blueberries, dried strawberries and dried goji berries. Regarding nuts and seeds, I opted for roasted almonds, roasted hazelnuts and walnuts. 
The final step was perhaps my favourite where you have the option to add from a range of 'naughty bits'. I went with vanilla coated peanuts and chocolate covered goji berries.
I was sent the packaging in an awesome tube with the custom name (Thebigmansworld Mix– how original) and also interesting was a nutritional breakdown on the side!
After my experience with several brands of muesli's, I was often left disappointed with the lack of the 'additions' in them- usually I'd be lucky to get an almond and raisin in ONE bowl. My Mix My Muesli mix was the polar opposite- Take note of the bowl below- the nuts/chocolate/dried fruit to cereal ratio was amazing!
Thank you Tony for giving me the opportunity to try out this fantastic concept and great tasting cereal mix!
***
Now onto today's What I ate Wednesday! Friends, I'm sure I'm not alone here in saying 'Brinner' is one of life's greatest pleasures- sometimes breakfast foods taste BETTER as a nightcap than morning fuel. I must admit, I'm also a fan of breakfast for lunch. These past few weeks, I've been a fan of bringing pancakes in plastic to eat with a side of statistics. Yes, I would prefer my sides to be potatoes or roasted vegetables but that was not an option.
Two days last week, I packed my breakfast and lunch to eat at the library. Both the scheduled lunches involved cold leftover takeaway pizza. Both these scheduled lunches became my breakfast. Lunch for breakfast- I think so. The best part- Breakfast for lunch. Its a legit swap. Thank you, Jen for hosting!

Breakfast 1- Leftover cold pizza with a nut bar.
Breakfast 2- Leftover cold pizza and ….#strangebutgood sweet and spicy Pesto Tuna salad! Recipe at the bottom of the post!
Lunch 1- Four kabocha peanut butter cookies with an egg scramble made with cheddar cheese, baby spinach, milk, salt and pepper.
Lunch 2- A mish mosh of freezer goods- A slice of seeded bread with almond butter, a pumpkin oatmeal breakfast muffin with butter and an egg scramble made with the same additions of add ins as above.
What do you do when you run out of mayonnaise and have avocados as hard as stones? Have plain canned tuna? No dice! I decided to play around with some ingredients on hand and voila, a #strangebutgood concept was born- and a simple one at it! Thank you, Laura for the appreciation of all things Strange! In food and exercise 😉 Also thank you Morganne for suggesting the addition of cinnamon to tuna- its so strange that it works!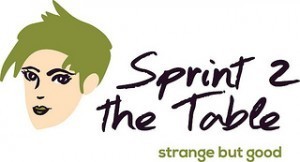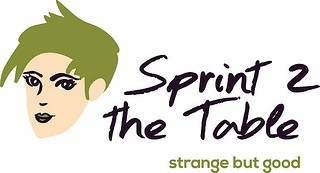 Sweet and Spicy Pesto Tuna salad
Serves– 1
Ingredients–
1 can tuna in spring water, drained
2 small green roasted sweet peppers, finely diced
2 Jalepeno peppers, chopped
1/2 stalk of celery, finely diced
2-3 tablespoons of basil pesto
1 T pepper
1/2 t cinnamon (trust me, it works!)
1/2 t cayenne pepper
1/2 t red pepper flakes
Mix tuna, roasted green peppers, jalepeno peppers and celery in a bowl until mixed.
Stir through basil pesto until fully combined
Add spices and store in airtight container overnight to consume the next day!
Lets see more lunch for breakfast or dinner for breakfasts happening…eh? Hope your all having a great Wednesday!
Disclaimer- Mix My Muesli sent me these products free of charge. However, all thoughts and opinions are of my own.
Have you ever eaten pizza for breakfast?
What is your favourite 'Brinner' meal? Pancakes hands down! 
For those of you who eat canned tuna, whats your typical mix with it?