These healthy spicy honey roasted peanuts are your guilt-free sweet and savory snack! Made with just four ingredients, they are naturally grain free, vegan, gluten free, and refined sugar free!
Happy Wednesday Foodie Voyeurs!
Today's post will be a double whammy- It's What I Ate Wednesday AND the Recipe Redux monthly recipe shenanigans!
How about a teaser for the recipe at the bottom?

MY OTHER RECIPES
Easy. Delicious. Sweet. Spicy. Salty.
But first- my day on a plate. Big props to Jenn for hosting!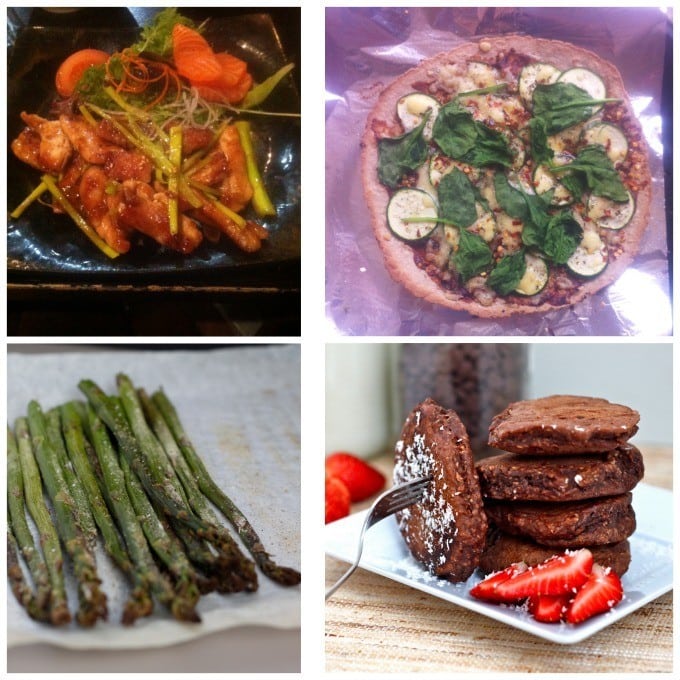 Breakfast- A batch of Lamington protein pancakes (made with a gluten free flour blend instead of the oat flour) and topped with shredded coconut and coconut butter. Coconut overload? Probably.
Lunch- Because I was feeling unwell last week, I had a friend come round and we got take away and these were some leftovers. Chilli chicken with rice. This was eaten cold and it was amazing.
Dinner- I was recently sent a couple of gluten free pizza bases to try out and I made a simple pizza with this pesto sauce and topped it with zucchini, olives, mozzarella and goat cheese. At the end, I added some nearly dead spinach too. On the side, I had a bunch of asparagus simply roasted in olive oil and enough salt to fill a lake. Which would then become a sea. Work that out 😉
Other- Throughout the day, I ate some carrots with poor man's guacamole (an avocado mashed with salt and pepper…), one of these granola bars and after dinner I had the final two of these. I definitely thawed them out this time.
***
This month's recipe redux theme-
Spooky Spices: You know they are lurking there: Way in the back of your spice drawer. There lie the herbs, spices, or rubs that are getting dusty because you're afraid to use them… you simply don't know what to do with them! Well, pull them out and show us a recipe you created to deliciously conquer that fearful spice. (Or maybe the recipe was a flop – and the spice still give you nightmares?!)
When people asked me if New York City smells like subway rats and hot dogs I say….
Yes. But only if you're next to a hot dog stand or actually in the Subway. The rest of them- especially near Times Square- I would say it has the epic spell of honey roasted nuts.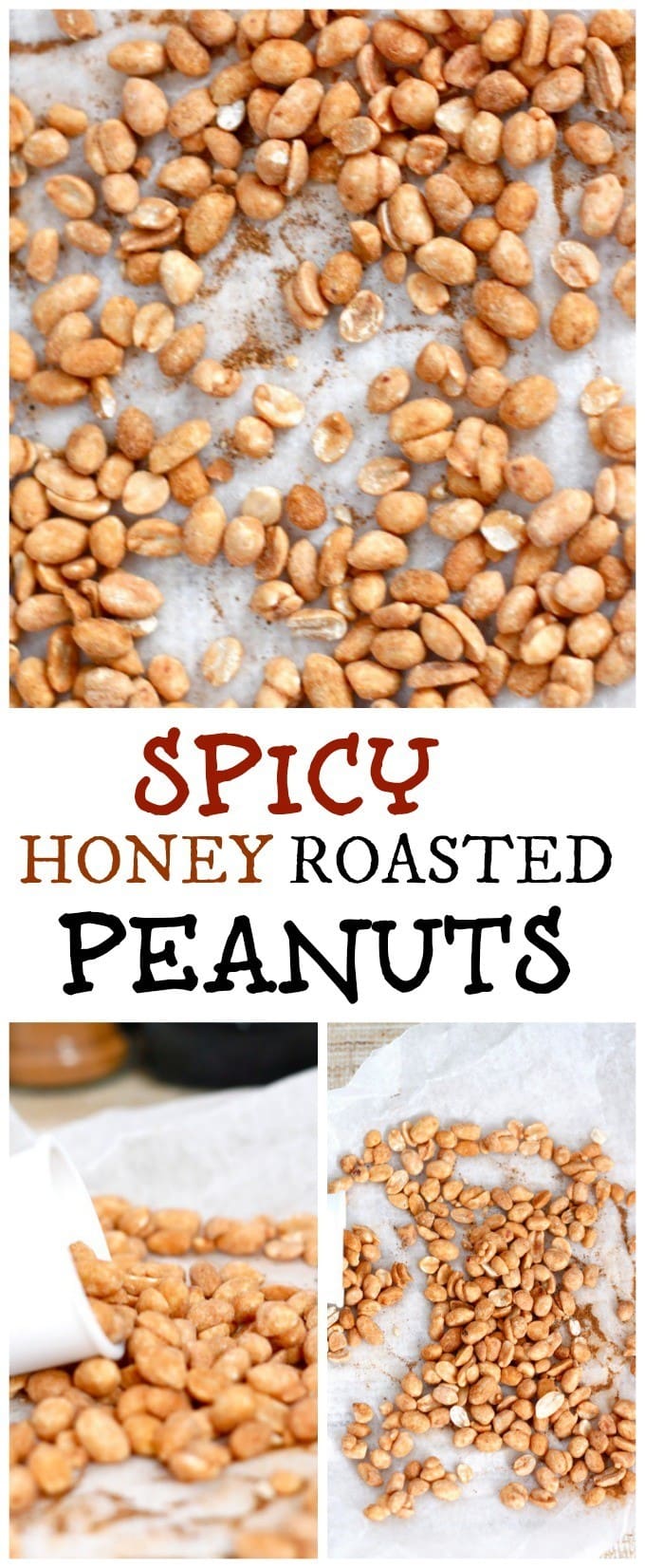 For $3.50 (unless prices have increased since then), I would buy a bag of either honey roasted cashews or honey roasted peanuts and snack on them during the day. I'd get them when they were hot and by the end of the day, the remnants would caramelise in the bag….which needed to be licked clean. #noshame.
Seeing as I don't live in NYC (yet), I can't simply stumble outside and grab a bag and give my nose a workout. Had I lived in NYC right now, I would never have attempted to recreate it because I'm sorry- nothing comes close to those.
Seeing as I live in Australia, and we have….I'm not sure what we would have on food stands. I actually think they are banned. Anyway, seeing as I live in Australia, I made my own. To coincide with this month's recipe redux theme, I added some extra spices to the basic recipe and voila- Spicy Honey Roasted Peanuts.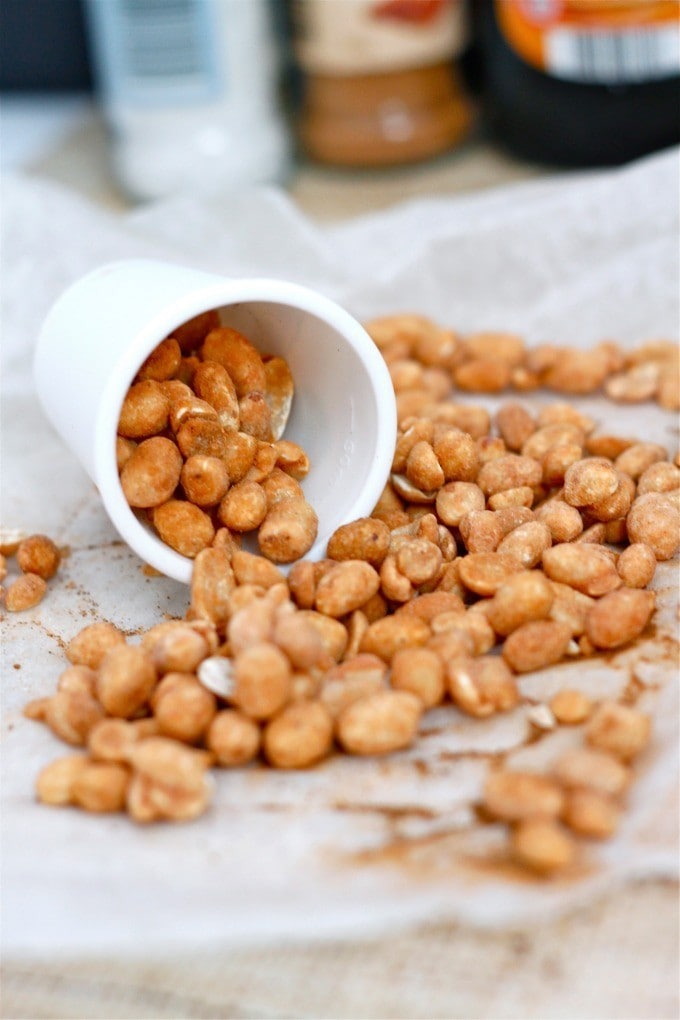 To bring out the spices, I used considerably less honey and less oil- because I had intentions to use them in these cookies. If you like them really sticky and golden brown, double the coconut oil and honey!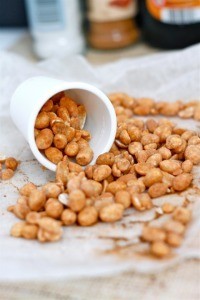 Spicy Honey Roasted Peanuts
2014-10-20 09:54:46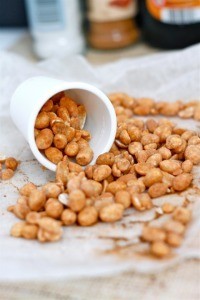 A super simple, delicious twist on the roasted peanuts- full of flavour sensations!
Ingredients
3 cups raw peanuts
2 tsp sea salt
2 tsp cinnamon
2 tsp cayenne pepper
2 tsp norbu (or granulated sweetener of choice)
1 T coconut oil
2 T honey
Extra cinnamon for dusting
Instructions
Preheat the oven to 180 degrees Celsius. Line a deep baking dish with baking paper.
In a large mixing bowl, combine the peanuts and the spice and mix well.
In a microwave safe bowl, mix the honey and the coconut oil and heat until it just starts to bubble. Pour the honey mixture over the nuts and mix until fully incorporated.
Spread the peanuts in an even layer on the baking paper. Bake in the oven for 10 minutes until it just starts to brown. Remove from the oven and allow to cool. Once cooled, dust in extra cinnamon and enjoy!
Notes
For a more intense honey flavour, add an extra 2 T of honey and 1 T of coconut oil. If you do this, remove from the oven mid way and mix around to avoid clumping.
The Big Man's World ® https://thebigmansworld.com/
If you've ever been to NYC, did you ever get the 'hot nuts'?
What pairs well with honey?
Does your city have a distinct (foodie) smell?