I had a conversation with my mum the other day about the beauty of biscotti. It stemmed from the fact that almost a year to this day, I shared her infamous fruit free biscotti recipe.
She asked me what home made foodie gifts I'd had intentions of making and sharing this year. I told her none. I also told her to have a look in my freezer.
She declined and said a flight to Sydney for such an endeavour was ridiculous.
Oh mother. I was clearly joking.
I then went into a big spiel about how biscotti was the one biscuit or cookie you could get away with over cooking because of it's crispy factor- unless you turned it charcoal. Not that I've ever experienced that….
In Australia, it's our iconic biscuit or 'cookie'- the Tim Tam- which is designed for dunking in a cup of coffee or tea. There's even an art to it- the infamous 'Tim Tam slam'– Bite one end of the Tim Tam and dunk it in coffee or tea and well…suck the coffee or tea through the Tim Tam. Wow, that doesn't sound anything below PG13.
Seeing as Tim Tams are only available readily here in Australia (promise you it's worth the trip just for them- Ask Davs, Meg and Charlotte if you don't believe me), the next best thing to dunk in your hot beverage is biscotti. Bonus points if it's Gingerbread biscotti. Ten points to Gryffindor if the drink is a Copycat Starbucks Gingerbread Latte.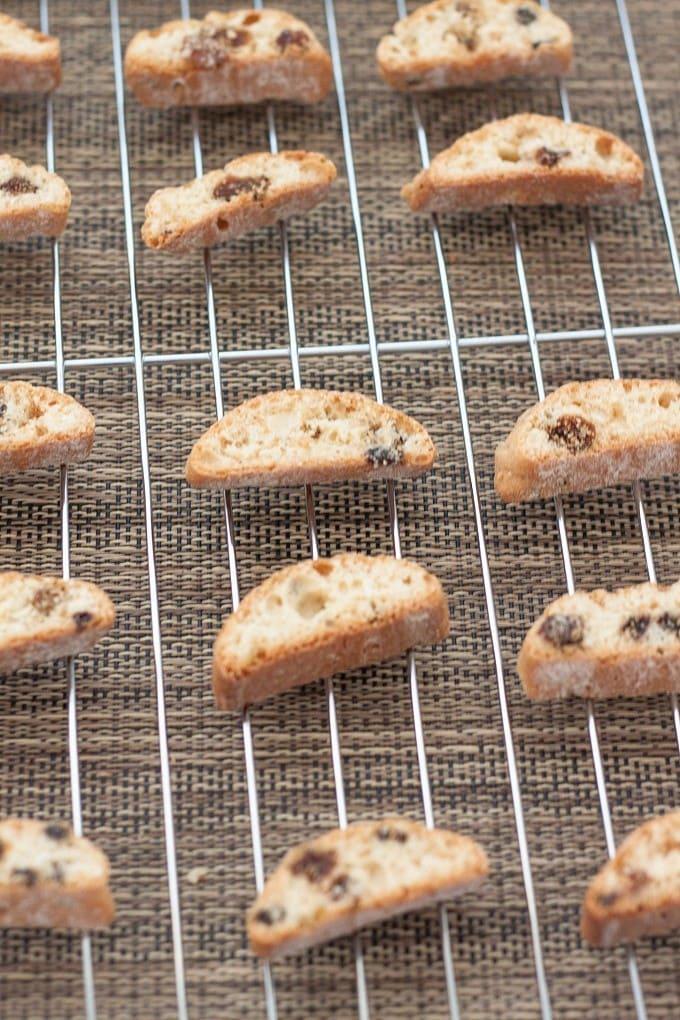 For this biscotti recipe, I trialled it twice- One standard version (which was gluten free and used sugar) and also a version using Natvia and Norbu- the natural sweetener based off stevia and erythritol. I find it imperative to trial out recipes a couple of times when offering suggestions or substitutions because there is the assumption everything can be swapped quantity for quantity when in reality- they can have huge repercussions.
Seeing as it's the festive season, Gingerbread biscotti just had to happen…that and the fact that a peppermint version didn't sound too appealing to dunk in tea. The combination of ginger, nutmeg and cinnamon work well with the dried currants. After several friends on my blog's facebook page requested more nut free recipes, I completely omitted them but feel free to add some in!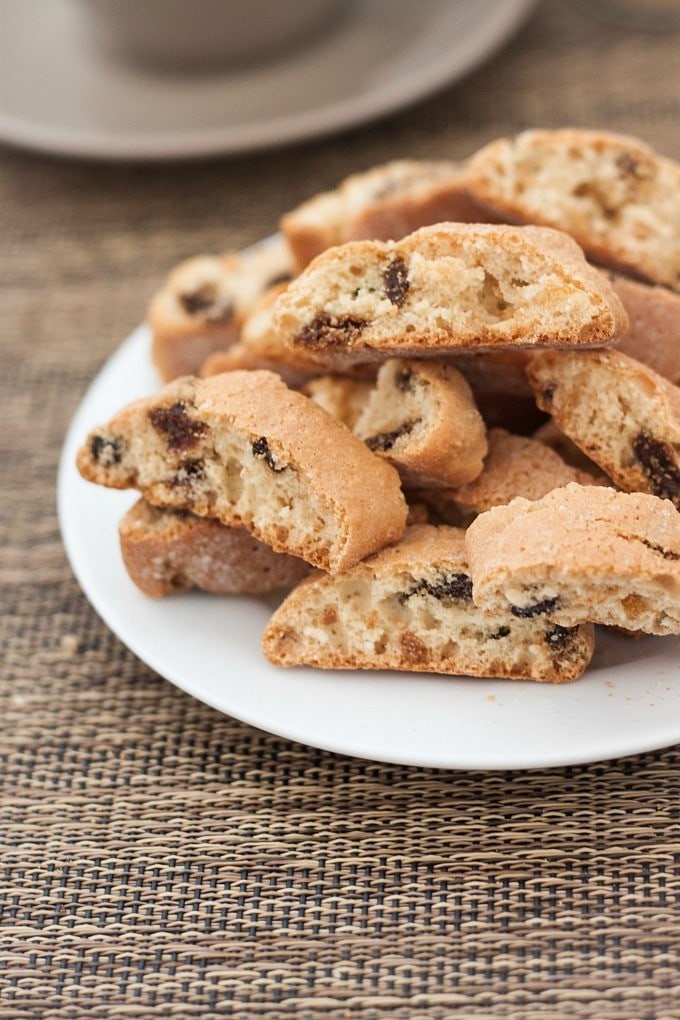 The irony- last year's biscotti was fruit free. This year it's nut free.
Maybe next year it will be just fruit and nuts and no biscotti at all.
Share this recipe on Pinterest
Love this Sugar Free Gingerbread Biscotti recipe?
Share it with the world on Pinterest.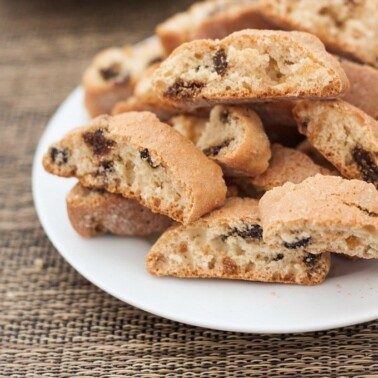 Sugar Free Gingerbread Biscotti
A crispy, delicious biscotti tasting like gingerbread with a sugar free option- naturally gluten free!
Instructions
Preheat the oven to 180 degrees Celsius and line a baking tray with baking paper.

In a large mixing bowl, add the flour, baking powder, cinnamon, nutmeg, ginger and sweetener of choice and mix until combined.

In a small bowl, whisk the eggs with the vanilla extract. Add the egg mixture to the flour mixture and stir until just combined. Slowly fold in the currants and raisins until incorporated. Do not over mix.

On a floured surface, pour the dough from the bowl and lightly knead it until the clumps are removed.

Form the dough into a log shape and place gently on a baking tray and put in the oven for approximately 25 minutes, or until slightly firm. Keep oven turned on.

Remove the log shaped dough from the oven and allow to cool completely.

Once cooled, slice the dough into thin slices (about 1 cm each) and spread out back into the baking tray and put it back in the oven for a further 10 minutes.
Notes
Biscotti is best when eaten crispy. If you really want more softer versions, do not put back in the oven after cooling and slicing.
Adapted from Easy Gluten Free Biscotti Recipe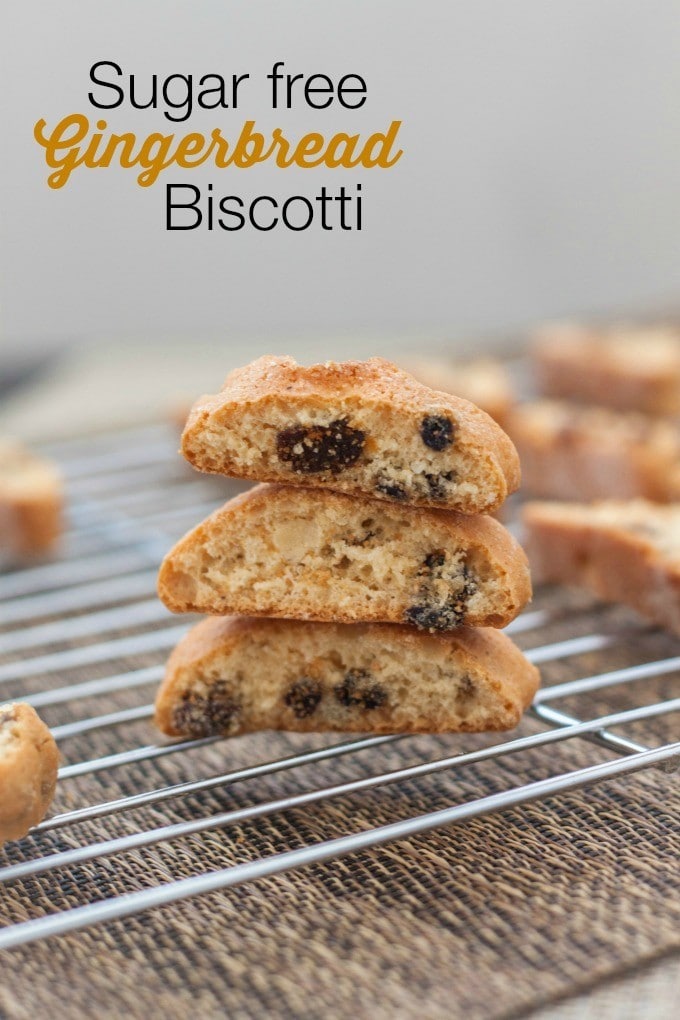 Have a great Monday stunners. Here's to a….stunning start to the week.
Have you ever tried a Tim Tam?
Drinking hot drinks through a cookie- Genius or Kim Kardashian hoochy?
Did this recipe break the internet?
Disclosure: This post may contain affiliate links. I may earn a small commission for my endorsement, recommendation, testimonial, and/or link to any products or services from this website.