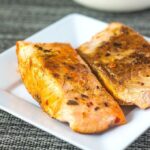 Print
Smoked Paprika Roasted Salmon
A simple, delicious spice rub based off smoked paprika, sea salt and curry powder takes basic salmon the next level. Paleo, gluten free and a healthy, high protein option!
Preheat the oven to 150 degrees celsius (Not fan forced). Line and grease a baking tray with baking paper and set aside.

In a small bowl, combine the smoked paprika, curry powder, red pepper flakes and sea salt and mix to combined.

One filet at a time, coat the salmon in the spice rub and cover both sides evenly. Place on the greased baking tray and roast in the oven for 30 minutes, or until flaky on top. Remove and eat immediately, or allow to cool completely.