This chocolate granola is healthy, chocolaty, and crunchy- not just your regular breakfast-next-bowl! It uses simple ingredients and makes a wholesome breakfast!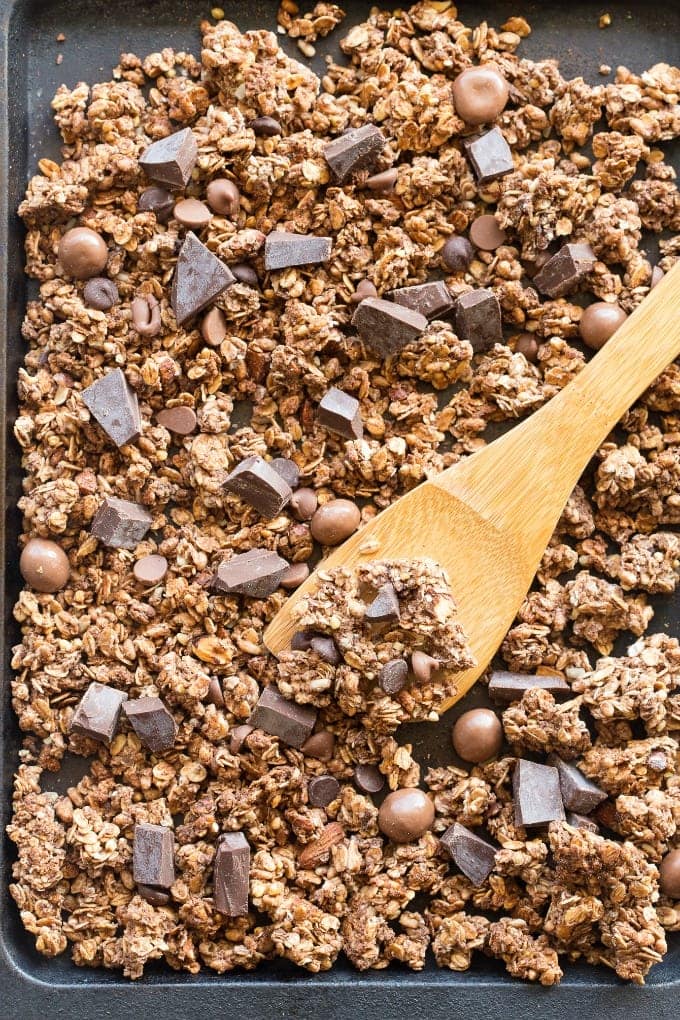 Why you'll love this chocolate granola recipe
No complicated ingredients. Don't you love when you don't need to run to the store when trying out a new recipe? You need only five simple ingredients to make this homemade chocolate granola. And there's a good chance you already have most of the required elements.
Crunchy and delicious. The most satisfying thing about any cereal is its crunch- especially granola. And when you make it with nuts, peanut butter, and chocolate chips, it is like having dessert for breakfast.
Plant-based. Like protein granola, this recipe has no dairy or eggs, so it's suitable for vegans and vegetarians.
Versatile. Another thing that I love about this recipe is that you can enjoy it with milk or use it as a topping for your ice cream, overnight oats, porridge, or smoothie bowls.
Ingredients (and substitutions)
While oats form the base of this recipe, what makes the recipe work is the ratio of oats to peanut butter to maple syrup. Let's see what you need:
Oats. Granola is all about nailing the texture, and one way to achieve that is by using two different kinds of oats. I have used a combination of rolled and quick oats.
Salt. It helps enhance the sweet flavors. Don't omit it!
Nuts. This is where you can get creative. Mix your favorite chopped nuts in the recipe—almonds, pistachios, peanuts, pecans, walnuts, hazelnuts, macadamia nuts, etc.
Chocolate peanut butter. A simple mix of peanut butter and cocoa powder. If you can't find this in stores, standard peanut butter will work. Not a fan of peanuts? No worries! You can try using chocolate almond butter instead. Or try my healthy Nutella for a Nutella-flavored granola!
Maple syrup. Not only does this add some sweetness to the granola, but it also helps form clusters too. You can use honey or agave nectar if you'd prefer.
Chocolate chips. What makes this chocolate granola recipe truly stand out is that instead of using cocoa powder, we mix real chocolate into the hot granola. I like to use semi-sweet chocolate chips, but dark, milk, or even white work.
How to make chocolate granola
This recipe's trickiest part is getting the perfect crunch. Like crunchy biscotti and peanut butter cookies, you want the crispy bits with every bite. And while the oven takes care of baking everything perfectly, follow the steps carefully to get the perfect granola every single time!
Mix the dry ingredients. Mix oats, salt, and nuts in a large mixing bowl.
Mix the wet ingredients. Melt peanut butter with maple syrup in a microwave until it bubbles.
Make the granola mix. Combine the dry and wet mixes until fully incorporated, and layer on a baking tray.
Bake the granola. Bake the granola mix at 180°C/350°F in a preheated oven for 10-12 minutes. Mix in the chocolate chips, and bake until golden brown.
Store until later use. Remove the baked granola, allow it to cool down to room temperature, break the large chunks, and store them in an airtight container until further use.
Flavor variations
Add seeds. Omega-3 fatty acids are so good for you! Mix ground flax seeds in your granola mix to add them to your diet. Alternatively, you could add pumpkin, sunflower, or chia seeds (we often do this in our peanut butter granola recipe).
Make it gluten-free. Even if you're allergic to gluten, you can still enjoy these decadent chocolate granola! Just use certified gluten-free oats instead.
Make it coconutty. The coconut-chocolate combination is a forever classic! All you need to do is add unsweetened shredded coconut or coconut flakes to the granola mix. Add vanilla extract. Add a teaspoon of vanilla extract to the granola mix. If you love the choco-vanilla combo, I'm sure you'll like this variation.
Add dried fruits. I love raisins, goji berries, or dried cranberries in this granola. It makes a delicious addition!
What to serve with chocolate granola
I love my day a little better when it begins and ends with chocolate! To enjoy it better, use the following serving recommendations.
Yogurt. Mix this granola with your favorite neutral or vanilla yogurt for a healthy, wholesome breakfast. Finish with antioxidant-rich berries, and enjoy!
Milk. Stir in the chocolate granola with your preferred dairy or plant-based milk for a quick breakfast, and enjoy it cold or warm. I love to top it with fresh fruits, berries, and seeds.
Smoothie bowl. Whether it's a coconut chia pudding, or a yummy smoothie, in my opinion, it is incomplete without a generous sprinkle of granola.
Storage instructions
To store. Granola keeps well at room temperature in a sealed container for one month.
To freeze. I suggest storing it in the freezer for more extended storage for three months.
Recommended tools to make this recipe
Mixing bowls. These large and medium-sized mixing bowls always come in handy when making recipes like this.
Baking tray. This baking sheet will be your best friend when making granola, cookies, or macarons!
Spatula. Just like you would fold the cookie dough, mix the dry and mix ingredients using a spatula. It makes life so easy!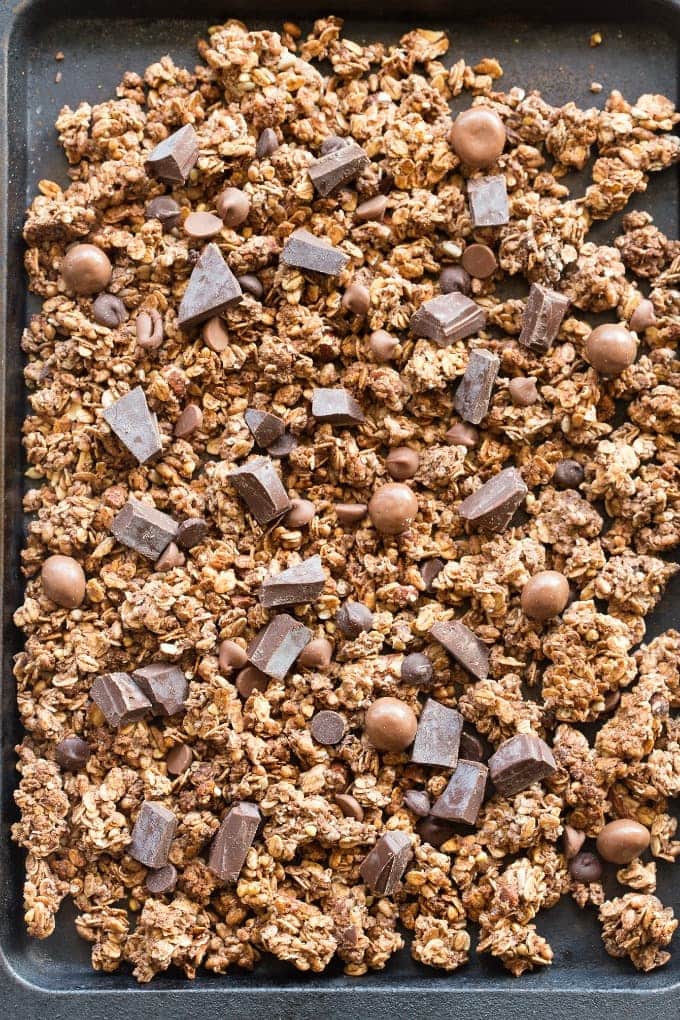 Recipe tips and tricks
Melt the nut butter with maple syrup. This step ensures you get nice chunks of granola to bake. It brings the mixture to a perfect workable consistency.
Use sea salt. While regular table salt works just fine, I encourage you to use flaky sea salt in the recipe. It really enhances the overall flavor of the cereal.
Don't skip the nut butter. Many healthy recipes online use mashed banana or applesauce instead of nut butter or coconut oil. Let me tell you a little secret! If you want crispy and crunchy granola, you need a fat component! Olive oil or butter works, but a nut/seed butter will add an extra layer of flavor.
Let the granola cool. You may want to try the granola fresh out of the oven. But hold your horses! The natural sugars in granola will harden as it cools down, and the granola will form the quintessential chunks.
Frequently asked questions
Can I use honey to sweeten my granola?
Well, I have yet to try this recipe with honey. But because honey tends to retain moisture, I am a little wary about using it to make granola.  
What can you use instead of nut butter?
If you're allergic to nuts, you can use tahini or sunflower seed butter instead.
Can I prepare granola mix in a food processor?
You can pulse the wet and dry ingredients in a food processor to quickly mix them. Don't blend at high speed to avoid making granola butter.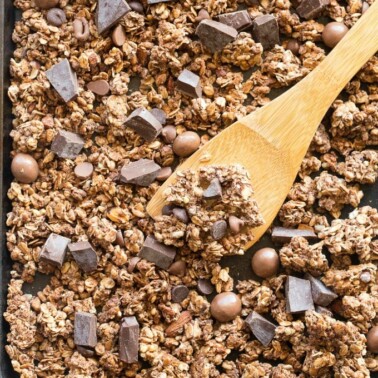 Chocolate Granola
This chocolate granola is healthy, chocolaty, and crunchy- not just your regular breakfast-next-bowl! It uses simple ingredients and makes a wholesome breakfast!
Instructions
Preheat the oven to 180C/350F. Line a large baking tray with parchment paper and set aside.

In a large mixing bowl, combine the rolled oats, quick oats, salt and nuts of choice.

In a small saucepan or microwave-safe bowl, heat the peanut butter with the maple syrup until it just begins to bubble. Add the liquid mixture to the dry mixture and combine until fully incorporated.

Spread out the granola mixture evenly on the lined oven tray and bake for 10-12 minutes (depending on the oven) until the edges start to go slightly golden. Remove from the oven and stir through the chocolate chips. Place back in the oven and continue to bake until golden brown.

Remove from the oven and stir through remaining chocolate and allow to cool completely. Once cooked, break up the granola and store in an airtight container.
Notes
TO STORE. Granola keeps well at room temperature in a sealed container for one month.
TO FREEZE. I suggest storing it in the freezer for more extended storage for three months.
Nutrition
Serving:
1
serving
Calories:
150
kcal
Carbohydrates:
18
g
Protein:
8
g
Fat:
7
g
Potassium:
3
mg
Fiber:
4
g
Vitamin A:
150
IU
Vitamin C:
2.5
mg
Calcium:
30
mg
Iron:
0.5
mg
NET CARBS:
14
g
More ways to have chocolate for breakfast
Disclosure: This post may contain affiliate links. I may earn a small commission for my endorsement, recommendation, testimonial, and/or link to any products or services from this website.