This easy homemade cookie cereal recipe is your excuse to have cookies for breakfast! Mini bite-sized chocolate chip cookies made with wholesome and simple ingredients, they take minutes to make- It's BETTER than cookie crisp cereal. Vegan, Gluten-Free, Paleo.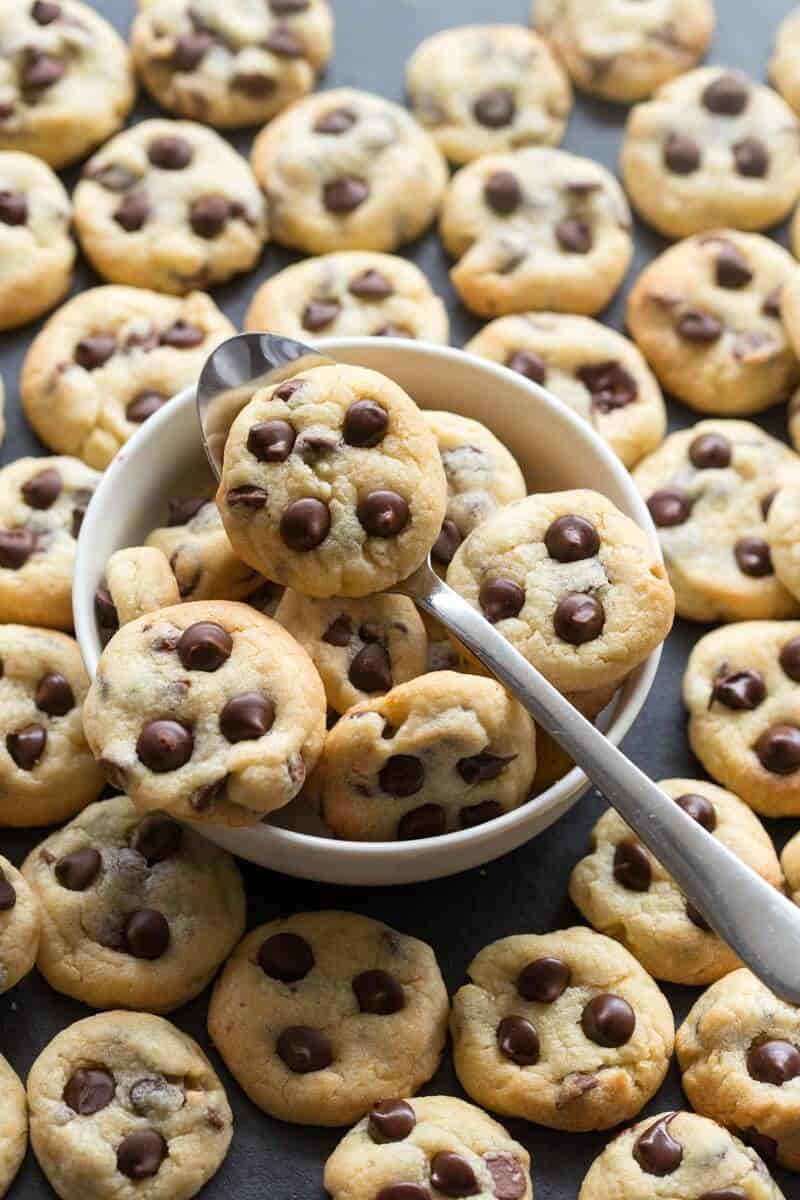 You've probably seen the pancake cereal and cookie cereal trending on TikTok.
The concept involves making pancakes or cookies mini-sized, before pouring it into a cereal bowl and having it for breakfast.
Now, before we give TikTok or other social media platforms all the credit, let's take a step back to my first cookbook and share one of my favorite recipes from it- The homemade Cookie Cereal! My own original recipe BEFORE it became a viral sensation!
What is cookie cereal?
Cookie cereal is as the name suggests, is mini cookies designed to be eaten from a bowl…with milk.
Unlike breakfast cookies, the original concept involves rolling out mini balls of packaged cookie dough and baking it, like traditional cookies, until cooked. Once they are cooked, you douse them in milk and enjoy as you would any bowl of cereal.
Can you really have cookies for breakfast?
To be honest, the cookie cereal trend on social media is not one you'd actually have for breakfast or incorporate as part of your morning meal. It is essentially just mini-sized cookies.
In my recipe, however, we do things differently.
Inspired by the classic cookie crisp cereal, this is a fun HEALTHY version.
I adapted this cookie cereal from my healthy chocolate chip cookie recipe. The ingredients used are healthier, wholesome, and made without grains or refined sugar. They also contain no eggs, so you technically could eat it raw. Although that would be silly, as we want to douse it in milk.
The cookies aren't loaded with chocolate chips. Instead, they have a crispier exterior, perfect to soak in some cold, creamy milk.
For those who follow a specific diet, you'd be glad to know this homemade cookie crisp cereal just happens to be paleo, vegan, AND gluten-free too.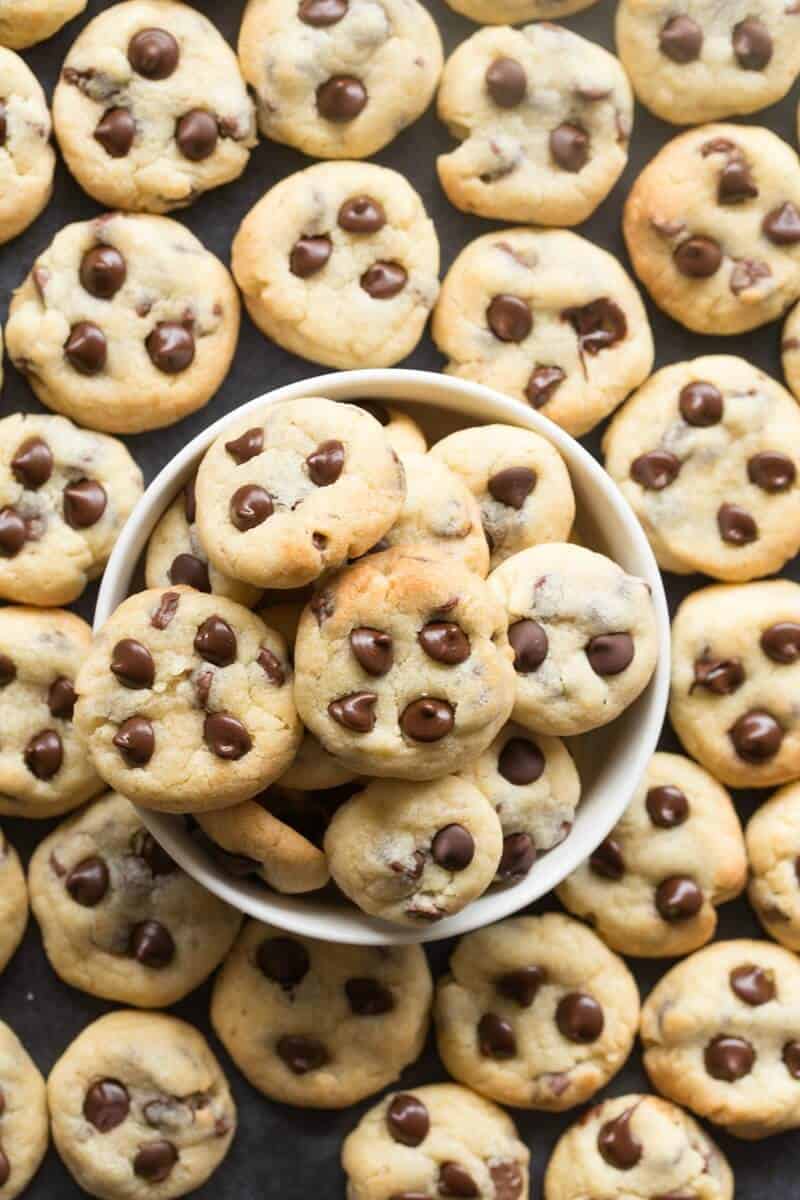 How to make cookie cereal
The Ingredients
Almond Flour– I used blanched almond flour, to give it a lighter color and crispy exterior. You can use almond meal if you prefer, but be wary that the cookies will be darker in color, and have a slightly grittier texture.
Arrowroot Starch– Helps hold the cookies together. You can replace this with tapioca powder.
Baking powder– Leavens out the cookie cereal, and gives them a little rise.
Vanilla Extract– A non-negotiable in all my cookie recipes.
Maple Syrup– Provides sweetness, but also holds the cookies together well. You can use agave nectar, too.
Coconut Oil– Gives the cookies a buttery flavor. You won't taste the coconut at all, I promise! Melt your coconut oil, until it is at room temperature.
Milk of choice– To form the dough! You may need a little extra milk than recommended. I used unsweetened coconut milk, but any milk is fine (soy, coconut, almond, etc).
Chocolate Chips– Because the best kind of cookies, even in cereal, must be chocolate chips! Use mini chocolate chips, for even distribution amongst the cereal.
The Instructions
To start, preheat the oven to 180C/350F. Line two large baking trays with parchment paper and set those aside.
In a large mixing bowl, add your dry ingredients and mix until combined. Then, add your softened coconut oil, maple syrup, and vanilla extract and mix until combined. Slowly add your milk, until a thick dough remains. You may need to add a little extra. Finally, fold through the chocolate chips using a rubber spatula.
Then, you want to prepare your cookie dough to be baked in tiny bite-sized pieces. Roll out tiny balls of dough (around 1/4 inch in width) and place them on the lined baking trays. As the cookies won't really spread, push down on each ball of dough forming a circular shape. Bake the cookies for 7-10 minutes, or until beginning to go golden around the sides.
You'll want to let the cookies cool on the pan completely. Once cool, place the amount of chocolate chip cookie cereal you want to enjoy in a cereal bowl and pour the desired amount of milk and enjoy!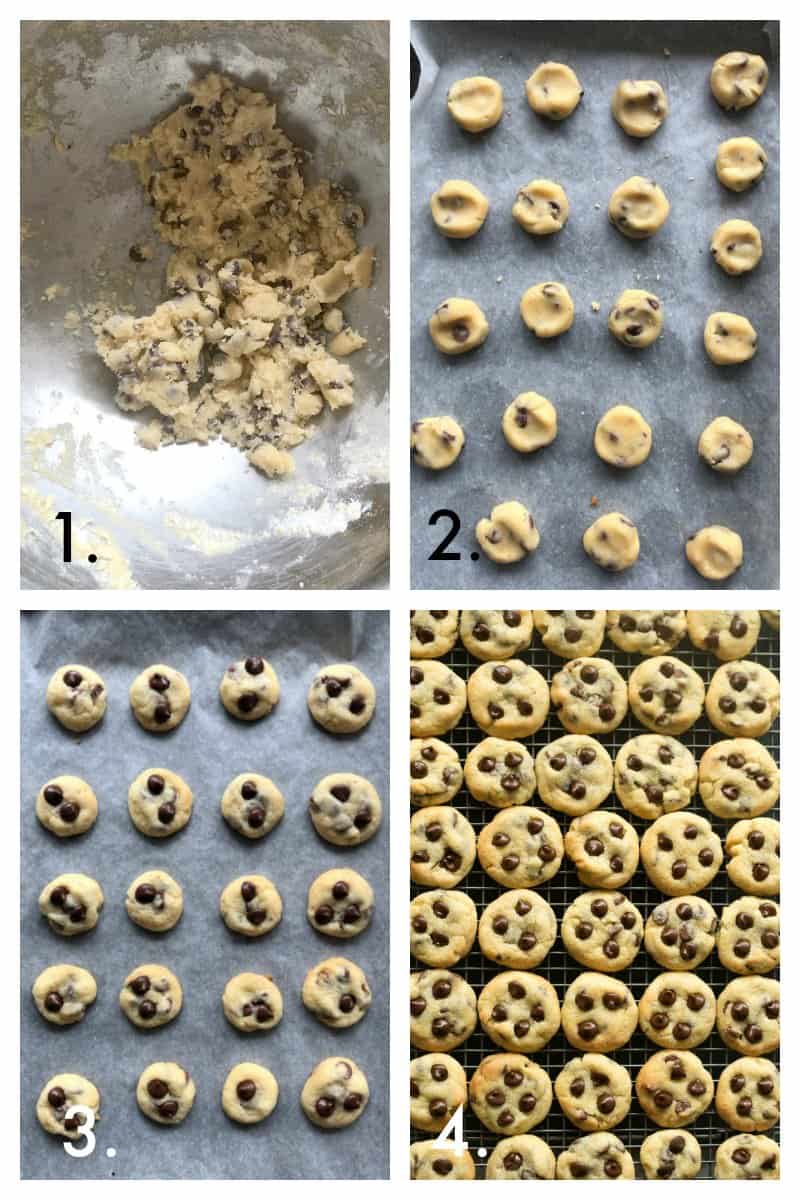 Can I make these with other chocolate chip cookie recipes?
The tough thing about cookie cereal is you simply cannot just pick and choose any cookie recipe you like and make it into mini-sized cookies for cereal. The reason for this is that extra liquid and an increase in the wet ingredients are required for the mini cookies to remain intact and keep their cookie shape.
If you plan to just make cookie cereal for the gimmick factor and not have it for breakfast, use store-bought cookie dough.
Cookie Crisp Cereal Tips
Do not overmix the dough! The dough is fragile and overriding will see the cookies fall apart once you place them on the baking tray.
I used 1/4 inch sized balls of cookie dough purely for the cereal factor. If desired, make them smaller or larger, depending on your preference.
This cookie cereal recipe is designed to make thicker cookies with a delicious crumbly texture. You WANT the cookies to be able to become softer when mixed with milk.
For more chocolate-y cookies, chop up a bar of baking chocolate in addition to the chocolate chips. You'll be left with mouthfuls of chocolate with every spoonful.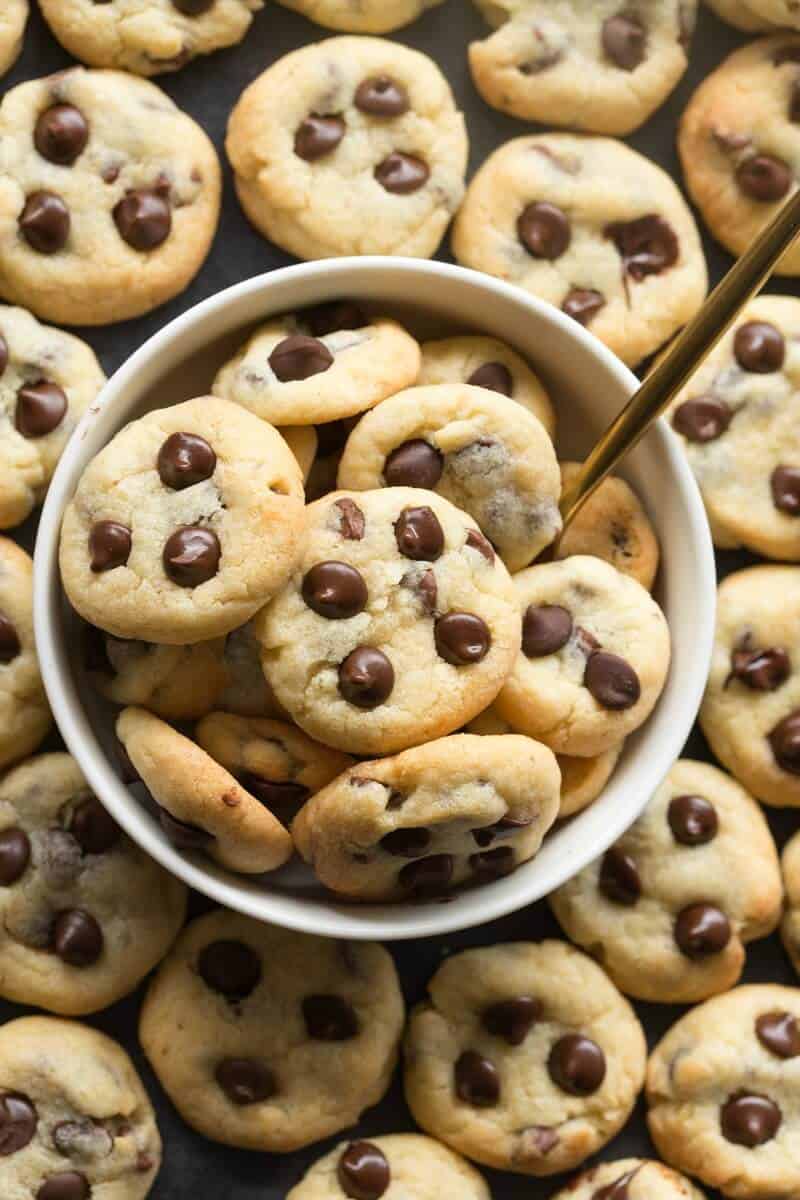 Storing Mini Cookie Breakfast Cereal
To store: Like any breakfast cereal, store this version in a sealable container, at room temperature. It's best to enjoy it within 2 weeks.
To freeze: Store a batch in the freezer to enjoy later! Place the leftover cookie cereal in a freezer-friendly container and keep in the freezer for up to 2 months.
How to use cookie cereal (not just for breakfast!)
Ice cream topping– Sprinkle a handful over some coconut ice cream, for some added crunch and sweetness.
Trail mix– Add some chocolate chips, raw nuts, and dried fruit and mix with cookie cereal for a high-energy trail mix. Perfect to enjoy between meals and for a sweet and salty combination!
Oatmeal topping- Top your overnight oats with some cookie cereal for a fun topping. I love it with cookie dough overnight oats!
Yogurt mix-in– Add a handful of cookie cereal to some plain, unsweetened yogurt for a high-protein snack!
Smoothies– Perfect for a smoothie bowl, add some delicious cookie crunch to them!
Granola Mix-in– Add to homemade granola! Mix in some cookie cereal for some extra texture and sweetness.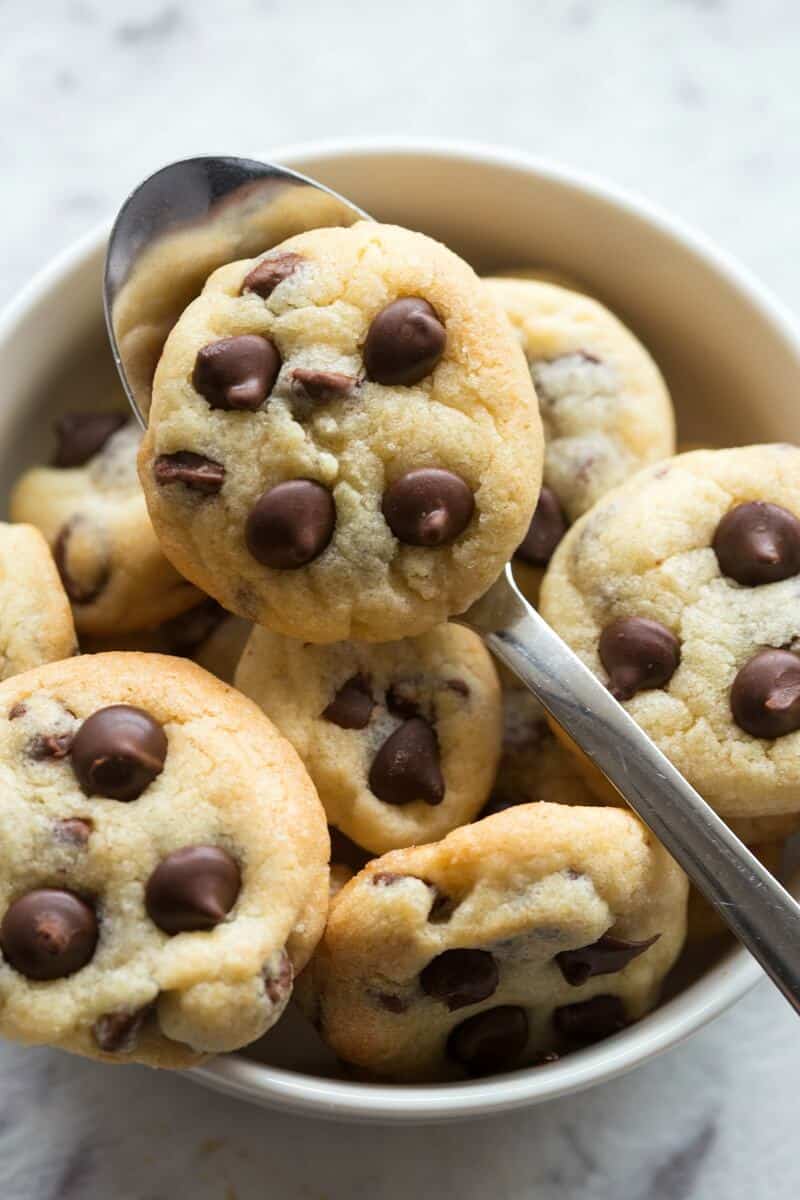 More Fun Breakfast Recipes you'll enjoy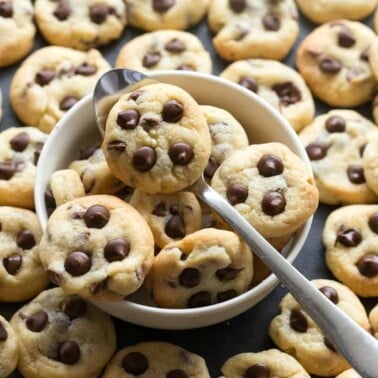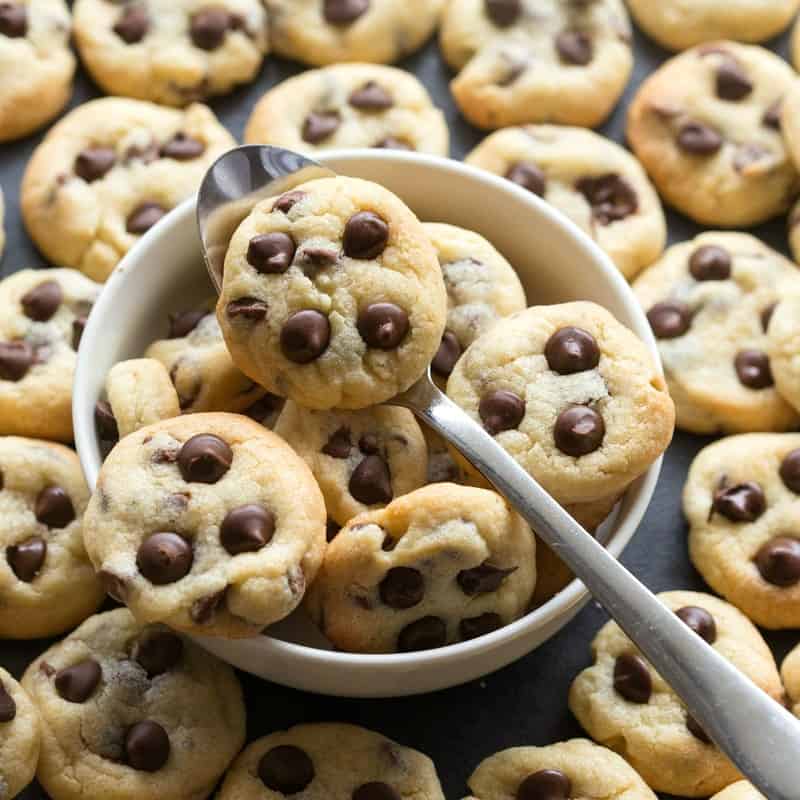 Homemade Cookie Cereal
Homemade and simple cookie cereal recipe that is healthy enough to eat for breakfast! Perfect soaked in milk, they are quick and easy to make and use wholesome ingredients! Vegan, Gluten Free, Paleo, Dairy Free.
Instructions
Preheat the oven to 180C/350F. Line two baking trays with parchment paper and set aside.

In a large mixing bowl, add your almond flour, arrowroot flour and baking powder and mix well. Add your maple syrup, coconut oil and vanilla extract and mix until just combined. Using a rubber spatula, fold through your chocolate chips.

Using your hands, form tiny balls of dough, around 1/4 of an inch in size. Place on the lined baking trays and press each one into a cookie shape. Bake for 7-10 minutes, until golden on the edges.

Remove from the oven and allow to cool on the pans completely, before enjoying with milk or storing for later.
Notes
* You may need to add more for a smoother batter. I used unsweetened almond milk.
** For more chocolate flavor, add a chopped up chocolate bar and fold through into the batter.
For more fun breakfasts, you'll enjoy overnight oats (8 flavors!) or banana breakfast smoothies.
Nutrition
Serving:
1
serving
Calories:
198
kcal
Carbohydrates:
17
g
Protein:
6
g
Fat:
19
g
Sodium:
76
mg
Potassium:
34
mg
Fiber:
3
g
Vitamin A:
3
IU
Vitamin C:
3
mg
Calcium:
130
mg
Iron:
2
mg
NET CARBS:
14
g
Disclosure: This post may contain affiliate links. I may earn a small commission for my endorsement, recommendation, testimonial, and/or link to any products or services from this website.