This keto granola recipe is the perfect snack or healthy breakfast chock full of giant clusters! Made with nuts and shredded coconut, it's naturally sweetened and easy to prepare! 3 grams net carbs per serving.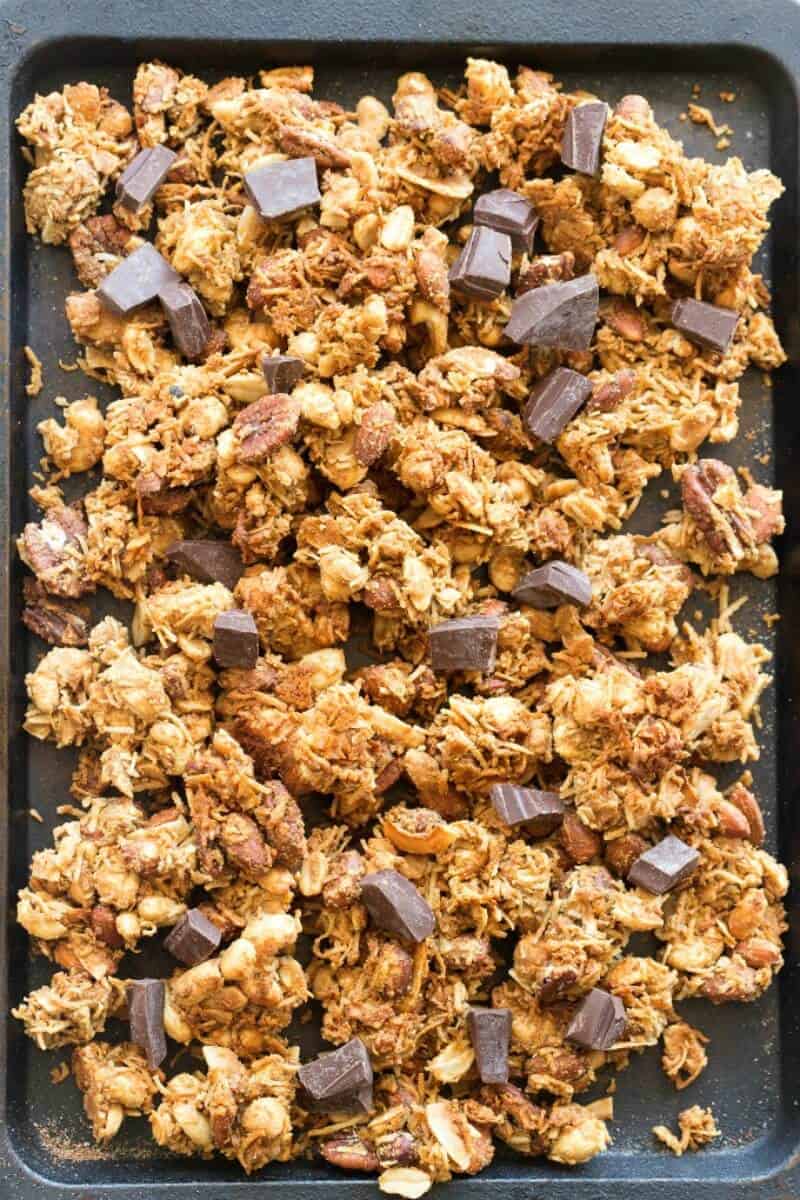 When I love something sweet and salty to snack on, I love granola or nuts, like candied pecans, candied almonds, and this keto granola!
Granola is something that you can easily snack on and is simple to whip up. While traditional granola is made with oats and butter, I love the alternative low carb granola! The healthy fats from the nuts and no sugar needed make it the perfect snack to enjoy when hunger strikes! Seriously, it is the best low carb granola!
Is granola keto?
I often get asked can you eat granola on a keto diet. The answer is yes- Depending on how you prepare it and what ingredients are used.
My version is 100% keto friendly. It is made with nuts, shredded coconut, and is held together with almond flour and sweetened with keto maple syrup.
Not only is this keto friendly, but it's made without dairy or grains, so vegan, gluten free, AND paleo.
How to make low carb granola
The Ingredients
Nuts of choice

– Use your favorite nuts, just be sure they are unsalted and raw. I used a mix of almonds, cashews, and walnuts.

Almond flour

– Blanched almond flour helps hold the keto granola together, and make those delicious granola clusters. Avoid using almond meal, as it can have a gritty texture.

Shredded coconut

– Unsweetened shredded coconut flakes! The finer the flakes are, the better they will hold together.

Keto maple syrup– Adds sweetness, and is the binder for the keto granola.
The Instructions
Low carb granola is ridiculously simple to make. Start by preheating the oven to 180C/350F. Line a large baking tray with parchment paper, so it will be easy to remove once the granola has cooled. In a large mixing bowl, add your favorite nuts, shredded coconut, and almond flour, and mix very well, until combined. Then, you'll add in your keto maple syrup and mix well, until fully incorporated and all the dry ingredients are covered in it. It may seem like a small amount, but a little goes a long way.
You'll then transfer the keto granola mixture onto the lined tray. Using a rubber spatula, spread out the granola in an even layer. Bake the granola for around 20-25 minutes, stirring halfway through. The granola may seem soft, but it will firm up once cooling. Once the edges have gone golden brown, remove it from the oven.
Allow the granola to cool completely on the baking tray. Once it has cooled, use your hands to break apart the granola into your desired size. I prefer clusters, so tend to keep them on the larger size.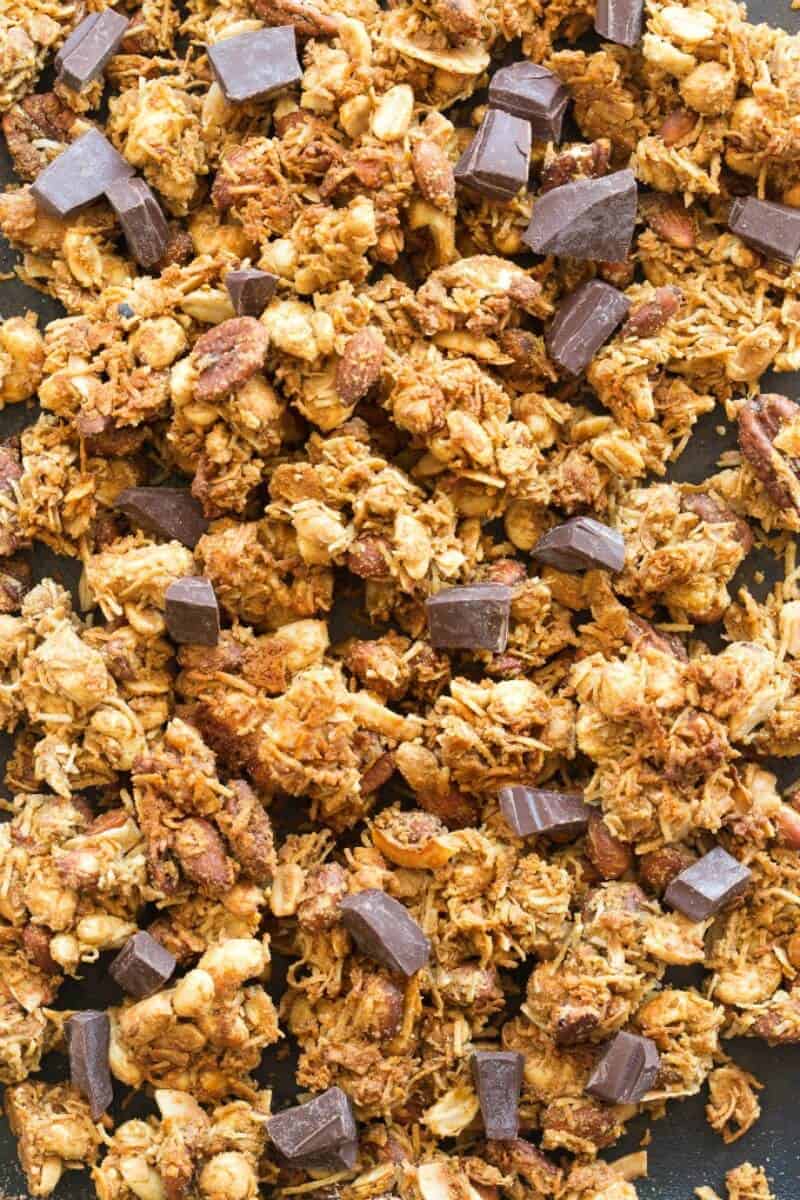 Serving ideas
I personally love snacking on it, but it is so versatile! Here are some other ways to enjoy this low carb granola recipe-
Ice cream- Add a couple of handfuls to keto ice cream for some added crunch
Milk- Pour over some dairy-free milk and enjoy a bowl for breakfast!
Crunch Bars- These are PERFECT to use in my keto crunch bar recipe
Trail mix- Toss through some chocolate chips or other seeds/nuts and have an on-the-go snack or lunch box treat!
Storing and Freezing Low Carb Granola
To store: Leftover keto granola should always be kept in a sealable container, at room temperature. Be sure there is sealed properly, to avoid the keto granola softening.
To freeze: Keto granola clusters are freezer friendly and can be stored in the freezer. Place in a freezer friendly container and keep in the freezer for up to 6 months.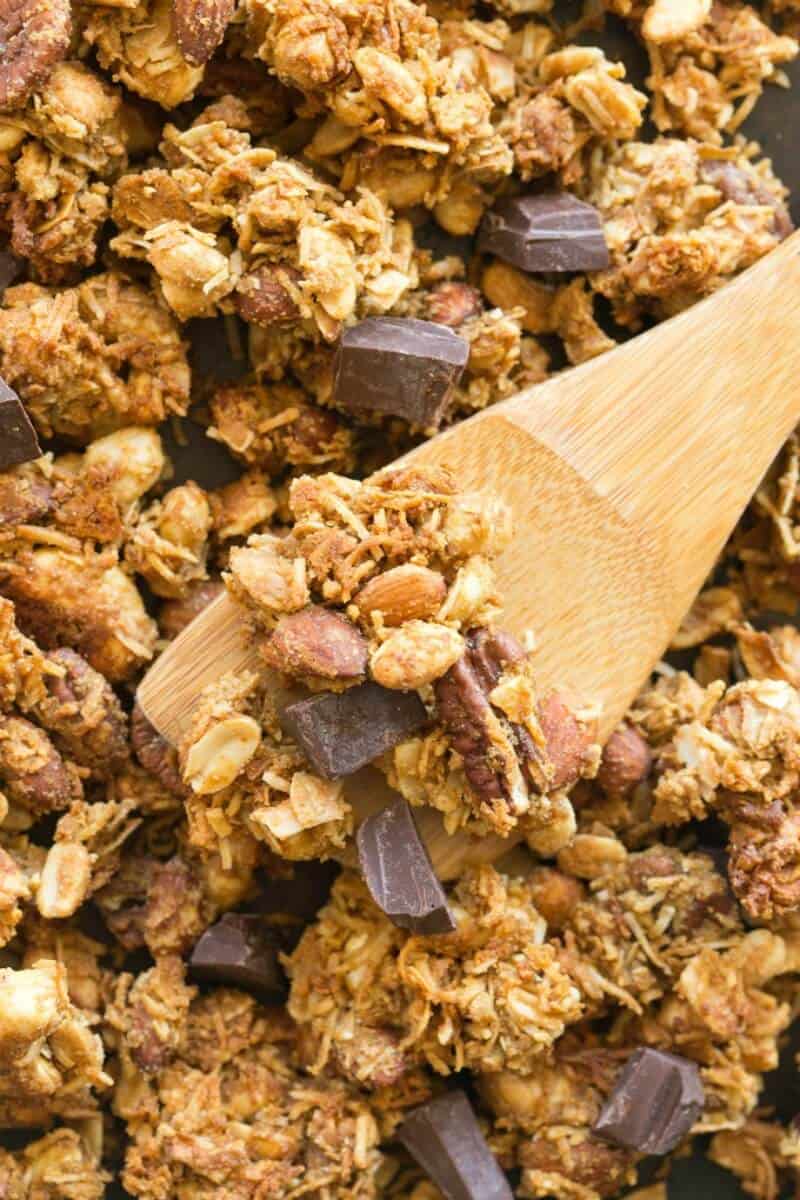 More Easy Keto Breakfasts Without Eggs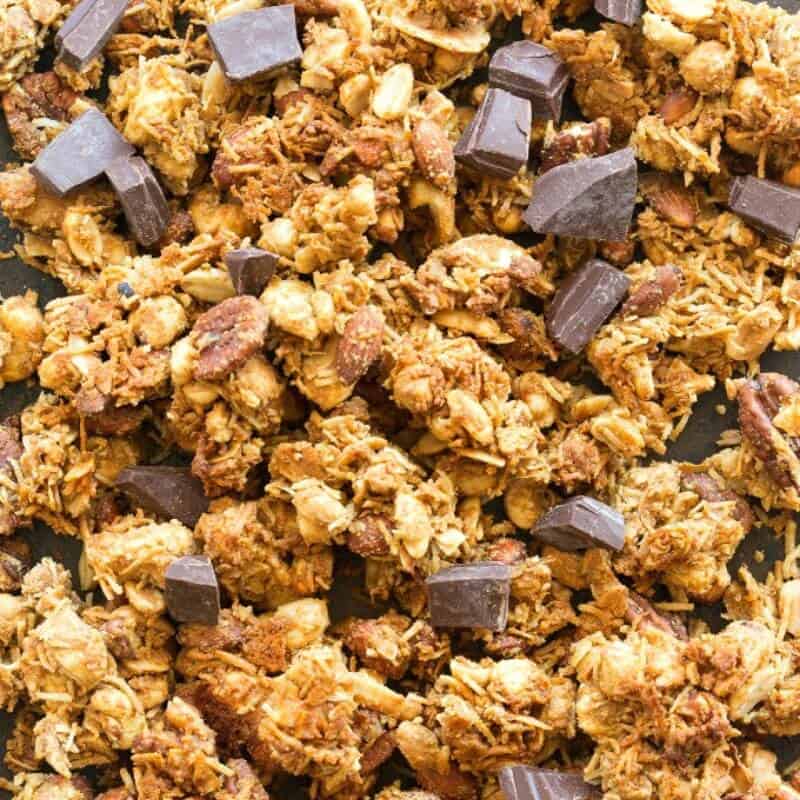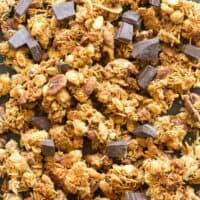 Keto Granola
Keto granola is made with 4 ingredients and made using low carb and sugar free ingredients! Crunchy and crispy low carb granola loaded with giant clusters! Vegan, Gluten Free, Paleo
Print
Rate
Instructions
Preheat the oven to 180C/350F. Line a large baking tray with parchment paper and set aside.

In a large mixing bowl, add all your dry ingredients and mix well. Add your keto maple syrup and mix until fully incorporated.

Transfer the granola mixture on the lined tray and spread out in an even layer.

Bake for 20-25 minutes, stirring halfway through. Granola is done when the edges have gone golden brown.

Remove from the oven and allow to cool completely, before breaking apart into desired size.
Notes
Keto granola should be stored in a sealed container. It will keep fresh for up to 1 month. It can also be stored in the freezer to keep for up to 6 months.
Nutrition
Serving:
1
serving
|
Calories:
277
kcal
|
Carbohydrates:
8
g
|
Protein:
7
g
|
Fat:
25
g
|
Sodium:
8
mg
|
Potassium:
224
mg
|
Fiber:
5
g
|
Vitamin C:
1
mg
|
Calcium:
37
mg
|
Iron:
2
mg
|
NET CARBS:
3
g