These keto bagels are a low carb and grain free take on classic baked bagels! No cheese or yeast needed, they have a firm crust, chewy and slightly doughy center, and perfect when toasted. 2 gram net carbs per bagel.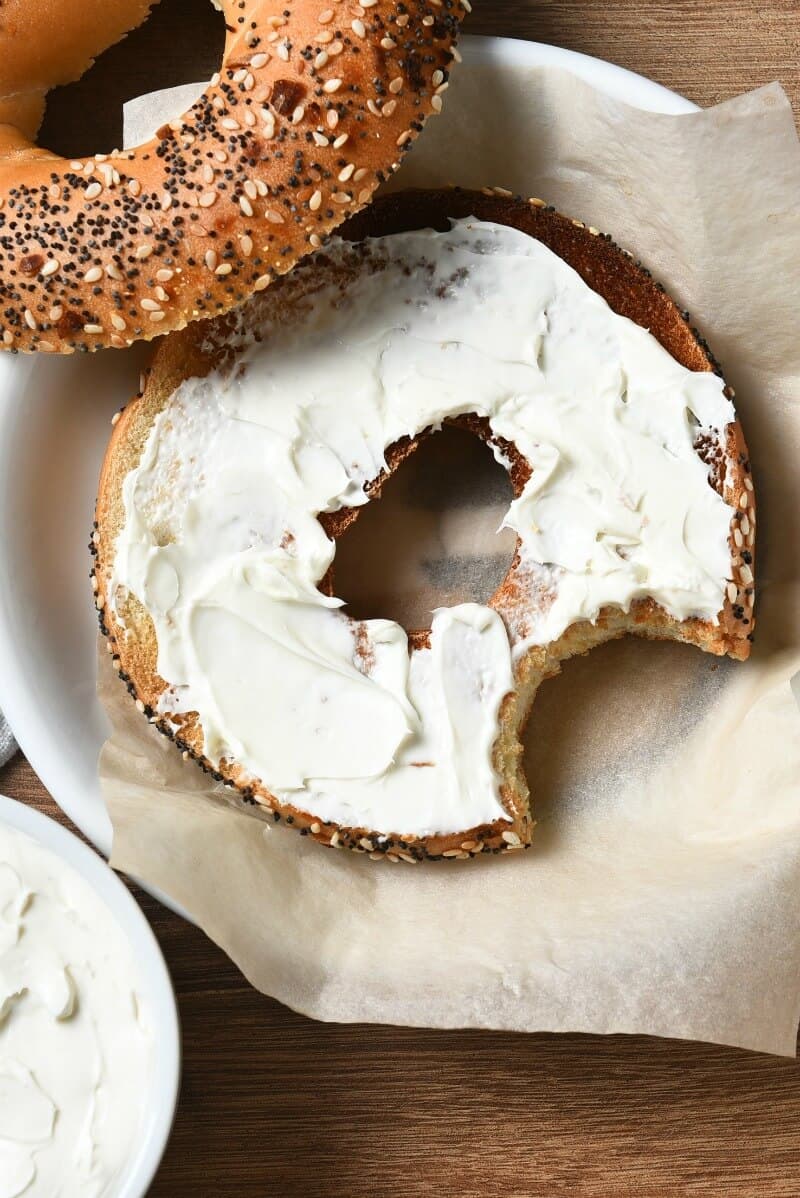 Low Carb Bagels
When it comes to satisfying my carb cravings while being keto, I love baking some French toast casserole, soft pretzels, and some easy keto bagels.
If there is one thing I truly missed when going keto, it was bread. Up until my early twenties, my favorite breakfast would be a toasted bagel with butter. No fancy fillings or spreads- just a simple toasted bagel with butter. To be honest, I never even really needed the butter, but I mostly added it so my parents wouldn't think I was odd to be eating a plain toasted bagel.
Luckily for me, it was a smooth transition and my bagel breakfast continues up until today…but with a twist. Instead of a wheat based bagel full of carbs and hidden sugars, I've been enjoying a low carb version!
I've been meaning to share a keto bagel recipe for quite some time now. It's been my go-to breakfast (and sandwich bread) literally since the start of the keto diet.
Now, this isn't like other low carb bagel or bread recipes out there. It has no yeast, no cheese, and no eggs, but you'd never be able to tell. These bagels are doughy, chewy, and fluffy in the middle. They taste just like your favorite plain bagel, which means you can easily customize it or add your favorite spices and toppings.
Like any good bread recipe, you can also freeze a bunch so you ALWAYS have some on hand. I served these recently when I had some friends over for brunch and NO ONE believed me when I said they were low carb- They thought these were traditional bagels, if not better!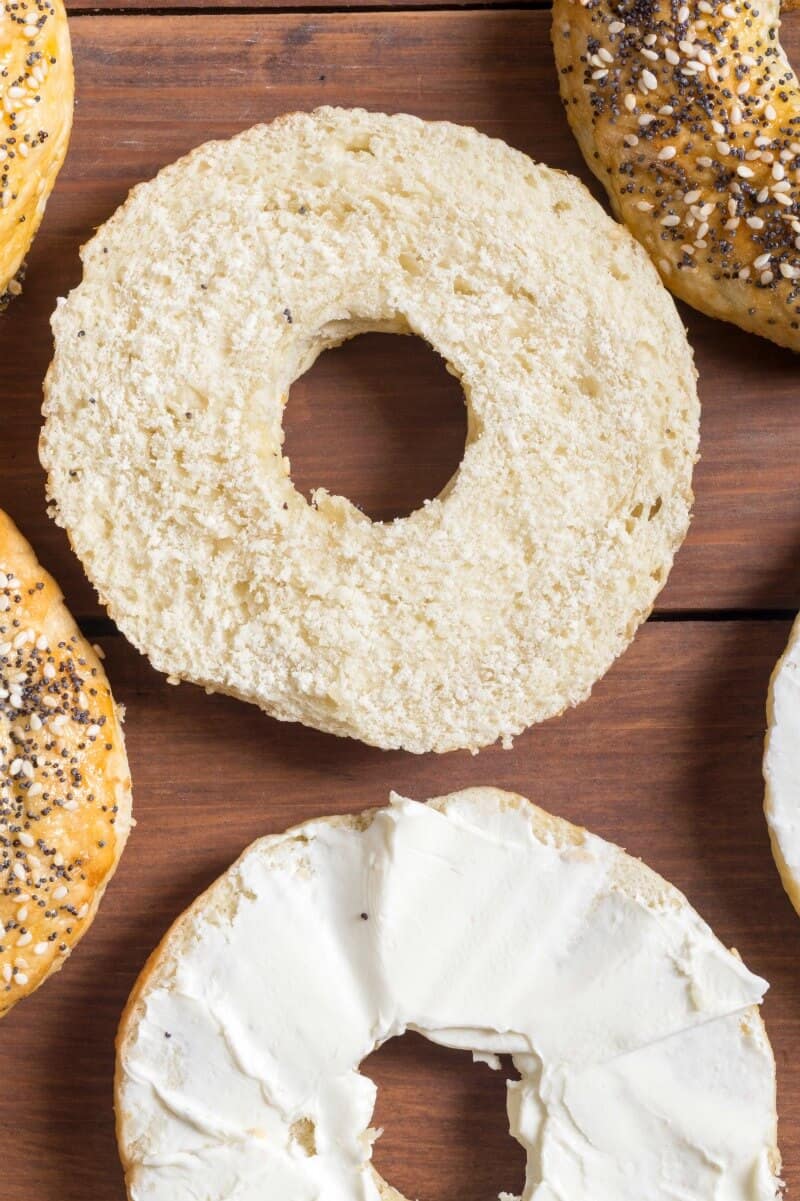 How do you make keto bagels?
The Ingredients
Almond flour– Blanched almond flour is preferred, as it gives the low carb bagels chewier and fluffy texture. Almond meal will work too, but it will be darker and be a little denser.
Protein Powder– The secret ingredient! Protein powder acts as a carb free flour, and gives these bagels the PERFECT texture, without the need for eggs or cheese. I used unsweetened whey isolate protein powder, and this is sometimes why these are called protein bagels!
Xanthan Gum– Be super careful when using xanthan gum. Too little and your bagels will fall apart, too much and you'll be left with gummy bagels. Measure this out VERY accurately.
Baking powder– Gives the bagels rise and fluffiness.
Salt– A must for any bagel! These won't be salty, so you can add sweet spreads or toppings to it!
Hot water– The water must be hot, but not boiling.
Bagel toppings– Sesame seeds, poppy seeds, pumpkin seeds, etc. You can even sprinkle some everything bagel seasoning on top.
The Instructions
Start by mixing together your dry ingredients. Then, slowly pour over the hot water, and use a rubber spatula to mix it together, until combined.
Next, form balls of dough and place them on a lined baking tray. I recommend wetting your hands before you do this, to avoid the dough sticking. Once they are all on the pan, press the center of each one, to form a hole. This is when you can sprinkle with the toppings of your choice.
Finally, you'll bake the bagels at 180C/350F for around 12 minutes, until slightly golden on top. Let the bagels cool completely, before enjoying them.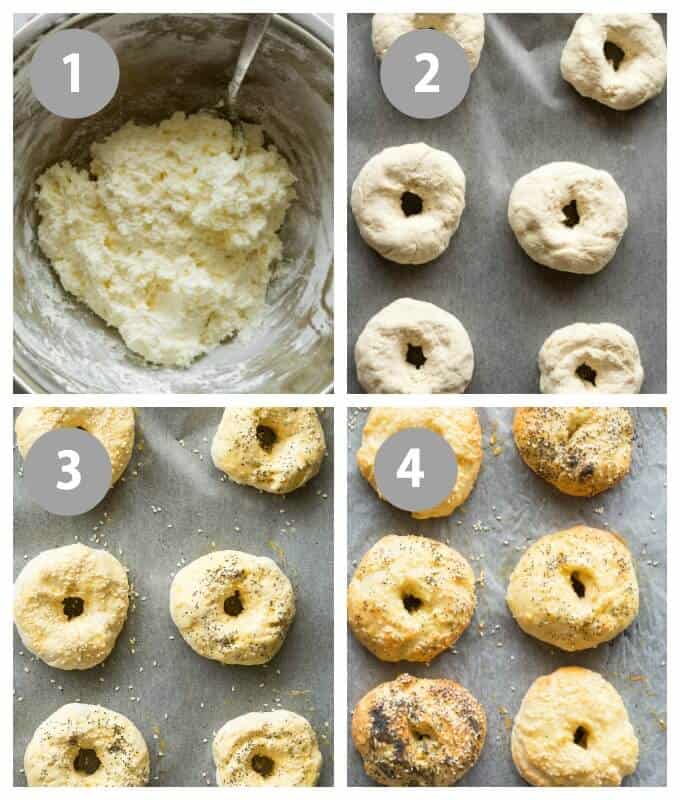 Tips to make the best bagels
Always wet your hands before working with the bagel dough. It will make it so much easier, and the keto dough will not stick to your fingers.
If you have a donut pan, you can use that to shape the bagels. Simply transfer the low carb bagel dough into a ziplock bag and cut one corner. Squeeze out the dough to fill the pan.
For a golden brown exterior, before baking them, brush the tops and outside of the bagels with either milk or an egg wash.
Oven makes and models differ, so you may need to cook your bagels for up to 18 minutes.
Bagels are best sliced in half once cooled. Toast them as you would with traditional bagels, for the ultimate chewy and doughy texture.
Flavor Variations
While delicious on its own, here are flavor ideas to add on top. Personally, I love them with some almond butter or homemade Nutella on top!
Asiago– Also known as cheese bagels! Fold through 1/4 cup of shredded cheese into the dough, and sprinkle the tops with parmesan cheese before baking.
Garlic– Increase the salt by 1/4 teaspoon and fold through garlic powder into the dough. Sprinkle the tops of the bagels with garlic powder and dried garlic flakes.
Cinnamon Raisin– Add 1/2 tablespoon of cinnamon into the dough, and fold through 2-3 tablespoons of raisins.
Sesame Bagels- Simple and classic- Add toasted sesame seeds on top.
Onion– Double the amount of salt in the dough, and add onion powder and onion flakes to it. Top the bagels with coarse sea salt, onion flakes, and sesame seeds.
Everything– Add everything but the bagel seasoning over the tops of the bagels.
Storing and freezing keto bagels
To store: Leftover bagels are best to be stored in the refrigerator, in a sealed container. They will keep well for up to 5 days.
To freeze: Place the bagels in a ziplock bag and keep them in the freezer for up to 6 months.
To reheat: Microwave for 30 seconds, before slicing in half and toasting in a toaster.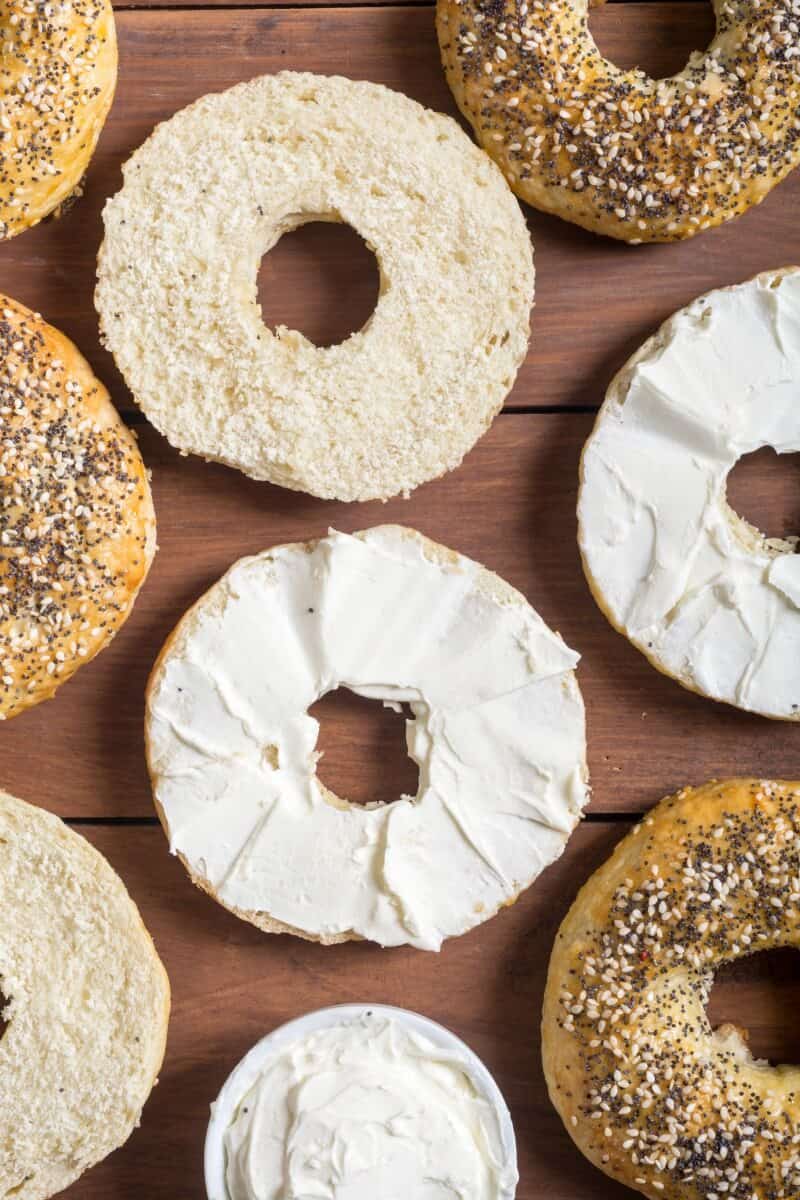 More keto bread recipes to try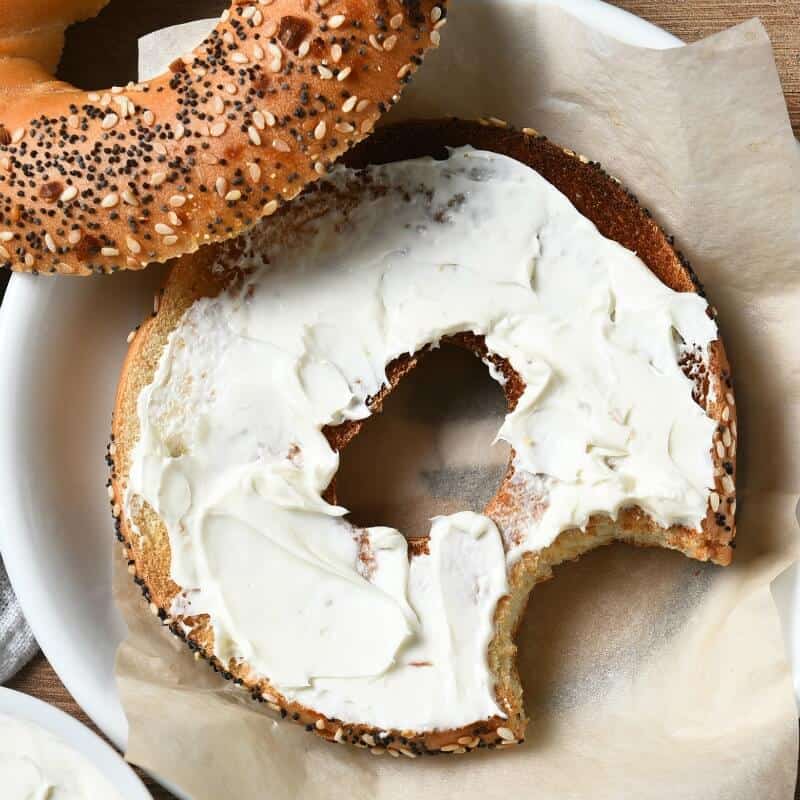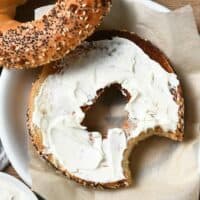 Keto Bagels (No cheese!)
These keto bagels are a low carb take on chewy and tender bagels! No yeast and no cheese needed, they are perfect toasted for breakfast!
Print
Rate
Instructions
Preheat the oven to 180C/350F. Line a large baking tray with parchment paper and set aside.

In a large mixing bowl, combine all your ingredients, except for the water, and mix well. Slowly, add the hot water over the top and mix well, until fully combined.

Lightly wet your hands and form 3-4 large balls of dough or 8 small ones. Place each ball of dough onto the lined plate, and press down into a circular shape. Using your index finger, form a hole through the center of each one, forming a bagel shape. If desired, brush the tops of each bagel with egg or milk, for a golden brown finish. Sprinkle the tops of each bagel with your spices/seeds of choice.

Bake the bagels for 15-17 minutes, or until just golden around the sides. Remove from the oven and let cool on the pan completely.
Notes
* I haven't tried other protein powders. I have tried this with coconut flour but wasn't thrilled with the texture. If you do want to try it, use 2 tablespoons (20 grams) of coconut flour.
TO STORE: Leftover bagels are best to be stored in the refrigerator, in a sealed container. They will keep well for up to 5 days.
TO FREEZE: Place the bagels in a ziplock bag and keep them in the freezer for up to 6 months.
TO REHEAT: Microwave for 30 seconds, before slicing in half and toasting in a toaster.
Nutrition
Serving:
1
Bagel
|
Calories:
121
kcal
|
Carbohydrates:
4
g
|
Protein:
9
g
|
Fat:
8
g
|
Sodium:
258
mg
|
Potassium:
31
mg
|
Fiber:
3
g
|
Vitamin A:
18
IU
|
Calcium:
124
mg
|
Iron:
1
mg
|
NET CARBS:
1
g