A favorite appetizer or side dish at ANY Italian restaurant or fast food joint- Garlic knots! Made with 2 ingredient pizza dough, they take less than 20 minutes to make and have NO yeast!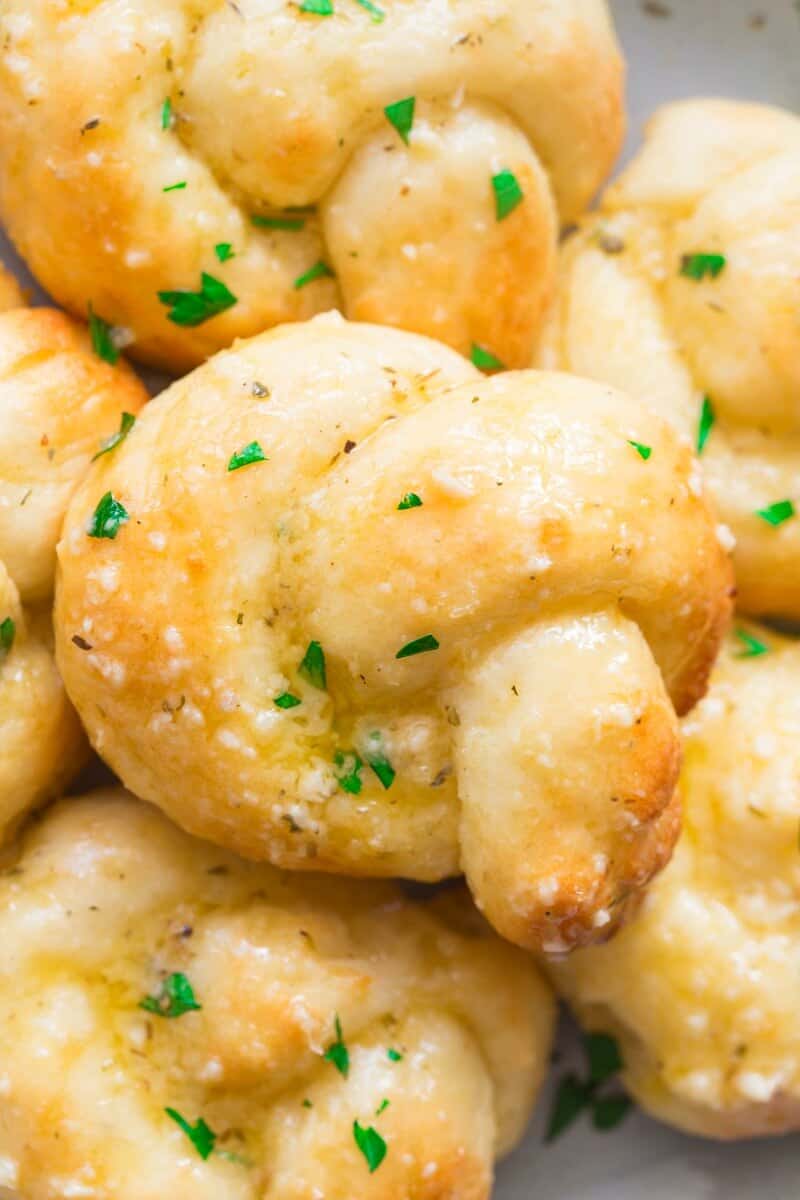 2 Ingredient Pizza Dough Garlic Knots
I hope you are enjoying these simple no yeast recipes. If you are anything like me, you are stuck at home with a full pantry but missing one ingredient- For me, it is yeast!
With other pantry staple ingredients, we can easily make a few cheeky changes and STILL enjoy delicious recipes!
After making my 2 ingredient pizza dough last week, I had the biggest craving for a side of garlic knots!
Instead of using refrigerated biscuit dough or making actual garlic bread, I simply re-purposed the famous 2 ingredient weight watchers dough and used that to make my favorite guilty pleasure- Garlic knots!
Just like my 2 ingredient bagels, 2 ingredient naan, and 2 ingredient flatbreads, they contain NO yeast and ready in minutes.
You guys have asked for more EASY savory baking recipes, and this one is a winner- you can even get the little ones involved!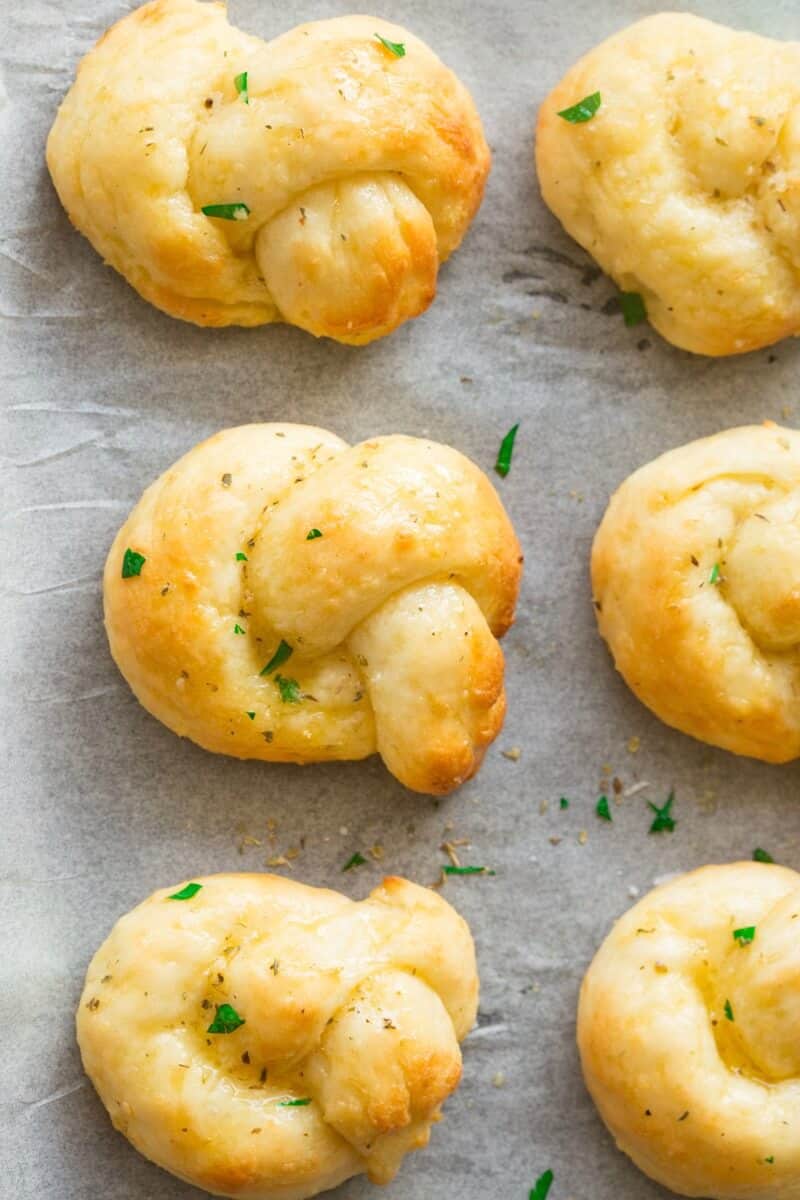 What are garlic knots?
Garlic knots are the fancier, more delicious cousin of the classic garlic bread.
They are stips of pizza dough folded (knotted) into little knots and brushed with garlic butter, herbs and salt.
They have ALL the flavor of garlic bread but in small, bite-sized portions. More often than not, they are a popular side dish at Italian restaurants and fast food joints.
Many enjoy them with dipping sauces, like marinara sauce or ranch dressing.
How to make garlic knots
Making garlic knots is SO simple, and uses the 2 ingredient weight watchers dough!
Self-rising flour– You can use either gluten-free self-rising flour (as I did) or standard self-raising flour. If your flour isn't self-rising, see below the instructions of how to easily make your own.
Greek yogurt– Non-fat Greek yogurt, low-fat Greek yogurt or full-fat Greek yogurt all work. This also works (in my case) with coconut yogurt, as that is what I used to keep it vegan.
Butter or oil– You can use either butter (vegan dairy-free butter) or olive oil, to brush the garlic and herb mixture on top of the knots. You can also use dairy-free margarine if that is what you have on hand.
Garlic– Either freshly minced garlic or jarred minced garlic. I was lazy and used the latter.
Italian herbs– A must for any Italian style bread. Italian herbs are a mix of oregano, basil, and thyme. You can make your own by combining 2 parts oregano, 2 parts basil and 1 part thyme.
The Instructions
Prepare the oven: You'll start by preheating the oven to 180C/350F. Line a large baking tray with parchment paper and set aside. I don't oil the tray or spray it with cooking spray, as I find the parchment paper suffices.
Prepare the dough: In a large mixing bowl, add your flour and yogurt and mix well, until combined. Then, use your hands to fully incorporate the yogurt into the dough. Form into a ball shape.
Flour the surface and divide the dough: Lightly flour a kitchen surface, and sprinkle a tablespoon of flour onto the dough. Transfer the dough onto the floured surface, and press into a circular shape. Then, you'll want to divide the dough into 8 portions (large knots) or 16 portions (small knots).
Roll out and form the knots: Roll each piece of dough into thin, sausage-like shape. Twist the dough into a knot shape, and place on the lined pan. Repeat the process until all the knots are formed.
Brush the knots and bake: If using butter, melt it in the microwave or stovetop. Once liquid-like, whisk through the minced garlic with Italian herbs. Use a pastry brush to brush the garlic butter mixture over each of the knots completely. Bake the garlic knots for 20 minutes, or until lightly golden on the tops.
Remove from oven and cover: Remove the garlic knots from the oven and quickly cover them all for several minutes in a dishtowel. This ensures the dough remains fluffy inside. After several minutes, brush with extra garlic butter and enjoy it.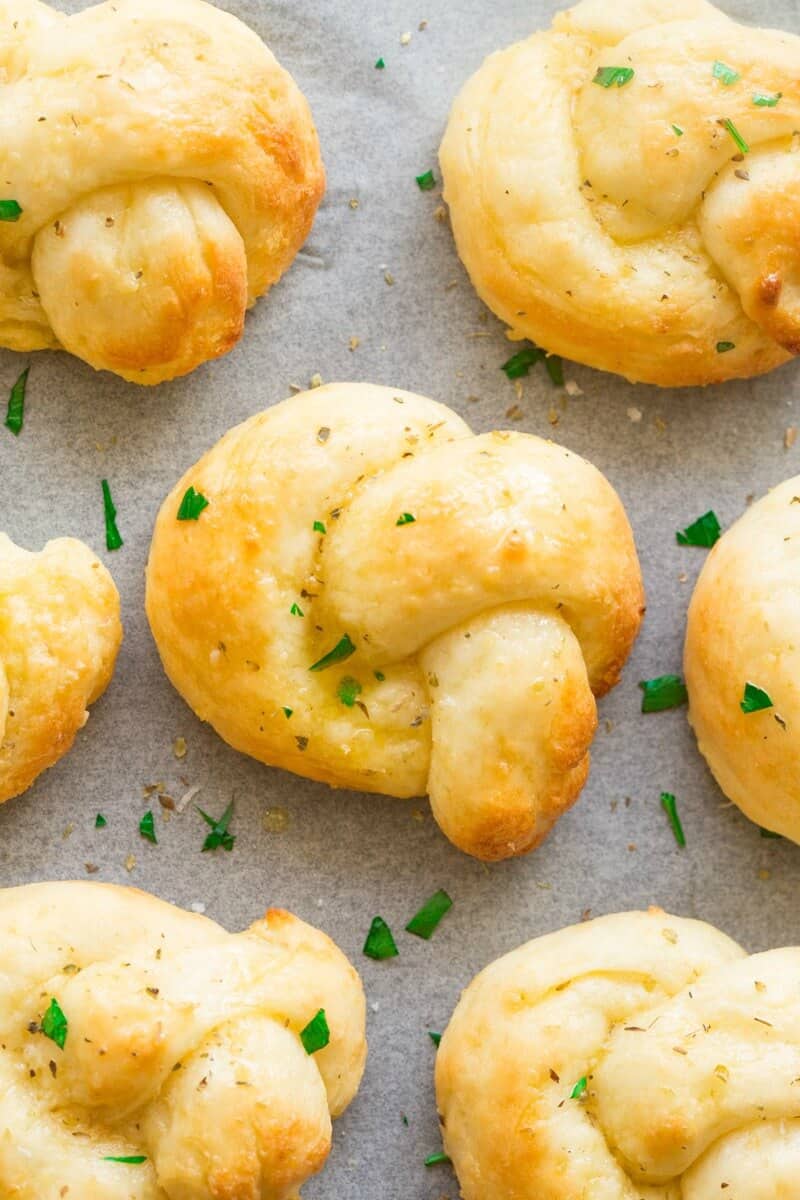 How to make your own homemade self-rising flour (wholewheat or all-purpose!)
Many of you have said that you DO have flour on hand, but it isn't self-rising (or self-raising, if you are in Australia or the UK!).
Easily make your own by combining one of the flours below, with baking powder and salt.
Choose your flour:
All-purpose flour- The best flour to use, and results in a lighter texture.
Gluten-free all-purpose flour- I've only tried it with Bob's Red Mills 1:1 flour. I cannot vouch for other gluten-free flour brands.
Wholewheat flour- This works too, but with a more robust flavor. This is great if you prefer brown or wholewheat bread products. Saying that I wouldn't recommend it for the garlic knots recipe.
Then add:
1 1/2 teaspoons baking powder
1/2 teaspoon of salt
The Instructions:
Easy! Just mix it all together and store the leftovers in a sealed container.
How to tie garlic knots (troubleshooting tips!)
Working with the dough, the hardest part is definitely tying up the garlic knots!
The biggest issue with it is when people either don't roll the dough long enough or roll it until it becomes too thin.
Tying the knots simply involved folding both ends of the dough into a cross shape, then, putting one end under the other, as though you are tying a bow.
If your dough is too thick: Simply roll it out a little more, until it can easily be twisted together.
If your dough is too thin: Re-form the dough into a ball shape, and roll out again.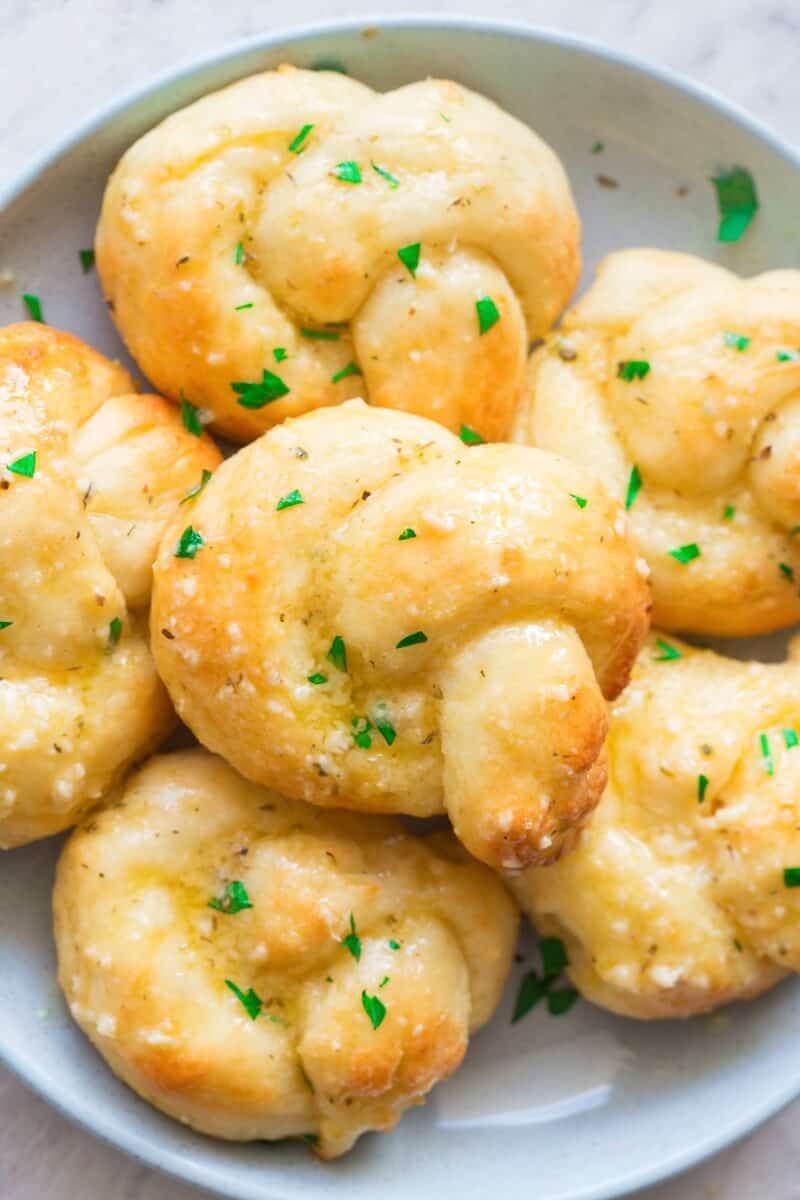 Are garlic knots vegan?
Traditional garlic knots tend to use butter or eggs to give the tops a shine. As such, those ones are not vegan.
However, THIS recipe is vegan AND gluten-free. Instead of using butter or egg, we've used dairy-free butter. We've also used coconut yogurt, instead of Greek yogurt.
If you require it to be vegan, be sure your butter is dairy-free, or use non-dairy margarine.
How many calories are in a garlic knot?
Store-bought garlic knots, depending on their size, can contain up to 300 calories apiece.
Pizza Hut Garlic Knots calories: 160 calories, 22 grams of carbs, 6 grams of fat and 6 grams of protein.
Homemade Garlic Knots calories (16 knots per batch): 69 calories, 9 grams of carbs, 2 grams of fat and 5 grams of protein.
FACT: Homemade Garlic Knots are FOUR times the size of standard garlic knots.
Storing and Freezing garlic knots
To store: Store leftover garlic knots in a sealable container or on a plate covered in plastic wrap. They will keep fresh for at least 5 days.
To freeze: Garlic knots are freezer friendly and can be stored in the freezer. To freeze garlic knots, place them in a ziplock bag and keep in the freezer. They will keep fresh for up to 6 months.
To thaw: Thaw frozen garlic knots at room temperature. Once at room temperature, preheat in an oven (180C/350F) for 10-12 minutes, until warm and fragrant.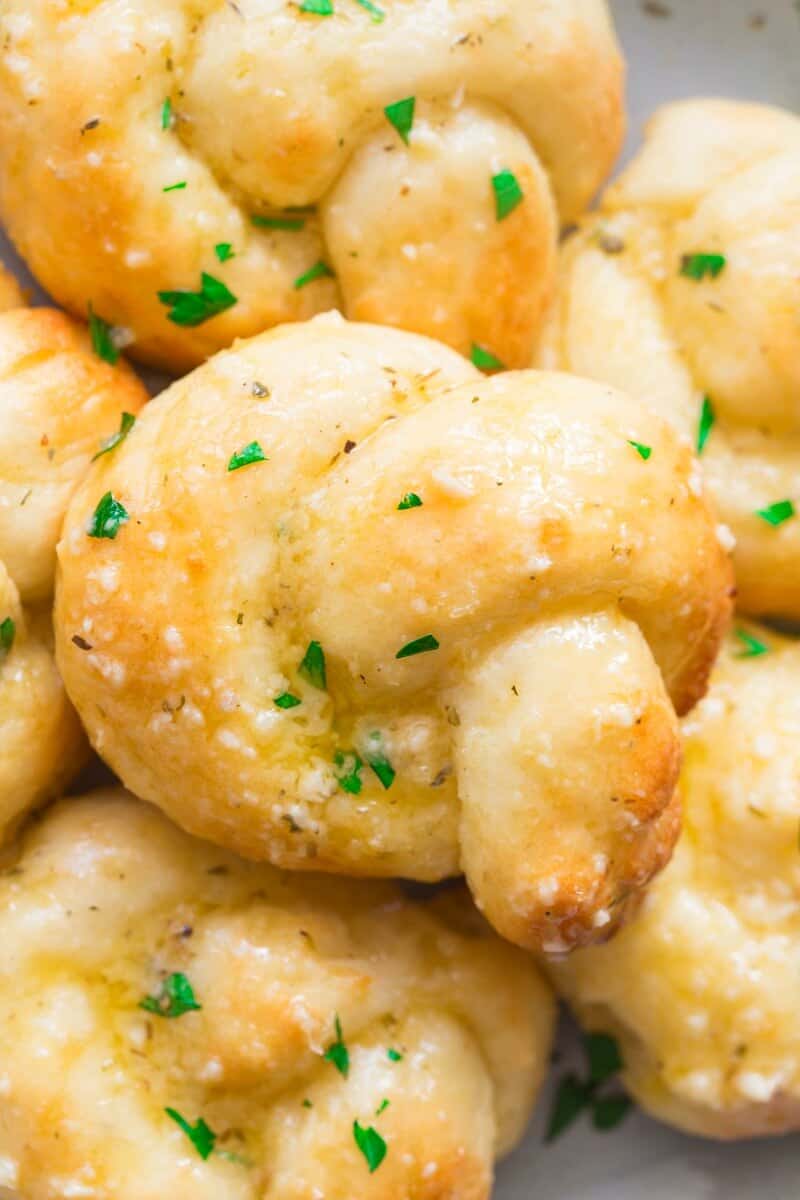 More 2 Ingredient Dough Recipes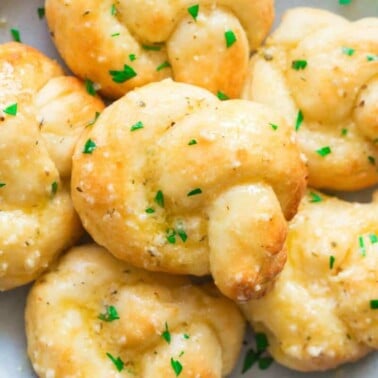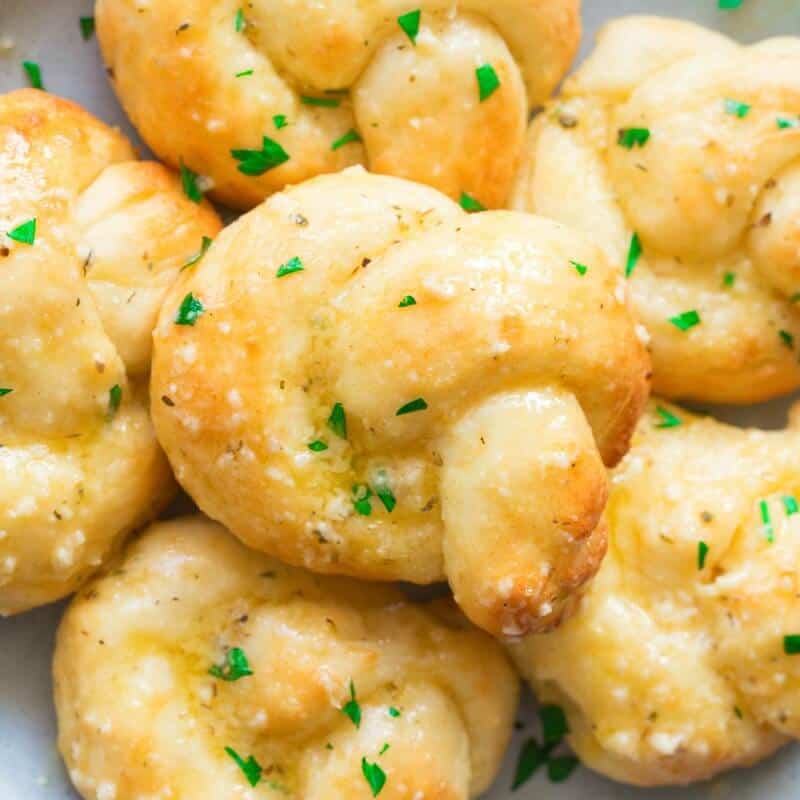 Pizz Dough Garlic Knots
Easy foolproof garlic knots made with 2 ingredient Greek yogurt pizza dough! One bowl, no mixer needed- It has no yeast, no milk and takes 20 minutes. Easily made vegan, gluten-free and dairy-free.
Ingredients
1 3/4

cups

self-rising flour

use gluten-free, if needed

1

cup

Greek Yogurt

non-fat, full-fat or reduced-fat varieties work, as does Coconut Yogurt (vegan)

2

tablespoon

butter OR oil

I used dairy-free butter

1

tablespoon

minced garlic

1/2

tablespoon

dried Italian herbs

oregano, basil and thyme
Instructions
Preheat the oven to 180C/350F. Line a large baking tray with parchment paper and set aside.

In a large mixing bowl, combine your self-rising flour with yogurt and mix well, until combined. Then, use your hands to incorporate it together, and form a ball of dough.

Lightly flour a kitchen surface. Add a tablespoon of flour on top of the ball of dough, and tranfer to the floured surface. Press into flat, circular shape. Divide the dough into 8 or 16 pieces- 8 for large knots, 16 for smaller knots.

Roll out each piece of dough into a sausage shape (length and width). Grab both ends of the dough and meet together, before folding one under the other to form a 'knot'. Repeat until all are knotted. Transfer them all to the lined tray.

Melt your butter (or oil). Whisk through the minced garlic and Italian herbs. Use a pastry brush and brush the tops of each garlic knot.

Bake the garlic knots for 20 minutes, or until just golden on top. Remove from the oven and cover them with a dish cloth or towel for around 5 minutes, to keep the insides of the knots fluffy. Remove and then re-brush with more garlic butter.
Nutrition
Serving:
1
Garlic knot
Calories:
69
kcal
Carbohydrates:
7
g
Protein:
4
g
Fat:
2
g
Sodium:
17
mg
Potassium:
31
mg
Fiber:
1
g
Sugar:
1
g
Vitamin A:
44
IU
Calcium:
16
mg
Iron:
1
mg
NET CARBS:
6
g
Disclosure: This post may contain affiliate links. I may earn a small commission for my endorsement, recommendation, testimonial, and/or link to any products or services from this website.