These easy bagels are made with just 2 ingredients- Greek yogurt and self-rising flour! Made from scratch, they have no yeast and need no mixers or kitchen gadgets to make! Easily made vegan and gluten-free.
While I love my 3 ingredient cheese muffins, sometimes, I REALLY want a bagel.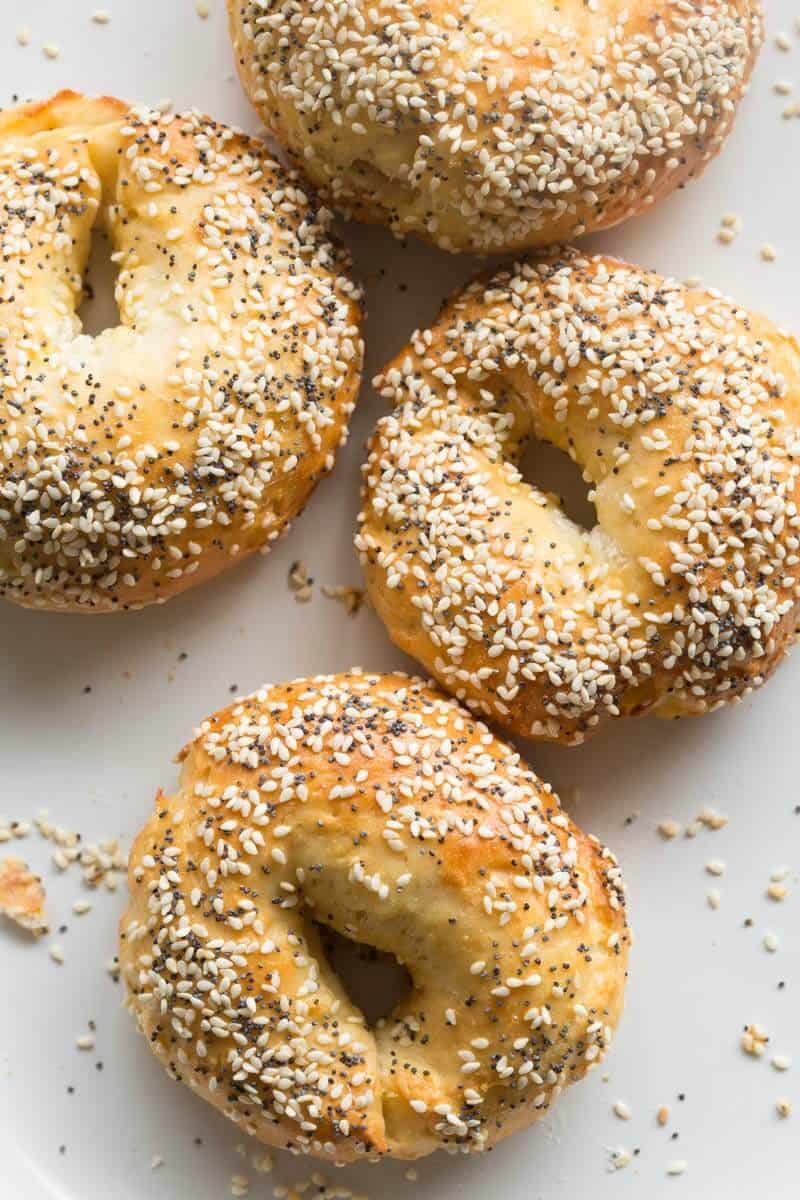 Easy Bagel Recipe
Growing up, I've always been OBSESSED with bagels, especially with a generous smear of cream cheese or peanut butter.
However, fresh bagels were a rarity, as many Australian supermarkets and bakeries tend not to stock them, claiming them to be 'too dry, too chewy, too bland'.
Um, no.
Now, with so many of us in quarantine and self-isolation, bread is something that can actually be hard to come by.
Getting a fresh loaf of bread or some bagels tends to be hit or miss- People are stocking up on loaves and freezing them to ensure they also have some bread.
No more.
Bagel lovers, rejoice- You CAN and WILL enjoy a homemade bagel that is
Healthier than store-bought
Made with just TWO ingredients
Made with NO yeast and NO boiling
No fancy kitchen gadgets, like a stand mixer, needed!
We are revisiting one of my aunts' old Weight Watchers recipe– The famous 2 ingredient dough.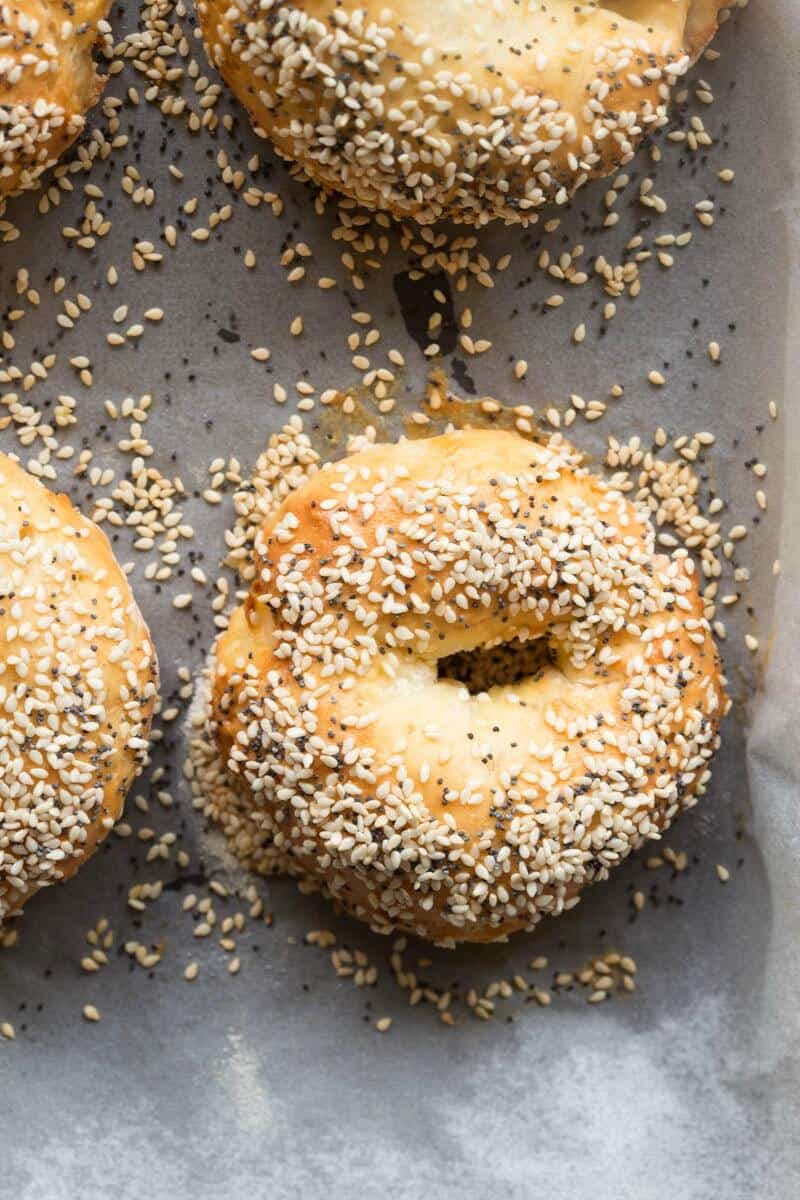 What is two-ingredient dough?
2 Ingredient dough is as the name suggests- a 'bread' dough made with self-raising (self-rising) flour and Greek yogurt.
When these two ingredients are combined together, they produce a thick and sturdy dough, that can be used for a myriad of things- bagels, pizza crusts, buns, pretzels and more!
Are 2 ingredient bagels healthier than traditional bagels?
Two ingredient dough bagels are much healthier than traditional bagels.
They have lower carbs and higher protein, thanks to the Greek yogurt. They also contain less sodium and less fat, but you'd never tell.
Now, as a bagel and bread connoisseur, they aren't 100% like a traditional bagel. They aren't as chewy, have a slightly more savory flavor, but are larger in size.
However, they 100% satisfy your bread craving AND use easy pantry and refrigerator ingredients.
How to make 2 ingredient bagels from scratch
There are no crazy kitchen gadgets needed to make these easy bagels.
In a large mixing bowl, combine your self-rising flour and Greek yogurt and mix very well, until fully combined and a thick ball of dough remains.
Then, you'll want to lightly flour a clean surface. Sprinkle some extra flour on top of the ball of dough, and transfer it to the floured surface. Lightly kneed the dough on both sides, flattening it into a circular shape.
You'll then divide the dough into 4 even portions. Using your hands, roll each portion of dough into a sausage-like shape. Connect both ends together, and place on a lined baking tray. Repeat until all 4 bagels are made.
Finally, you can either brush the tops with melted vegan butter, butter, egg yolk (if you aren't vegan), before sprinkling with everything bagel seasoning (my favorite), sesame seeds, poppy seeds, or a mix of both.
Bake the bagels for 20 minutes, at 180C/350F, until golden around the edges.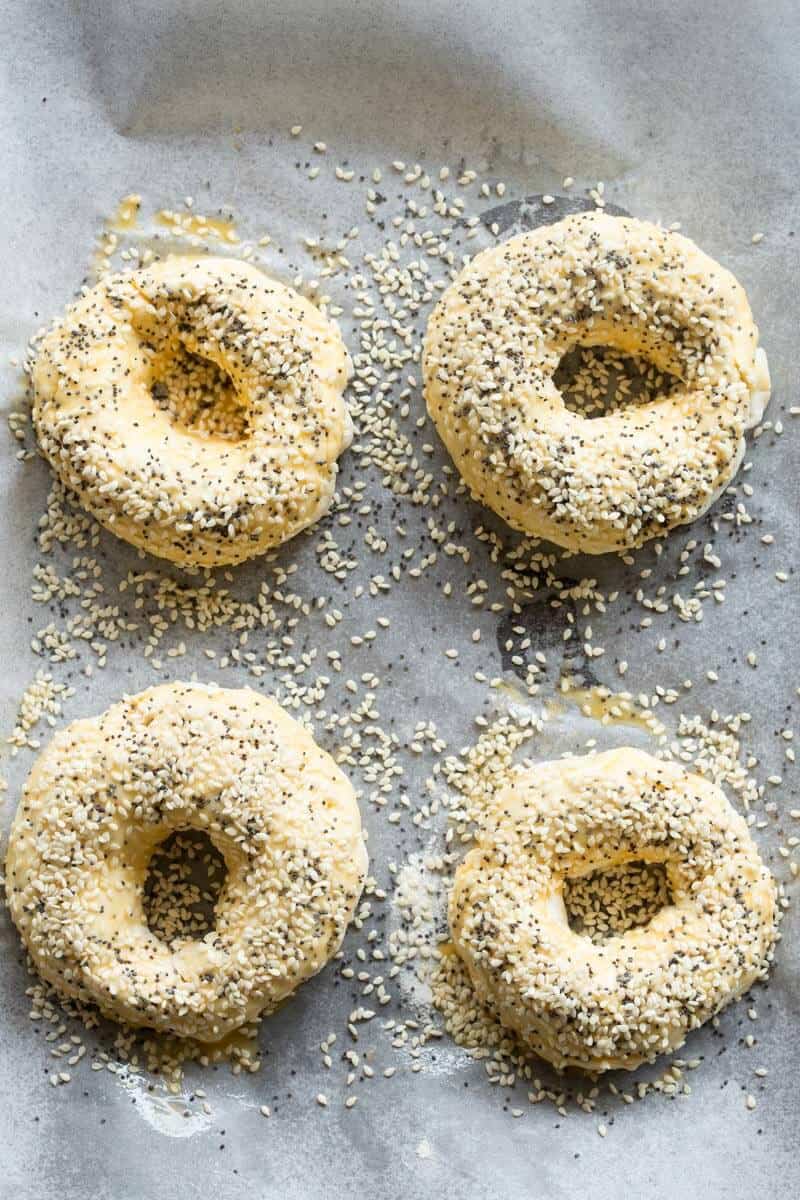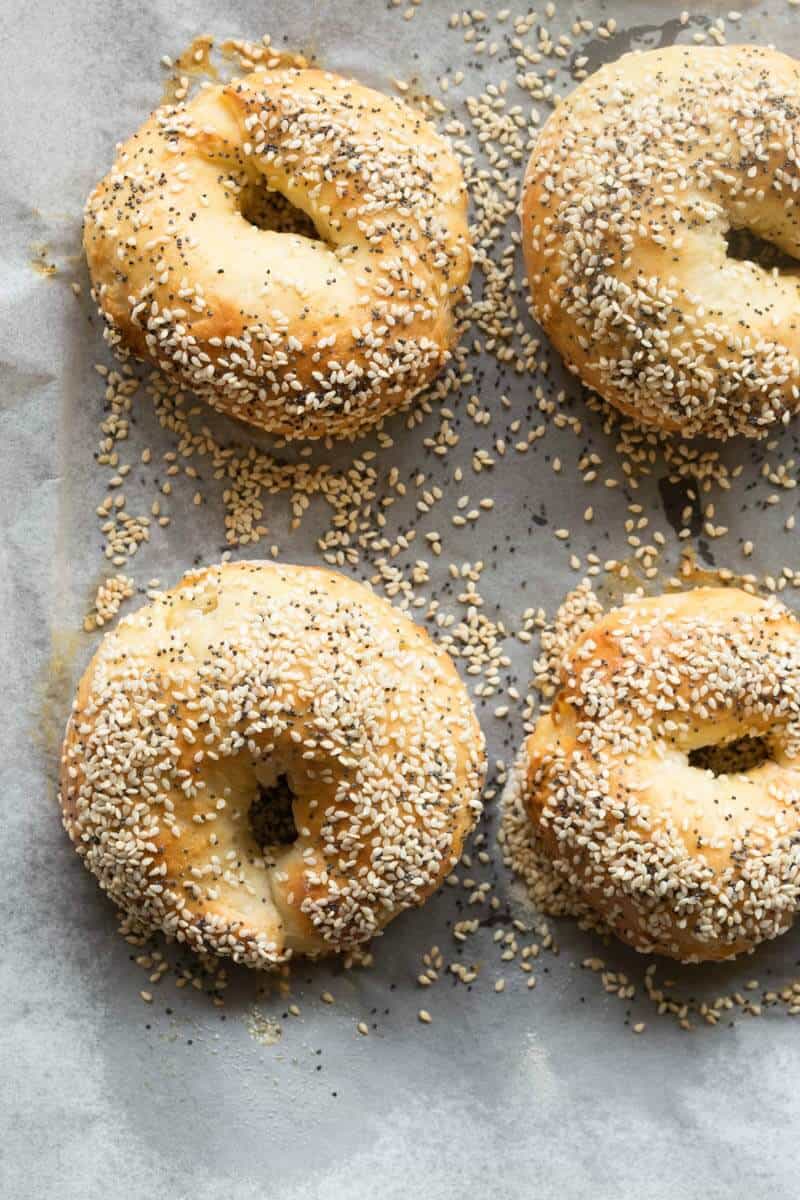 How to make your own self rising flour
Self-raising/Self-rising flour is essential to ensure the dough rises and puffs up.
If you don't have any, you can easily make your own mix below.
Ingredients
2 cups all-purpose flour
1 tablespoon baking powder
1 teaspoon salt
Instructions
In a large mixing bowl, sift your flour until no clumps remain. Add your baking powder and salt and mix very well.
Store in a sealed container.
Can I make 2 ingredient bagels with another flour?
As this is a simple 2-ingredient bread recipe, you cannot substitute the self-rising flour for another flour, like almond flour or coconut flour.
If you are looking for a bread recipe that is keto or paleo (grain-free), check out this 90 second English Muffin.
Can I use another yogurt (e.g. plain yogurt?)
So, I've experimented with several types of yogurt, and this is what does and doesn't work
Full Fat Greek Yogurt– This works very well, and the dough was extremely easy to mix together. The cooked bagels looked fantastic and tasted delicious. I didn't need to add any salt to the tops of the bagels, as the yogurt added some natural saltiness.
Non-Fat Greek Yogurt– Like the full-fat counterpart, non-fat Greek yogurt worked well too. I didn't notice a difference between non-fat and full-fat so if you are watching your calories, go non-fat!
Greek-Style Natural Yogurt- Greek-style natural yogurt has the texture of natural yogurt, so it isn't thick. As such, the dough was a little more difficult to form into a dough, but I got there eventually. The taste was fantastic.
Plain Yogurt (not Greek)– I had difficulties using plain yogurt, as the dough became extremely sticky and hard to knead together.
Dairy Free Greek Yogurt– This worked well (as pictured). I would have preferred to add around 1/4 teaspoon of salt, as the dough was a little bland.
Dairy Free Plain Yogurt– It may have been the brand I used, but dairy free plain yogurt was NOT fun to work with. Even after adding extra yogurt, it just became more and more sticky. I don't recommend it.
Can I make these gluten-free?
YES!
I've used gluten-free self-rising flour, and it worked just as well as the standard all-purpose flour.
However, I have NOT tried it with a homemade gluten-free flour blend.
Storing and freezing 2 ingredient bagels
If you are anything like me, you struggle to get through a package of bagels or a loaf of bread. As such, I recommend storing it in the fridge or freezer to enjoy later.
To store: Place cooked and cooled bagels in a ziplock bag. Bagels generally keep fresh for at least 5 days. You CAN keep them at room temperature, provided you eat them within 3 days.
To freeze: Either place bagels in ziplock bags individually or all of them together in one bigger bag. Frozen bagels will keep for 6 months.
To thaw: Allow bagels to thaw in the fridge overnight, or at room temperature.
Tips and Tricks for PERFECT 2 ingredient bagels
If your flour is not smooth, sift it prior to making the bagels- it will be so much easier.
Use a wooden spoon to mix the dough together, before using your hands (after washing them!). Using your hands to form the ball of dough makes it incredibly easier to combine the ingredients.
Be sure your surface you work on is floured, as there is no risk of the dough sticking.
Avoid using a rolling pin to form the bagels, as they become too thin and fall apart.
Do not try and make circles and placing a hole in the center- this results in the holes closing up.
2 Ingredient Bagel Flavor Variations
Wholewheat bagels– Use wholewheat self-rising flour.
Poppyseed bagels– Fold through 2 tablespoons of poppy seeds into the dough, and top the bagels without the sesame seeds.
Asiago bagels– Add 1/4 teaspoon garlic salt to the dough, along with 2 tablespoons of parmesan cheese. Top the bagels with 2 tablespoons of parmesan cheese and dried mixed herbs.
Cheese and garlic bagels– Add 2 tablespoons of parmesan cheese and 1 teaspoon of garlic powder into the bagel dough. Lightly sprinkle the tops with parmesan cheese and coarse sea salt.
Garlic and Onion bagels– Fold through 1 teaspoon of garlic powder, 1 teaspoon of onion powder and 1 teaspoon of salt into the dough. Top the bagels with coarse sea salt.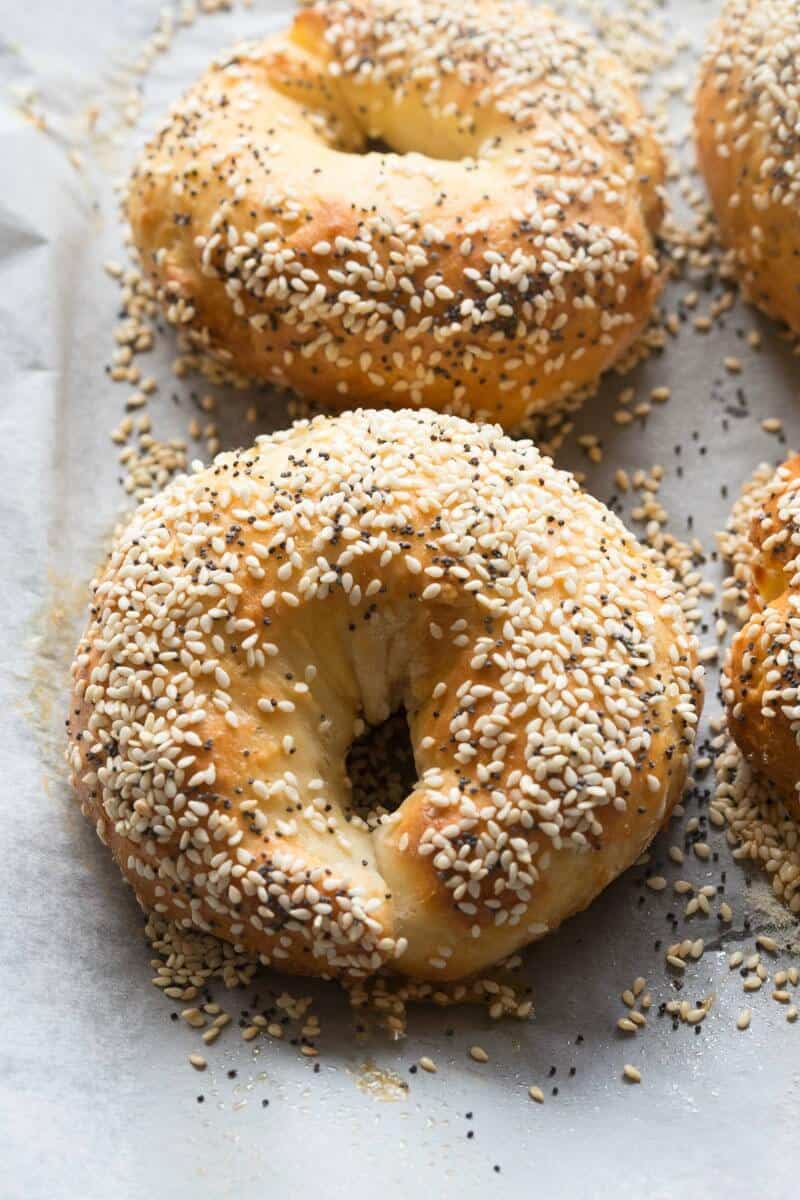 More foolproof bread recipes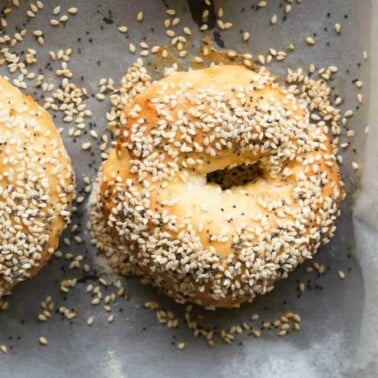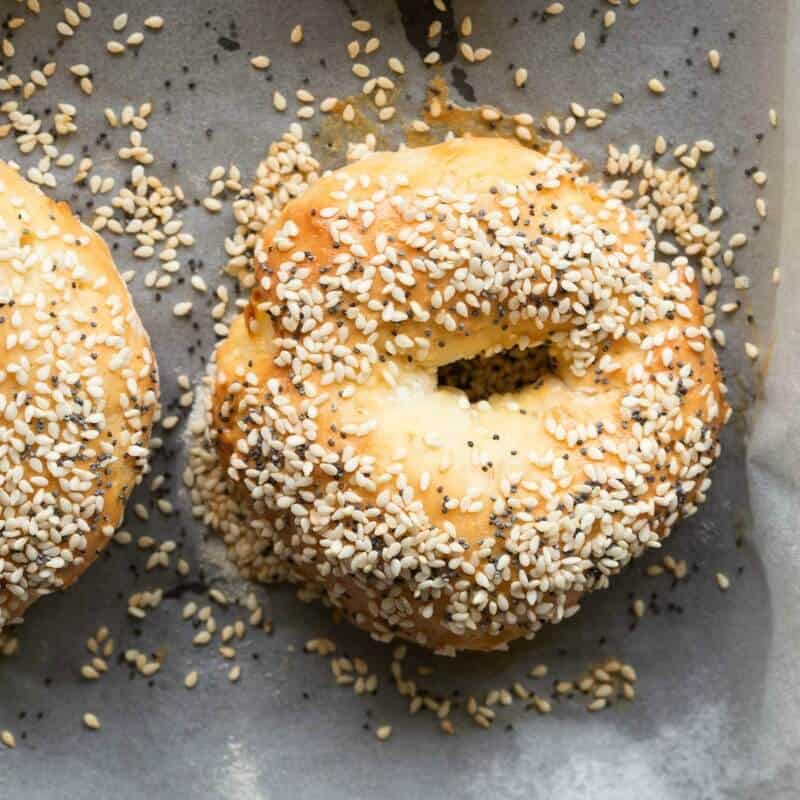 2 Ingredient Bagels
Easy and foolproof 2 ingredient bagel recipe made with Greek yogurt and flour- That is it! No yeast, no boiling and no mixers needed, they can easily be made vegan and gluten-free!
Ingredients
1 3/4

cups

self rising flour

Use gluten-free, if needed

1

cup

Greek yogurt

See post for ALL tested options

1

tablespoon

butter of choice

* See notes

1

tablespoon

sesame seeds

Optional, to top

1

tablespoon

poppy seeds

Optional, to top
Instructions
Preheat the oven to 180C/350F. Line a baking tray with parchment paper and set aside.

In a large mixing bowl, combine your flour and Greek yogurt and mix well, until fully combined and a ball of dough remains.

Lightly grease a kitchen surface with extra flour. Place the ball of dough on top, and top with a little extra flour.

Gently kneed the dough on both sides, flattening it out into a circular shape. Slice into 4 even pieces.

Use your hands to roll the dough into a thin, sausage shape. Join both ends of the dough to form a bagel shape. Place on the lined tray and repeat until 4 bagels are formed. Lightly brush the tops of each bagel with either butter, egg, milk or water. Sprinkle the seeds on top.

Bake the bagels for 20-22 minutes, or until golden brown. Remove from the oven and allow to cool completely.
Notes
* You can use either butter (dairy free), egg yolk, egg white, milk or even water. One of these MUST be used, otherewise, the seeds will fall off.
Nutrition
Serving:
1
Bagel
Calories:
227
kcal
Carbohydrates:
39
g
Protein:
12
g
Fat:
1
g
Sodium:
19
mg
Potassium:
125
mg
Fiber:
1
g
Vitamin A:
4
IU
Vitamin C:
4
mg
Calcium:
63
mg
Iron:
1
mg
NET CARBS:
38
g
Disclosure: This post may contain affiliate links. I may earn a small commission for my endorsement, recommendation, testimonial, and/or link to any products or services from this website.