These healthy 3 ingredient cheese biscuits (muffins/scones) are an easy, fuss-free recipe using just one bowl and ready in 25 minutes! Light and fluffy on the inside, these cheese biscuits are 100% whole grain, gluten-free, low calorie and come with a tested vegan and dairy free option!

Get ready to be taken back to my childhood staple with these 3 ingredient healthy whole grain cheese biscuits.
No, your eyes aren't deceiving you, it is literally three ingredients and it's the most foolproof recipe, I think it was the first recipe my mom taught me, even before ants on a log.
My mom cannot take credit for this genius recipe, but rather, the classic Australian magazine- The Women's Weekly. Mom never really reads any of the articles in these magazines but skips over to the recipe pages towards the back. Every recipe from it is seamless, easy, and most importantly, extremely delicious.
When my mom finds a recipe she likes, she will eventually add it to her regular baking/cooking schedule. If there is a recipe she REALLY likes and her kids love too (holla, mini Arman and Niki), then it pretty much becomes the new bread, milk or daily staple in your diet.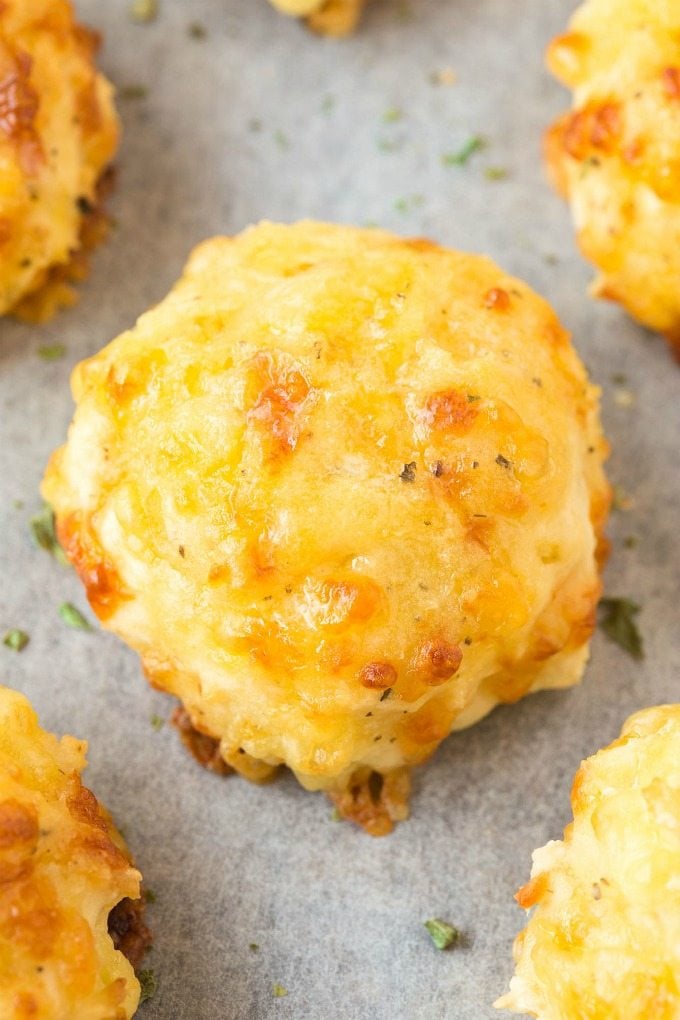 Before we get into the details of the recipe, these 'biscuits' can be called something different. In Australia or the UK, these biscuits would be called 'scones' and some may even call them muffins. To my American friends, biscuits, drop biscuits or savory breakfast muffins are also fitting terms. Regardless of where you are and what you call them, they are indeed, delicious.
Muffins, scones or drop biscuits, these cheese biscuits could not be any easier to whip up. You literally need to measure out your ingredients, chuck them into ONE bowl and then mix around until the cheese is evenly distributed and voila- Bake, wait, salivate and EAT!
The first ingredient is the flour, and you'll need to use one which is self-rising (often referred to as self-raising flour, in other parts of the world). If you don't have access to this, you can easily make your own by adding 2 teaspoons of baking powder per full cup of flour (all-purpose, white, gluten-free, brown, wholemeal). Although I often use oat flour in many recipes, this is one I'd use strictly as a last resort.
Cheddar, mozzarella, pizza blend or tasty, any kind of cheese will work for this! I personally used a mix of light cheddar and light mozzarella, but feel free to use whatever you have on hand! To keep this super low calorie, you can definitely use fat-free or low-fat cheese, just be wary to keep an eye on the cooking time, as it would dry out.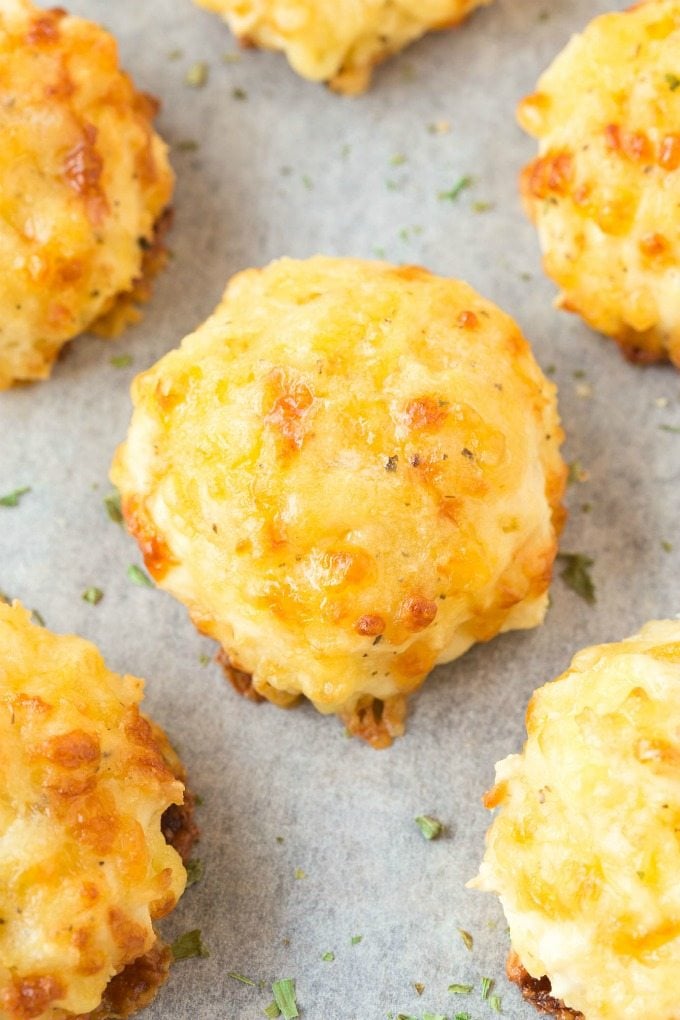 You'll notice the suggested amount of cheese is one to two cups, and it is strictly a personal preference as to which you opt to use. The pictured recipe used 1 cup of cheese, and with that, the cheese was evenly distributed throughout the biscuits, without it being overpowering. for a full-fledged, gooey, ooey, cheesy goodness (similar to the video), aim to use the full 2 cups. The reason why I prefer using the single cup is that I often use these as replacements for sandwich bread and fill it with other things, like cream cheese or melted butter.
Vegan and dairy free friends, you will NOT be missing out. This definitely works with vegan cheese BUT with a twist. While there are shredded blends readily available, I've found that using torn pre-sliced pieces of cheese to work wonderfully, and really resemble the dairy counterpart. Saying that I'd consider adding a pinch of sea salt and spices, as flavor wise, it was a little blander. I prefer using these cheddar style slices or these swiss style slices. Simply tear them roughly into bite sized pieces, enough to fill either 1-2 cups and you'll be set!
The final component is the milk of choice! If dairy is no issue for you, stick to whole, reduced-fat, non-fat or fat-free milk. If you are after a dairy-free option, stick to one which is higher fat, like unsweetened coconut milk or similar. Almond milk works, but use it as a last resort.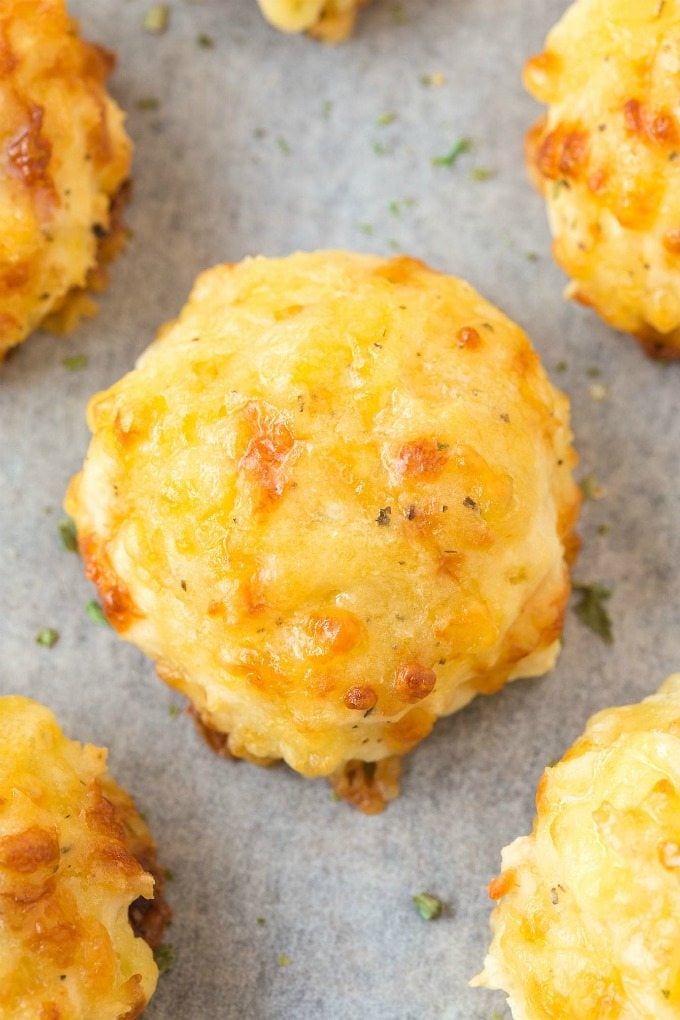 Breakfast, snack or something to bring to your next brunch, these healthy 3 Ingredient cheese biscuits/scones/muffins are your answer- Easy, delicious and fool-proof!
Healthy 3 Ingredient Cheese Biscuits (Gluten Free, Vegan) adapted from the Australian Women's Weekly magazine.
Healthy 3 Ingredient Cheese Biscuits
These healthy 3 ingredient cheese biscuits (muffins/scones) are an easy, fuss-free recipe using just one bowl and ready in 25 minutes! Light and fluffy on the inside, these cheese biscuits are 100% whole grain, gluten-free, low calorie and come with a tested vegan and dairy free option!
Print Recipe
Ingredients
2

cups

self-rising flour of choice

gluten-free, standard

1-2

cups

shredded cheese of choice

I used a mix of cheddar and mozzarella*

1 1/3

cups

milk of choice

1

tsp

spices of choice

optional
Instructions
Preheat the oven to 350. Lightly grease a baking tray and set aside.

In a large mixing bowl, sift flour to avoid clumps. Add cheese and milk and mix until a thick batter remains. Allow to sit for 2 minutes.


Using a 1/4 cup or cookie scoop, pour biscuits onto the greased baking tray, forming a dome-like shape. Ensure you space them evenly as they rise and spread. Bake for 25-30 minutes, or until lightly golden on top and cooked through the center, but not overcooked- It should be fluffy.


Remove from oven and enjoy immediately or cool completely before storing in an air-tight container.
Notes
* For vegan/dairy free option, use torn sliced cheese over shreds, as they melt better. These cheese biscuits can be refrigerated and are freezer friendly too.
Nutrition
More delicious savory snacks? Gotcha covered!
Oil-Free Roasted Chickpeas + 4 Fun Flavors
2 Ingredient Flourless Flatbreads
2 Minute Flourless English Muffins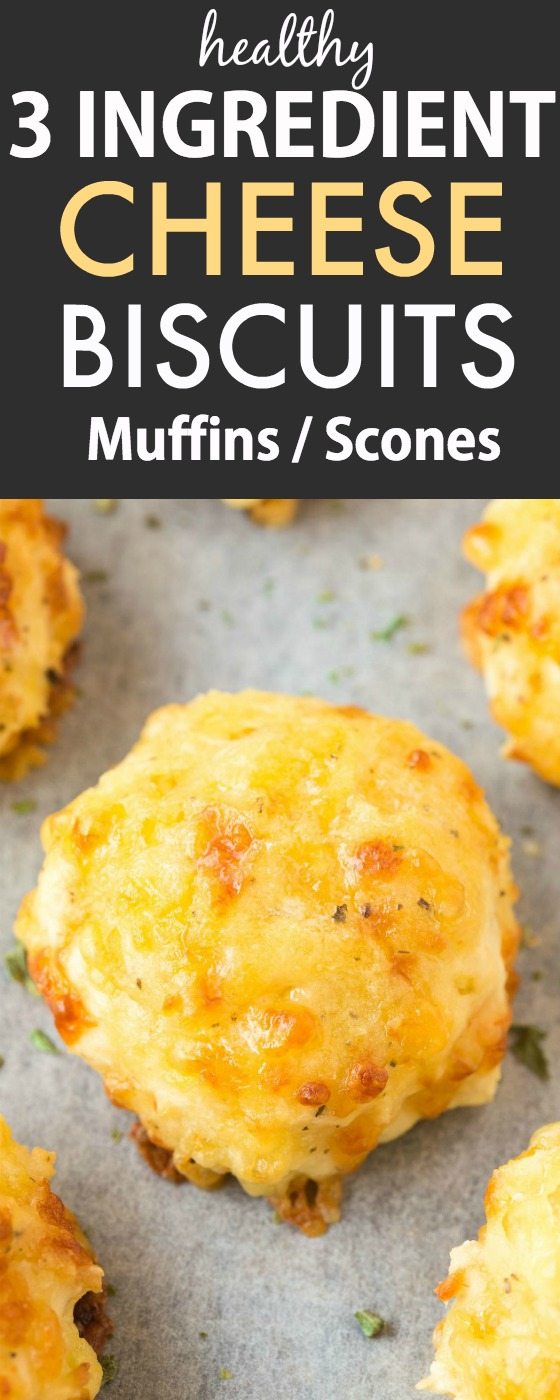 Biscuits, muffins, or scones- What do you call them?
The Big Man's World is a participant in the Amazon Services LLC Associates Program, an affiliate advertising program. This means that if you click and make a purchase, TBMW receives a small commission, at no cost to you. Cheers, hugs, and handshakes for supporting TBMW!