Best Fudgy Vegan Brownies (Gluten Free)
These vegan brownies taste just like a boxed mix- but better! Gooey, fudgy, and rich brownies- no one will know they also happen to be dairy-free and gluten-free too!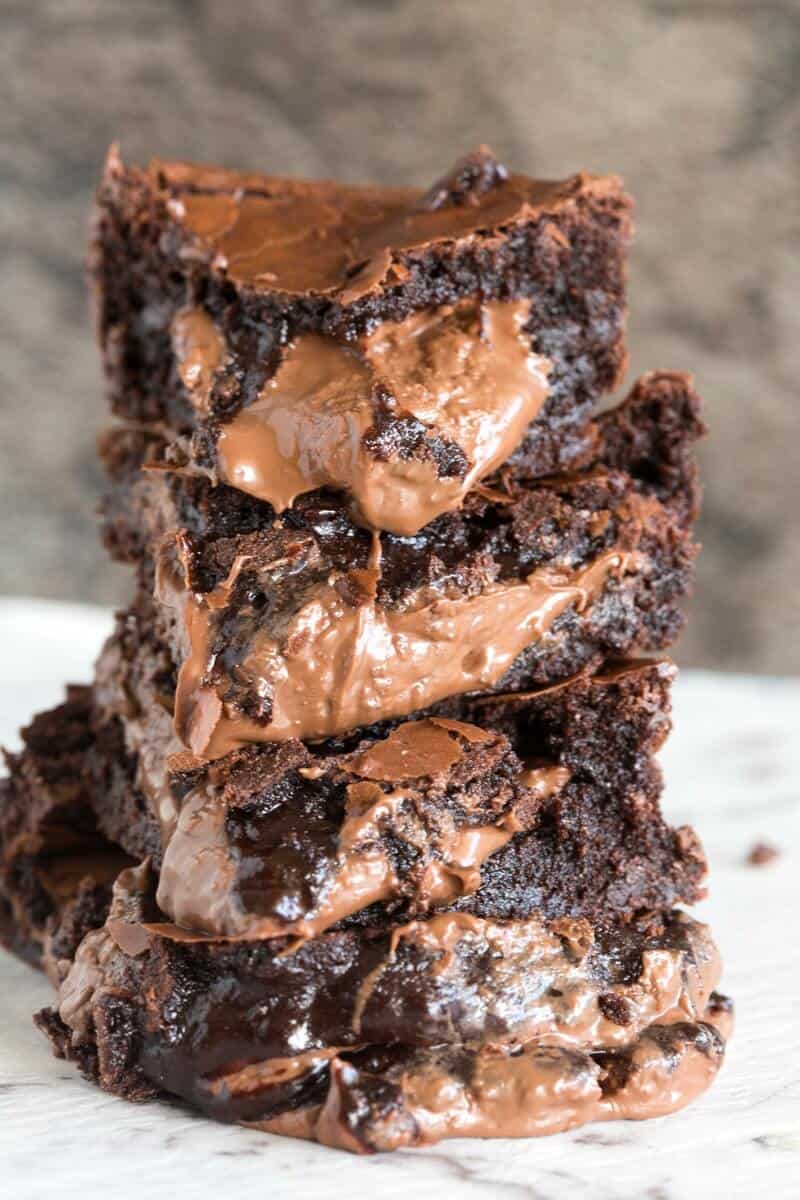 Not to toot my own horn, but these are the BEST vegan brownies.
I made a batch of these recently when I threw a completely plant-based lunch, and even my non-vegan friends were obsessed.
I've been on a kick making 100% vegan desserts, after the success of the best vegan chocolate chip cookies. I have a few other strictly vegan recipes, like this carrot cake and these rice Krispies treats.
I mean, I could have done a twist on one of my other brownies, like the fudgy keto brownies or the homemade Cosmic Brownies, but no.
We need an AMAZING vegan brownie recipe…and here we have it.
Best Vegan Brownies- Seriously.
Okay, so everyone claims their brownie recipe is the BEST, but hear me out on this.
I have a secret trick to make these brownies taste out of the world amazing, and it comes down to one secret ingredient- Black coffee.
I prepare my flax eggs by substituting the water for black coffee, and it takes these brownies to another level.
You only need one bowl to make these brownies- No mixers, no blenders, nothing fancy! It's ridiculously easy and simple.
These fudgy brownies are made with real vegan chocolate in the batter, not relying on just cocoa powder or just vegan chocolate chips.
Texture-wise, they tick all the boxes. Crackly tops, moist and gooey center.
The taste? Wow, the taste is incredible. Rich, chocolatey, and enhanced, thanks to the coffee flavor throughout. Don't fret though- If you aren't a fan of coffee, you won't taste it at all. If you can't tolerate caffeine, it works just as well with decaf coffee too!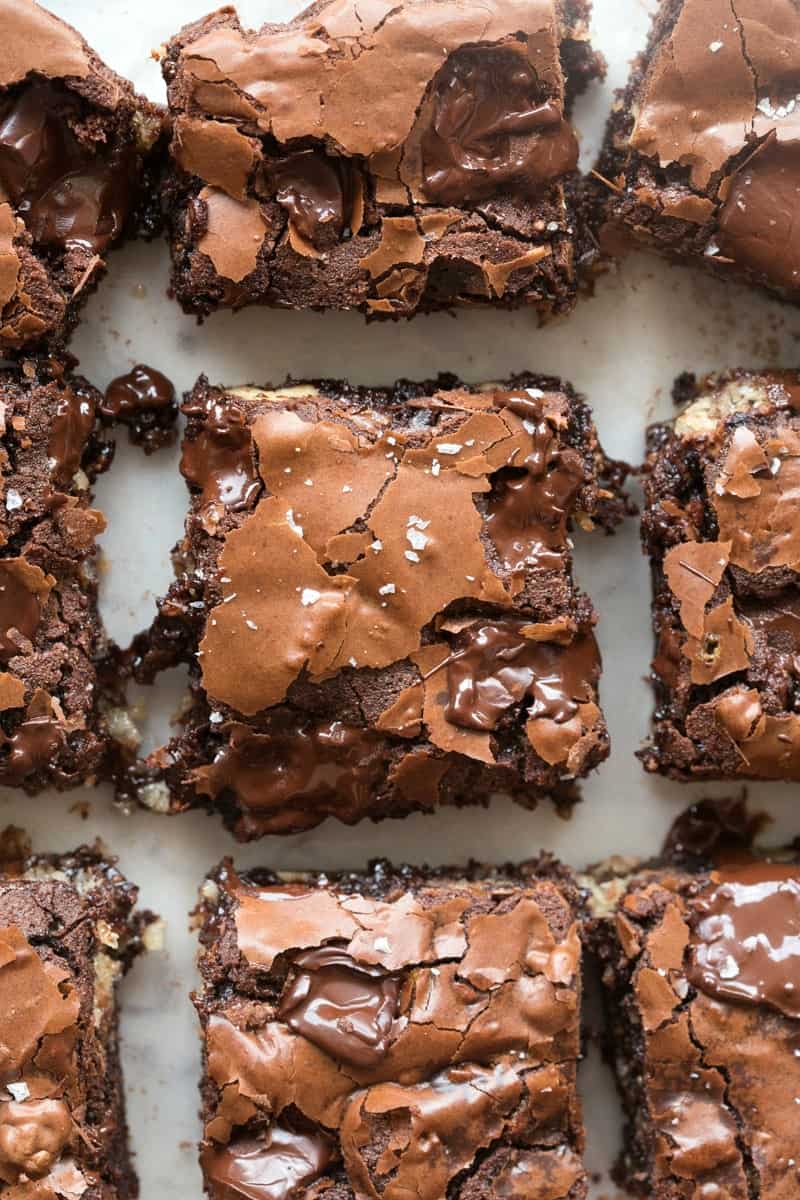 How to make vegan brownies
When people ask me what vegan brownies are made of, they take one look at the easy ingredient list and are shocked how simple it is- No crazy ingredients!
The Ingredients
Chocolate Chips– Obviously a Chocolate heavy recipe NEEDS some chocolate chips! I used a mix of dairy free vegan chocolate chips and a chopped up chocolate bar.
Flax Eggs– Flax eggs are a vegan egg replacement. To make a flax egg, you combine ground flaxseed with water, or something special (see below!).
Black Coffee– My secret ingredient! Coffee brings out the chocolate flavor, without any taste of coffee at all, and leaves you with rich vegan brownies. Instead of adding coffee into the mixture, we will mix it with the ground flaxseed to produce a flax egg. You can use water if that is what you have on hand, or can't tolerate coffee.
Coconut Sugar– To sweeten the brownies and give them the gorgeous crackly tops! You can use any granulated sweetener you like, like white sugar or brown sugar.
Vegan Butter– Be sure to use a good quality vegan butter, preferably from a stick. Vegan butter from a stick contains less added water, which yields a better brownie texture. You can also use vegan margarine.
Vanilla Extract– A must for any good brownie recipe!
All-Purpose Flour– Also known as plain flour, I used gluten-free all-purpose flour, to keep these brownies gluten-free, too.
Cocoa Powder– Be sure to use a good quality cocoa powder, as it really does make all the difference!
Baking Powder– Leavens out the brownies and gives them some rise!
Salt– Brings out the sweetness. For the ultimate sweet and salty combination, sprinkle a little on top of the cooked brownie.
Chocolate Chips or chunks- Optional, but highly recommended.
The Instructions
You'll start by preparing the flax eggs, by combining 2 tablespoons of ground flaxseed with 6 tablespoons of brewed coffee. Let it sit for 10 minutes, for a gel to form.
Then, you'll melt the chocolate, either in the microwave or using a small saucepan over the stove. I prefer using a saucepan, so I can keep an eye on it the entire time. Once it is nicely melted, set it aside.
Now, in a large mixing bowl, whisk together the coconut sugar and dairy-free butter until smooth. Add the vanilla extract, melted chocolate, and prepared flax eggs and whisk well, until combined and glossy.
Next, you'll sift through your cocoa powder, flour, and baking powder into the bowl. Mix together until just combined. Do not overmix, or your batter will not turn out well. If using chocolate chips, fold them through.
Finally, transfer the brownie batter into a lined pan and bake for 30-35 minutes at 180C/350F. Do not overbake, as your brownies continue to cook while they cool down. Allow your brownies to cool in the pan, before slicing into pieces.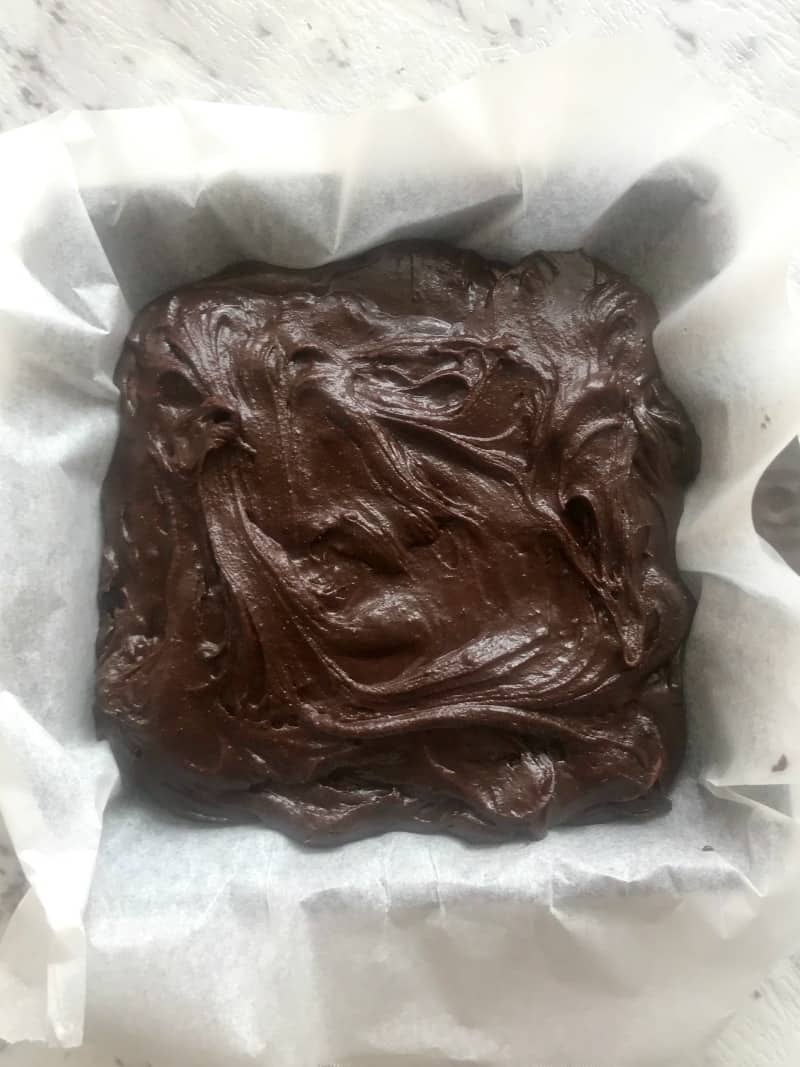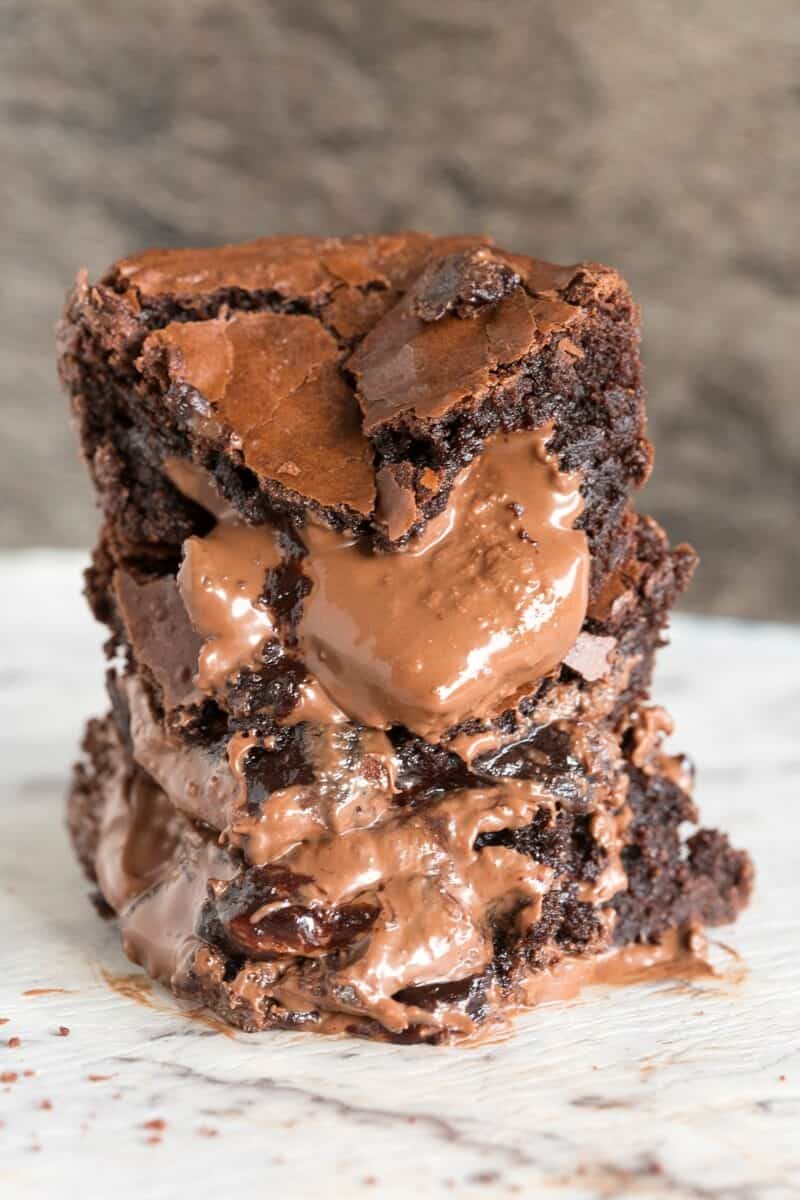 Tips to make the best vegan brownies
Do not overmix the batter. There's often the fear that brownies may turn out crumbly, and the number one reason for that is mixing the batter a little too thoroughly. You want the ingredients to be 'just' combined- Enough that no extra flour or sugar remains.
Avoid overbaking the brownies. As we are letting the brownies cool in the pan before slicing, they will continue to cook as they cool.
For ultra gooey brownies, remove them around the 30-minute mark. If you'd prefer more chewy vegan brownies, keep them closer to 35 minutes.
For easy removal, keep an inch of extra parchment paper/baking paper hanging over the sides. Once your brownies are ready to cut, simply remove from the pan and slice.
Again, use a good quality cocoa powder. We want RICH vegan brownies.
Storing and Freezing Tips
To Store: Keep leftover vegan brownies in the refrigerator, to ensure they remain fresh. They are super gooey and fudgy, so the chilled temperature will ensure they don't spoil.
To Freeze: Wrap them in parchment paper individually, and place them in a ziplock bag and store them in the freezer. They will keep well frozen for up to 6 months.
To enjoy brownies warm and gooey, heat in a microwave for 30-45 seconds, and top with some coconut whipped cream or enjoy as is!
Serving suggestions
Honestly, I love eating these brownies on their own, because they are that good- But if you want to pair it with something else to take it up a notch, here are some ideas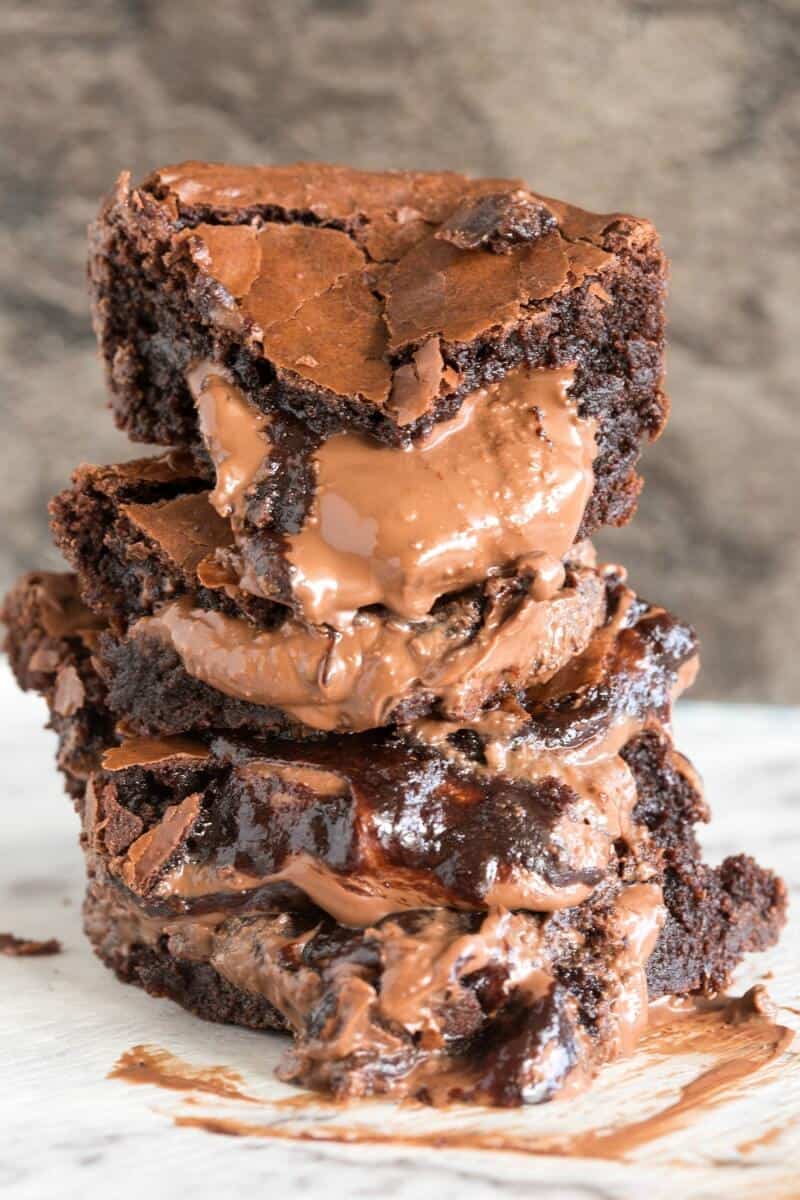 More EASY vegan dessert recipes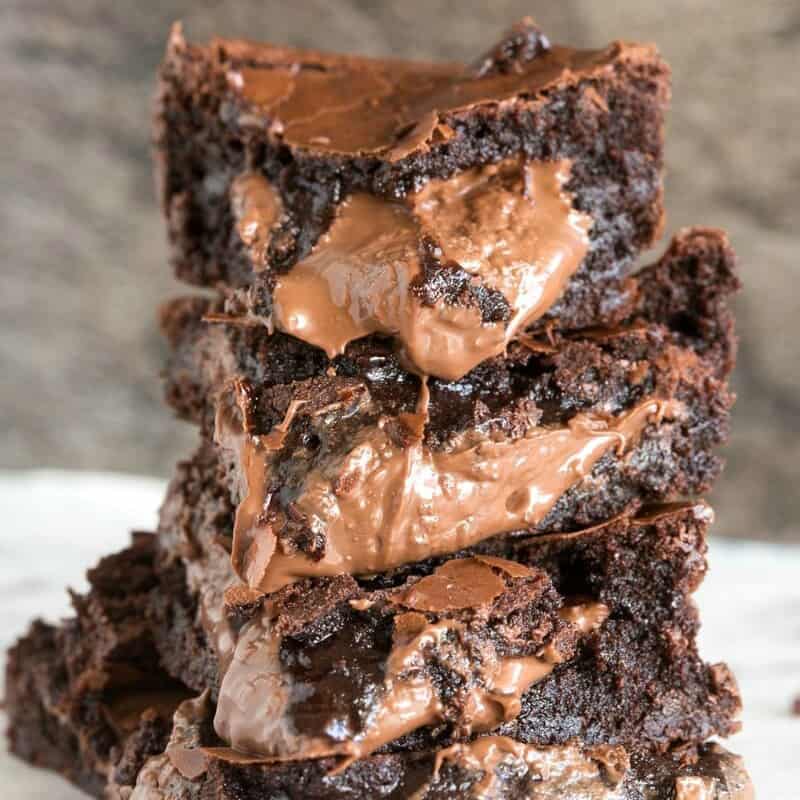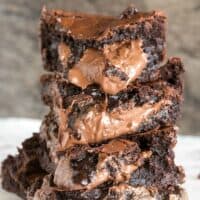 Vegan Brownies (Award Winning Recipe!)
The BEST vegan fudgy brownies recipe that are made in one bowl- no oil, no milk, no dairy but ridiculously gooey! This simple vegan brownie recipe is rich in chocolate flavor, you won't believe it is also dairy free and gluten free.
Print
Rate
Instructions
Prepare your flax egg by combining your ground flaxseed with your brewed (chilled) coffee. Let it sit for 10 minutes, to form a gel.

Preheat the oven to 180C/350F. Line a square pan with parchment paper and set aside.

In a microwave-safe bowl or stovetop, melt your chocolate chips of choice. Set aside.

In a large mixing bowl, add your vegan butter and coconut sugar, and whisk well. Add in your prepared flax eggs, melted chocolate, vanilla, and almond extract, and mix well, until glossy.

Sift through your flour, baking powder, salt, and cocoa powder and mix until just combined. Do not overmix. If using chocolate chips, fold them through.

Transfer your brownie batter into the lined pan. Bake your brownies for 30-35 minutes.

Remove brownies from the oven and let cool completely, before slicing into 12 pieces.
Notes
* You can also use white sugar or brown sugar.
If you love easy brownie recipes, you'll love flourless brownies and keto brownies.
Leftover brownies should be stored at room temperature, in a sealed container. They can be refrigerated or frozen to keep longer.
Key Recipe Equipment and Ingredients
Nutrition
Serving:
1
Brownie
|
Calories:
195
kcal
|
Carbohydrates:
24
g
|
Protein:
3
g
|
Fat:
11
g
|
Sodium:
281
mg
|
Potassium:
63
mg
|
Fiber:
3
g
|
Vitamin A:
267
IU
|
Calcium:
51
mg
|
Iron:
2
mg
|
NET CARBS:
21
g