Hands down, these are the BEST ever blondies recipe made with easy ingredients. Thick, gooey, and loaded with chocolate chips, they take less than 20 minutes to make!
Easy and simple blondies made without eggs, without refined sugar, and without chickpeas. A foolproof recipe for vegan gluten-free blondies from scratch. Vegan, Gluten-Free.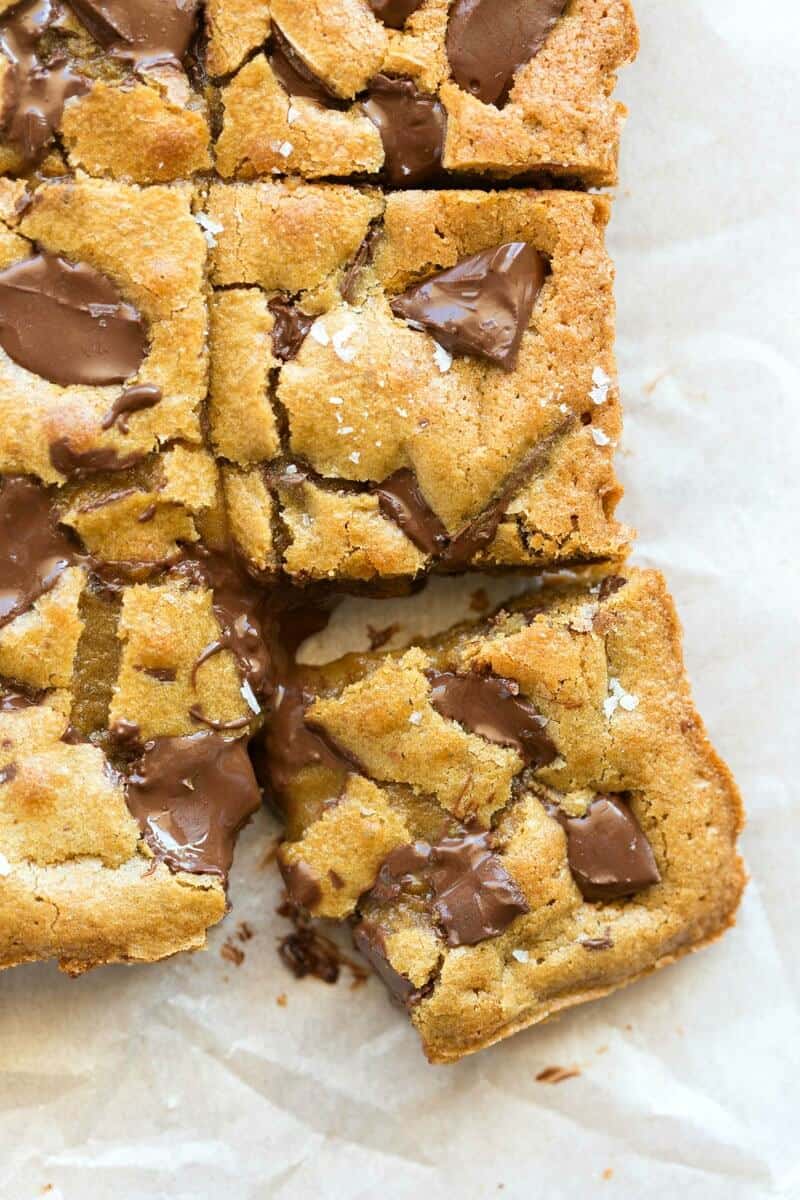 Vegan Blondies
When it came to childhood bakery favorites, blondies were ALWAYS my number one.
As much as I was a chocoholic, I'd always lean towards blondies over brownies every single time.
I've since stopped buying blondies because making your own is SO quick and easy to do. They use no crazy ingredients.
Many popular vegan blondie recipes use chickpeas for the texture, but I REFUSE to do that.
Seriously, have you seen those desserts with chickpeas in them? No thanks. I'll stick to my cookie dough without them…blondies too.
What is the difference between brownies and blondies?
Blondies are considered to be the lighter counterpart to brownies. They are essentially a cocoa-less version of brownies, often with a more gooey texture.
They also are much easier to adapt and use a combination of sugars, to provide different flavor profiles and levels of sweetness.
What does a blondie taste like?
Imagine the texture of a brownie, but the flavor of a gorgeous vanilla cake or vanilla-based dessert.
That is what a blondie tastes like, but so much better. Sweet, fudgy, gooey, and with a gorgeous tender exterior. The mouthfuls of chocolate with every bite take it up a notch!
I often get asked if blondies are supposed to be gooey.
The answer? YES!
A key feature of ANY good blondie is for it to be ultra gooey, so don't fear that they may be under-cooked!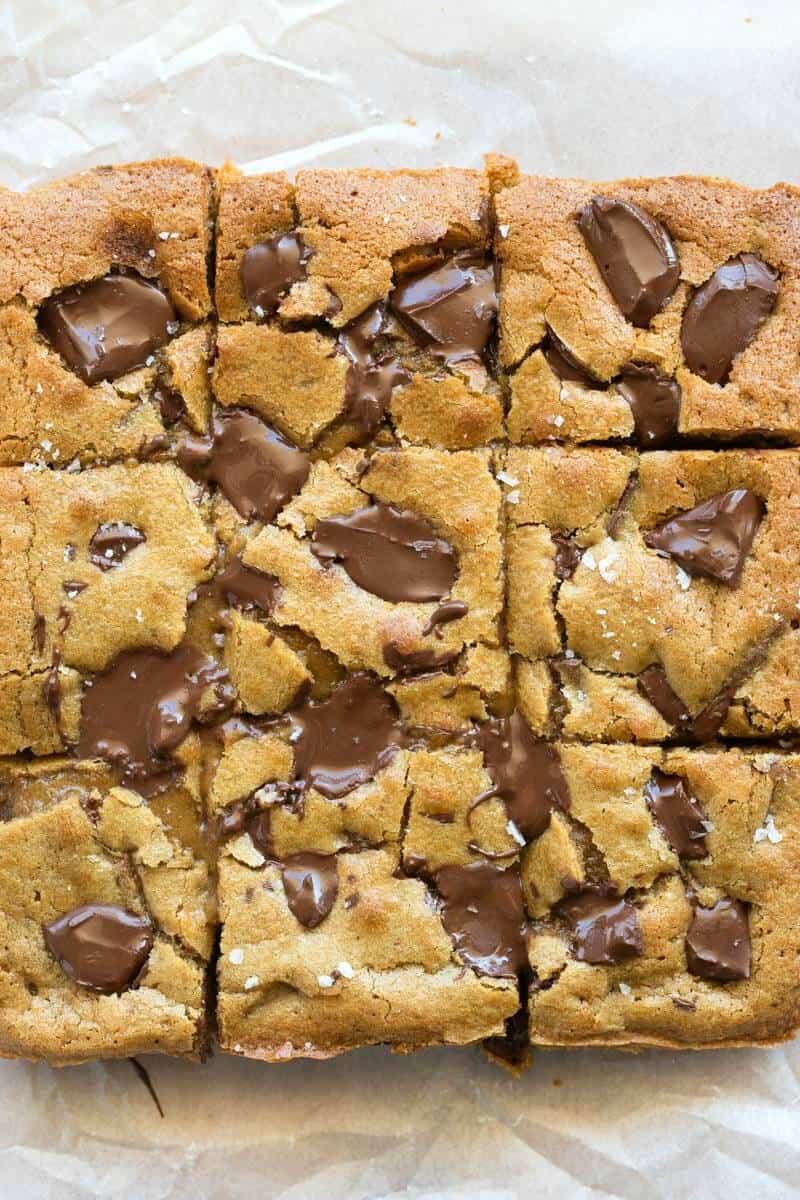 How to make vegan blondies from scratch
The Ingredients
The Instructions
TROUBLESHOOTING TIPS
Why are my blondies cakey?
Are you a cakey brownie fan or a gooey fudgy brownie fan? I, myself, am a hardcore cakey brownie fan. However, things are a little bit different for blondies.
Unlike brownies, blondies should generally NOT be cakey. They are designed to be ooey and gooey.
If your blondies happen to turn out cakey, it means one thing… You overbaked them!!!
This is why it is IMPERATIVE for you to cook the blondies no longer than 17 minutes, as it continues to cook as it cools and you WANT it to be gooey in the middle.
Besides, these are vegan, meaning they are eggless, so who cares if it seems underdone!
If you want a blondie that is cakier, you'd be better off trying a cookie bar instead.
Why do blondies sink in the middle?
Blondies, or any baked dessert really (banana bread is a huge culprit!), can sometimes sink the middle.
The reason why this happens is due to overmixing the batter.
You might think overmixing it would be a good thing (it all would be incorporated better, right?) but actually, it distributes the leavening agent and flour (in this case, baking soda!) and adds way too much air into the batter. When baked, this expands nicely, but then all of a sudden deflates and sinks in the middle.
Key point- DON'T OVERMIX!
How do you know when blondies are done?
When we bake, we often use the 'toothpick' test to see if something is properly baked, or done.
Vegan blondies are a little different. You want to remove the blondies from the oven when they become golden around the edges, but also haven't been in the oven longer than 17 minutes.
The blondies are required to cool in the pan before slicing, to once removed, they are going to continue cooking through.
Besides, blondies are designed to be gooey!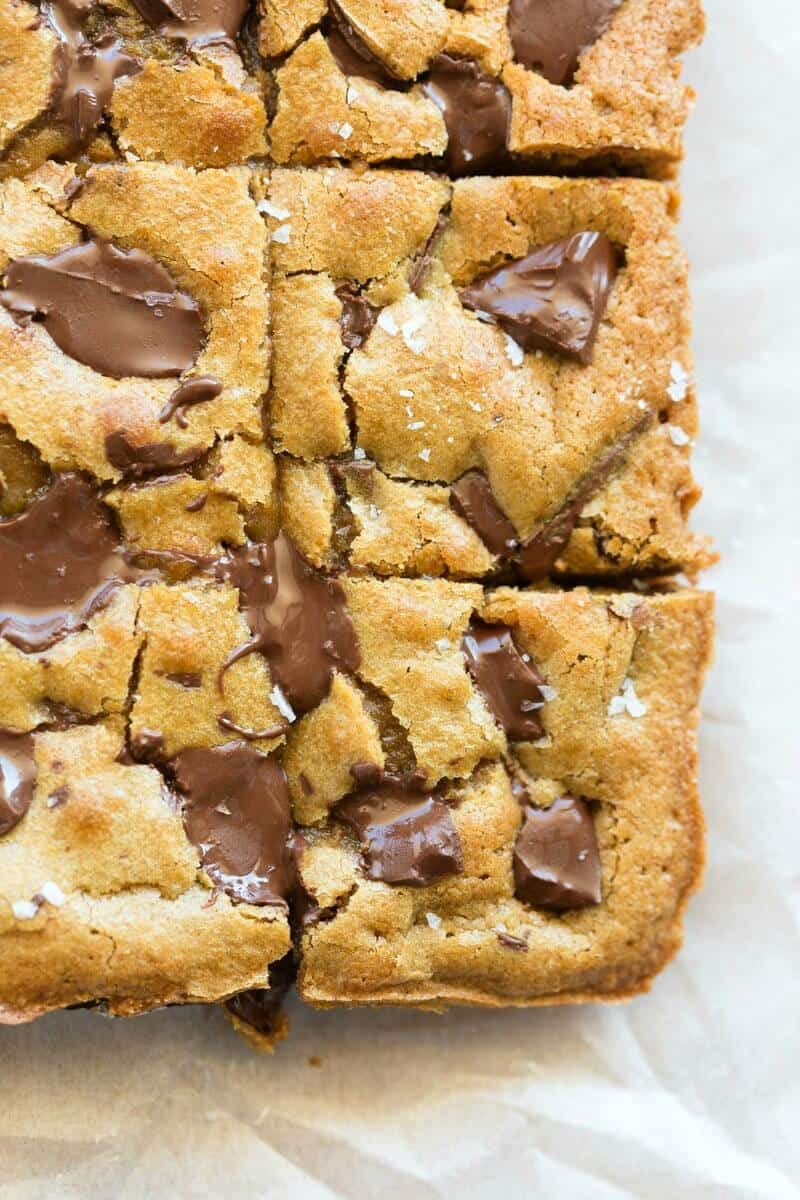 Can I make these blondies sugar free?
Yes, blondies can easily be adapted to be 100% sugar free. Here are my suggested swaps-
Is there a keto and paleo option?
You'll love these keto and paleo blondies instead.
Bonus– For flavor twists, you might like raspberry blondies, pumpkin blondies, and zucchini blondies.
More blondies, bars, and brownies you'll love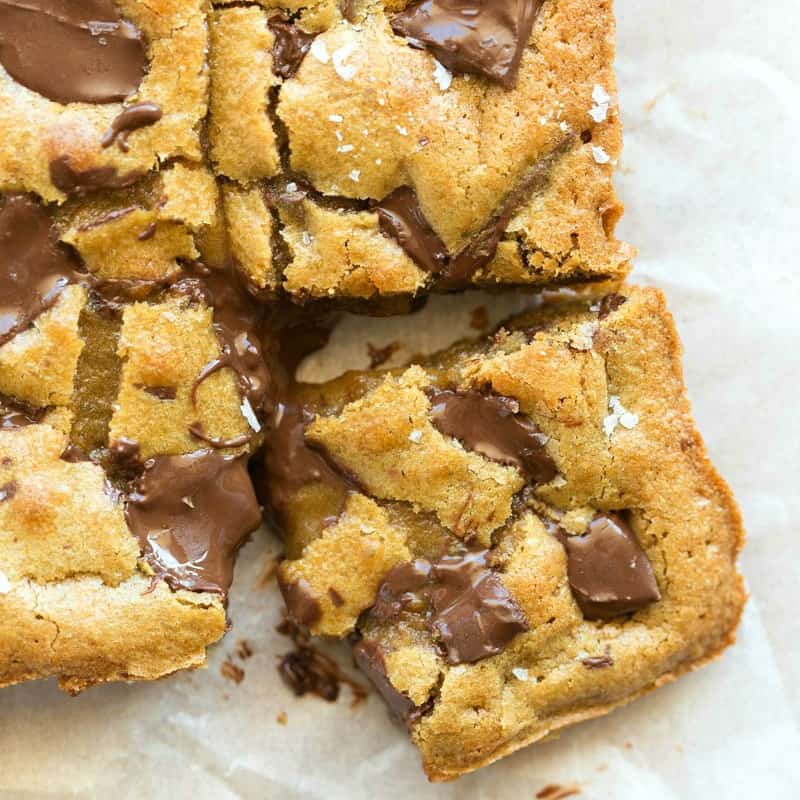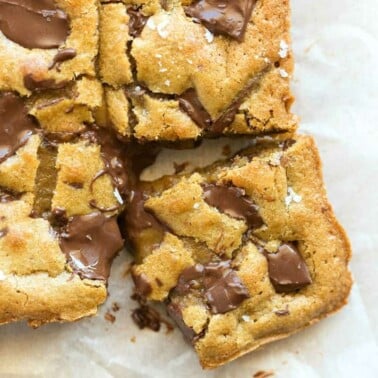 Best Ever Blondies (Vegan, Gluten-Free)
The BEST ever eggless blondies recipe made with simple and easy ingredients! No crazy ingredients, no chickpeas and no dairy, they are gooey and take less than 20 minutes to make! Vegan, Gluten-Free, Dairy-Free.
Instructions
Prepare your flax egg by combining 1 tablespoon of flaxseed with 3 tablespoons of water. Let sit for 10 minutes, for a gel to form.

Preheat the oven to 180C/350F and line an 8 x 8-inch square pan with parchment paper.

In a large mixing bowl, add your flour, baking soda, and salt and mix well. Set aside.In seperate bowl, add your sugars with butter. Using a hand mixer or stand mixer, cream together until combined.

Add your creamed butter/sugar to the dry mixture. Add your vanilla extract, molasses (if using it) and flax egg and mix together, until just combined. Fold through chocolate chips, reserving a handful to top the blondies with.

Transfer the batter into the lined pan and top with extra chocolate chips. Bake for 15-17 minutes, until the edges are just starting to brown. Do not bake longer than 17 minutes.

Remove from the oven and allow to cool in the pan completely, before slicing.
Notes
* To make a flax egg, mix 1 tablespoon of ground flaxseed with 3 tablespoons of water. If you don't follow a vegan diet, you can substitute for one large egg.
** Gives an even more gooey texture. Can omit, if desired
Keto and Paleo Option- Pecan Blondies
Nutrition
Serving:
1
Blondie
Calories:
169
kcal
Carbohydrates:
22
g
Protein:
2
g
Fat:
9
g
Sodium:
112
mg
Potassium:
38
mg
Fiber:
2
g
Vitamin A:
200
IU
Calcium:
31
mg
Iron:
2
mg
NET CARBS:
20
g
Disclosure: This post may contain affiliate links. I may earn a small commission for my endorsement, recommendation, testimonial, and/or link to any products or services from this website.